The Profound Words of a British PM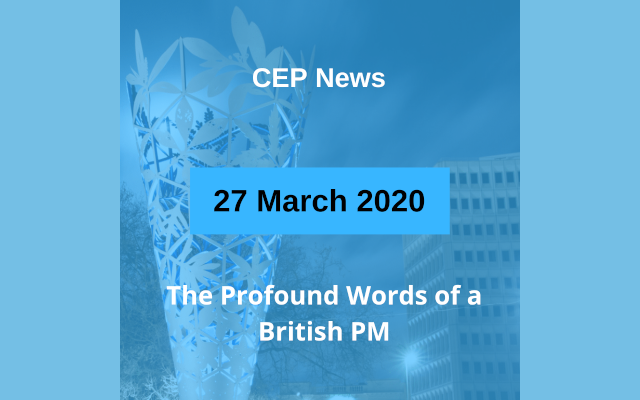 News from CEO – Mike Hopkins
Profound? Boris? No, but according to Harold Wilson, "a week's a long time in politics", and so it's proved. Not many of us would have foreseen quite where we are now seven days ago. Nevertheless, our efforts go on and we're adapting as best we can to revised circumstances. While Level 4 of the Hope Gibbons building in Wellington may not be occupied for now, we're battling on from our individual residences.
Our near term training programmes have been switched to online delivery, so they are still going ahead. So, regardless of travel limitations you and/or your clients and colleagues can employ lockdown time usefully. In fact, if we aren't released after the four weeks, remotely attending one of our courses will be a hugely productive use of lockdown time and relieve lockdown tedium. Also, watch out for conference announcements soon, our 2020 conference is on hold but not cancelled or postponed. Keep the dates in your diary whether we are locked down or not at that time.
One of our biggest worries has to be that coronavirus and its medium term financial implications will take the attention of companies away from decarbonising. With reports this week that 80% of the planet's heavy emitters are failing to reduce emissions consistent with a 2

C

limit (Transition Pathways Initiative), the concern has to be that economic recovery will overshadow decarbonisation and we'll lose several years of potential progress.
One event that is not cancelled this week is Earth Hour. Even if we're at home, the organisers, the WFF, are encouraging people to switch off all non-essential lights between 8.30pm and 9.30pm to show solidarity to encourage sustainability.
There have been a few stories around this week that have not been virus related and one interesting innovation we heard of comes from scientists at the UK Atomic Energy Authority and Bristol University. They are working on developing a "diamond" battery. The batteries are powered by small amounts of graphite from former nuclear reactors giving an opportunity to recycle carbon-14 and tritium into micro batteries. The batteries are expected to be physically small (estimates indicate 50kg of carbon-14 would make millions of units) and have lifespans of decades, or even thousands of years. No mention so far on the likely price of diamond batteries or their radiation output.
This week, we're delighted to welcome a new Student Member, Gohar Gholami, PhD student in Chemical Engineering at the University of Auckland.
---
Tender Opportunities
Genesis Energy – Billing and Core Capability Replacement Project
Ref 22461558
'Project Rubiks' is tasked with the market research of solutions that will assist us in delivering core business capabilities that will enable us to drive business growth and customer centricity.Specifically, Genesis Energy Limited (Genesis) is seeking to understand what off-the-shelf solutions are available in market in the following areas:
• Billing & Collections (mandatory)
• Product Management
• Sales Management
• Customer Management
• Meter Data Management
• Retail Market Interaction
We are looking for responses that demonstrate:
• Ability to meet some or all of our desired business capabilities
• Alignment with our technology strategy and principles
• Industry leadership and additional features that we could take advantage of in the future
• Proven capability to deliver the proposed solution
• Flexible integration and interoperability options that support integration with the rest of the Genesis technology landscape
• A genuine partnership approach to supporting us in the ongoing development of our business
The intention is to shortlist Respondents from this Registration of Interest (ROI) and to invite these shortlisted Respondents to participate in a Request for Proposal (RFP) process later this year.
Close Time & Date: 5:00pm
Wednesday, 15 Apr 2020