6 Fixes to 1.5C, Urban Transformation and Batteryless Devices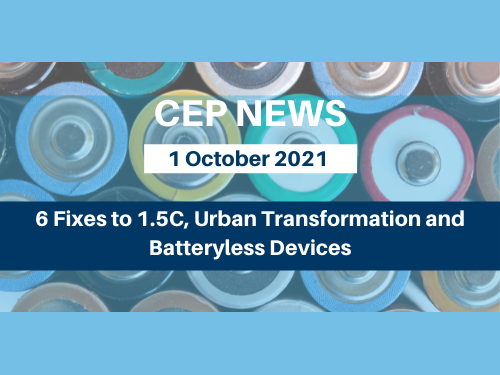 News from CEO – Mike Hopkins
Kia ora,
We have good news to report to members and partners this week. We recognise that we're in turbulent and uncertain economic times for many members and partners and are endeavouring to do our bit to help. Our new financial year kicks off today and I'm delighted to announce we've managed to avoid large scale subscription increases. Like many organisations, we face increasing costs but unlike many, we've avoided the significant increases some other organisations have had to impose. The standard, individual member subscription for the year is increasing only $5 (+GST). The rate for retired members goes up by the same amount. It's important to grow our Corporate Partner network and so our Corporate Partner packages remain unchanged. The only significant increase comes to Energy Masters Accreditation holders who are not members. Their increase is $30 (+GST), so it pays to be a member if you hold an Accreditation or Certification. For those with October renewals, you'll receive your invoices soon. We value your support and work tirelessly to help the industry so please help us continue this work by renewing as soon as you receive your invoice. Or maybe upgrade to take advantage of tiered Corporate Partner benefits packages which can include discounted member rates for employees, conference benefits and a seat on our Partner Panel. To see a snapshot of where we are heading, we've published a summary of our strategy on this link – you will need your member log in to access.
CEP Strategy Outline pdf
To hit news desks just ahead of COP26, the Energy Transitions Commission has recently published a report aimed at policy makers indicating action in six critical areas can deliver 90% of the emissions reductions needed to deliver on the 1.5C target. The Energy Transitions Commission is backed by some of the largest, international industrial, energy and transport companies and highlights the key areas as action on: methane, forests, coal, electric vehicles, energy productivity and decarbonising industry. It's good to see energy productivity included as a critical improvement area. There is a little more detail on these six areas and a link to the full report in dedicated section box below.
We have two outputs from the World Economic Forum on urban development and transformation to highlight this week. The first is a report on Integrated Energy Solutions for Urban Transformation, which focuses on urban ecosystems and how to minimise the impact of the build environment and urban transport on climate critical outputs. The second is a toolbox of case studies to demonstrate how some of these concepts can work. The platform comprises over 200 descriptions of best practice or case studies from over 110 cities. The case studies are split into four categories: Built Environment (88 solutions/cases), Power and Energy Infrastructure (89 solutions/cases), Transport and Urban Form (65 solutions/cases), Water and Waste Management (34 solutions/cases).
While optimising or minimising energy use is a goal, what if we could develop cooling systems that used no power? Researchers in the King Abdullah University of Science and Technology (Saudi Arabia) have come up with a zero-electricity building cooling technology based on salt and sunlight. Experiments so far indicate the technology could be used for refrigeration as well as cooling buildings. The technology requires quite strong sunlight to operate making it ideal for desert climates, places where cooling is in high demand. More details here.
And what if we could run electronic devices without batteries? Improving battery life and recyclability are massive research areas around the world but computer scientists from Delft University of Technology and Northwestern University have taken a different approach – they are ditching the battery entirely and potentially saving millions of tons of e-waste a year, not to mention dependency on lithium and cobalt mining. Their BFree technology allows electronic devices to run intermittently on harvested energy such as solar. The crux to the development is that users can pick up where they left off under circumstances of intermittent power (clouds) rather than requiring a battery to keep going. Perhaps not a solution for all applications or geographic regions but battery-free electronic devices have obvious appeal for sustainability.
Wishing you all a safe and great weekend.
Mike and the team
---
6 Critical Actions to Achieve 1.5C – ETC
Significant and rapid reductions in methane emissions. Low-cost actions could cut fossil fuel related emissions by 60% by 2030, while emissions arising from agriculture and waste management could be cut by 30%.
Halting deforestation and beginning reforestation. Halting deforestation, beginning reforestation and improving other land use practices could reduce emissions by 6.5Gt per year by 2030. Achieving this will require financial support from rich developed countries and should be a priority use of committed climate finance.
Decarbonising the power sector and accelerating the phaseout of coal. An immediate ban on the construction of new coal-fired power plants, combined with a phaseout of existing coal plants, could deliver 3.5 Gt of additional emissions reductions by 2030. Rich developed countries should commit to total phase out by 2030, and climate finance flows from developed economies should support a gradual phase out in developing countries.
Accelerating the electrification of road transport. A ban on selling internal combustion engine light duty vehicles, instituted by 2035, would cement the already started shift to electric vehicles. Commitments by major fleet operators to fully electrify their vehicle fleets at still earlier dates would be a powerful driver of change. An additional 2.3 Gt per year of emission reductions could result from such actions by 2030.
Accelerating supply decarbonization in buildings, heavy industry, and heavy transport. Sufficiently reducing emissions from these sectors will extend beyond 2030. However, advances in electrification, low-carbon hydrogen, and carbon-capture and storage is already driving this effort. Industry agreements, such as to trade only in low-carbon goods, can be established at COP26 and thereby accelerate this transition.
Reinvigorating energy and resource efficiency. Though progress in these areas has slowed, replicating best-in-class standards for efficient homes and appliances can be accelerated through a combination of existing and new initiatives at COP26 would revive these vital measures.
Access the full report here.
---
Upcoming Events
Check out CEP Training courses, CEP Webinars and other Industry related events – coming up.
---
Tender Opportunities
CCDHB LED Lighting Installation

Ref 24748236
Description of Works – LED Lights Installation. To replace all Non-LED Lights with LED Lights, including occupancy sensors and timers (as per the requirements of the specific area). The installation includes seismic restraints and commissioning of the LED lights. The equipment supplier will be required to provide technical support for the installation of lights. CCDHB expect to commence the installation of LED Lights in Q1 2022 and complete, commissioning and handover by Q4 2022. The contractor will be required to be engaged no later than December 2021.
---
Main Contractor for A, E, F, S, W: Heating replacements at Wairoa College
Ref 24773145
Heating/Ventillation (Aircon) Replacement.
Close Date : Wednesday, 6 October 2021 5:00 PM
---
3 Waters Electrical and SCADA Maintenance Support
Ref 24761191
The Dunedin City Council (DCC) 3 Waters department has an Electrical and SCADA support contract that is expiring and this is an opportunity for an appropriate supplier to partner with the DCC on a new maintenance and minor capital works contract, providing services to the 3 Waters treatment plants, assets and facilities. The DCC is seeking responses from suitably experienced suppliers who can provide the range of services specified. We want to setup a single contract to cover the range of electrical, telemetry and SCADA support services required.
The supplier must be able to demonstrate proficiency in both reactive and proactive maintenance tasks and capital upgrade works across the range of equipment in our 3 Waters facilities.
Closing Date: Friday, 8 October 2021 4:00 PM
---
Sustainable Energy Provider
Ref 24780657
Wellington City has a goal of net zero carbon by 2050 – as laid out in Te Atakura – First to Zero which was adopted by Council in 2019. During this time, Wellington City Council (Council) declared a climate and ecological emergency and responded with Te Atakura, a blueprint to becoming a zero-carbon capital.
The New Zealand energy market has changed significantly in recent years as a result of new technologies, a shift towards low carbon energy sources and changing consumption patterns. The Council's Executive Leadership Team reviewed the future impacts of energy on achieving the zero-carbon goal and endorsed the development of an Energy procurement Strategy to investigate the way it procures and consumes energy to maximise benefits to rate payers. The key objectives of the Energy Procurement Strategy are to:
Support the implementation of 'Te Atakura – First to Zero' by developing commercial arrangements that deliver enhancements to energy usage via the council's energy portfolio including:
– improving the energy efficiency of Council buildings,
– moving toward sustainable fuel alternatives,
– moving toward vehicle electrification,
– exploring local energy generation opportunities, ensuring security of energy supply,
– establishing a sustainable energy budget.
Develop a commercially viable relationship with a Sustainable Energy Supplier that can provide a range of energy efficiency services along with the basic supply of energy that will support decarbonisation of the Council's energy supply and stationary energy assets, and is consistent with our core values and vision for a smart Council and capital.
Closing Date: Friday, 8 October 2021 4:00 PM
---
National Heat Pump Supplier
Ref 24817453
The Ministry of Education (MOE) (the Buyer) seeks to engage a National heat pump specialist, who can design, supply, and install heat pump solutions in schools across New Zealand.
We seek suppliers who can demonstrate they have robust methodologies and systems in place to effectively manage cost, schedules, and quality. A Precondition of this tender will include:
Supplier can supply design services of the heat pumps to meet the individual Schools heating requirement i.e., size / number per school
Supplier can supply and install heat pump solutions in schools across New Zealand.
The Ministry prefers not to use split or high-wall heat pump systems. Suppliers will need to demonstrate their ability to design and supply air-to-air heat pump systems that meet school heating needs without the use of split or high wall units as afar as possible. Reverse cycle is a requirement, and the provision of fresh air should be considered best practice wherever possible.
Closing Date: Monday, 11 October 2021 12:00 PM
---
Refrigeration equipment for New Zealand Blood Service
Ref 24768925
This RFP (Request For Proposal) is for the Supply and management of Refrigeration equipment for New Zealand Blood Service (NZBS) at all of its nationwide sites. This equipment is used for the storage and freezing of blood components, blood products, tissue and reagents.
NZBS is seeking proposals for the (Part 1) supply of stand-alone refrigeration equipment, and (Part 2) management of the entire NZBS fleet of stand-alone refrigeration equipment (existing and those supplied as part of Part 1). Although NZBS has a preference to deal with a single supplier, respondents may submit a proposal for only to Part 1: Supply OR both Parts 1 and 2. NZBS will NOT accept submissions to only Part 2.
Closing Date: Monday, 11 October 2021 12:00 PM
---
Ashburton District Council Energy Supply and Decarbonisation
Ref 2485236
Expressions of Interest from suitable organisations are invited to be considered to make supply to Ashburton District Council (ADC) for new supply arrangements commencing 1 April 2022.
Ashburton District Council (ADC) currently has a total of 136 electricity ICPs, 9 of which are Time of Use (TOU), 120 are NHH and 7 are profiled, giving a total load in 2020 of 8.63GWh. This load is being used by waste water treatment plants and water pumping, the EA Recreation Centre, plus a number of street lighting connections and NHH supplies to property and smaller installations. The contract for this expires 31/3/2022.
ADC also have a LPG tank supplying the EA Recreation Centre which in 2020 consumed 650kWh. The contract for this expires in October 2022.
ADC also want to use this tender opportunity to test the market for assistance with their decarbonisation strategy.
Closing Date: Thursday, 14 October 2021 5:00 PM
---
Notice of Information (Advance Notice)
Government Investment in Decarbonising Industry (Round 3)
Ref 24806725
Decarbonising industrial process heat:
The Government Investment in Decarbonising Industry (GIDI) Fund is a partnership between Government and business to accelerate the decarbonisation of industrial process heat and contribute to the COVID-19 recovery by stimulating the domestic economy and supporting employment.
Process heat makes up around a third of New Zealand's overall energy use, and 60% of process heat is fossil-fuelled, mainly by gas and coal.
EECA administers the GIDI Fund on behalf of the Government through a contestable process that will see $69 million of capital grants co-investment made available to support good projects.
The Fund is available to New Zealand-based private sector businesses who have committed to decarbonising their business and industrial processes, where Government co-investment will help remove barriers to accelerating their decarbonisation goals. Round 3 is open
EECA is now accepting applications for round 3 of the GIDI Fund.
Applicants have until October 18 to submit their proposals, and successful projects will be announced by Minister of Energy and Resources Dr Megan Woods early in 2022.
Full details regarding the fund, including how to apply, can be found on the EECA website. Please direct all question to the GIDI Fund administration team.
Closing Date: Monday, 18 October 2021 5:00 PM
---
Floodlight systems at Donnelly Park Netball courts and Shannon Domain
Ref 24850514
This procurement relates to the provision of two new LED Sports flood light systems.
Horowhenua District Council requires the construction of two new LED Sport Flood light systems to illuminate three netball courts at Donnelly Park in Levin and the rugby field at Shannon Domain.
Close Date: Tuesday, 19 October 2021 5:00 PM
---
CAPE Room 204 HVAC Upgrade
Ref 24878189
No overview.
Close Date: Wednesday, 20 October 2021 5:00 PM
---
Lead Design Services for Heating and Electrical Upgrade at Tararua College
Ref 24868515
Tararua College are looking for a designer to upgrade their heating in Blocks A, Science and Music/Drama.
Close Date: Friday, 22 October 2021 5:00 PM
---
RFP Rangipo Power Station Emergency Escape Path Lighting Installation
Ref 24877782
Genesis Energy completed a comprehensive review of the Fire Engineering Strategy (copy attached as "2.5 GE-CT21-169 Fire Engineering Strategy" ) for the Rangipo Power Station to understand the upgrades required to all the safety systems to ensure safety of our staff and Contractors into the future and to protect the generation assets. This RFP is a request for the Supply and Installation of a new Emergency Escape Path lighting and Electrical Services System/s in accordance with the attached 2 GE-CT21-169 Specifications.
The successful Respondent for this RFP will be considered as the preferred Provider for the next phase of the Genesis Fire Engineering Strategy being the Tokaanu Power Station Escape Path and Electrical Services Installation that is planned for 2023, Attachments "3, 3.1 and 3.2 Lighting layouts, Specification and Lighting schedule" provides the Specifications and Drawings that apply. It is expected that Respondents shall provide an estimated price for this future opportunity based on the information provided and any options for optimisation, cost reduction by being the preferred for both packages.
Note: A site visit is available to Respondents on the 14th October 2021 please review document 1.3-CT21-169 Site Visit Agenda and respond accordingly to confirm your attendance.
Close Date: Friday, 29 October 2021 12:00 PM
---