Networking, Conference and Surplus Milk?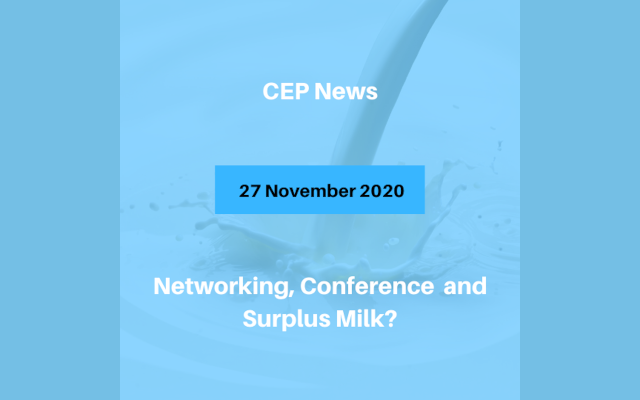 News from CEO – Mike Hopkins
It's been another full-on week for international, local and CEP news. Starting off close to home, we had a couple of great networking events this week enjoying excellent turnouts at both Wellington and Auckland. Numbers were boosted by members of the Young Energy Professionals Network and Sustainability Society and it was great to see our next generation of members catching up with some more familiar faces. It's Christchurch's turn on Monday. Please let us know if you're planning to attend.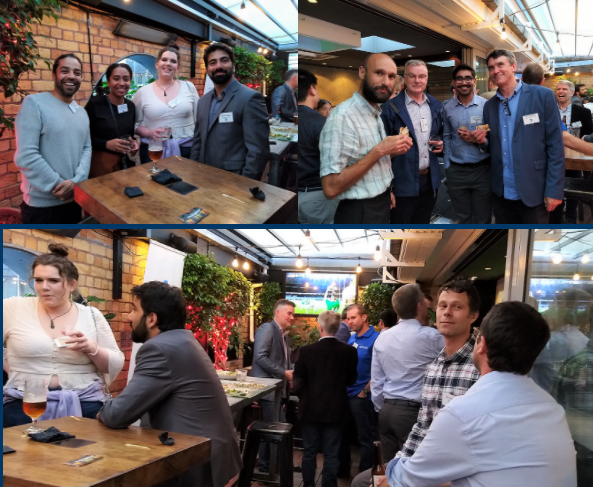 Jack Young of Energy NZ is representing CEP on Standard NZ's High Temperature Heat Pumps consultation. The draft Standards are now open for public consultation with comments requested by 23 December. Please take a look and submit any comments through the Standards NZ website. The time and effort from volunteers to develop Standards are often overlooked, so a big thank you goes out to Jack for the work so far.
A very interesting RFP came out this week, which you'll see listed below. EECA has issued the RFP to administer the NABERSNZ scheme in New Zealand. As we mentioned a few weeks ago, Government buildings are moving to mandated NABERSNZ assessments next year and so wider interest is likely to follow. Your Board is aware of the RFP and we'll be taking a very close look over the next week or so.
Our 2021 conference sponsorship and exhibition brochure is now available. There are opportunities to suit all budgets and with everyone desperate to get business back on track again, there's no better way of getting your products and services in front willing and keen buyers. Find out more here – CEP Conference Sponsor and/or Exhibition Opportunities Brochure pdf
Two of the biggest issues facing the new Government are those of climate change and the housing market. Interestingly, the UK Government is consulting on establishing requirements to have mortgage lenders report the efficiency of their residential portfolio. While the UK already has a residential efficiency assessment scheme, is it too big an ask to have a similar system in NZ and have lenders report on their lending activity against efficiency criteria or perhaps even lending linked to efficiency?
Internationally, Canada looks like becoming the next country to declare a net zero commitment, with Prime Minister Trudeau tabling a bill this week to establish legally binding commitments to become net zero by 2050.
While COVID has tempered the growth in CO2 levels globally, the actual level remains at a record high according to the World Meteorological Office. It seems the average global concentration in 2019 breached 410ppm and continued to rise in 2020. The last time CO2 concentrations were this high was three to five million years ago when temperatures were about 2-3C warmer and sea levels 20 metres higher.
Scientists at Clarkson University in the US have come up with a novel way of capturing CO2 emissions. They claim they have developed a technique to use surplus or waste milk in the form of milk powder to adsorb CO2 onto the powder. While the science behind this might be interesting, given the resources and emissions used in producing milk and then transforming it into powder, is it just me that thinks it odd we're looking at uses for surplus milk powder rather than optimising the level of milk output in the first place?
Finally this week, welcome to new members Claire Keeling (Ekos), Chris Mills (Powell Fenwick) and Gordon Allan (Emsol).
Have a great and safe weekend.
Mike and the team
---
CEP is holding its pre-Christmas networking, drinks and nibbles and invite you to come along and:
Catch up with friends and peers you may not have seen for a while;
Meet new people – we're inviting Sustainability Society and Young Energy Professionals to join us;
Bring a friend;
The food's good and a wide range of drinks is on offer; and
It's free.
This is an invitation only event, all members are invited to bring a non member with them. All attendees must register, please use the link below. Please include:
Full name;
Company name;
Job title;
Mobile number; and
Dietary requirements, eg gluten free, vegetarian, etc.
Christchurch Networking Event
Date: Monday, 30 November 2020
Venue: Dux Central, 6 Poplar Street, Christchurch
RSVP By: 5pm, Tuesday, 24 November

---
Industry Events
Net Zero New Zealand | The Emissions Workshop
This one-day conference being held online, 2 December 2020.
It empowers change makers with the knowledge, tools and connections they need to help lower their organisations net emissions, attracting delegates from both private and public sectors.
---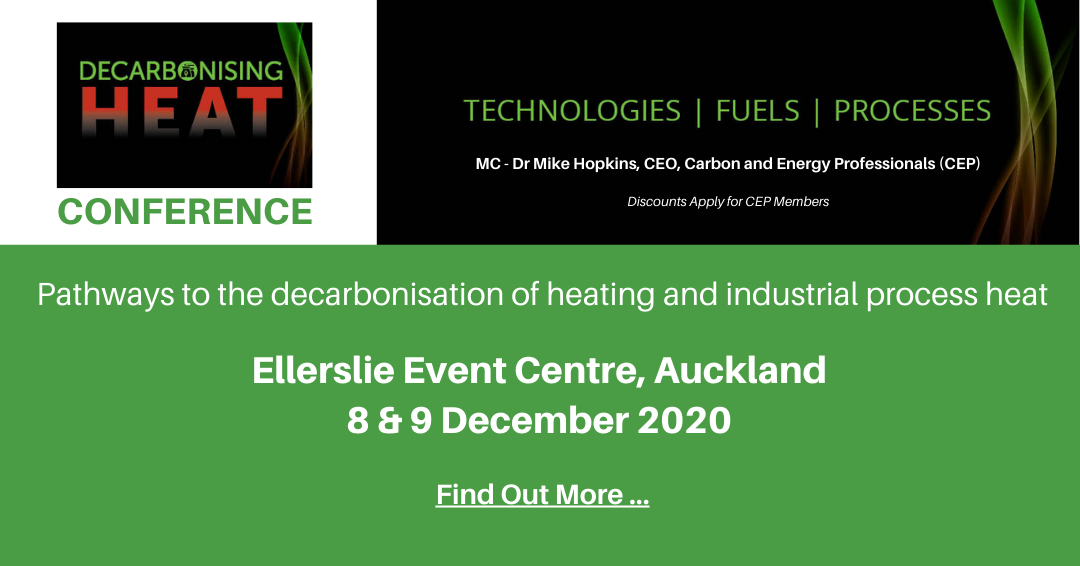 Decarbonising Heat Conference
Pathways to the decarbonisation of heating and industrial process heat.
MC: Mike Hopkins (CEO, CEP)
Dates: 8 & 9 December 2020
Location: Ellerslie Events Centre, Auckland
Discounts for CEP Members Apply –
Find out more …
---
Upcoming Events
Check out CEP Training courses, CEP Webinars and other Industry related events – coming up.
---
Energy Globe Awards 2021

The Energy Globe team knows that there are amazing projects in your network which are saving our environment. Sometimes small projects have enormous effects for our life, developed by creative and innovative people and entrepreneurs. And all of these sustainable projects are presented by Energy Globe at a national and global level, motivating people to act for a livable future.
Therefore, we ask and invite you to present your sustainable project in the Energy Globe Award. All projects take part in the national Energy Globe Award in your country and also in the Energy Globe World Award. Today, submissions from more than 180 nations take part and show the solutions for our future. And we are very proud of being the most important award for sustainability worldwide.
All projects that improve the situation of our environment can be submitted, also campaigns for sustainable awareness. The categories are the elements of life: earth, fire, air and water and youth, representing our future.
We are very much looking forward to your submission that shows how we can save our environment. No project is too small – no project is too big.
All details for participation are available at: www.energyglobe.info
New deadline for submission: 9 December 2020! Participation is free of charge!
---
Onehunga High School – refurbishment of 5 Relocatables
Ref 23538589
Building and Facility Construction and Maintenance Services

Complete reclad and interior refurbishment of 5 relocatables, including the following:
New flooring: carpet and vinyl

New weatherboard and exterior cladding

New decking to exterior

New aluminium window joinery

New roof, gutters, downpipes and flashings

New heat pumps

New insulation and wall linings

New autex and interior fittings and fixtures

Reinforcement of existing building structure
Close Date: Monday, 2 December 2020 5:00PM
---
Gore Multisports Complex – Ventilation System (Retendering)
Ref 23665781
Gore District Council (GDC) looking for suitable suppliers to submit their solutions and proposals for an appropriate and sustainable ventilation system for the Gore Aquatic Centre including supply, installation and commissioning of the system.
This work retendering since none of the submissions in the initial tender was conforming. Please note that providing annual and long-term operational and maintenance costs is essential. Tenderers also must provide all the information requested in the tender response form A.
Gore District Council (GDC) manages a Multisport Sports Complex in Gore. The aquatic centre building constructed in 2001. The existing exhaust fans are fixed on the roof, which are not adequate to vent out the chlorine gas escaping from the filtration system in the facilities room. Over a period of time, the gas emission in the filtration room has caused significant corrosion in the roof as well as the exhaust fans. Therefore, it was not a suitable system.
The plan is to design and install an appropriate ventilation system. The ventilation system may include a hood above the filter tank to directly collect and draw out the potential chlorine gases and remove it from the filtration room through a dry or wet scrubber. The extended ducts also needed to extract the polluted air from the main swimming pool's extractor unit through the scrubber before releasing into the air outside of the building.
Close Date: Monday 7 December 2020 5:00PM
---
Electricity Distribution Network – Outage Management System – Consultancy Services
Ref 23653816
We are seeking an experienced consultant who can help us propose a future operational state which has the OMS informing our customers and ourselves of planned and unplanned outages as well as helping us monitor and continually improve our outage performance.
The scope of services and deliverables are outlined fully in the RFP Document.
Close Date: Wednesday, 9 December 2020 12:00PM
---
Simson Park Rugby and League Field Lighting Upgrade
Ref 23649054
The project scope includes design, supply and installation of lighting infrastructure (luminaires, poles, cross arms, mounting hardware, power supply cabling and control system). Investigate existing main power supply and upgrade/modify as required to provide power to the new floodlighting installation, this work may include specific network design required to upgrade the main power supply.
Design, supply and installation of all cabling (mains cabling and supply cables to each floodlighting pole).

For each sport field; supply and installation of 6 floodlighting poles and 2 LED luminaires per pole.

The LED luminaires shall be EWO R4 (Gen 3 EP09) LED Floodlights (or equal) with optics and wattages as specified on the drawings.

All new poles shall be Spunlite (or equal) hot dip galvanised tapered octagonal steel ground planted floodlighting poles complete with horizontal cross arms complying with the performance and durability requirements of NZTA M26.

Design, supply and installation of floodlighting control system (control panel and all sundry items).
Close Date: Wednesday, 9 December 2020 5:00PM
---
MFAT Climate Change Programme
Ref 23619639
MFAT has initiated a Climate Change Programme (CCP) as part of its commitment to support countries to respond to climate change. The CCP has a significant focus on the Pacific region and on adaptation. MFAT now seeks to procure Services to better understand Pacific current and future exposure and vulnerability to fast- and slow-onset disasters resulting from the environmental impacts of climate change.
These Services will contribute to two components of the CCP that involve: increasing resilience to water-related emergencies; and increasing our understanding of vulnerability to climate change-related human mobility.
The Services will:
undertake a comprehensive collation and review of existing information on Pacific vulnerability to the impacts of climate change (including impacts of past events) relating to droughts, floods, coastal inundation, salinization, cyclones and heat stress, and identify data gaps;

collate and assess information on Pacific assets, including people (population and demography), infrastructure, economic and culturally important locations etc, to better understand potential damage and losses; and

assess this information to identify the geographies within the Pacific that are particularly vulnerable to current and future impacts of climate change.

be desk-based.
Close Date: Friday, 11 December 2020 12:00 PM

---
Government Investment in Decarbonising Industry (Round 1)
Ref 23600012
The Government investment in Decarbonising Industry (GIDI) Fund is a partnership between Government and business to accelerate emission reductions from process heat used in industry by supporting energy efficiency, and fuel switching projects (e.g. from fossil fuels like coal to biomass or electricity). As part of the Government's COVID-19 response and recovery, investments in decarbonisation projects also aim to stimulate the domestic economy, and support employment.
$69m of capital grants co-funding will be available via a contestable RFP process administered by EECA. There will be a minimum of three rounds, with subsequent rounds running until the whole fund is committed. All projects approved for Government co-funding will have to be completed before 30 June 2023.
RFP Round 1 is now open, and EECA are seeking proposals that meet the investment focus of "Decarbonising industrial processes and process heat through energy efficiency, technology innovation, and fuel switching.
Close Date: Monday, 14 December 2020 12:00PM
---
Lincoln University Electrical Supplier Panel
Ref 23680451
We need a Panel of qualified and competent suppliers to deliver the Electrical Infrastructure Upgrade Programme across the Lincoln University campus. The programme relates to the upgrade of privately owned electrical infrastructure that will support the replacement of the existing coal-fired steam boilers with low carbon heating solutions to meet the heating requirements of several buildings within the University Campus. The project realises Lincoln University's goal toward becoming net carbon zero by 2030.The scope of the Electrical Infrastructure Upgrade Programme may include, but not be limited to:
High voltage works;
Low voltage works;
Civil works;
Builders works;
Integration with building services and controls.
The programme is anticipated to be 4 years in duration and in that period, the Panel will be required to deliver approximately 5 packages of electrical upgrades with a total programme cost estimate of between $4M and $6M.
The successful Respondents appointed to the panel will demonstrate their abilities and commitment to safely delivering the scope of the programme within the required timeframes.
Close Date: Tuesday, 15 December 2020 4:00PM
---
Administration Programme Services for NABERS New Zealand
Ref 23679161
EECA will be seeking proposals from the energy management industry and others to administer the NABERS rating system in New Zealand (NABERSNZ). A single successful Respondent will be offered a contract for services.
NABERS (based on the 'National Australian Built Environment Rating System') is an independent tool for rating the energy efficiency / performance of office buildings. It measures and compares the environmental energy and carbon performance of commercial buildings and tenancies, and has been expanded over the years to include tools for commercial office buildings to measure greenhouse gas emissions, energy, water, waste efficiency / performance and indoor environment. The programme helps ensure buildings are performing at a high standard.
The key objective of this procurement will be to enable the success of the NABERSNZ programme by delivering energy benchmarking to the New Zealand office property market.
The procurement's proposed outcomes are successful administration and co-management of NABERSNZ, with the programme outcomes including increasing the energy efficiency of office buildings, and improving the way office building performance is managed.
Close Date: Friday, 18 December 2020 12:00PM
---
Improving Classrooms in Small or Remote Schools Programme. Product Supply: LEDs, RCDs, Thermal Insulation & Acoustic Panels
Ref 23442233
The Ministry have embarked on a Programme to improve the internal environments of 547 state schools and 79 state integrated schools that are small or remote. The Programme is expected to take up to three years to complete.
The Programme is part of a wider Government target that all schools have quality learning environments by 2030.The improvements will enhance aspects of the learning environment associated with fitness for purpose, operational efficiency and condition. The improvements are: LEDs, acoustic panels, thermal blankets and residual current devices (RCDs) for electrical safety.
The scale of the Programme is significant as it covers more than a quarter of New Zealand and is being managed centrally. To implement the Programme the Ministry of Education is seeking proposals that detail how suppliers will supply either individually, some or all categories of products including LED lighting, acoustic panels, thermal blankets and RCDs that meet the Ministry's technical specifications and pre-conditions.
Close Date: Monday, 21 December 2020 8:00AM
---
Advance Notice – Improving Classrooms in Small or Remote Schools Programme

Ref 22500892
This notice is to inform suppliers that the Ministry will be embarking on a programme to improve the internal environments of almost 600 state schools that are small or remote. The programme is expected to take up to four years to complete. Inclusion definitions are:
Schools that have four or less entitled* teaching spaces (about 100 students)

Schools that have an isolation index* of 2.0 or higher on the Ministry's Isolation Index
The improvements will enhance aspects of the learning environment associated with fitness for purpose, operational efficiency and condition. The improvements are: LEDs, acoustic panels, thermal blankets and residual current devices (RCDs) for electrical safety.
Close Date :Thursday, 31 December 2020 5:00 PM
---
Advance Notice – Replace light fittings in Mcindoe
Ref 22500892
Please note that this is a 'Future Procurement Opportunity' and its sole purpose is to inform the market about opportunities that may be coming up over the next 12 months. We would ask that suppliers refrain from contacting individuals within CMDHB for additional information on this project as it is likely to be published on GETS as an open process. As no detailed planning has yet been undertaken for this, we do not have any additional information.
All dates are indicative and subject to change.
Close Date: Q4 2020 (tbc)
---
Biomass and Electric Heating Solutions for Coal Boiler Replacements
Ref 23679109
The Ministry of Education (MOE) (the Buyer) is seeking proposals for the supply and installation of low carbon alternatives for coal boilers in a number of schools. Low carbon alternatives in this instance include biomass boilers and electric heating solutions.
The primary purpose of this procurement is to engage suppliers who can supply and install biomass or electric heating solutions in schools across a range of geographical areas. The aim of the programme over the next four years is to replace up to 90 coal boilers.
We require biomass and electric heating solutions, which provide heat in the range of 50kW to 1,000kW.
We seek suppliers who can demonstrate they have robust methodologies and systems in place to effectively manage cost, schedules and quality.
Close Date: Monday, 18 January 2021 12:00PM
---
Nationwide Electrical Services
Ref 23687867
Oranga Tamariki requires a national registered electrician(s) to provide preventative and reactive electrical services in our offices (58), homes (106) and residences (10). We are seeking a supplier who has offices all round NZ and who is willing to work with us to develop a suitable proactive and reactive service to manage all our electrics.
We recognise that to get full nationwide coverage this may not be possible for one supplier so we may be open to regional solutions. We encourage suppliers who meet the requirements but can only provide regional services to respond.
It may be worthwhile considering joining with another electrical supplier(s) to provide a nationwide service.
Close Date: Friday, 29 January 2021 12:00PM