Targets, the EV Market and Living Bricks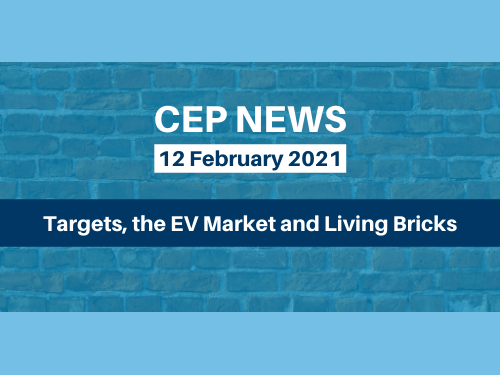 News from CEO – Mike Hopkins
Well, we're certainly back in action. There have been numerous events and information sessions this week on the back of the CCC draft advice and the return of Parliament. One interesting snippet (from Minister Woods) from a session on Thursday was that the Government's manifesto target of a 100% renewable electricity sector was still very much on the agenda despite the CCC suggesting a 60% renewable energy target instead. It seems Onslow is very much seen as the key to 100% renewable electricity.
A report published this week by the UN indicates agriculture is the main threat to most at risk species. Of the 28,000 plant and animal species known to be at risk of extinction, 86% carry agriculture as their top risk.
Congratulations go out this week to Adelaide, which has reached its carbon neutrality target on schedule. The target was set in 2008 and the city has enjoyed increased efficiency and reduced costs along the way.
Another sign of the winding down of the holiday season is that our training calendar is now showing a lot more firm dates. Commercial Building Energy Specialist – HVAC & Controls is first up at the end of March. Preparing a Carbon Inventory follows in April with CEPro and Energy Management for Facilities Managers following in May. Please take a look as these courses are excellent personal development opportunities and please pass details on to colleagues, clients or training departments as well. Details are on the website and below.
A battle is about to break out over the definition of the "living brick". Scientists at the University of Colorado recently released research on their living brick which is a combination of sand, gelatin and bacteria. If cut in half, each half will grow to full size in a couple of days. They are claimed to be as strong as cement-based mortar and could substantially reduce emissions from the cement industry. Meanwhile, UK scientists (Newcastle University, the University of the West of England and Translating Nature) have created their own version of the living brick. The UK brick – which is non-structural – contains a microbial fuel cell that converts liquid waste into clean water while generating electricity. When built in a bank, their health, output and efficiency can be monitored with AI to ensure optimisation.


Interesting to hear this week that Rio Tinto has launched a new sustainability certification for aluminium. Named "START", materials and products will be tracked across the supply chain using blockchain technology by carrying a START label that customers can scan. Wonder how products starting from Tiwai will compare?
If you're thinking of buying an EV, maybe the time is now. This week, I heard NZ currently takes around 50% of Japan's second hand EVs and competition at the auction houses is increasing as more and more countries accelerate their EV programmes. Auction prices for EVs in Japan have increased around 50% in the last 12 months and are showing no signs of abating. These increases will be coming through on the price of second hand EVs soon. With second hand prices firming and feebates on new EVs rumoured, maybe the smart move would be to buy second hand now to enjoy lower running costs and then trade up to new in a couple of years when the second hand market is firmer. Caveat emptor on that.
Finally this week, a call out for potential webinar topics and speakers please. CEP is all about sharing knowledge. Our webinars are advertised far beyond the membership and while content must be educational rather than promotional, they still provide an excellent platform for demonstrating expertise and standing in the market.
Suggestions to [email protected] please.
Have a great and weekend.
Mike and the team
---
Check out CEP Training courses, CEP Webinars and other Industry related events – coming up.
---
Tender Opportunities
ADVANCE NOTICE – Management of School Coal Builder Programme
Ref 23757601
T
he Ministry of Education is seeking a supplier to program and manage the boiler replacement process, and the project management, design, delivery and commissioning of each school solution.
Each school, that currently have a coal boiler or end of life boiler will have a tailored heating solution with the new fuels being either biomass or electricity. Solutions may include replacement with new boilers or other heating and/or cooling solutions. We seek suppliers that can demonstrate they have a robust, method, approach, systems and processes to effectively manage cost, time and quality risks of this programme.
Not within scope of this tender is the supply of the heating solution components, and heating solution reports and other engineering reports.
The tender is due for release in February 2021.
---
Notice of Intent for design and build of Christchurch Organic Plant Upgrade
Ref 23903990
The purpose of this Notice of Intent is to communicate to the market the Council's needs to deliver the Organics Plant Upgrade project, determine the market appetite to participate in a tender process given the contract works, timeframes and procurement delivery model, understand potential risks associated to the delivery of contract works and identify Prospective Suppliers with expertise, capability and capacity in delivery of similar projects.
The following are the anticipated objectives that will allow the Council to meet the NOI purposes:
Market engagement to allow for Prospective Supplier's advanced planning and Council's preparation of the tender documents (technical, commercial and legal);

Open a communication channel between the Council and Prospective Suppliers for discussion of efficient ways to deliver the project whilst business requirements are being developed;

Receive confirmation of interest from Prospective Suppliers interested in participating on the tender process by returning the Proposal Acknowledgment Form attached;

Understand from Prospective Suppliers any issues around contractual allocation of risks (i.e. Bond, Retention, LDs, advance payments, etc) and the procurement delivery model.
Close Date: Wednesday, 17 February 2021 12:00PM
---
(1912) Te Puru School Main Contractor B,C,D,G: Upgrade + Breakout; B,D: Exterior Learning; Lighting & Heating upgrade
Ref 23772969
Subscribe to this notice for full access.
Close Date: Friday, 19 February 2021 5:00 PM
---
Nelson City Council – NRSBU – Generators supply – 02 February 2021

Ref 23927980
The Nelson Regional Sewerage Business Unit (NRSBU) operates the Nelson Regional Sewerage Scheme, which collects, conveys and treats waste from Tahunanui, Stoke, Richmond, Brightwater, Wakefield & Mapua. NRSBU is seeking to engage a generator supplier to provide, deliver, place and commission suitable backup generators to provide emergency power to pump stations and the treatment plant. The contract scope includes:
Supply of 5x generators (

2x 1000 kVA, 2x 750 kVA, 1x 75 kVA)
Supply of suitable auxiliary fuel tank(s) for each generator (if required)
Delivery of units to site, and fixing to pre-constructed pads
Commissioning of generators
Close Date: Friday, 26 February 2021 3:00 PM
---
Contract 21-22 Timaru Rd WTP Electrical & Control System

Ref 23942295
The Waimate District Council (WDC) is currently upgrading its Timaru Rd Water Treatment Plant. This work involves supplying, installing, testing and commissioning the whole of the electrical and Controls installation. WDC is looking for Contractors who are capable of undertaking the following works:
Supply and install new power cable from site transformer to new MCC

Supply, deliver to site, install, test and commission the new plant switchboard complete with control system

Supply and install Bore and Booster Pumps VFDs and connect to new Bore and Booster pumps and MCCs

Install free issue UV system power supplies and controls

Electrically install new and existing valve actuators

Supply, install, test and commission new instruments

Supply, install, test and commission Control system

Supply, install, test and commission Local HMI system

Supply, install and commission Telemetry System
Please refer to the documentation for further details about the work.
Close Date: Thursday, 4 March 2021 4:00 PM
---
CDHB Biomass Boiler Fuel Supply
Ref 23924624
Background: Canterbury District Health Board currently operate two biomass boilers, with a third expecting to become operational during 2021. These boilers are primarily used to provide heating and hot water to the hospital sites in Christchurch, along with some steam used for Sterile Services and Catering equipment.
What we are buying and why: We require value for money, reliable and secure biomass fuel supply for the proposed Christchurch Hospital Campus boiler, preferably delivered from a depot in Christchurch or reasonably close to it. Security of supply is critical to us, especially in times of disaster, so that we can continue to provide health services. We are seeking suppliers that are able to demonstrate that they can supply a large portion of the approximately 315,000 GJs of wood waste biofuel and/or 20,000GJs of wood chip that we require per annum by mid-2021.
We welcome solutions that make suitable use of resources that are normally considered to be waste products. Our preference is to use suppliers that can show that their wood and wood products are from sustainably-managed sources.
Christchurch Campus fuel requirements; P100M50A2, ISO-17225-1:2014 (oversize up to 350mm). 1 delivery, 3-4 times a year of dry fuel with a moisture content of about 30% is required for start up.
Close Date: Friday, 5 March 2021 12:00 PM

---
Capital & Coast and Hutt Valley DHB Minor trades Panel registration

Ref 23926411
The Facilities Management teams of both Capital and Coast District Health Board and Hutt Valley District Health Board require support for their Facilities Management teams to action, address and resolve facilities maintenance issues. It is the DHBs expectation that the successful businesses shortlisted after this Registration of Interest will create a Panel of providers that can satisfy a series of requirements and trade specifications. SME's only; Large Corporations and Facility Management companies are excluded, The trades required are:
Carpentry & Joinery

Electrical

Fitters

Flooring

Glazing

Handyman / General Maintenance

Heating / Ventilation / Air Conditioning (HVAC)

Painting

Plumbing

Refrigeration

Roofing

Scaffolding
You may respond to one or as many trades you are qualified for, and for as many sites (Hutt Valley and or Wellington, Porirua) you can manage.
Close Date: Friday, 5 March 2021 4:00 PM
---
NIWA Modern Climate Data Platform
Ref 23965896
NIWA seeks partners to support the design and pilot of a new data platform, along with defining an engagement and change program to support the adoption of these modern data tools, processes, and data management functions that are required for NIWA's future goals and operational sustainability.
This partnership will be to design and implement the data platform capabilities and lead the initial stages of change by migrating our climate data processing from a legacy pipeline that currently involves several systems. The scope of this pipeline covers receiving real time raw instrument data as well as third party data in various formats (file, FTP, web services), through various data processes, through to the enduring storage for the Nationally Significant Climate Database NIWA has the privilege of administering.
Close Date: Friday, 12 March 2021 12:00 PM
---
ADVANCE NOTICE – Maintenance and Renewal of Street lighting 2021-2024
Ref 23908331
This contract advance notice is for routine and emergency maintenance and renewal of streetlighting on the Matamata-Piako District Council's roading network and urban sections of State Highways located within the 50 to 70 km/hr speed zones.
We intend to go to market in April 2021. The opportunity will be advertised on the Government Electronic Tender System.
Close Date: Friday, 12 March 2021 4:00 PM