Deadlines, Deliveries and a Brave New World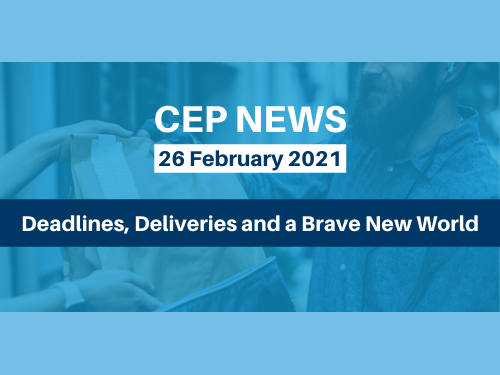 News from CEO – Mike Hopkins
Arguably, the best news of the week is that the Climate Change Commission has extended its submission deadline for comment on its draft advice by two weeks to 28 March. With the weight of documentation to digest, that was welcome news to many of us.
For a glimpse into the future, check out the video for Toyota's Woven City (the CES2020 video at the foot of the page, not the coverage of the groundbreaking ceremony). The ground was broken this week for its development at a recently closed vehicle production site. Once completed, the site will be home to 2,000 residents and is claimed to be a human-centred, ever-evolving, living laboratory that marks the beginning of Toyota's shift from being a vehicle manufacturer to a mobility company. The site will research and develop automated transport, robotics and artificial intelligence solutions.
In a not dissimilar vein, research released this week suggests smart intersection technologies can save cities US$277bn (NZ$375bn) by 2025 through reducing congestion costs and emissions. 95% of the savings are attributed to congestion reduction and 75% are expected to eventuate in tackling congestion in Europe and the US. No mention of Paremata roundabout.
The latest from BloombergNEF tells us global decarbonisation, i.e. supporting widespread electrification of transport, heating and cooling on the back of increased wind and solar to meet that demand, will require investment of US$14trillion (NZ$19trn) into grid networks globally between now and 2050.
Facebook has come in for a lot of flack recently, especially with its blocking of Australian news feeds and the CCC in NZ. Perhaps in an effort to make amends, it has launched new functionality in the UK which "pokes" climate change misinformation through a labelling system and then directs users to official information sites. The functionality is expected to be rolled out to other countries soon.
Next time you're thinking of a lazy Friday night supper, spare a thought for the emissions associated with food delivery. Research from the University of Melbourne found the disposal of single use packaging from online food orders lead to 5,600 tonnes of CO2e emissions across Australia in 2018. With the sector growing by 15% per annum (before COVID), it predicted 13,200 tonnes of CO2e emissions per year by 2024 from the packaging alone. Paper packaging produced significantly higher emissions during breakdown than plastic because of the higher carbon content, although contained fewer toxins. Based on a typical order, the ranking of emissions from the main types of cuisine were (from worst): Burger Meal, Thai, Pizza, Indian, Chinese.
Meanwhile, in a seemingly excellent example of questionably implying cause and effect from correlation, Uswitch in the UK reports households that spend more than £50 (NZ$95) a week on takeaways have a 450% higher annual carbon footprint than those that don't. They suggest every time someone uses a food delivery app, the action creates 0.778 Kgs of emissions. Deliveroo was deemed the most energy efficient provider emitting 54.06 Kgs of CO2e yearly, based on 10,000 visits per month, with UberEats clocking up 126.77Kgs under the same assumption.
Finally this week, we've now firmed up dates for several carbon courses coming up between now and May, so please scroll through the list and share details.
Have a great and safe weekend, eat wisely and watch out for those Air New Zealand special deals to Christchurch around 25 May.
Have a great and weekend.
Mike and the team
---
Check out CEP Training courses, CEP Webinars and other Industry related events – coming up.
---
Tender Opportunities
ADVANCE NOTICE – Management of School Coal Builder Programme
Ref 23757601
T
he Ministry of Education is seeking a supplier to program and manage the boiler replacement process, and the project management, design, delivery and commissioning of each school solution.
Each school, that currently have a coal boiler or end of life boiler will have a tailored heating solution with the new fuels being either biomass or electricity. Solutions may include replacement with new boilers or other heating and/or cooling solutions. We seek suppliers that can demonstrate they have a robust, method, approach, systems and processes to effectively manage cost, time and quality risks of this programme.
Not within scope of this tender is the supply of the heating solution components, and heating solution reports and other engineering reports.
The tender is due for release in February 2021.
---
Contract 21-22 Timaru Rd WTP Electrical & Control System

Ref 23942295
The Waimate District Council (WDC) is currently upgrading its Timaru Rd Water Treatment Plant. This work involves supplying, installing, testing and commissioning the whole of the electrical and Controls installation. WDC is looking for Contractors who are capable of undertaking the following works:
Supply and install new power cable from site transformer to new MCC

Supply, deliver to site, install, test and commission the new plant switchboard complete with control system

Supply and install Bore and Booster Pumps VFDs and connect to new Bore and Booster pumps and MCCs

Install free issue UV system power supplies and controls

Electrically install new and existing valve actuators

Supply, install, test and commission new instruments

Supply, install, test and commission Control system

Supply, install, test and commission Local HMI system

Supply, install and commission Telemetry System
Please refer to the documentation for further details about the work.
Close Date: Thursday, 4 March 2021 4:00 PM
---
CDHB Biomass Boiler Fuel Supply
Ref 23924624
Background: Canterbury District Health Board currently operate two biomass boilers, with a third expecting to become operational during 2021. These boilers are primarily used to provide heating and hot water to the hospital sites in Christchurch, along with some steam used for Sterile Services and Catering equipment.
What we are buying and why: We require value for money, reliable and secure biomass fuel supply for the proposed Christchurch Hospital Campus boiler, preferably delivered from a depot in Christchurch or reasonably close to it. Security of supply is critical to us, especially in times of disaster, so that we can continue to provide health services. We are seeking suppliers that are able to demonstrate that they can supply a large portion of the approximately 315,000 GJs of wood waste biofuel and/or 20,000GJs of wood chip that we require per annum by mid-2021.
We welcome solutions that make suitable use of resources that are normally considered to be waste products. Our preference is to use suppliers that can show that their wood and wood products are from sustainably-managed sources.
Christchurch Campus fuel requirements; P100M50A2, ISO-17225-1:2014 (oversize up to 350mm). 1 delivery, 3-4 times a year of dry fuel with a moisture content of about 30% is required for start up.
Close Date: Friday, 5 March 2021 12:00 PM
---
Capital & Coast and Hutt Valley DHB Minor trades Panel registration

Ref 23926411
The Facilities Management teams of both Capital and Coast District Health Board and Hutt Valley District Health Board require support for their Facilities Management teams to action, address and resolve facilities maintenance issues. It is the DHBs expectation that the successful businesses shortlisted after this Registration of Interest will create a Panel of providers that can satisfy a series of requirements and trade specifications. SME's only; Large Corporations and Facility Management companies are excluded, The trades required are:
Carpentry & Joinery

Electrical

Fitters

Flooring

Glazing

Handyman / General Maintenance

Heating / Ventilation / Air Conditioning (HVAC)

Painting

Plumbing

Refrigeration

Roofing

Scaffolding
You may respond to one or as many trades you are qualified for, and for as many sites (Hutt Valley and or Wellington, Porirua) you can manage.
Close Date: Friday, 5 March 2021 4:00 PM
---
Palmerston North City Council Lighting Display and Demonstration

Ref 23973893
Palmerston North City Council (PNCC) seeks proposals for the assessment, design and procurement of a fixed, semi-permanent or mobile lighting asset to integrate into a City CBD street that is planned for renewal this year
Close Date :Tuesday, 9 March 2021 4:00 PM

---
NIWA Modern Climate Data Platform
Ref 23965896
NIWA seeks partners to support the design and pilot of a new data platform, along with defining an engagement and change program to support the adoption of these modern data tools, processes, and data management functions that are required for NIWA's future goals and operational sustainability.
This partnership will be to design and implement the data platform capabilities and lead the initial stages of change by migrating our climate data processing from a legacy pipeline that currently involves several systems. The scope of this pipeline covers receiving real time raw instrument data as well as third party data in various formats (file, FTP, web services), through various data processes, through to the enduring storage for the Nationally Significant Climate Database NIWA has the privilege of administering.
Close Date: Friday, 12 March 2021 12:00 PM
---
ADVANCE NOTICE – Maintenance and Renewal of Street lighting 2021-2024
Ref 23908331
This contract advance notice is for routine and emergency maintenance and renewal of streetlighting on the Matamata-Piako District Council's roading network and urban sections of State Highways located within the 50 to 70 km/hr speed zones.
We intend to go to market in April 2021. The opportunity will be advertised on the Government Electronic Tender System.
Close Date: Friday, 12 March 2021 4:00 PM
---
Environment Canterbury Decarbonisation Roadmap
Ref 24009260
Regional Councils are responsible for managing their region's natural resources – the air, soil, water and how land use affects the environment.
Environment Canterbury has around 630 full-time equivalent staff across Canterbury.
As a regional council, our specific responsibilities include:
regional planning, consenting and compliance to manage land use and water quality, soil, air, and the coastal environment
hazard management and flood protection
biodiversity and pest management
public transport services
harbour navigation and safety, and marine pollution response
regional parks
civil defence
environmental monitoring and reporting.
Environment Canterbury are seeking services to develop a decarbonisation roadmap for organisational emissions reduction. This roadmap will capture our baseline emissions and inform possible future investment opportunities and initiatives that could be implemented.
Close Date: Monday, 15 March 2021 5:00 PM
---
FNDC Lighting Maintenance and Renewals
Ref 24015123
This contract is for the management and maintenance of the road corridor and amenity lighting network assets within the Far North districts. The contract includes but is not limited to the following activities:
Proactive activities
Maintenance, replacement and or retrofitting (luminaires, lighting columns, supports/fixings, control gear & wiring) for all street lighting and specified amenity areas
Streetlight LED Infills
Asset condition monitoring
Asset management
Traffic management necessary to safely carry out work without unnecessarily delaying traffic movements.
Minor and/or unscheduled related lighting works not otherwise covered above.
Reactive activities
Attendance and rectification of lighting outages within prescribed response time for specific areas.
Working with NTA and emergency services as required in emergency response events.
Management activities
Reporting
Accurate and complete provision of RAMM and related asset information.
Hold adequate stock levels of parts and equipment in storage for reactive maintenance.
Managing and undertaking maintenance activities within budget allocations directed by the Engineer.
Working collaboratively with stakeholders; Far North District Council (FNDC), Police, Energy supplier(s), to obtain best for community solutions to specific matters.