EVs, CMVP and Lighting Standards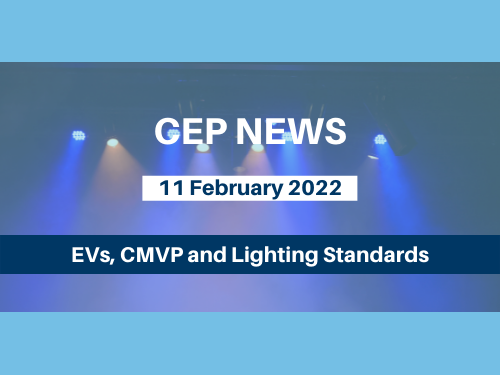 News from CEO – Mike Hopkins   
Kia ora,
The Prime Minister opened Parliament this week and reiterated the need to address climate change is uppermost in the Government's thinking.  Supporting green hydrogen is very firmly on the agenda and the PM also lauded the Government's Clean Car Discount initiative, which has seen record numbers of EVs registered since its introduction. Data from the MIA supports claims of significant movement in market trends.  Sales of battery electric vehicles increased by 344% in 2021 (over 2020), with sales of plug-in hybrids increasing 228% and hybrids 59%.  While these increases are from a low base and sales remain modest compared with ICE vehicles, the impact is beginning to show through. Emissions from new vehicles fell by 4.7% in 2021, the highest fall since the MIA started collecting data on this in 2006. Internationally, global EV sales are now at around 130,000 a week, roughly as much as total sales for 2012. With annual global sales of 6.6 million units, they still represent only 9% of the market.  Just over half of all EV sales are in China with 35% in Europe.
An article in Nature raises concerns over a vicious circle of methane generation, possibly caused by increasing temperatures.  The article reports methane concentrations surpassed 1,900 parts per billion last year. It indicates the increase is mostly attributable to biological sources rather than fossil fuels, the biggest contributor being wetlands. It's not a long piece and well worth a read.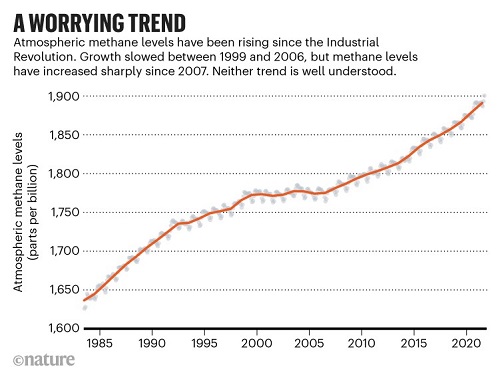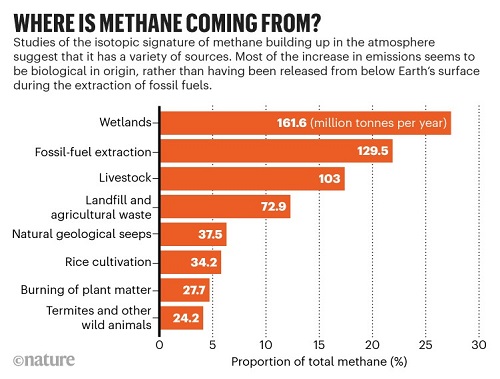 Perhaps unsurprisingly, several household-name multinationals are being called-out for an over reliance on offsetting for their net zero commitments. A joint report from the New Climate Institute and Carbon Market Watch covering 25 multinationals concluded their emissions reductions plans would achieve only a 40% reduction on average. Companies whose plans were described as having "low integrity" included Amazon, Deutsche Telekom, Enel, GlaxoSmithKline, Google, Hitachi, IKEA, Vale, Volkswagen and Walmart, while the net-zero pledges of Accenture, BMW Group, Deutsche Post DHL, Nestlé, Novartis and Unilever were described as carrying "very low integrity".
(Warning: Acronym Zone follows).  Members holding the CMVP certification will have received a notification from the AEE this week about changes in its relationship with EVO and the announcement of a competing EVO certifiction. We are currently in contact with the AEE, EVO and the EEC in Australia, whom we are partnering with at the moment on delivering the training in NZ, to establish the future plans of AEE and EVO and make sure our certification holders are well placed to make informed decisions on their certifications.  Watch this space.
The latest innovation from the notoriously emitting cement industry is of the use of cement as an energy storage medium. Swiss cement manufacturer Holcim has partnered with ENGIE to develop a product that can absorb 300kW of energy per cubic metre. Surplus energy from heating networks can be stored in the medium and is released through a hydration trigger.
One of CEP's beacons in the lighting sector, Bryan King, has recently lead the development of new standards for the energy performance of lighting in buildings. Bryan chairs committee P4097, whose draft will be issued for public consultation soon. A summary of the work and what it means for the sector can be found here.
We were notified this week that Auckland University is on the hunt for a Senior Energy Efficiency Engineer to work with Russell (Baillie). Details can be found on Seek.
In a similar vein, we are on the recruitment trail ourselves. Some of you will recall we put out a notification just before Christmas about an Administrator opportunity at CEP. Well, we had a decent response but didn't manage to find anyone quite right for the role, so are on the hunt again, this time with an advert on LinkedIn. Please forward to anyone you think may be suitable.
Please join me in welcoming a new Corporate Partner and several new Members this week.
Our new Silver Partner:
Our new Members:
Brad Mudgway (Student), Victoria University of Wellington
Elizabeth Chambers (Director), Carbon Match
Joshua McIvor (Climate Change Business Analyst), CarbonEES
Joshua McGlone (Sustainability Consultant), WSP NZ Limited
Finally, film buffs will recall Burt Monro's favoured technique for nurturing his lemon tree in "The World's Fastest Indian". Australian scientists are taking this a step further by looking at the circularity benefits of using the same product as a fertiliser for urban parklands. The research is funded by a AU$2m grant from the ARC. Sounds like someone is just taking the ****.
Wishing you all a safe and great weekend.
Mike and the team
---

CEP is 'giving it some jandal' when it comes to decarbonising New Zealand
CEP has announced its conference venue, theme and first Keynote for New Zealand's leading decarbonisation conference being held on 1st & 2nd June 2022.
CEP continues its tradition of attracting international heavy hitters by announcing Mark Caine as a Keynote. Caine is the project lead for artificial intelligence and machine learning at the World Economic Forum and has authored many publications on how AI can drive efficiency and address climate change.
Registrations and Sponsorship opportunities are now open.  More here.  Please view our sponsorship and exhibition prospectus.
---
Upcoming Events
The CEP Training Courses Calendar for the first half of 2022 is now available.  Please see our CEP Training Courses, CEP Webinars and other Industry related events.
---
Tender Opportunities
ROI – Non-wires alternative project – Vector Limited
Vector is inviting Registrations of Interest for providers of non-wires alternatives to play a key role in building the electricity network of the future.  As energy systems around the world change to meet the rapidly evolving demands of electrification, decarbonisation, reliability, and affordability, non-wires alternatives must be integrated with traditional infrastructure in a 'best of both worlds' approach.
More here
---
TOR – FSM Building Energy Efficiency Policy Project – Technical Advisor – Building EE Policy Specialist
The Department of Resource & Development Federated States of Micronesia Energy Division is looking for a Technical Advisor – Building EE Policy Specialist for their Micronesia Public Sector Buildings Energy Efficiency (MPSBEE) Project.
More here
---
Warmer Kiwi Homes Heat Pump Service Providers
Ref 25239499
Warmer Kiwi Homes (WKH) is a government-funded programme designed to support New Zealand families to live in warmer, drier homes. Funding is available for retrofits of approved heat pumps for homeowners who meet specific criteria.
The current WKH programme is funded until 30 June 2023. However this procurement is for a 4-year period from 1 July 2022 to 30 June 2026 assuming additional funding will become available through Government appropriations.
EECA, which runs the programme, expects to provide funding for approximately 9,000 eligible homes to have heating installed under the programme in the 2022-2023 year, the majority of which will be heat pumps.
The aim of this procurement project is to develop a panel of contracted Service Providers (heat pumps) with the capacity and capability to supply and install a range of heat pump products approved by EECA.
See tender for more details…
Closing Date: Thursday, 10 February 2022 12:00 PM
---
Main contractor for Block M, L, R5, R8, E, S, T, W, A, G, R2 Electrical Works at Okaihau College
Ref 25295696
The Okaihau College Board of Trustees are seeking a Main Contractor for the Block M, L, R5, R8, E, S, T, W, A, G, R2 Electrical Works.
Closing Date: Friday, 11 February 2022 5:00 PM
---
Main Contractor for the Design, Supply, Install and Commission of Heat Pumps in Blocks, A, B, C and E at Kelston Boys High School
Ref 25313973
This Board of Trustees of Kelston Boys High School is looking for a main contractor for the design, supply, install and commission of heat pumps in Blocks A, B, C and E. This will provide the School a more reliable source of heating and an option for cooling.
Close Date: Thursday, 17 February 2022 5:00 PM 
---
Assisted Natural Ventilation System (ANVS) – Pilot Programme
Ref 25352338
The Ministry will be seeking proposals from suitably experienced New Zealand-based organisations to assist in the rapid development and piloting of a solution to improve classroom natural ventilation, as part of the Ministry's work programme in response to the COVID-19 pandemic. The basic principle of the ANVS is installing a single, bolt-on, low-cost betterment solution for naturally ventilation environments. The purpose of the ANVS device is to contribute to minimising the risk of COVID-19 airborne transmission while lowering Carbon Dioxide (CO2) levels and Particulate Matter (PM) levels, through increasing the flow of fresh, clean outdoor air. ANVS is an immediate, high benefit yet low investment system for deployment in classrooms.
See tender for more details.
Close Date: Friday, 18 February 2022 5:00 PM
---
Portable Air Cleaners
Ref 25352456
The Ministry of Education (the Ministry) (the Buyer) is intending to go to market via GETS seeking proposals that details how you (the Respondent) will meet the requirement for ongoing delivery of Portable Air Cleaners to be used in some schools as part of the wider Ventilation Programme.
Requirements of this tender will align with advice provided by the Indoor Air Quality Research Centre NZ
Please review the attached Advance Notice.
Close Date: Friday, 18 February 2022 5:00 PM
---
Gisborne Hospital Electrical Infrastructure Upgrade
Ref 25330008
The expertise to complete the upgrading / replacement of our Electrical Infrastructure project at the Gisborne Hospital.
Services required will include the following:
Electrical design
Cost Management / Quantity Surveying
Reporting
Project and Risk Management
We are looking for proposals that includes design, budgeting, procurement, reporting, risk management and compliance with the New Zealand Building Code.  Your proposal must provide Hauora Tairawhiti with an end to end solution.
Close Date: Monday, 21 February 2022 7:00 PM
---
Auckland District Health Board Buildings Works (Main Contractor) for Substations H&R (Building A01)
Ref 25248932
This project is part of a 10-year Auckland District Health board (ADHB) Facilities and Infrastructure Remediation Programme (FIRP) to improve site infrastructure including the resilience of the electrical power supply, within the Auckland City Hospital (ACH) site. The Auckland Site Wide (ASW.01) Electrical Workstream objective is to replace and renew assets servicing the sites High Voltage (HV) and Low Voltage (LV) infrastructure.
As part of the CDH&R Substation upgrade (upgrade of HV substations on the ACH campus), we are required to:
Construct electrical plant rooms in an existing area of building A01, Level 5. Substation H and R will be constructed in an area currently occupied by Loading Dock 4, situated opposite the motorbike/bike parking area adjacent to the Domain.
Modify the room behind the loading dock to house electrical transformers and part of the loading dock will be extended out into the roadway to house new electrical switch rooms.
Below the new substations (Level 4) – erect floor strengthening members to support the new equipment.
Upon completion of the works, two lanes of the existing four loading dock lanes will be reinstated, and existing disability parking in front of the facility will also be returned.
We seek a building works contractor with experience in working in a 24/7 operating environment for the establishment of this building envelope or 'shell'. The Building contractor responsibilities include the coordination, fit out and implementation of all building elements in the design including structural, architectural, civil works and building services (small power, lighting, hydraulics, access control, and mechanical services).
Closing Date: Tuesday, 22 February 2022 4:00 PM
---
Auckland Western Power Feed Static Frequency Converters (SFCs) Supply
Ref 25354426
Kiwirail, through this Request for Information (RFI), is inviting suppliers to provide information about their experience and ability to supply, install, commission and provide
ongoing technical support to Static Frequency Converters (SFCs) solutions in an urban rail network environment. This RFI is a tool to gauge interest from the supplier market and provide confidence to KiwiRail in the ability of the market to deliver the project requirements. It will not be used to select or shortlist suppliers.
Close Date:  Friday, 25 February 2022 4:00 PM
---
Emergency Department HVAC Modifications for Counties Manukau District Health Board
Ref 25379373
Counties Manukau DHB (CMDHB) has an urgent requirement to create isolation rooms with negative pressure functionality. These rooms will be required to appropriately isolate Covid-19 patients and also utilize for isolation of other patients with infectious disease. We are looking for a company that has the requisite capability and experience to deliver HVAC design and installation services. The Supplier shall have the experience and expertise to deliver the services to assist CMDHB in its upgrade work with the HVAC systems. To be selected as the Supplier, Respondents will need to clearly demonstrate a strong history of designing, supplying, delivering, installing similar HVAC installations.
Closing Date: Monday, 28 February 2022 4:00 PM
---