EV Rebates, Carbon Neutral Government and Training Calendar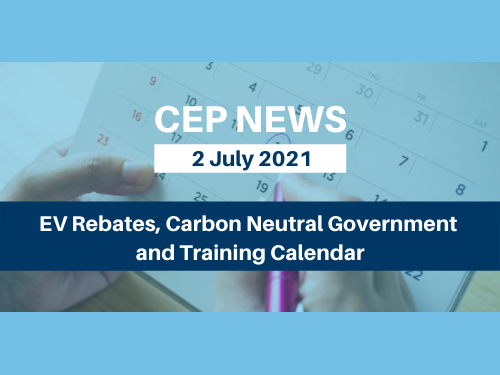 News from CEO – Mike Hopkins
Just for a change, we thought we'd start this week with some data around how we're doing with our digital presence – and it doesn't look at all bad. In the last 6 months our website took 10,000 hits from 7,100 users delivering 24,500 page views and our LinkedIn followers have increased over 50% with the total now standing at 1,248. There is still a huge amount we can do with our digital presence but there's no doubt we're heading in the right direction.
In national news, the EV rebate kicked in this week with up to $8,625, i.e. $7,500+GST, available. You still need to find the full payment first before claiming the rebate back from the government and the subsidy is still quite a way below other countries, such as France and Germany, but the rebate does bring the cost of a new MG ZS (the cheapest new EV in NZ) down around 17.5% to slightly over the $40,000 mark. For those with deeper pockets, the Tesla 3, Hyundai Ioniq, Kia Nero, BMWi3 and new Mazda MX-30 all qualify. For those with very deep pockets, vehicles above $80,000 do not qualify. Hybrids and used imports on their first NZ registration get a boost as well at lower subsidies. Watch out for those ex-demo and dealer registered models, though, as the rebate only applies to new registrations to NZ and the dealer may well have already pocketed the rebate. Find out more about the scheme and how to apply here.
IRENA published its World Energy Transitions Outlook this week with the conclusion that accelerating the transition will grow the world's economy by 2.4% over current plans this decade and achieve the 1.5C target. The accelerated plan focuses on renewables and efficiency and will require US$4.4 trillion investment per year, around 5% of global GDP, and create 122 million energy related jobs by 2050. The projections do make a rather significant leap of faith that all countries will adopt the acceleration but the report does provide a roadmap of how the transition could look. The full report can be found here.
More locally, Auckland's 10-year transport plan was officially finalised this week. The controversial plan includes the deferral of some key projects and while a small hope of additional funding from central government is still being talked about, expectations are of little extra support. The plan, therefore, doesn't meet original expectations of emissions reductions but is still expected to contribute 1% to Auckland's long term reduction targets.
We were expecting this week the publication of guidelines for the Carbon Neutral Government Programme which commenced on 1 July. The programme was announced last December with a declaration that all public sector entities will be carbon neutral by 2025. A certain degree of offsetting will be inevitable post 2025 but there will be huge opportunities across all layers of the public sector for decarbonisation initiatives over the next four years to keep those future offset costs down. Hopefully, we'll be able to report more detail next week. What has been published so far can be found here. And don't forget the Lighting Council's free session next Tuesday on public sector lighting opportunities (details below).
Finally this week, dates for the latest tranche of training courses are currently being finalised. We already have dates in the calendar for Optimising Process Heat, Preparing a Carbon Inventory, M&V (& CMVP exam), Advanced Industrial Energy Systems Optimisation, Energy Management for Facilities Managers and Energy Auditor. There are a few more coming as well. Dates are in the panels below. Please register promptly and pass on information to colleagues and clients.
Wishing you a safe and great weekend.
Mike and the team
---

---
Upcoming Events
Check out CEP Training courses, CEP Webinars and other Industry related events – coming up.
---
Tender Opportunities
Hillmorton Hospital Cook Chill Equipment Replacement (Electrical)
Ref 24393343The existing equipment has now reached the end of its operational life and frequent repairs are required, with spare parts becoming increasingly costly. The current cooking equipment operates using steam that is provided by an onsite LPG boiler. With the recent Government announcement on reducing emissions and moving away from the use of LPG as an energy source, the kitchen is looking to procure cooking equipment that uses electricity as opposed to steam.
Close Date : Tuesday, 6 July 2021 12:00 PM
---
MDHB MRI Chiller Replacement
Ref 24421756MidCentral District Health Board (MDHB) needs to replace a single TRAX Chiller in the MRI Department with two new Chiller's in order to provide n+1 redundancy to the MRI Scanner. The existing MRI Chiller has been assessed as oversized for the cooling load of the MRI unit and the MRI associated plant. The existing pipework has some non-compatible components that could affect the lifespan of the MRI plant. There is also no redundancy to the MRI chiller in the case of a chiller failure.MDHB is seeking suitably qualified providers that have capability and capacity to install and commission two new air-cooled Chiller's, and reconnect the existing TRAX chiller to the Building HVAC system in a different location. MDHB anticipates the new Chiller's will be in use for at least 12 years.
Close Date : Tuesday, 6 July 2021 12:00 PM
---
Replacement Heat Pumps Dunedin Hospital
Ref 24408212The Dunedin Public Hospital has a series of heat pumps that require replacement as they have reached the end of their useable life. Therefore the Southern District Health Board (SDHB) now require replacement heat pumps. The new heat pumps need to be replaced with their modern equivalents (size/capacity) including the replacement of the outdoor units.
Close Date : Monday, 12 July 2021 10:00 AM
---
Main Building Contractor for the Combined 5YA Works Project at Manukorihi Intermediate
Ref 24384028The Board of Trustees is seeking to undertake a number of projects identified in their 10YPP as a single project including:
Blocks A & K: Tempered Hot Water & Cylinder Replacement

A Block: Convert classrooms to library

Block B: DQLS and ILE Refurbishment

Block F: DQLS Refurbishment of Technology Rooms

Blocks B & F: Cladding Repairs

Block G: LED Lighting Upgrade

Block A, B, F, & H fire alarm upgrade
An indicative construction period is given as October 2021 – Jan 2022. However respondents are invited to nominate alternative timeframes.
Close Date : Monday, 12 July 2021 5:00 PM
---
Hillmorton Hospital Switchgear
Ref 24437900This RFP relates to the procurement of services to remove the incoming OCB2 11kW and outgoing GF3 Long and Crawford Switch gear from CDHB Hillmorton Hospital Linen Services Substation and replace with suitable effective equipment. The work is expected to be completed safely and tested to conform with all suitable electrical standards. The work must be undertaken in a way that minimises disruption to the power supplied from the Hillmorton Linen Services Substation to areas of the CDHB Hillmorton facility.
Note; Site Visit 24/6/2021Inspection of equipment by arrangement through GETS email
Close Date : Wednesday, 14 July 2021 12:00 PM
---
Lighting Upgrades for the Kidz First & McIndoe Buildings Middlemore Hospital
Ref 24447268Counties Manukau District Health Board wishes to upgrade the lighting in the Kidz First and McIndoe buildings at Middlemore Hospital. The main drivers for the upgrade are to improve illumination levels in certain areas, reduce maintenance costs, and achieve significant energy savings, using modern internationally approved LED lighting systems. The general scope of this RFP is for the supply and installation of luminaires and attachments.PLEASE NOTE: As part of this RFP process Respondents are required to attend a site visit to better understand the lighting installations. Prospective Respondents should refer to Section 3.2.4 of this RFP.
Close Date : Thursday, 15 July 2021 4:00 PM
---
Internal alterations and refurbishment to form new Learning Hub at Hillsborough Primary School
Ref 24451956To undertake internal alterations and refurbishment works to Block 1 (in part) to provide a new Learning Hub facility.Works to include for the following:
Light demolition of internal walls.

Removal of salvaged items i.e., heat pumps, radiators, toilets,

Safe removal and disposal of identified asbestos as required,

Establishment of area of works, including supply and installation of 2m high temporary fence around perimeter of construction site (location to be confirmed with school),

Coordination and management of all subtrades (painting, drainage, plumbing, electrical, data, etc),

Civil and foundations work: check for existing piles, if no pile allow for new braced pile as per NZS3604, as per drawings,

Allow to remove existing handrail for accessibility entrance ramp, and replace with new 40mm diameter steel handrail pipe, mounted at between 900mm with posts at 600mm c/c,

Removal of existing external lighting as per drawings, supply and install new LED fixtures and lights as required,

Supply and installation of floor and wall linings,

Supply and installation of new hot water cylinder,

Supply and installation of new heat pumps,

Supply and installation of new toilets fittings and basin units,

Supply and/or manufacture, and installation of all other necessary building materials,

Supply of all required warranties and certificates upon completion,

Reinstatement of any damage caused by site works on completion of contract,

The Contractor will be engaged through a Medium Works Contract. No Contract related tags will be considered. (Construction contracts for professional services and works). The Principal prefers there to be no drawings and specification related Tags.
Close Date : Thursday, 15 July 2021 5:00 PM
---
Solar Energy System for Parliament House
Ref 24484735Following feasibility studies carried out by Parliamentary Service (PS), the implementation of a Solar energy system was considered a viable solution for the supplementation of our future energy consumption needs. This RFP relates to the purchase of a detailed design and installation of a solar energy system to capture the energy and to reduce our carbon footprint.The key objective of this procurement is to find a turnkey solution for the solar panel design and installation services. This project will be a flagship development, with high visibility to both Parliamentary Service and the successful tenderer.Please note: Parliamentary Services requires the tenderer to complete a Non-Disclosure Agreement and Undertaking Agreement (Appendix Six) period to release the Parliament House Solar PV Drawing Tender Issue (Appendix Two).
Close Date : Wednesday, 28 July 2021 4:30 PM
---
LPC Maintenance Services Panel
Ref 24469982Lyttleton Port Company (LPC) is seeking proposals from suitably qualified and experienced maintenance engineering services providers to join a Services Panel. The panel will be established to support the ongoing planning and delivery of the LPC Long Term Plan (2018-2028).This prequalification panel will be established for a period of 3 years with 1 + 1 renewal options and will ensure value for money and improved initiation of contracts. We intend to:
Establish a panel of specialist engineering services suppliers who can provide reactive and planned engineering services.

Streamline the procurement process to appoint suppliers allowing greater throughput of work and to ensure delivery of the required outcomes.

Develop an environment where LPC benefits from engineering service innovation and excellence that delivers the best whole of life solution.

Ensure the application of good assurance and management practices to the works delivered under this panel arrangement.
Close Date : Wednesday, 4 August 2021 4:00 PM