New Board Member for CEP plus International News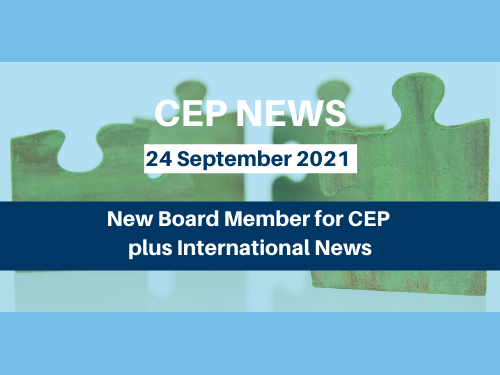 News from CEO – Mike Hopkins
Kia ora,
In internal news, we can report CEP has a new Board member, Jason Bretherton of WSP. As you'll all know one Board seat is occupied by a representative of our Senior (Foundation, Gold and Silver) Corporate Partners. Until recently, the position was held by Emma-Kate Greer of Genesis who has moved on to a senior position at 2 degrees. A big thank you goes out to Emma-Kate for her input over the last couple of years. On Wednesday this week the other Partners elected Jason their Chair and representative. Congratulations to Jason and we all look forward to working with him over a long and fruitful tenure.
Concerns over successful outcomes from COP26 are filtering through the international media at the moment. The two-week gathering at the start of November carries huge expectations and yet China has not yet even confirmed attendance, commitments are falling short and developing countries are becoming increasingly disgruntled.

We've reported several stories over the last few months about countries not really getting up to speed with what needs to be done. This week, the UN's Synthesis Report provided an update on NDCs. The report covers the NDCs of all 191 signatories to the Paris agreement. Its analysis of the 113 new or updated NDCs suggests emissions will decrease 12% by 2030 relative to the 2010 base year. The IPCCC states the reduction needs to be 45% to hit the 1.5C target.
Also, unrest is brewing over the support provided to developing countries. The OECD has recently published data indicating wealthy nations are falling short of declared pledges to support climate change adaptation in less developed countries. Of the US$100bn (NZ$142bn) per year promised, only around US$70bn (NZ$100bn) has been forthcoming and much of this has taken the form of loans rather than the promised grants, meaning developed countries are simply carrying more debt. Boris Johnson has called for developed countries to step up.
Meanwhile UN Secretary General Antonio Guterres expressed his concern about COP26 outcomes. In an interview this week he said: "I believe that we are at risk of not having a success in COP26…. There is still a level of mistrust, between north and south, developed and developing countries, that needs to be overcome."
On a more positive note, the EU is set to introduce a certification scheme for carbon dioxide removals from the atmosphere. A policy paper will be published this year, followed by legislation next. As well as agriculture and forestry, the scheme is expected to cover atmospheric removal technologies.
We've previously reported on an initiative to improve the integrity of carbon markets. The Taskforce on Scaling Voluntary Carbon Markets (TSVCM) took a step closer to implementation this week with the announcement of an independent governance body for VCMs. The 22 person committee represents 12 countries and boasts a member consultation group of 250 companies. More here.
Of course, 2022 is not far way and event calendars are already starting to see entries. Nominations for the 2022 Energy Excellence Awards (late June) opened this week. The awards carry categories for Community Initiative, Energy Retailer, Innovation, Large Users, Low Carbon, Network Initiative, Well-being, Outcomes and Young Energy Professional. It would be great to see CEP members nominated and winning so if you have been involved in potential winning projects please take a look at the entry forms.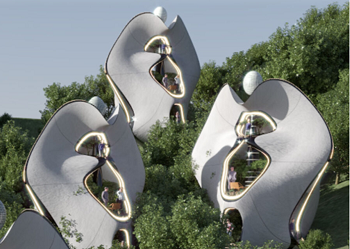 Even more important than that, we are getting close to announcing the dates and venue for our own 2022 conference. Just a few t's to cross on some of the contracts but let's just say you would serve yourself well to pencil in the 1st and 2nd June as important dates. More to follow soon ………
If you're interested in a weird and wonderful glance into the (possible) future, you may be interested in "Mother Nature" houses in Sardinia. The modular design is based on a steel, 3D printed exoskeleton. Each building has a central energy tower with solar panels capped by a wind turbine and each building is intended to be energy self-sufficient.
Wishing you a safe and great weekend.
Mike and the team
---
Upcoming Events
Check out CEP Training courses, CEP Webinars and other Industry related events – coming up.
---
Tender Opportunities
Cowles Stadium Mechanical and Bathroom Upgrade
Ref 24485334
The purpose of this RFT is to invite Tenderers for the removal of the diesel burner and installation of a new electrical heating and cooling system and reconfiguring and refurbishment of bathrooms. We are seeking a single head contractor who can manage the delivery of building, mechanical, electrical and plumbing services.
Close Date: Monday, 27 September 2021 12:00 PM
---
CCDHB LED Lighting Installation
Ref 24748236
Description of Works – LED Lights Installation. To replace all Non-LED Lights with LED Lights, including occupancy sensors and timers (as per the requirements of the specific area). The installation includes seismic restraints and commissioning of the LED lights. The equipment supplier will be required to provide technical support for the installation of lights. CCDHB expect to commence the installation of LED Lights in Q1 2022 and complete, commissioning and handover by Q4 2022. The contractor will be required to be engaged no later than December 2021.
---
Alfriston College – Upgrade Heating and Cooling Systems
Ref 24745304
5 Blocks require upgrades to the current heating and cooling systems that are no longer fit for purpose or have reached the end of their life cycle. Works include: Replacement of air handling units and chillers, boilers heating panels and flues within specified blocks.
Closing Date: Friday, 1 October 2021 5:00 PM
---
Main Contractor for A, E, F, S, W: Heating replacements at Wairoa College
Ref 24773145
Heating/Ventillation (Aircon) Replacement.
Close Date : Wednesday, 6 October 2021 5:00 PM
---
3 Waters Electrical and SCADA Maintenance Support
Ref 24761191
The Dunedin City Council (DCC) 3 Waters department has an Electrical and SCADA support contract that is expiring and this is an opportunity for an appropriate supplier to partner with the DCC on a new maintenance and minor capital works contract, providing services to the 3 Waters treatment plants, assets and facilities. The DCC is seeking responses from suitably experienced suppliers who can provide the range of services specified. We want to setup a single contract to cover the range of electrical, telemetry and SCADA support services required.
The supplier must be able to demonstrate proficiency in both reactive and proactive maintenance tasks and capital upgrade works across the range of equipment in our 3 Waters facilities.
Closing Date: Friday, 8 October 2021 4:00 PM
---
Sustainable Energy Provider
Ref 24780657
Wellington City has a goal of net zero carbon by 2050 – as laid out in Te Atakura – First to Zero which was adopted by Council in 2019. During this time, Wellington City Council (Council) declared a climate and ecological emergency and responded with Te Atakura, a blueprint to becoming a zero-carbon capital.
The New Zealand energy market has changed significantly in recent years as a result of new technologies, a shift towards low carbon energy sources and changing consumption patterns. The Council's Executive Leadership Team reviewed the future impacts of energy on achieving the zero-carbon goal and endorsed the development of an Energy procurement Strategy to investigate the way it procures and consumes energy to maximise benefits to rate payers. The key objectives of the Energy Procurement Strategy are to:
Support the implementation of 'Te Atakura – First to Zero' by developing commercial arrangements that deliver enhancements to energy usage via the council's energy portfolio including:
– improving the energy efficiency of Council buildings,
– moving toward sustainable fuel alternatives,
– moving toward vehicle electrification,
– exploring local energy generation opportunities, ensuring security of energy supply,
– establishing a sustainable energy budget.
Develop a commercially viable relationship with a Sustainable Energy Supplier that can provide a range of energy efficiency services along with the basic supply of energy that will support decarbonisation of the Council's energy supply and stationary energy assets, and is consistent with our core values and vision for a smart Council and capital.
Closing Date: Friday, 8 October 2021 4:00 PM
---
National Heat Pump Supplier
Ref 24817453
The Ministry of Education (MOE) (the Buyer) seeks to engage a National heat pump specialist, who can design, supply, and install heat pump solutions in schools across New Zealand.
We seek suppliers who can demonstrate they have robust methodologies and systems in place to effectively manage cost, schedules, and quality. A Precondition of this tender will include:
Supplier can supply design services of the heat pumps to meet the individual Schools heating requirement i.e., size / number per school
Supplier can supply and install heat pump solutions in schools across New Zealand.
The Ministry prefers not to use split or high-wall heat pump systems. Suppliers will need to demonstrate their ability to design and supply air-to-air heat pump systems that meet school heating needs without the use of split or high wall units as afar as possible. Reverse cycle is a requirement, and the provision of fresh air should be considered best practice wherever possible.
Closing Date: Monday, 11 October 2021 12:00 PM
---
Refrigeration equipment for New Zealand Blood Service
Ref 24768925
This RFP (Request For Proposal) is for the Supply and management of Refrigeration equipment for New Zealand Blood Service (NZBS) at all of its nationwide sites. This equipment is used for the storage and freezing of blood components, blood products, tissue and reagents.
NZBS is seeking proposals for the (Part 1) supply of stand-alone refrigeration equipment, and (Part 2) management of the entire NZBS fleet of stand-alone refrigeration equipment (existing and those supplied as part of Part 1). Although NZBS has a preference to deal with a single supplier, respondents may submit a proposal for only to Part 1: Supply OR both Parts 1 and 2. NZBS will NOT accept submissions to only Part 2.
Closing Date: Monday, 11 October 2021 5:00 PM
---
Notice of Information (Advance Notice)
Government Investment in Decarbonising Industry (Round 3)
Ref 24806725
Decarbonising industrial process heat:
The Government Investment in Decarbonising Industry (GIDI) Fund is a partnership between Government and business to accelerate the decarbonisation of industrial process heat and contribute to the COVID-19 recovery by stimulating the domestic economy and supporting employment.
Process heat makes up around a third of New Zealand's overall energy use, and 60% of process heat is fossil-fuelled, mainly by gas and coal.
EECA administers the GIDI Fund on behalf of the Government through a contestable process that will see $69 million of capital grants co-investment made available to support good projects.
The Fund is available to New Zealand-based private sector businesses who have committed to decarbonising their business and industrial processes, where Government co-investment will help remove barriers to accelerating their decarbonisation goals. Round 3 is open
EECA is now accepting applications for round 3 of the GIDI Fund.
Applicants have until October 18 to submit their proposals, and successful projects will be announced by Minister of Energy and Resources Dr Megan Woods early in 2022.
Full details regarding the fund, including how to apply, can be found on the EECA website. Please direct all question to the GIDI Fund administration team.
Closing Date: Monday, 18 October 2021 5:00 PM
---
Floodlight systems at Donnelly Park Netball courts and Shannon Domain
Ref 24850514
This procurement relates to the provision of two new LED Sports flood light systems.
Horowhenua District Council requires the construction of two new LED Sport Flood light systems to illuminate three netball courts at Donnelly Park in Levin and the rugby field at Shannon Domain.
Close Date: Tuesday, 19 October 2021 5:00 PM
---
Lead Contractor Building and Minor Construction (Minor Works)
Ref 2481663
Nelson Marlborough District Health Board (NMDHB) needs an effective and efficient "Building and Minor Construction (Minor Works)" Lead Contractor to meet current and future requirements within the region. We are not looking to sub-contract any specialist trades ourselves, we are seeking a Lead Contractor that is able to source and project manage all aspects of any minor works project themselves.
Typical trades required may include: • Carpentry & Joinery • Electrical • Fitters • Flooring • Glazing • Handyman / General Maintenance • Heating / Ventilation / Air Conditioning (HVAC) • Painting • Plumbing • Refrigeration • Roofing • Scaffolding
We are seeking proposals from Respondents who have the necessary skills, knowledge and experience to provide building services including, but not limited to: • Reactive and planned repairs • Maintenance • Renovations • Hard Surface Renewals
Close Date: Friday, 22 October 2021 5:00 PM
---
[/vc_column_text][/vc_column][/vc_row]