Corporate Reporting, Sustainable Milk and Webinars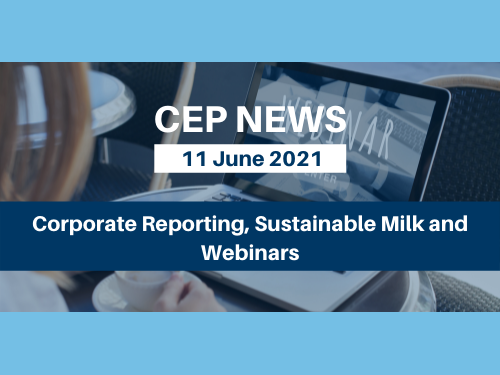 News from CEO – Mike Hopkins
Kia Ora,
The biggest domestic news story this week was the publication of the Climate Change Commission's final advice. Given the coverage that has received in the wider media, we'll pass over swiftly here.
At the G7 summit in Cornwall this week, all members agreed to mandate TCFD reporting for large corporates. The G20 will also be discussing this soon, meaning a global agreement could be achieved before COP26 in November. Is this of immediate relevance to NZ? Yes.
There is presently a draft Bill in circulation regarding TCFD reporting for the finance sector in NZ. Regular readers will recall last week I called for comment/feedback on the concept of a carbon regulator to oversee quality assurance of measurement and verification for the ETS and corporate reporting. This would also help combat greenwashing. In a couple of weeks we will be appearing in front of the select committee considering the Bill. The idea of a carbon regulator may be raised as an alternative to the current draft legislation which leaves this in the hands of the XRB and FMA, in effect the accounting profession. Your thoughts on this would be valued so that we can build an organisational view. Email your feedback here.
The G7 Ministers also supported work for the development of reporting standards for sustainability and for the newly launched TNFD (Taskforce on Nature-Related Financial Disclosures).
On a side note, Boris Johnson tweeted shortly after arriving that he would be asking fellow leaders to "build back better, fairer and greener". That is, shortly after arriving on a private jet! Enough said.
Meanwhile the Science Based Targets Initiative has reported none of the leading stock market indices of the G7 (S&P500, FTSE, DAX, Nikkei, etc.) are aligned with Paris targets. The average pathway for the indices would lead to a 2.95C increase by 2030. The corporate reporting, seemingly, can't come quickly enough.
The move to regenerative agriculture took another step forward this week with global frozen food giant McCain committing to switching its 370,000 acres of potato production worldwide to regenerative practices by 2030.
Ever wondered just how sustainable your milk choice is? On balance, soy and oat milk are the clear winners. We'll not comment on taste preferences and leave that to you.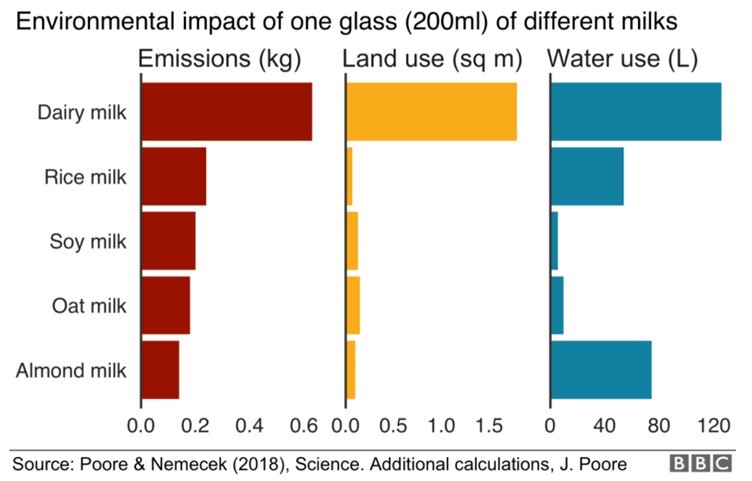 The conclusion of what is claimed to be the world's largest vehicle to grid trial has revealed significant electricity savings when using smart charging technologies. Lasting 3 years, the trial showed an annual saving of £120 (NZ$237) p.a. when using a one-way smart charger, £340 (NZ$670) p.a. when using basic V2G charging and £720 ($NZ1,420) p.a. when using programmable smart charging.
While NZ still debates the merits of hydro for its "battery" storage project, the rest of the world moves on with more traditional battery technologies. Installation of new battery storage in the US increased by 252% in the first quarter of 2021, with 910MW of capacity installed and 12,000MWh expected to be installed over the year.
A few weeks ago, I was speaking with someone from NZSSE (New Zealand Society for Safety Engineering) and we agreed it may be an interesting idea to put together a webinar focused on marrying health and safety and sustainability into design. They have someone to talk to the H&S aspect so this is a call for someone to work with them from the sustainability angle. If delivering a webinar in this area is of interest, please let us know so that we can put you in touch with the NZSSE nominee.
Wishing you a safe and great weekend.
Mike and the team
---
Check out CEP Training courses, CEP Webinars and other Industry related events – coming up.
---
Tender Opportunities
Procedure Suite Works – Notice of Information (NoI)
Ref 24299304
Notice of Information (NoI). Hutt Valley District Health Board Procedure Suite
This Notice of Information (NoI) is an advance notice of a soon to be released Request for Tender (RFT) seeking bids from interested suppliers for the development of a five room procedure suite at Lower Hutt Hospital. It is expected that a single main contractor will deliver the works covered in this procurement; however the associated works are likely to be delivered by other local contractors under subcontract to the head contractor. The works will include:
• Demolition, including asbestos management • Structural framing • Plumbing and electrical fit-out • HVAC • Finishing.
Close Date: Sunday, 13 June 2021 5:00 PM

---
Main Contractor for Block 2 ILE at Macandrew Bay School

Ref 24294268
Macandrew Bay School are looking to complete their interior learning environment upgrade to Block 1 by carrying out a full refurbishment to the interior of class 2, the library/ breakout space, and including:
• Replacement of floor coverings • New wall linings • New LED lighting • Opening the walls between teaching spaces • New roof • Asbestos removal • New wet areas to teaching spaces • Installation of a bag storage area. (To be confirmed if in the hallway or break out spaces) • New sound reducing linings to the walls • New double-glazed window joinery to existing window openings. (Teaching spaces if funds allow) • Upgrade the fire alarm to type 4 and emergency lighting in the entire block • Replacement roof to swimming pool and block 3.
Close Date: Tuesday, 15 June 2021 5:00 PM
---
Property Services Panel & Facilities Management Services
Ref 24300682
The delivery of both property and facilities services, through this RFP is closely aligned with our internal property and facilities service delivery teams. The provision of Property Services is anticipated to be undertaken by a small panel to encompass the wide range of services sought.
The provision of Facilities Task Management is expected to be delivered by a single entity with established sub contractor relationships supported by an existing supply chain of trades and service providers, or a holistic end to end in-house solution.
Close Date: Wednesday, 16 June 2021 12:00 PM
---
Mt Roskill Intermediate: Blocks 11 & 7 ILE Modernisation to Relocatable Classrooms

Ref 24348843
The following work is required:
• DQLS and ILE improvements to relocatable classrooms including acoustics new wall linings, new carpet and LED lighting. • The creating of openings between classrooms to create flexible learning spaces and break out spaces.
There are 7 classrooms involved and we can only do 2 at a time, which will create a contractor that is dead flexible to fit within the school's wishes.
Close Date: Wednesday, 16 June 2021 4:00 PM
---
Rec Centre Refurb – Design Team Head Consultant

Ref 24316249
The purpose of this RFP is for the selection of a Design Team under a Head Consultant. The Head Consultant will be the single point of accountability for design and co-ordination across the project. University of Canterbury (UC) will procure the design disciplines through a single contract with a Design Team Head Consultant. UC has no preference to the design discipline of the head consultant of the design team, however, the head will need to demonstrate its ability to undertake this role and would be responsible for engaging, contracting with and managing the design team, including all disciplines necessary to complete the design.
Close Date: Friday, 18 June 2021 4:00 PM

---
Wakari Hospital Ward 9A & 9B Essential Power

Ref 24322445
Wards 9A/9B and Padget House at the Wakari Hospital site have their electricity supplied via a 500kVA transformer. Currently the standby generator system supplying the essential power to Ward 9A/9B is at end of its serviceable life and does not meet the minimum required run time of 24 hours.
Close Date: Monday, 21 June 2021 11:00 AM

---
Trades Services Panel
Ref 24312487
This Notice of Information is to advise that Waipa District Council is seeking to establish a panel of reliable, professional trades contractors to support us in maintaining the district's assets. Our Trades Services Panel will cover the following trades:
• Carpentry • Multi Trades contracting • Plumbing and drainage • Fencing • Locksmith • Signage• Electrical • Air Conditioning (HVAC, maintenance & excluding office buildings) • Glazing • Painting • Pest Control • Roofing • Cleaning (including softwash) • Nursery • Weed Control • Arboriculture • Light Civils • Mechanical engineering services.
Close Date: Friday, 25 June 2021 5:00 PM
---
Request for proposal Papakura to Pukekohe electrification – contract management support services
Ref 24371794
KiwiRail is intending to procure a number of roles to provide contract management support services that are required to support delivery of the above-mentioned works from external suppliers and can start engagement from July 2021 and be committed to provide services for next three years that this programme is planned to take.
Close Date : Friday, 25 June 2021 5:00 PM
---
Generator and Associated Controls Maintenance
Ref 24357857
Subscribe to this notice for full access
Close Date: Monday, 28 June 2021 12:00PM
---
Sourcing, installation and operation of EV charging stations for HCC and WCC

Ref 24347924
The successful Respondent will be experienced and have a track-record in successfully sourcing, installing and operating medium-speed DC EV charging stations. They must have adequate capability and capacity assigned to this project to meet the expected timeframes and deliverables.
Close Date: Monday, 28 June 2021 12:00 PM
---
RFT – Main Building Contractor, Block F – Classroom & Student Toilet Refurbishment, Belmont School, Lower Hutt

Ref 24356946
Belmont School has approved 5YA funding to carry out improvements to Block F which will include the introduction of new acoustic ceilings and LED lighting, replacement windows on the southern elevation of the building and roof coverings renewal.
Student toilet refurbishment and the installation of water heating units will also be incorporated. View tender for more details.
Close Date: Tuesday, 29 June 2021 5:00 PM
---
Woburn P3 Electrical Upgrade and Site Wide Electrical Resilience Upgrade

Ref 24379004
KiwiRail is intending to procure a main contractor to provide electrical services for the KiwiRail Plant 3 Electrical Upgrade and Sitewide Resilience Upgrade Project.
Close Date: Wednesday, 30 June 2021 12:00 PM
---
City Housing Heating Upgrades Project

Ref 24407786
This Request for Tenders relates to the supply and installation of heaters (at 1.5kW in heating capacity) and heat pumps (at various range in heating capacity) for Wellington City Council (WCC) City Housing Upgrade Programme Phase 2 (HUP2) units and City Housing Te Māra Apartments. This project is part of the Healthy Homes Guarantees Act 2017 works which aims to upgrade the heating standards and ultimately improve the quality of City Housing (CH) rental properties.
WCC are seeking to contract a suitably qualified supplier to source, supply, install and complete any make good requirements and liaise with Tenants for a total of 214 heat pumps and 6 electric panel heaters, including:
• 116 Heat Pump units across 26 complexes in HUP2 and, • 98 Heat Pump units in Te Māra Apartments (consists of 1 complex, 10 blocks) and, • 6 Electric Panel Heaters (at 1.5Kw) in Te Māra Apartments.
Close Date: Wednesday, 30 June 2021 2:00 PM
---
Request for Tenders (RFT) Main Contractor for Block 1 & 3 classroom and improvements at Dunedin North Intermediate

Ref 24364021
The works proposed are largely decor upgrades to Block 1 classrooms (wall, ceiling linings, electrical and carpet) to Ground and First Floor locations, with some minor layout changes to layout to support teaching functionality and new methodologies with the addition of safety mesh under the polycarbonate material. Construction of a learning support co-ordinator's office.
A new partition wall separation between hard and soft technology classrooms to manage noise, providing new double swing double doors for access, additional signage for egress. MoE requirement over and above the NZBC require no facility firecell to exceed 800m2. To achieve this additional compliance, the project proposes to construct the new technology suite wall as a GBTL60 wall, complete with -/60/60sm doors.
Installation of two new under bench hot water cylinders (to pupils toilets), plumbed to existing wastes and supply.
Close Date: Thursday, 1 July 2021 5:00 PM

---
Hillmorton Hospital Cook Chill Equipment Replacement (Electrical)

Ref 24393343
The existing equipment has now reached the end of its operational life and frequent repairs are required, with spare parts becoming increasingly costly. The current cooking equipment operates using steam that is provided by an onsite LPG boiler. With the recent Government announcement on reducing emissions and moving away from the use of LPG as an energy source, the kitchen is looking to procure cooking equipment that uses electricity as opposed to steam.
Close Date: Tuesday, 6 July 2021 12:00 PM
---
Replacement Heat Pumps Dunedin Hospital
Ref 24408212
The Dunedin Public Hospital has a series of heat pumps that require replacement as they have reached the end of their useable life. Therefore the Southern District Health Board (SDHB) now require replacement heat pumps. The new heat pumps need to be replaced with their modern equivalents (size/capacity) including the replacement of the outdoor units.
Close Date: Monday, 12 July 2021 10:00 AM
---
Main Building Contractor for the Combined 5YA Works Project at Manukorihi Intermediate

Ref 24384028
The Board of Trustees is seeking to undertake a number of projects identified in their 10YPP as a single project including:
Blocks A & K: Tempered Hot Water & Cylinder Replacement

A Block: Convert classrooms to library

Block B: DQLS and ILE Refurbishment

Block F: DQLS Refurbishment of Technology Rooms

Blocks B & F: Cladding Repairs

Block G: LED Lighting Upgrade

Block A, B, F, & H fire alarm upgrade
An indicative construction period is given as October 2021 – Jan 2022. However respondents are invited to nominate alternative timeframes.
Close Date: Monday, 12 July 2021 5:00 PM