Emergencies, Call for Papers and Member Survey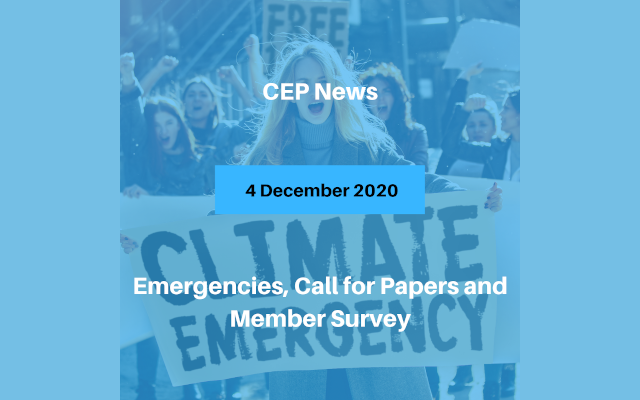 News from CEO – Mike Hopkins
Finally, we have a climate emergency declared. You will have seen and heard plenty about that to have made up your minds on the efficacy of the declaration, and opinions will differ, so I shall move on swiftly.
We held another, excellent networking event this week, this time in Christchurch. Again, it was great to see some new faces as well as our regulars. Everyone had a great time as you can see from the photos below.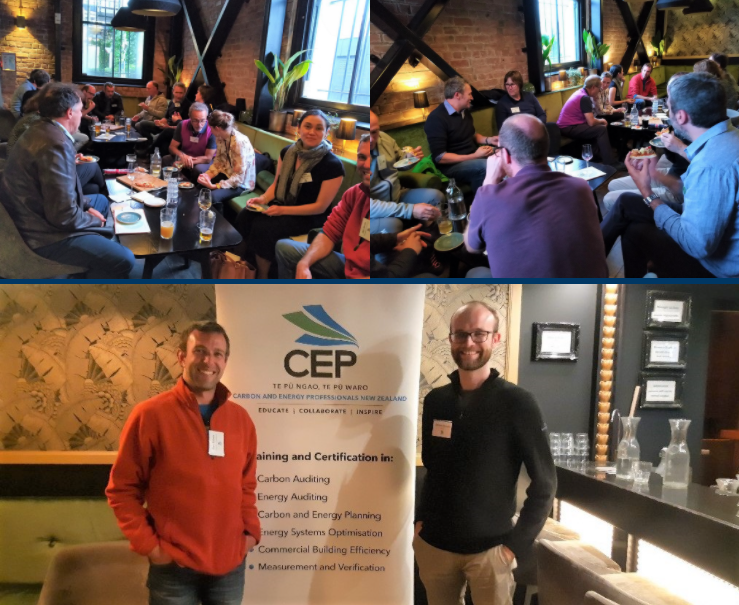 CEP is one of several organisations that were invited recently to become shareholders of Ara Ake Ltd, formerly the National New Energy Development Centre, in Taranaki. We have accepted the invitation and while it is a peppercorn shareholding, the agreement does allow us input into future directorial appointments and signals recognition for us as a respected player in the future energy environment.
This week, we're issuing our Call for Papers for the 2021 Conference under the theme Regenerating New Zealand. We welcome papers on any and all interesting and educational sessions. Your conference committee has drawn up a list of topics they feel may be of particular interest. Please take a look and submit an abstract if you have knowledge to share on these topics. We're the first, though, to put our hands up and acknowledge this list is not exhaustive so, if you have an idea for an interesting session, even if it's not on the list, please let us know by submitting an abstract. Deadline for submissions is 22 January 2021.
Also this week, we're launching our 2020 member survey. This is a short, (yes, really) mostly tick box survey to allow you to provide feedback to us and help the Board assess priorities for 2021. The SurveyMonkey bots tell me it will take only 10 minutes to complete. As usual, there's a $100 Prezzy Card up for grabs for one lucky participant who completes before the end of the year. Your views count, so please click through to the survey here.
Across the ditch, Tasmania was announced this week as having achieved a 100% renewable electricity sector. Like NZ, its electricity system is dominated by hydro, in its case around 80%. The recent addition of more wind capacity has seen the state hit this critical milestone. Tasmania has a land area roughly 25%, and population around 10%, of NZ.
There were several items of good news on global emissions this week. The European Commission announced that 2019 saw the lowest level of GHG emissions in three decades, down 3.7% from the previous year, driven mostly by a 15% reduction in emissions from the power sector switching to higher proportions of renewables. Overall, emissions are down 24% compared with 1990. Meanwhile the Climate Action Tracker released data indicating global temperature increases by 2100 could be held to 2.1C compared with its previous estimate of 3C.
The latest edition of the Global Smart Street Lighting & Smart Cities: Market Forecast (2020-2029) report indicates just over 25% of streetlights around the world have now been converted to LEDs and there are over 10 million connected smart streetlights. The report goes on to predict investment in smart streetlighting will reach over $28bn over the next 10 years.
Have a great and safe weekend.
Mike and the team
---
Industry Events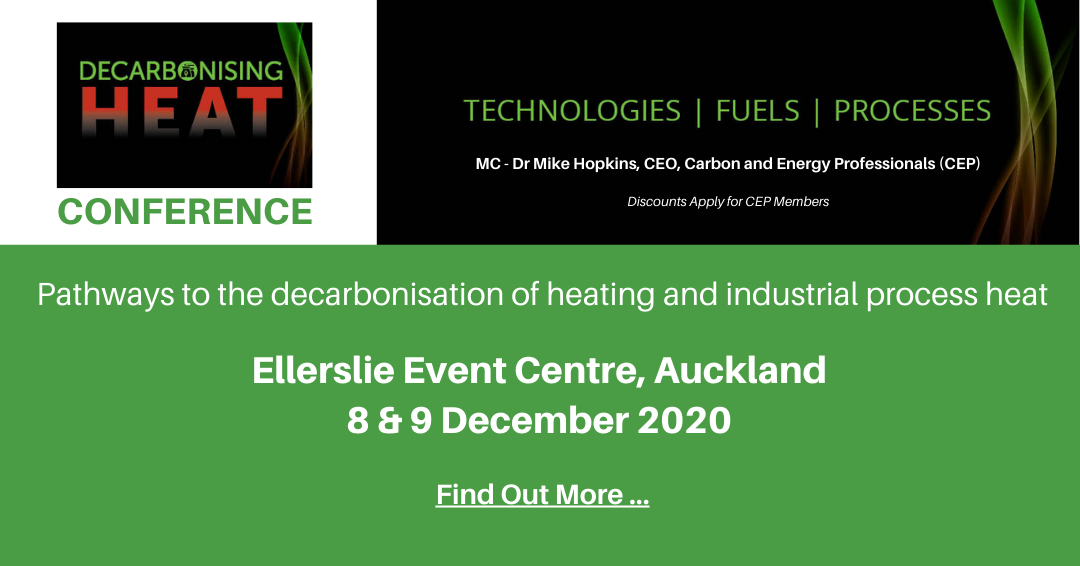 Decarbonising Heat Conference
Pathways to the decarbonisation of heating and industrial process heat.
MC: Mike Hopkins (CEO, CEP)
Dates: 8 & 9 December 2020
Location: Ellerslie Events Centre, Auckland
Discounts for CEP Members Apply –
Find out more …
---
Upcoming Events
Check out CEP Training courses, CEP Webinars and other Industry related events – coming up.
---
Energy Globe Awards 2021

The Energy Globe team knows that there are amazing projects in your network which are saving our environment. Sometimes small projects have enormous effects for our life, developed by creative and innovative people and entrepreneurs. And all of these sustainable projects are presented by Energy Globe at a national and global level, motivating people to act for a livable future.
Therefore, we ask and invite you to present your sustainable project in the Energy Globe Award. All projects take part in the national Energy Globe Award in your country and also in the Energy Globe World Award. Today, submissions from more than 180 nations take part and show the solutions for our future. And we are very proud of being the most important award for sustainability worldwide.
All projects that improve the situation of our environment can be submitted, also campaigns for sustainable awareness. The categories are the elements of life: earth, fire, air and water and youth, representing our future.
We are very much looking forward to your submission that shows how we can save our environment. No project is too small – no project is too big.
All details for participation are available at: www.energyglobe.info
New deadline for submission: 9 December 2020! Participation is free of charge!
---
Gore Multisports Complex – Ventilation System (Retendering)

Ref 23665781
Gore District Council (GDC) looking for suitable suppliers to submit their solutions and proposals for an appropriate and sustainable ventilation system for the Gore Aquatic Centre including supply, installation and commissioning of the system.
This work retendering since none of the submissions in the initial tender was conforming. Please note that providing annual and long-term operational and maintenance costs is essential. Tenderers also must provide all the information requested in the tender response form A.
Close Date: Monday 7 December 2020 5:00PM
---
Electricity Distribution Network – Outage Management System – Consultancy Services
Ref 23653816
We are seeking an experienced consultant who can help us propose a future operational state which has the OMS informing our customers and ourselves of planned and unplanned outages as well as helping us monitor and continually improve our outage performance.
The scope of services and deliverables are outlined fully in the RFP Document.
Close Date: Wednesday, 9 December 2020 12:00PM
---
Simson Park Rugby and League Field Lighting Upgrade
Ref 23649054
The project scope includes design, supply and installation of lighting infrastructure (luminaires, poles, cross arms, mounting hardware, power supply cabling and control system). Investigate existing main power supply and upgrade/modify as required to provide power to the new floodlighting installation, this work may include specific network design required to upgrade the main power supply.
Close Date: Wednesday, 9 December 2020 5:00PM
---
Consultancy Services Refresh Advance Notice
Ref 23610108
This is advance notice of the Consultancy Services Panel refresh.
New Zealand Government Procurement (NZGP) will be undertaking a Request for Proposal (RFP) to refresh the consultancy services panel across the existing 11 sub-categories in the contract.
Close Date: Thursday, 10 December 2020 9:00AM
---
MFAT Climate Change Programme

Ref 23619639

MFAT has initiated a Climate Change Programme (CCP) as part of its commitment to support countries to respond to climate change. The CCP has a significant focus on the Pacific region and on adaptation. MFAT now seeks to procure Services to better understand Pacific current and future exposure and vulnerability to fast- and slow-onset disasters resulting from the environmental impacts of climate change.

These Services will contribute to two components of the CCP that involve: increasing resilience to water-related emergencies; and increasing our understanding of vulnerability to climate change-related human mobility.
Close Date: Friday, 11 December 2020 12:00 PM

---
Registration of Interest (ROI) for Aquatic Centres Gas Boiler Phase-Out
Ref 23717856
Council is seeking to appoint a selection of suppliers for the Aquatic Centres Gas Boiler Phase-Out programme. The purpose of this notice is to identify suppliers who are interested in submitting a proposal for the required services through the Request for Proposal (RFP) tender process.
Close Date: Friday, 11 December 2020 2:00PM
---
Maintenance and Renewal Services to Streetlights EOI
Ref 23693526
The purpose of this Expression of Interest is:1. to seek Expressions of Interest from suitably qualified, reputable and experienced street lighting maintenance contractorsto respond to this Expression of Interest (EOI).2. to give smaller organizations the opportunity to team up with kindred organizations for the purposes of jointly responding3. to inform prospective tenderers of the Lighting Maintenance and Renewal contract for Far North District Council.

Close Date: Friday, 11 December 2020 3.30PM
---
Government Investment in Decarbonising Industry (Round 1)

Ref 23600012
The Government investment in Decarbonising Industry (GIDI) Fund is a partnership between Government and business to accelerate emission reductions from process heat used in industry by supporting energy efficiency, and fuel switching projects (e.g. from fossil fuels like coal to biomass or electricity). As part of the Government's COVID-19 response and recovery, investments in decarbonisation projects also aim to stimulate the domestic economy, and support employment.
Close Date: Monday, 14 December 2020 12:00PM
---
Lincoln University Electrical Supplier Panel
Ref 23680451
We need a Panel of qualified and competent suppliers to deliver the Electrical Infrastructure Upgrade Programme across the Lincoln University campus. The programme relates to the upgrade of privately owned electrical infrastructure that will support the replacement of the existing coal-fired steam boilers with low carbon heating solutions to meet the heating requirements of several buildings within the University Campus. The project realises Lincoln University's goal toward becoming net carbon zero by 2030.
Close Date: Tuesday, 15 December 2020 4:00PM
---
Waipawa School – Internal Upgrade of Four Classrooms
Ref 23679205
Renovate the interior of four classrooms in BLK B incl new ceiling,vertiface to walls, new carpet,new wet areas.doors to ext decks,new heat pumps and fire proofing to small two story annexe /office area.

Close Date: Wednesday, 16 December 2020 5:00PM
---
Administration Programme Services for NABERS New Zealand
Ref 23679161
EECA will be seeking proposals from the energy management industry and others to administer the NABERS rating system in New Zealand (NABERSNZ). A single successful Respondent will be offered a contract for services.
NABERS (based on the 'National Australian Built Environment Rating System') is an independent tool for rating the energy efficiency / performance of office buildings. It measures and compares the environmental energy and carbon performance of commercial buildings and tenancies, and has been expanded over the years to include tools for commercial office buildings to measure greenhouse gas emissions, energy, water, waste efficiency / performance and indoor environment. The programme helps ensure buildings are performing at a high standard.
Close Date: Friday, 18 December 2020 12:00PM
---
Improving Classrooms in Small or Remote Schools Programme. Product Supply: LEDs, RCDs, Thermal Insulation & Acoustic Panels
Ref 23442233
The Ministry have embarked on a Programme to improve the internal environments of 547 state schools and 79 state integrated schools that are small or remote. The Programme is expected to take up to three years to complete.
The Programme is part of a wider Government target that all schools have quality learning environments by 2030.The improvements will enhance aspects of the learning environment associated with fitness for purpose, operational efficiency and condition. The improvements are: LEDs, acoustic panels, thermal blankets and residual current devices (RCDs) for electrical safety.
Close Date: Monday, 21 December 2020 8:00AM
---
Advance Notice – Improving Classrooms in Small or Remote Schools Programme

Ref 22500892
This notice is to inform suppliers that the Ministry will be embarking on a programme to improve the internal environments of almost 600 state schools that are small or remote. The programme is expected to take up to four years to complete. Inclusion definitions are:
Schools that have four or less entitled* teaching spaces (about 100 students)

Schools that have an isolation index* of 2.0 or higher on the Ministry's Isolation Index
Close Date :Thursday, 31 December 2020 5:00 PM
---
Advance Notice – Replace light fittings in Mcindoe
Ref 22500892
Please note that this is a 'Future Procurement Opportunity' and its sole purpose is to inform the market about opportunities that may be coming up over the next 12 months. We would ask that suppliers refrain from contacting individuals within CMDHB for additional information on this project as it is likely to be published on GETS as an open process. As no detailed planning has yet been undertaken for this, we do not have any additional information. All dates are indicative and subject to change.
Close Date: Q4 2020 (tbc)
---
Wellington Tourism Sustainability Capability Tourism Project
Ref 23705951
W e are seeking a service provider to help Wellington tourism businesses on a journey to becoming carbon neutral. We are developing a Destination Management Plan for the region which will contain a sustainability vision for tourism in Wellington and need a sustainability provider to deliver a capability building element for local businesses.
Close Date: Friday, 15 January 2021 5:00PM
---
Biomass and Electric Heating Solutions for Coal Boiler Replacements
Ref 23679109
The Ministry of Education (MOE) (the Buyer) is seeking proposals for the supply and installation of low carbon alternatives for coal boilers in a number of schools. Low carbon alternatives in this instance include biomass boilers and electric heating solutions.
The primary purpose of this procurement is to engage suppliers who can supply and install biomass or electric heating solutions in schools across a range of geographical areas. The aim of the programme over the next four years is to replace up to 90 coal boilers. We require biomass and electric heating solutions, which provide heat in the range of 50kW to 1,000kW.
Close Date: Monday, 18 January 2021 12:00PM
---
Enabling Works Contractor for NIWA Wellington Redevelopment – RFP
Ref 23719097
We are looking for a contractor with experience in delivering site civils, demolition, infrastructure works and laboratory or clinical-type facilities works to enable science staff to stay at Greta Point while other parts of the site are being redeveloped under a separate main contract. The contractor must be prepared to clearly outline and agree construction methodologies with the NIWA representatives as the site will be in continuing operation through the enabling works process.
Close Date: Wednesday, 20 January 2021 5:00PM
---
Nationwide Electrical Services
Ref 23687867
Oranga Tamariki requires a national registered electrician(s) to provide preventative and reactive electrical services in our offices (58), homes (106) and residences (10). We are seeking a supplier who has offices all round NZ and who is willing to work with us to develop a suitable proactive and reactive service to manage all our electrics.
Close Date: Friday, 29 January 2021 12:00PM