Joined-up Policy, Auckland and Wellington Recognised and Plastic Ice Cream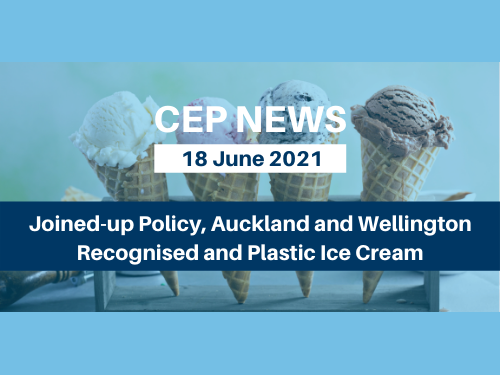 News from CEO – Mike Hopkins
Kia Ora,
Yet another report emerged this week highlighting the need for a joined-up approach to addressing climate change and the pending sixth mass extinction. The joint report from the IPCC (Intergovernmental Panel on Climate Change) and IBPES (Intergovernmental Science-Policy Platform on Biodiversity and Ecosystem Services) concludes governments silo climate change and biodiversity policies to the detriment of both in terms of cost and efficiency. Examples of silo policies include the promotion of monoculture crops for bioenergy, monoculture tree planting with non-native species to capture carbon and increasing irrigation capacity, all of which can have negative biodiversity implications.
The G7 meeting in Cornwall has now wound up. Those interested in what the leaders of the world's biggest economies actually agreed – and didn't agree – can check out the highlights in a panel below.
Congratulations to Auckland and Wellington cities this week with both appearing in Bloomberg's top 50 cities in its 2021 Global Mayors' Challenge. The Challenge acknowledges the world's "boldest urban innovations". Auckland is on the list for its efforts in calculating carbon emissions for infrastructure developments and Wellington makes it for leveraging a city digital-twin to encourage resident engagement on climate action. 15 of the cities will be awarded winner status with the result to be announced early in 2022.
For those that may not have seen it yet, we'd like to make sure you are all aware of MBIE and EECA's consultation on regulatory reform for energy efficient products and services. Submissions are due by 28 July. You can find more information on the consultation and submission process here. I'd also be keen to hear views.
Marine emissions are often cited as a difficult nut to crack. Michelin Research has just unfurled (pun intended) its latest development which it claims can improve fuel efficiency by up to 20%. The telescopic, inflatable sails can be retracted for entering harbours or travelling under bridges and the units can be retrofitted as well as designed into new builds.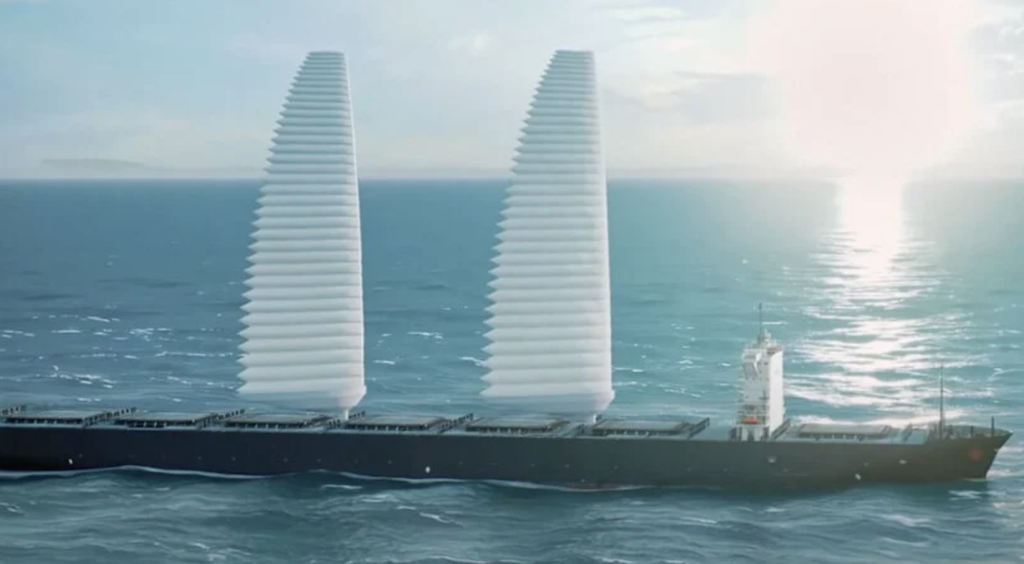 We see and hear many stories about plastics getting into the food chain. Well, it may not be all bad. Scientists from Edinburgh University have developed a technique to transform PET (polyethylene terephthalate) plastics such as drink bottles into vanillin (vanilla), a flavour compound used for ice cream and cosmetic products such as lip balms. Perhaps worse, the bacterial process in the conversion utilises E.coli. Maybe time to give up ice cream.
Finally this week, welcome to new members:
Sonia Groes-Petrie (Lead Auditor) Toitū Envirocare
Sid Dubey (Sustainability and Compliance Analyst) Netlogix Limited
Insa Errey (Senior Engineer) Curios
Stuart Mudd (Design Engineer – Estimator) RCR Infrastructure
Andrew Armstrong (Student) University of Otago
Nina van der Zanden (Student) University of Waikato
Mingxin Lei (Student) University of Canterbury
Wishing you a safe and great weekend.
Mike and the team
---

---
G7 Key Outcomes
Agreed
Net zero power generation targets in the 2030s
End government support for coal generation this year
Submission of long-term strategies that set out concrete pathways to net-zero greenhouse emissions by 2050 (intended before COP26 in November)
A shared, G7 Nature Compact to protect biodiversity
US$100bn in climate finance support
To set a new framework to support green infrastructure
Not Agreed
Commitments to a "just" transition
Commitments over mobility and addressing transport emissions
Details on the new framework to support green infrastructure
A unified approach to supporting green innovation. This will remain nationally fragmented.
---
Upcoming Events
Check out CEP Training courses, CEP Webinars and other Industry related events – coming up.
---
Tender Opportunities
Wakari Hospital Ward 9A & 9B Essential Power
Ref 24322445
Wards 9A/9B and Padget House at the Wakari Hospital site have their electricity supplied via a 500kVA transformer. Currently the standby generator system supplying the essential power to Ward 9A/9B is at end of its serviceable life and does not meet the minimum required run time of 24 hours.
Close Date: Monday, 21 June 2021 11:00 AM

---
Trades Services Panel
Ref 24312487
This Notice of Information is to advise that Waipa District Council is seeking to establish a panel of reliable, professional trades contractors to support us in maintaining the district's assets. Our Trades Services Panel will cover the following trades:
• Carpentry • Multi Trades contracting • Plumbing and drainage • Fencing • Locksmith • Signage• Electrical • Air Conditioning (HVAC, maintenance & excluding office buildings) • Glazing • Painting • Pest Control • Roofing • Cleaning (including softwash) • Nursery • Weed Control • Arboriculture • Light Civils • Mechanical engineering services.
Close Date: Friday, 25 June 2021 5:00 PM
---
Request for proposal Papakura to Pukekohe electrification – contract management support services
Ref 24371794
KiwiRail is intending to procure a number of roles to provide contract management support services that are required to support delivery of the above-mentioned works from external suppliers and can start engagement from July 2021 and be committed to provide services for next three years that this programme is planned to take.
Close Date: Friday, 25 June 2021 5:00 PM
---
Generator and Associated Controls Maintenance
Ref 24357857
Subscribe to this notice for full access
Close Date: Monday, 28 June 2021 12:00PM
---
Sourcing, installation and operation of EV charging stations for HCC and WCC

Ref 24347924
The successful Respondent will be experienced and have a track-record in successfully sourcing, installing and operating medium-speed DC EV charging stations. They must have adequate capability and capacity assigned to this project to meet the expected timeframes and deliverables.
Close Date: Monday, 28 June 2021 12:00 PM
---
Woburn P3 Electrical Upgrade and Site Wide Electrical Resilience Upgrade
Ref 24379004
KiwiRail is intending to procure a main contractor to provide electrical services for the KiwiRail Plant 3 Electrical Upgrade and Sitewide Resilience Upgrade Project.
Close Date: Wednesday, 30 June 2021 12:00 PM
---
City Housing Heating Upgrades Project
Ref 24407786
This Request for Tenders relates to the supply and installation of heaters (at 1.5kW in heating capacity) and heat pumps (at various range in heating capacity) for Wellington City Council (WCC) City Housing Upgrade Programme Phase 2 (HUP2) units and City Housing Te Māra Apartments. This project is part of the Healthy Homes Guarantees Act 2017 works which aims to upgrade the heating standards and ultimately improve the quality of City Housing (CH) rental properties.
WCC are seeking to contract a suitably qualified supplier to source, supply, install and complete any make good requirements and liaise with Tenants for a total of 214 heat pumps and 6 electric panel heaters, including:• 116 Heat Pump units across 26 complexes in HUP2 and, • 98 Heat Pump units in Te Māra Apartments (consists of 1 complex, 10 blocks) and, • 6 Electric Panel Heaters (at 1.5Kw) in Te Māra Apartments.
Close Date: Wednesday, 30 June 2021 2:00 PM
---
RFT – Main Building Contractor, Block F – Classroom & Student Toilet Refurbishment, Belmont School, Lower Hutt

Ref 24356946
Belmont School has approved 5YA funding to carry out improvements to Block F which will include the introduction of new acoustic ceilings and LED lighting, replacement windows on the southern elevation of the building and roof coverings renewal.
Student toilet refurbishment and the installation of water heating units will also be incorporated. View tender for more details.
Close Date: Thursday, 1 July 2021 5:00 PM
---
Hillmorton Hospital Cook Chill Equipment Replacement (Electrical)
Ref 24393343
The existing equipment has now reached the end of its operational life and frequent repairs are required, with spare parts becoming increasingly costly. The current cooking equipment operates using steam that is provided by an onsite LPG boiler. With the recent Government announcement on reducing emissions and moving away from the use of LPG as an energy source, the kitchen is looking to procure cooking equipment that uses electricity as opposed to steam.
Close Date: Tuesday, 6 July 2021 12:00 PM
---
MDHB MRI Chiller Replacement

Ref 24421756
MidCentral District Health Board (MDHB) needs to replace a single TRAX Chiller in the MRI Department with two new Chiller's in order to provide n+1 redundancy to the MRI Scanner. The existing MRI Chiller has been assessed as oversized for the cooling load of the MRI unit and the MRI associated plant. The existing pipework has some non-compatible components that could affect the lifespan of the MRI plant. There is also no redundancy to the MRI chiller in the case of a chiller failure.
MDHB is seeking suitably qualified providers that have capability and capacity to install and commission two new air-cooled Chiller's, and reconnect the existing TRAX chiller to the Building HVAC system in a different location. MDHB anticipates the new Chiller's will be in use for at least 12 years.
Close Date: Tuesday, 6 July 2021 12:00 PM
---
Replacement Heat Pumps Dunedin Hospital
Ref 24408212
The Dunedin Public Hospital has a series of heat pumps that require replacement as they have reached the end of their useable life. Therefore the Southern District Health Board (SDHB) now require replacement heat pumps. The new heat pumps need to be replaced with their modern equivalents (size/capacity) including the replacement of the outdoor units.
Close Date: Monday, 12 July 2021 10:00 AM
---
Main Building Contractor for the Combined 5YA Works Project at Manukorihi Intermediate

Ref 24384028
The Board of Trustees is seeking to undertake a number of projects identified in their 10YPP as a single project including:
Blocks A & K: Tempered Hot Water & Cylinder Replacement

A Block: Convert classrooms to library

Block B: DQLS and ILE Refurbishment

Block F: DQLS Refurbishment of Technology Rooms

Blocks B & F: Cladding Repairs

Block G: LED Lighting Upgrade

Block A, B, F, & H fire alarm upgrade
An indicative construction period is given as October 2021 – Jan 2022. However respondents are invited to nominate alternative timeframes.
Close Date: Monday, 12 July 2021 5:00 PM
---
Hillmorton Hospital Switchgear

Ref 24437900
This RFP relates to the procurement of services to remove the incoming OCB2 11kW and outgoing GF3 Long and Crawford Switch gear from CDHB Hillmorton Hospital Linen Services Substation and replace with suitable effective equipment. The work is expected to be completed safely and tested to conform with all suitable electrical standards. The work must be undertaken in a way that minimises disruption to the power supplied from the Hillmorton Linen Services Substation to areas of the CDHB Hillmorton facility.
Note; Site Visit 24/6/2021
Inspection of equipment by arrangement through GETS email
Close Date: Wednesday, 14 July 2021 12:00 PM