An Unwelcome Milestone, Wellington's Waste and Blundering Boris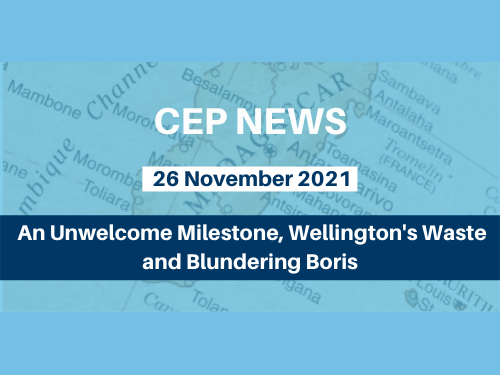 News from CEO – Mike Hopkins
Kia ora,
An unwelcome milestone was passed this week when the UN World Food Programme declared the current drought in Madagascar has created the first famine that can be directly attributed to climate change. The conclusion was based on data and trends from the IPCC report earlier in the year and with no wars or conflicts compounding the famine, as is the case in Yemen and Sudan, the conclusion was that climate change alone is the cause. Madagascar contributes around 0.01% of global emissions but is paying the full price.
CDP has just published its 2021 A List of leading cities for environmental transparency and action. As last year, the only New Zealand cities making the list were Auckland and Wellington, joining another 93 cities worldwide to make the list. 965 cities were scored this year (591 in 2020). Well done to Auckland and Wellington councils.
Wellington was also in the news this week with the announcement of its preferred option for dealing with its failing waste water system. The preference is for a thermal hydrolysis and digestion plant at Moa Point. The plant would be expected to reduce sludge volumes by 82% and carbon emissions by 63% while producing around 500kW of electricity, or possibly providing a heat source for the local area, including the airport. The plan is for the site to be operational by 2026. The consultation process begins.
"Blundering" Boris Johnson made a speech this week where he got completely lost, fumbled a bit and eventually resorted to recounting a recent visit to Peppa Pig World. You've probably seen it. What didn't get reported was during part of the now famous Peppa Pig speech he announced all new homes and workplaces built in England from 2022 must have EV charging points as standard. Stipulating EV charging facilities at new builds adds only very marginally to the build cost and will undoubtedly facilitate switching, so, good on Boris and maybe a lead we should be following.
Sustainable mining could be classified as an oxymoron but improvements in the sustainability of extraction are on the cards. Cornell University scientists have developed a new process for extracting rare earth minerals from ore using the Gluconobacter Oxydans bacterium. One of its genes produces an acid that can break down phosphate and draw out the elements with just cellulose-derived sugars as an energy source. The process requires much lower pressures and temperatures to extract the elements and so is significantly more efficient and environmentally friendly.
Our next webinar is on 6th December at 4.00pm when we will be joined by Amy Tankard (Passive House Institute) and Jason Quinn (Sustainable Engineering) to talk about the PHINZ's High Performance Construction Details Handbook. Register here.
Finally this week, please join we in welcoming new members:
Anne-Marie Westcott, Environmental Sustainability Manager at Ruapehu District Council;
Alison Subiantoro, Senior Lecturer at The University of Auckland ;
Clive Pinfold, Student at University of Waikato.
Wishing you all a safe and great weekend.
Mike and the team
---

CEP Conference 1&2 November 2022
Next year, CEP is 'giving it some jandal' when it comes to decarbonising New Zealand. In announcing the theme and venue, CEP CEO Mike Hopkins said: 'We desperately need to accelerate our transition to a low emissions economy and what better way to describe the purpose of the conference than giving it some jandal'.
New for 2022 is that alongside the established partnership with The Sustainability Society, CEP also announced it is partnering with the Bioenergy Association for the event. 'The two key pillars for decarbonisng are efficiency and fuel switching, and this conference covers both', said Hopkins.
Registrations are now open – Register here
---
Upcoming Events
Check out CEP Training courses, CEP Webinars and other Industry related events – coming up.
---
Tender Opportunities
UC Beatrice Tinsley – HVAC upgrade supply and installation
Ref 25045873
We are seeking the services of a competent mechanical Contractor to retrofit mechanical ventilation (supply and installation) into a section of Beatrice Tinsley building. The Beatrice Tinsley building is located at University of Canterbury's Ilam (Christchurch) campus. The contractor will deliver the services of a main contractor.
Closing Date: Monday, 29 November 2021 5:00 PM
---
Transport Emissions Reduction Plan
Ref 25117444
Auckland Council seeks proposals to onduct an analysis of the full economic costs and benefits of the proposed Transport Emissions Reduction Plant (TWERP). This analysis will be essential to determining the trade-offs and recommendations made to elected members to make a fully informed decision on Auckland's emissions reduction.
Closing Date: Tuesday, 30 November 2021 3:00 PM
---
LED Lighting Upgrade for Christchurch Women's Hospital
Ref 25039156
Christchurch Women's Hospital (CWH) was built in 2005 and the existing fluorescent lighting system is nearly end of the life and inefficienct. We are seeking a contractor to upgrade the interior lights for the CWH. This project requires a completed solution which includes the removal and disposal of the existing old lights and the supply and installation of new LED lights. The purpose of this update is not only to reduce CDHB's carbon footprint, but also improve lighting performance and eliminate some potential health and safety hazards.
What we don't want: A provider who could only supply LEDs without the installation service.
What's important to us: We are looking for contractors who must be competent, experienced and confident to deliver the LED lighting project in a professional and timely manner. The contractors should have a good track record in the supplying and installation of LED lighting projects with a minimum five-year warranty. To minimise or eliminate any disturbance to normal operation of CDHB, all contractors must strictly follow planned working schedules and any relevant polices.
Supplier visits to view the site are highly recommended and by appointment only. Please use the Q&A function prior to 17/11/2021 on GETS to request a visit.
Closing Date: Wednesday, 1 December 2021 12:00 PM
---
Climate (im)mobility Research in the Pacific – Researchers
Ref 25042872
The Ministry of Foreign Affairs and Trade (MFAT) is seeking suppliers (individuals and/or organisations) to deliver research services to better understand past, current and future climate (im)mobility in the Pacific, and its impact on communities in the Pacific and in New Zealand. Research outputs will be used to inform work under the New Zealand aid programme and shared with relevant stakeholders, including Pacific governments and other New Zealand ministries.
Suppliers will need to be willing to enter into sub-contracting arrangements with the successful respondent to a parallel procurement process "Research investigating climate-related (im)mobility in the Pacific – Project Management", GETS # who will provide Project Management functions to oversight and deliver this project.
Closing Date: Monday, 6 December 2021 10:00 AM
---
Warmer Kiwi Homes: Insulation Service Providers / Heat Pump Service Providers / Wood and Pellet Burner Service Providers
Ref 25139242
EECA will shortly be releasing the following three Notices of Procurement:
WKH 22-26-ISP – An RFP to form its panel for the supply and installation of insulation to the Warmer Kiwi Homes programme for the 2022-2026 (1 July 2022 to 30 June 2026) years.
WKH 22-26-HSP – HP – An RFP to form its panel for the installation of heat pumps to the Warmer Kiwi Homes programme for the 2022-2026 (1 July 2022 to 30 June 2026) years.
WKH 22-26-HSP-WPB – An RFQ for the supply and installation of Wood and/or Pellet Burners to the Warmer Kiwi Homes programme for the 2022-2026 (1 July 2022 to 30 June 2026) years.
NB: Please hold any questions you may have until the Supplier briefing session, the details for which will be in the RFP and RFQ documents.
Close Date: Monday, 13 December 2021 12:00 PM
---
Warmer Kiwi Homes approved Heat Pump Appliances
Ref 25136771
For this procurement, we are looking to select suitable heat pump suppliers that can provide a range of approved heat pumps – that are suitable for low-income homeowners. The heat pumps must and can only be installed by companies who are approved by the heat pump supplier and are EECA approved Heating Service Providers to this WKH programme (expected to be selected by 15 April 2022).
Suppliers must be able to provide the following:
nation-wide supply and distribution of their nominated product ranges for each sub-category specified (based on kilowatt output) i.e. throughout the North and South Islands
products which meet technical specifications prescribed in this Contract Application and that are price-suitable to the programme's target market
a track record of sales of at least 4,000 high-wall single-split non-ducted heat pumps over the past two years into the NZ market; with at least 1,500 sales in each of the past two years.
evidence that they comply with the NZ Government Procurement's supplier Code of Conduct
products that meet minimum five-year warranty requirements of each heat pump
evidence of a credible, robust and realistic process for approving Heating Service providers to be able to install the nominated product range and meet manufacturer's warranty requirements.
Closing Date: Tuesday, 14 December 2021 12:00 PM
---
Twizel and Fairlie Pools Heating Upgrade
Ref 25117453
We are seeking the supply and installation of heat pump water heating systems for Fairlie and Twizel swimming pools, plus associated electrical infrastructure upgrades.
Fairlie has an existing heat pump which supplements the solar system, and it is proposed to continue using this in parallel, with the addition of a new heat pump.
Twizel has a small heat pump, heating the toddlers swimming pool, which will continue to operate as a separate system.
This contract includes:
supply and installation of heat pumps for both pools
upgrade of electrical infrastructure at Twizel pool, including a new switchboard
decommissioning and removal of the solar heating systems at both pools
The Council has nominated a Twizel based electrical sub-contractor to be used on this project.
Closing Date: Wednesday, 15 December 2021 4:00 PM
---
Specialised Electrical Main-Contractors: Electrical & Heating Upgrade : Somerville Intermediate School, Auckland
Ref 25108755
Specialist electrical contractors are sort to register their interest to price the supply and installation works of an electrical & heating upgrade at Somerville Intermediate School, Auckland.
The existing electrical and heating systems have reached the end of their lifecycle and become old, with inadequate operation.
Works will include upgrade of switch boards, sub-boards and heating systems.
The school is also experiencing lack of power supply and recent school demands which has pushed the supply to its limits with periodic power overloads/shut downs.
All documentation will be prepared by an electrical consulting to NZ Safety Codes and MoE standards. All procedures to comply with MoE property legislation.
Closing Date: Thursday, 16 December 2021 4:00 PM
---
Lighting Upgrades for the Kidz First & McIndoe Buildings Middlemore Hospital
Ref 25137270
Counties Manukau District Health Board wishes to upgrade the lighting in the Kidz First and McIndoe buildings at Middlemore Hospital. The main drivers for the upgrade are to improve illumination levels in certain areas, reduce maintenance costs, and achieve significant energy savings, using modern internationally approved LED lighting systems. The general scope of this RFP is for the supply and installation of luminaires and attachments.
Closing Date: Thursday, 16 December 2021 4:00 PM
---
ROI Main Contractor for Electrical Works at Whangarei Intermediate School
Ref 25132447
This background to this is the School Board of Trustees have identified this project based on Priority Two Essential Infrastructure. The funding source for this work has been identified under 5YA.
The Contract Works required are:
Closing Date: Friday, 17 December 2021 5:00 PM
---
Lincoln University HVAC Panel
Ref 25145015
This request for Proposal (RFP) seeks proposals from the market for the establishment of a HVAC Panel. The University will use this process to select a number (currently anticipated to be up to four, but may be more or less, at the discretion of the University) of local Contractors to enter into an agreement with Lincoln University for the delivery of HVAC works and services.
The scope of the panel is minor works across the following general works categories:
Design and build of mechanical ventilation, heating, air conditioning systems
Design and build of electric boiler systems
Sizing and installation of heat-pump air conditioning and heating systems
Ancillary and supporting services related to the above, such as electrical, minor building works, plumbing, etc.
Closing Date: Friday, 17 December 2021 5:00 PM
---
Main Contractor for Blocks A, B, C, D, K, RA, T, O, W, X Lighting Upgrade at Manurewa High School
Ref 25110997
The Manurewa High School Board of Trustees are seeking a Main Contractor for Blocks A, B, C, D, K, RA, T, O, W, X Lighting Upgrade.
Closing Date: Saturday, 18 December 2021 5:00 PM
---
EV Infrastructure
Ref 25164231
Ministry for Primary Industries (MPI) is mandated to achieve carbon neutrality by 2025/26 under the Carbon Neutral Government Programme (CNGP). The programme requires all government agencies to purchase Battery Electric Vehicles (BEVs) or Plug-in Hybrid Electric Vehicles (PHEVs) when purchasing new vehicles or replacing old vehicles unless there are operational requirements or other circumstances that prevent it.
MPI seeks to identify a supplier that can provide the following services nationally:
Review MPI sites nationwide as required and provide advice, expertise, and recommendations on installation of electric vehicle (EV) charging infrastructure, a software management platform with the capabilities for data management, monitoring and reporting of electricity use, costings of the infrastructure and software, and supply and installation of the software and infrastructure
Provide advice, expertise, and recommendations on installation and the supply of EV charging infrastructure at MPI staff members' homes
For the 2021/22 FY – 55 charges, across seven (7) MPI sites.
For the 2021/22 FY – EV charges for the additional 11 PHEVs subject to available funding.
Supply and installation of EV chargers in subsequent financial years and for the term of the contract.
Ongoing support of the EV chargers and software solution following installation.
Closing Date: Wednesday, 22 December 2021 2:00 PM
---