Investments, Podcasts and Fishmeal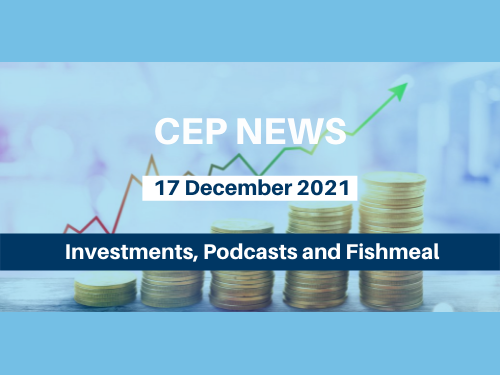 News from CEO – Mike Hopkins
Kia ora,
There's been a flurry of activity around investment announcements as we head towards the end of the year. At the end of last week ACC launched its NZ$100m Climate Change Fund and is calling for investment candidates for interesting projects that will help NZ decarbonise. This week, Grant Robertson announced the Climate Emergency Response Fund will kick off with NZ$4.5bn over the next four years. While some of this is earmarked to go overseas, it is still a major commitment.
The Biofuels Mandate was also announced this week. The mandate will gradually increase the proportion of biofuels into the transport mix. That will be a long haul but at least the first step is now underway.
In CEP news, it's time once again for our member survey. We love to hear from you at any time of the year but this is our annual collection of data in a systematic, quantitative way. We use this feedback to help set organisational priorities and provide best value back to you as members and partners. Please take a little time to provide your feedback and, as usual, there'll be an opt-in prize draw for a $100 Prezzy Card for entries completed before 21st January.
Our interview with James Renwick is now available for your listening pleasure on Spotify. If your preference is Apple Podcasts, just search "Carbon and Energy Professionals' Podcast". There is no better way to spend your time when stuck in traffic during the great Auckland Exodus of 2021.
The IEA has just launched its Energy Efficiency Hub. The Hub is intended as a global collaboration on energy efficiency and is supported by 16 founding members, Argentina, Australia, Brazil, Canada, China, Denmark, the EU, France, Germany, Japan, Korea, Luxembourg, Russia, Saudi Arabia, the UK and the US. Its four initial task groups cover Digitalisation, SEAD (Super-Efficient Equipment and Appliance Deployment Initiative), Top Tens (best technologies and practices identification) and EMAK (Energy Management Action Network).
PWC's 2021 State of Climate Tech, published this week, reveals some interesting stats and trends for the sector. Notwithstanding questionable comparisons with the COVID interrupted outcomes of 2020, investments in the twelve month period H2-2020 and H1-2021 (US87.5bn) were three times the level of the preceding twelve months. Two thirds of the H2-2020 and H1-2021 investment came in H1-2021. For first half comparisons (H1-2021 against H1-2020) the number of active investors nearly doubled and the deal size quadrupled. PWC claims five technologies could deliver 80% of the emissions reductions needed for 2050, being: solar, wind, green hydrogen, reducing food waste and scaling low-emissions proteins and yet investment focus was on low carbon transport, which attracted two thirds of the total investments.
Win-wins aren't rare in sustainability but the concept of converting captured methane from landfills into a sustainable food for farmed fish is another step towards a circular economy. Stanford Woods Institute for the Environment have developed a process to achieve this at a cost competitive with fishmeal processed from fish or plants. It is already satisfying 14% of global demand for fishmeal. This short video provides the highlights.
Please join me in welcoming new members this week:
Callum Streeter, General Manager Operations with DETA Consulting
Dane Fredriksson, Engineer – Energy & Carbon with Lumen
Cassidy Van Vuuren, Graduate Engineer – Energy & Carbon with Lumen
Miriam Randall, Sustainability Advisor with Kāpiti Coast District Council
Sarah Holden, Director with Oxygen Consulting
Vicky Feng, Student at Unitec Institute of Technology, Auckland
This is our final newsletter for 2021. The CEP office will close at COB on the 23rd December and reopen on 10th January. We all looking forward to 2022 which will be a huge year for us with the Government's Emissions Reduction Plan to be revealed, some exciting news on our certifications and a cracking conference lining up for Rotorua in June. We wish you all a great, healthy and safe festive season and prosperous 2022.
Mike and the team
---

CEP is 'giving it some jandal' when it comes to decarbonising New Zealand
CEP has announced its conference venue, theme and first Keynote for New Zealand's leading decarbonisation conference being held on 1st & 2nd June 2022.
CEP continues its tradition of attracting international heavy hitters by announcing Mark Caine as a Keynote. Caine is the project lead for artificial intelligence and machine learning at the World Economic Forum and has authored many publications on how AI can drive efficiency and address climate change.
Registrations and Sponsorship opportunities are now open. More here. Please view our sponsorship and exhibition prospectus.
---
Upcoming Events
The CEP Training Courses Calendar for the first half of 2022 will be out soon. Please continue to visit our website for updates. See our CEP Training Courses, CEP Webinars and other Industry related events – coming up.
---
Tender Opportunities
Main Contractor for Blocks A, B, C, D, K, RA, T, O, W, X Lighting Upgrade at Manurewa High School
Ref 25110997
The Manurewa High School Board of Trustees are seeking a Main Contractor for Blocks A, B, C, D, K, RA, T, O, W, X Lighting Upgrade.
Closing Date: Saturday, 18 December 2021 5:00 PM
---
Nelson City Council – Roading Electrical Services Contract – ROI – 08 December 2021
Ref 25219259
Nelson City Council (Council) are looking for expressions of interest from suitably qualified and experienced contactors with the capability and resources to deliver the district's Electrical component of the Roading Network Maintenance. This includes streetlights, electronic signs and traffic signals. The purpose of this Expression of Interest is to:
Signal Council's intent to procure services.
Seek to understand what suppliers are interested in tendering for the services.
Explore delivery options.
With regards to delivery options, Council is currently exploring whether this work should be delivered in either one or two contracts:
Streetlights, electronic signs, and traffic signals
Streetlights & electronic signs
Traffic signals
Response to this EOI is purely exploratory to signal current intentions and does not implicate or preclude contractors in responding to the tender when the Request For Tender (RFT) is issued.
Closing Date: Monday, 20 December 2021 4:00 PM
---
EV Infrastructure
Ref 25164231
Ministry for Primary Industries (MPI) is mandated to achieve carbon neutrality by 2025/26 under the Carbon Neutral Government Programme (CNGP). The programme requires all government agencies to purchase Battery Electric Vehicles (BEVs) or Plug-in Hybrid Electric Vehicles (PHEVs) when purchasing new vehicles or replacing old vehicles unless there are operational requirements or other circumstances that prevent it.
MPI seeks to identify a supplier that can provide the following services nationally:
Review MPI sites nationwide as required and provide advice, expertise, and recommendations on installation of electric vehicle (EV) charging infrastructure, a software management platform with the capabilities for data management, monitoring and reporting of electricity use, costings of the infrastructure and software, and supply and installation of the software and infrastructure
Provide advice, expertise, and recommendations on installation and the supply of EV charging infrastructure at MPI staff members' homes
For the 2021/22 FY – 55 charges, across seven (7) MPI sites.
For the 2021/22 FY – EV charges for the additional 11 PHEVs subject to available funding.
Supply and installation of EV chargers in subsequent financial years and for the term of the contract.
Ongoing support of the EV chargers and software solution following installation.
Closing Date: Wednesday, 22 December 2021 2:00 PM
---
Advance Notice:
Assisted Natural Ventilation System Pilot
Ref 25232752
Advance Notice only
The Ministry of Education is seeking Expressions of Interest from suitably experienced New Zealand-based organisations to assist in the rapid development of a low-cost mechnical solution to improve classroom ventilation, as part of the Ministry's work programme in response to the COVID-19 pandemic. This is a unique opportunity to positivity contribute to the fight against COVID-19 and provide a level of protection to our tamariki. Through the development of a low cost, easily deployable solution targeted at improving fresh air flow, you have the opportunity to help return our schools to a state of normality.
If you are interested, the Ministry intend to hold a supplier briefing session next week. You can register to attend our supplier briefing which will take place on Wednesday 15th December 2021. This will be held virtually. Further information and drawings will be provided through GETS as an addendum to this Advanced Notice on Monday 13th December 2021.
To register email [email protected], please include your name, the name of your organisation, the best email to contact you on, and the best number to phone you on.
Closing Date: Wednesday, 22 December 2021 5:00 PM
---
Advance Notice:
Auckland Council Community Facilities Pre-Qualification of Physical Works Panel suppliers for Recreational Facilities' Works Category – Sand Carpets & Flood Lighting
Ref 25220969
Advance Notice only
This advance notice is to inform the supply market about an upcoming Auckland Council Registration of Interest (ROI) and Request for Expression of Interest (REOI)/Request for Proposal (RFP) process for Community Facilities Pre-Qualification of Physical Works Panel Suppliers for Recreational Facilities' Works Category – Sand Carpets & Flood Lighting.
Auckland Council Community Facilities ("CF") will be seeking to establish a panel of physical works suppliers to provide works under CF Recreational Facilities Works Category – relating to sports fields:
sand carpets
flood lighting
There will be an open market ROI issued through GETS in January 2022 with some preconditions to be met. The suitable suppliers will then be invited through SAP Ariba to submit REOI/RFP response which will be evaluated to identify the most suitable contractors.
For further information, please download the notification from attachments.
Closing Date: Friday, 7 January 2022 5:00 PM
---
Waitakere Hospital Electrical Infrastructure Upgrade – Contractors
Ref 25212856
Waitematā District Health Board is seeking tender submissions for the provision of contractor services related to the remediation of critical electrical plant and equipment that are either failing or at imminent risk of failure in the near future at Waitakere Hospital.
For further information and detailed requirements, please refer to the attached FRT documents.
Note: Proposals must be submitted through GETS. Posted, faxed or emailed proposals will not be accepted for consideration.
Closing Date: Tuesday, 18 January 2022 3:00 PM
---
Warmer Kiwi Homes Heat Pump Service Providers
Ref 25239499
Warmer Kiwi Homes (WKH) is a government-funded programme designed to support New Zealand families to live in warmer, drier homes. Funding is available for retrofits of approved heat pumps for homeowners who meet specific criteria.
The current WKH programme is funded until 30 June 2023. However this procurement is for a 4-year period from 1 July 2022 to 30 June 2026 assuming additional funding will become available through Government appropriations.
EECA, which runs the programme, expects to provide funding for approximately 9,000 eligible homes to have heating installed under the programme in the 2022-2023 year, the majority of which will be heat pumps.
The aim of this procurement project is to develop a panel of contracted Service Providers (heat pumps) with the capacity and capability to supply and install a range of heat pump products approved by EECA.
See tender for more details…
Closing Date: Thursday, 10 February 2022 12:00 PM
---
Auckland District Health Board Buildings Works (Main Contractor) for Substations H&R (Building A01)
Ref 25248932
This project is part of a 10-year Auckland District Health board (ADHB) Facilities and Infrastructure Remediation Programme (FIRP) to improve site infrastructure including the resilience of the electrical power supply, within the Auckland City Hospital (ACH) site. The Auckland Site Wide (ASW.01) Electrical Workstream objective is to replace and renew assets servicing the sites High Voltage (HV) and Low Voltage (LV) infrastructure.
As part of the CDH&R Substation upgrade (upgrade of HV substations on the ACH campus), we are required to:
Construct electrical plant rooms in an existing area of building A01, Level 5. Substation H and R will be constructed in an area currently occupied by Loading Dock 4, situated opposite the motorbike/bike parking area adjacent to the Domain.
Modify the room behind the loading dock to house electrical transformers and part of the loading dock will be extended out into the roadway to house new electrical switch rooms.
Below the new substations (Level 4) – erect floor strengthening members to support the new equipment.
Upon completion of the works, two lanes of the existing four loading dock lanes will be reinstated, and existing disability parking in front of the facility will also be returned.
We seek a building works contractor with experience in working in a 24/7 operating environment for the establishment of this building envelope or 'shell'. The Building contractor responsibilities include the coordination, fit out and implementation of all building elements in the design including structural, architectural, civil works and building services (small power, lighting, hydraulics, access control, and mechanical services).
Closing Date: Tuesday, 22 February 2022 4:00 PM
---