Podcasts, Efficiency Tools and Battery Recycling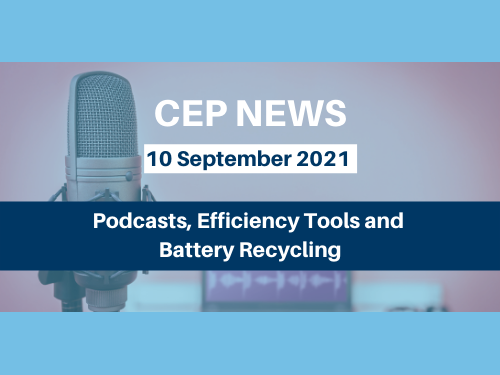 News from CEO – Mike Hopkins
Kia ora,

Today we're announcing we'll shortly be running a series of podcasts featuring prominent thought leaders in energy and climate change and we want your help. The podcasts will take the form of interviews and we want to put your questions. First up will be

Prof James Renwick

of Victoria University. James is a leading climate scientist, was one of the NZ contributors to the recent IPCC report and is on the Climate Change Commission. Please email your

questions for James

to me over the weekend, Monday at the latest. We also have

Prof Susan Krumdieck

lined up for an interview. Susan is a pioneer of Transitioning Engineering. Please also send in your

questions for Susan

.
Some of you may have been able to attend a pre-lockdown information session on how lighting can help the state sector become carbon neutral by 2025 put on by The Lighting Council ad EECA at Te Papa. If you weren't able to get there, the recording is now available. It's broken up into bite sized chunks and can be accessed

here

.
If you're interested in an overview of digital tools available to improve energy efficiency, you could do a lot worse than to take a look at a recent

IEA paper

on the main types of tools out there. Starting with a framework ecosystem of digital energy efficiency tools (below), the article then dives deeper into the tools themselves and their application.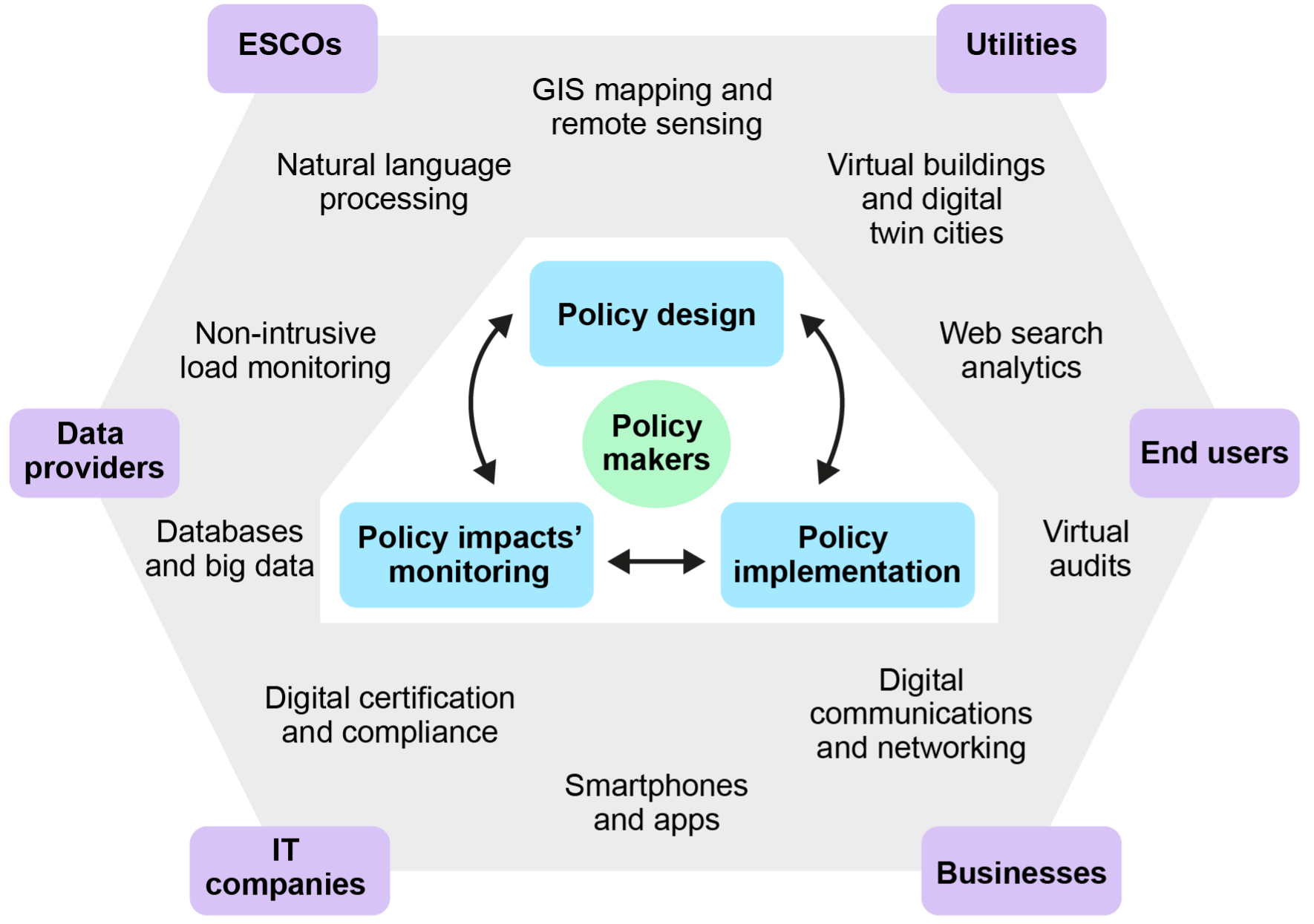 In an unprecedented move this week, 220 medical, nursing and public health journals joined forces to publish an editorial demanding world leaders take action on climate change, labelling it the "greatest threat" to global public health. The editorial claims current actions are insufficient and the urgency that has been applied to tackling COVID-19 should be extended to tackling climate change. The full text can be found
here
.
Renewables continue to dominate the new build environment in the US. In the first half of 2021 92% of all new generation capacity was renewable. The figure was 100% for the month of June. Wind just shaded solar for new capacity over the six months.
Australian scientists (ANU and UNSW) are stepping up to the challenge of economic green hydrogen, reporting they have cracked the 20% efficiency barrier for direct, i.e. single unit, solar to hydrogen production. The new process and technology is expected to be capable of delivering hydrogen at US$2.30 (NZ$3.24) per kilogramme.
Nissan is now claiming it can recycle 98% of rare earth elements from its EV motors. While trying to design out the need for rare earth elements in the first place, it is not there yet. However, with recycling it believes it can achieve zero dependence on newly extracted elements at some point in the future, despite increasing demand for EVs. The new recycling process melts motors at 1,400C and oxidises the rare earth metals. The process takes half the time of the current process – manual dismantling – although the

short video

doesn't make mention of emissions associated with the new process.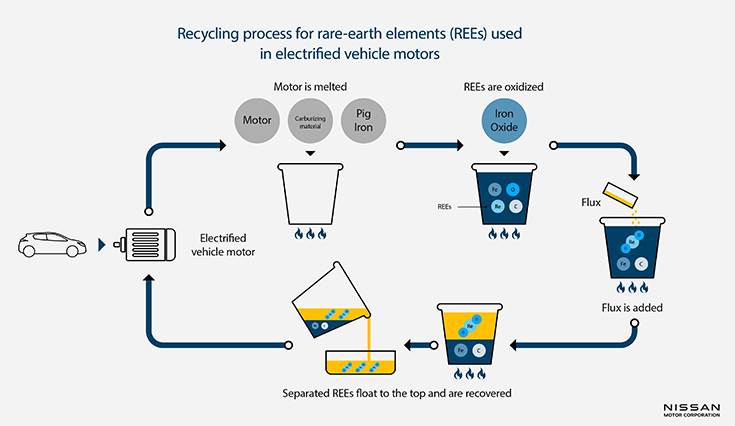 Recycling standards for lithium-ion batteries may be on the way. Argonne National Laboratory, part of the US Department of Energy, has just signed an MOU with the National Electrical Manufacturers Association to develop the standards. The aim is to help manufacturers understand which materials and designs are the most recyclable.
Meanwhile Stanford University scientists have developed a chlorine battery that holds 6 times the charge of a comparable (by weight of electrode material) lithium-ion battery. The development is based on established, alkali metal-chlorine battery technology first used in the 1970s. While demonstrating high energy density, these batteries were single use only. The difference is that the new variant is rechargeable up to 200 times with work ongoing to increase the number of useful cycles (lithium ion batteries tend to cycle up to 1,000 times).
We've heard about pavements that collect electricity in the past but this week we heard of a new technology that can collect energy from wooden floors. A chemical treatment enhances the natural but miniscule piezoelectric effect found in wood. The developer, ETH Zurich, believes the treatment could be applied to building materials to generate small power outputs in homes.
Wishing you a safe and great weekend.
Mike and the team
---
Upcoming Events
Check out CEP Training courses, CEP Webinars and other Industry related events – coming up.
---
Tender Opportunities
RFP C21-008 TOU Electricity Supply & Purchase – University of Auckland

Ref 24713446
The UoA is seeking proposals for supply durations of 12, 24 & 36 mth terms, and (preferably) from 100% renewable generation sources. Additional (extended terms) are not specifically requested, however will be considered if proven beneficial, as will the provision of Renewable Energy Certificates (if not 100% carbonNZero Certified) to meet the UoA's sustainability goals. The UoA will also consider a long-term Power Purchase Agreement (PPA) tied to a renewable energy source (e.g. PV farm) that is certified as carbon zero with any surplus/ deficit electricity managed through the retailer complete with associated carbon certification. A PPA could be for 10, 15 or 20 years.
Close Date: Monday, 13 September 2021 1:00 PM
---
Transmission Grid Service Contracts and Membership of Contestable Work Panels
Ref 24706031
Transpower is a state-owned enterprise at the centre of New Zealand's electricity industry. It is responsible for ensuring the secure and reliable transmission of electrical energy from generating sites, such as hydro-dams and wind farms, to distribution companies and large direct supply companies. Our grid includes over 12,000 km of transmission lines and more than 170 substations.
Transpower has a largely outsourced model for the provision of the field services required to maintain and build grid assets. A number of our existing contracts for field services expire in August 2022. We are seeking Registration of Interest (ROI) from suppliers for the new contracts for the ongoing provision of grid field services. Please see attached the ROI document for more information about this opportunity and timeline for procurement .
Close Date : Monday, 13 September 2021 2:00 PM
---
Enga Electrification Project (EEP)
Ref 24770662
MFAT wishes to advise interested parties of the opportunity to tender for the Enga Electrification Project (EEP) 'Service Connections – Supply to households and eligible buildings'. There are four Service Connection tenders in total.
The EEP is a NZ$2.5m Ramu grid extension which New Zealand is co-funding with Australia. The project is implemented through PNG Power Limited and will connect 5,500 households, public buildings, and health clinics in the Tsak Valley of Enga Province.
See tender for more details.
Close Date : Friday, 17 September 2021 4:30 PM
---
Cowles Stadium Mechanical and Bathroom Upgrade
Ref 24485334
The purpose of this RFT is to invite Tenderers for the removal of the diesel burner and installation of a new electrical heating and cooling system and reconfiguring and refurbishment of bathrooms. We are seeking a single head contractor who can manage the delivery of building, mechanical, electrical and plumbing services.
Close Date : Monday, 27 September 2021 12:00 PM
---
Description of Works – LED Lights Installation. To replace all Non-LED Lights with LED Lights, including occupancy sensors and timers (as per the requirements of the specific area). The installation includes seismic restraints and commissioning of the LED lights. The equipment supplier will be required to provide technical support for the installation of lights. CCDHB expect to commence the installation of LED Lights in Q1 2022 and complete, commissioning and handover by Q4 2022. The contractor will be required to be engaged no later than December 2021.
---
Main Contractor for A, E, F, S, W: Heating replacements at Wairoa College
Ref 24773145
Heating/Ventillation (Aircon) Replacement.
Close Date : Wednesday, 6 October 2021 5:00 PM
---
3 Waters Electrical and SCADA Maintenance Support

Ref 24761191
The Dunedin City Council (DCC) 3 Waters department has an Electrical and SCADA support contract that is expiring and this is an opportunity for an appropriate supplier to partner with the DCC on a new maintenance and minor capital works contract, providing services to the 3 Waters treatment plants, assets and facilities.
The DCC is seeking responses from suitably experienced suppliers who can provide the range of services specified.
We want to setup a single contract to cover the range of electrical, telemetry and SCADA support services required.
The supplier must be able to demonstrate proficiency in both reactive and proactive maintenance tasks and capital upgrade works across the range of equipment in our 3 Waters facilities.
Close Date: Friday, 8 October 2021
---
Sustainable Energy Provider
Ref 24780657
Wellington City has a goal of net zero carbon by 2050 – as laid out in Te Atakura – First to Zero which was adopted by Council in 2019. During this time, Wellington City Council (Council) declared a climate and ecological emergency and responded with Te Atakura, a blueprint to becoming a zero-carbon capital.
The New Zealand energy market has changed significantly in recent years as a result of new technologies, a shift towards low carbon energy sources and changing consumption patterns. The Council's Executive Leadership Team reviewed the future impacts of energy on achieving the zero-carbon goal and endorsed the development of an Energy procurement Strategy to investigate the way it procures and consumes energy to maximise benefits to rate payers. The key objectives of the Energy Procurement Strategy are to:
1. Support the implementation of 'Te Atakura – First to Zero' by developing commercial arrangements that deliver enhancements to energy usage via the council's energy portfolio including:
improving the energy efficiency of Council buildings,
moving toward sustainable fuel alternatives,
moving toward vehicle electrification,
exploring local energy generation opportunities, ensuring security of energy supply,
establishing a sustainable energy budget.
2. Develop a commercially viable relationship with a Sustainable Energy Supplier that can provide a range of energy efficiency services along with the basic supply of energy that will support decarbonisation of the Council's energy supply and stationary energy assets, and is consistent with our core values and vision for a smart Council and capital.
Our core Council values are:
Whakapai ake – we ar always improving
Mana tiaki – we care for our places
He tangata, he tangata, he tangata – we put people at the heart of what we do
Mahi Nga tahi – we collaborate
Close Date : Friday, 8 October 2021 4:00 PM