Classic Interviews, Improved Building Code and Natural Solutions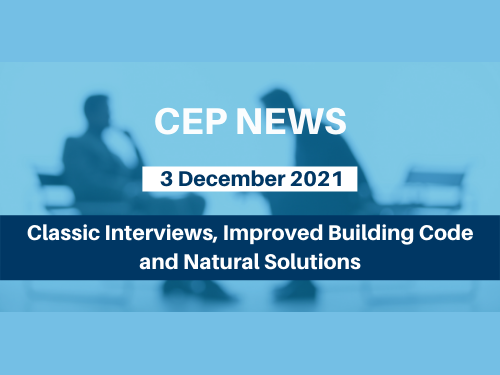 News from CEO – Mike Hopkins
Kia ora,
At the very end of last week we conducted a fascinating interview with Prof James Renwick, leading climate scientist at Victoria University – Te Herenga Waka, participating author of the IPCC reports and Climate Commissioner. The interview is now available on our web channel and is well worth a view.



In case you missed it, we had a Building Code update this week with a focus on efficiency. Introducing the "biggest energy efficiency changes …in more than a decade", Monday's announcement claimed the changes would reduce energy demand for heating and cooling in new builds by 23% and in new homes by 40%. This and other changes will be on the agenda in our High Performance Construction webinar on Monday.
The latest publication from the IEA is its Renewables Market Report for 2021. The report tells us the year will see 290GW of new renewables capacity, up 46% from 2020's 199GW. 60% of this year's new capacity is solar, mainly commissioned in the US and China. The report goes on to forecast renewable capacity will be 4,800GW by 2026, which is more than the current global capacity of fossil fuel and nuclear generation combined.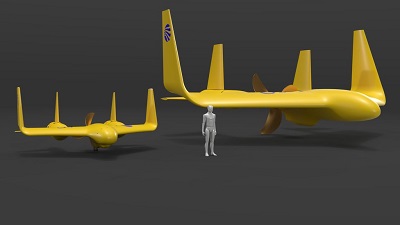 Following a decade of development, the first commercial deployment of Minesto's Deep Green generation kites took place this week in the Faroe Islands. The kites "fly" underwater using tides and currents to generate electricity. The next wave (pun intended) of kites can be transported in a shipping container, will have a 12 metre wingspan when assembled and generate 1.2MW. These larger kites will be introduced from early next year and it's expected the resulting kite array will satisfy the electricity needs of half the households in the Faroes. The promotional video on the company website is worth a look.
Anyone still haunted by range anxiety should see their concerns eased next year when Mercedes Benz unveils its VISION EQXX on 3rd January. The company is claiming the vehicle will be the world's first with a "real world" range of over 1,000Kms.
One of the guiding principles underpinning the Government's Emissions Reduction Plan due in April is to "enhance the role of nature based solutions". What better way to embrace this than to replace fuel burning tractors spreading water intensive pesticides with bees? Canadian firm Bee Vectoring Technology has developed a specially formulated natural pesticide and dispenser that attaches to a hive. As the bees leave the hive to do their work, they pass through the dispenser which coats their legs with the pesticide. The result is pollination and pest control delivered at the same time in a natural way.
Wishing you all a safe and great weekend.
Mike and the team
---

CEP is 'giving it some jandal' when it comes to decarbonising New Zealand
CEP has announced its conference venue, theme and first Keynote for New Zealand's leading decarbonisation conference being held on 1st & 2nd June 2022.
CEP continues its tradition of attracting international heavy hitters by announcing Mark Caine as a Keynote. Caine is the project lead for artificial intelligence and machine learning at the World Economic Forum and has authored many publications on how AI can drive efficiency and address climate change.
Registrations and Sponsorship opportunities are now open. More here…
---
Upcoming Events
Check out CEP Training courses, CEP Webinars and other Industry related events – coming up.
---
Tender Opportunities

Climate (im)mobility Research in the Pacific – Researchers
Ref 25042872
The Ministry of Foreign Affairs and Trade (MFAT) is seeking suppliers (individuals and/or organisations) to deliver research services to better understand past, current and future climate (im)mobility in the Pacific, and its impact on communities in the Pacific and in New Zealand. Research outputs will be used to inform work under the New Zealand aid programme and shared with relevant stakeholders, including Pacific governments and other New Zealand ministries.
Suppliers will need to be willing to enter into sub-contracting arrangements with the successful respondent to a parallel procurement process "Research investigating climate-related (im)mobility in the Pacific – Project Management", GETS # who will provide Project Management functions to oversight and deliver this project.
Closing Date: Monday, 6 December 2021 10:00 AM
---
Warmer Kiwi Homes: Insulation Service Providers / Heat Pump Service Providers / Wood and Pellet Burner Service Providers
Ref 25139242
EECA will shortly be releasing the following three Notices of Procurement:
WKH 22-26-ISP – An RFP to form its panel for the supply and installation of insulation to the Warmer Kiwi Homes programme for the 2022-2026 (1 July 2022 to 30 June 2026) years.
WKH 22-26-HSP – HP – An RFP to form its panel for the installation of heat pumps to the Warmer Kiwi Homes programme for the 2022-2026 (1 July 2022 to 30 June 2026) years.
WKH 22-26-HSP-WPB – An RFQ for the supply and installation of Wood and/or Pellet Burners to the Warmer Kiwi Homes programme for the 2022-2026 (1 July 2022 to 30 June 2026) years.
NB: Please hold any questions you may have until the Supplier briefing session, the details for which will be in the RFP and RFQ documents.
Close Date: Monday, 13 December 2021 12:00 PM
---
Warmer Kiwi Homes approved Heat Pump Appliances
Ref 25136771
For this procurement, we are looking to select suitable heat pump suppliers that can provide a range of approved heat pumps – that are suitable for low-income homeowners. The heat pumps must and can only be installed by companies who are approved by the heat pump supplier and are EECA approved Heating Service Providers to this WKH programme (expected to be selected by 15 April 2022).
Suppliers must be able to provide the following:
nation-wide supply and distribution of their nominated product ranges for each sub-category specified (based on kilowatt output) i.e. throughout the North and South Islands
products which meet technical specifications prescribed in this Contract Application and that are price-suitable to the programme's target market
a track record of sales of at least 4,000 high-wall single-split non-ducted heat pumps over the past two years into the NZ market; with at least 1,500 sales in each of the past two years.
evidence that they comply with the NZ Government Procurement's supplier Code of Conduct
products that meet minimum five-year warranty requirements of each heat pump
evidence of a credible, robust and realistic process for approving Heating Service providers to be able to install the nominated product range and meet manufacturer's warranty requirements.
Closing Date: Tuesday, 14 December 2021 12:00 PM
---
Twizel and Fairlie Pools Heating Upgrade
Ref 25117453
We are seeking the supply and installation of heat pump water heating systems for Fairlie and Twizel swimming pools, plus associated electrical infrastructure upgrades.
Fairlie has an existing heat pump which supplements the solar system, and it is proposed to continue using this in parallel, with the addition of a new heat pump.
Twizel has a small heat pump, heating the toddlers swimming pool, which will continue to operate as a separate system.
This contract includes:
supply and installation of heat pumps for both pools
upgrade of electrical infrastructure at Twizel pool, including a new switchboard
decommissioning and removal of the solar heating systems at both pools
The Council has nominated a Twizel based electrical sub-contractor to be used on this project.
Closing Date: Wednesday, 15 December 2021 4:00 PM
---
Specialised Electrical Main-Contractors: Electrical & Heating Upgrade : Somerville Intermediate School, Auckland
Ref 25108755
Specialist electrical contractors are sort to register their interest to price the supply and installation works of an electrical & heating upgrade at Somerville Intermediate School, Auckland.
The existing electrical and heating systems have reached the end of their lifecycle and become old, with inadequate operation.
Works will include upgrade of switch boards, sub-boards and heating systems.
The school is also experiencing lack of power supply and recent school demands which has pushed the supply to its limits with periodic power overloads/shut downs.
All documentation will be prepared by an electrical consulting to NZ Safety Codes and MoE standards. All procedures to comply with MoE property legislation.
Closing Date: Thursday, 16 December 2021 4:00 PM
---
Lighting Upgrades for the Kidz First & McIndoe Buildings Middlemore Hospital
Ref 25137270
Counties Manukau District Health Board wishes to upgrade the lighting in the Kidz First and McIndoe buildings at Middlemore Hospital. The main drivers for the upgrade are to improve illumination levels in certain areas, reduce maintenance costs, and achieve significant energy savings, using modern internationally approved LED lighting systems. The general scope of this RFP is for the supply and installation of luminaires and attachments.
Closing Date: Thursday, 16 December 2021 4:00 PM
---
ROI Main Contractor for Electrical Works at Whangarei Intermediate School
Ref 25132447
This background to this is the School Board of Trustees have identified this project based on Priority Two Essential Infrastructure. The funding source for this work has been identified under 5YA.
The Contract Works required are:
Closing Date: Friday, 17 December 2021 5:00 PM
---
Lincoln University HVAC Panel
Ref 25145015
This request for Proposal (RFP) seeks proposals from the market for the establishment of a HVAC Panel. The University will use this process to select a number (currently anticipated to be up to four, but may be more or less, at the discretion of the University) of local Contractors to enter into an agreement with Lincoln University for the delivery of HVAC works and services.
The scope of the panel is minor works across the following general works categories:
Design and build of mechanical ventilation, heating, air conditioning systems
Design and build of electric boiler systems
Sizing and installation of heat-pump air conditioning and heating systems
Ancillary and supporting services related to the above, such as electrical, minor building works, plumbing, etc.
Closing Date: Friday, 17 December 2021 5:00 PM
---
Main Contractor for Blocks A, B, C, D, K, RA, T, O, W, X Lighting Upgrade at Manurewa High School
Ref 25110997
The Manurewa High School Board of Trustees are seeking a Main Contractor for Blocks A, B, C, D, K, RA, T, O, W, X Lighting Upgrade.
Closing Date: Saturday, 18 December 2021 5:00 PM
---
EV Infrastructure
Ref 25164231
Ministry for Primary Industries (MPI) is mandated to achieve carbon neutrality by 2025/26 under the Carbon Neutral Government Programme (CNGP). The programme requires all government agencies to purchase Battery Electric Vehicles (BEVs) or Plug-in Hybrid Electric Vehicles (PHEVs) when purchasing new vehicles or replacing old vehicles unless there are operational requirements or other circumstances that prevent it.
MPI seeks to identify a supplier that can provide the following services nationally:
Review MPI sites nationwide as required and provide advice, expertise, and recommendations on installation of electric vehicle (EV) charging infrastructure, a software management platform with the capabilities for data management, monitoring and reporting of electricity use, costings of the infrastructure and software, and supply and installation of the software and infrastructure
Provide advice, expertise, and recommendations on installation and the supply of EV charging infrastructure at MPI staff members' homes
For the 2021/22 FY – 55 charges, across seven (7) MPI sites.
For the 2021/22 FY – EV charges for the additional 11 PHEVs subject to available funding.
Supply and installation of EV chargers in subsequent financial years and for the term of the contract.
Ongoing support of the EV chargers and software solution following installation.
Closing Date: Wednesday, 22 December 2021 2:00 PM
---