Pumped Hydro, Nuclear, Performance Contracts – What lies ahead?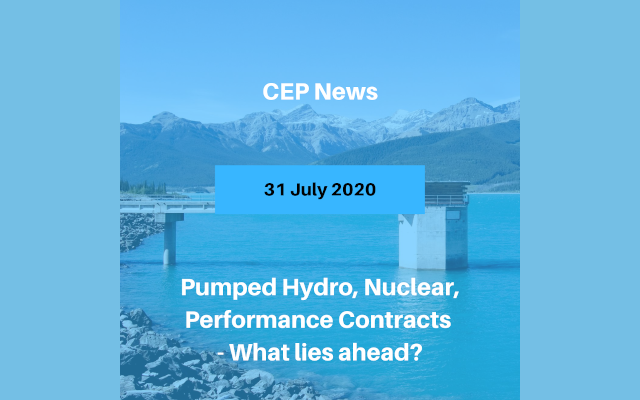 News from CEO – Mike Hopkins
It's been another exciting news week as we count down to election time with news of an investigation into the viability of using Lake Onslow as a pumped storage facility. Setting asides the debate on the practical and engineering merits of a large storage facility near the bottom of the South Island versus dispersed alternatives around the country through batteries, the implications for the market will be enormous. Who would own it? Would its operation be driven by technical requirements (security and quality of supply) or a price trigger? If privately owned, what would be the capacity payment mechanism? It was certainly an interesting announcement and the $30m report will make fascinating reading.
Internationally, the United Nations Environment Programme (UNEP) published the world's first global map of land use in the aim of allowing companies to plan expansion or new developments with regard to their impact on nature and investors to research the nature impact of their investment decisions. The mapping concludes that 37% of the world's terrestrial area remains natural, 25% is potentially natural, 22% modified and 17% potentially modified.
It was good to see the French Government banning outdoor heaters this week. That's been a personal bugbear for years and what seems to me a quick and straightforward win. Hat's off to the French on that one.
Also in France and rather more controversial, building commenced this week on what will be the world's largest nuclear fusion reactor. 35 countries, including the US, China, India and Japan are engaged in the collaboration which began in 2006 and is expected to achieve full fusion by 2023. Meanwhile, renowned environmentalist Jonathon Porritt has slammed the entire nuclear industry as a "scam" as alternative low or zero carbon technologies are more usable, accessible and cheaper.
We've had some interest this week in running our Commercial Building Specialist – HVAC and Continuous Commissioning courses in the near future. At the moment, neither has quite hit the mark of breaking even for setting up a delivery. It would be good to get some of our face-to-face programmes back up and running post COVID so, if you, or someone you know, is keen to upskill in these areas this year, please let us know. Of course, we do have Carbon and Energy Professional booked in for September and available spaces so, again, get in touch to book a place.
A reminder this week that we have an arrangement with insurance broker Crombie Lockwood for discounted rates (highly attractive rates, we've heard from some members) on business insurance for members and corporate partners, so please check out the details in the Members area of the website.
Finally, we've added a new webinar for October. New Partner Siemens will be talking about Energy Performance Contracts and Energy as a Service. We'll be joined by panelists from Sydney and Singapore for this one to talk about the ins and outs of performance contracting. A webinar not to be missed.
Have a great and safe weekend and we hope to see some of you at Downstream on Monday.
---
Tender Opportunities
RFI for Aeronautical Electrical Work at Auckland and Christchurch Aerodromes

Ref 22990400
Airways New Zealand ("Airways") is New Zealand's provider of air navigation services and as such, Airways provides the air traffic control and infrastructure to keep New Zealand skies safe. Among the company assets are aerodrome lighting assets at Auckland and Christchurch airports. These include extensive lighting systems, the associated underground cabling, electronic power systems, UPS and backup generators.Airways is interested in finding a substantial electrical asset management company that can add value to this part of the business and this RFI is to establish the capability and capacity of the market.
Close Date: Friday, 7 August 2020 4:00 PM
---
Additional Suppliers for Engineering Services Panel

Ref 22920075
This RFP relates to the purchase of services to support the Councils engineering activity for the next three years.The scope of professional services required for the panel includes the categories listed as follows: Flood Management, Geotechnical Engineering, Engineering Design, Project Management, Consent Planning, Technical Review of Resource Consents. Suppliers may provide some or all of these services.
Close Date: Friday, 7 August 2020 4:00 PM

---
Registration as a Vetted Eligible Materials Supplier

Ref 22969036
NG Power Limited (PPL) as the state-owned enterprise and monopoly on-grid electricity supplier is partnering with the donor signatories of the PNG Electrification Partnership (PEP) to execute and deliver the intent of that programme. This programme involves significant on-grid extension projects into rural areas. New Zealand's current contribution to this programme is the ROGE Project and, in partnership with the Australian government, will also contribute to the Enga Electrification Project, where the materials supply component of the projects are estimated at NZD 10m + over the next 3 years.
Close Date: Friday, 7 August 2020 5:00 PM
---
Streetlighting Maintenance and Renewal Services

Ref 23017402
This procurement relates to the delivery of Streetlighting Maintenance and Renewals Services for Porirua City Council. This includes the streetlights through the roading assets and road corridor including accessways etc. of Porirua City Council. The Council is looking to engage a contractor with the experience, skills, capacity and capability in these services.
Close Date: Friday, 21 August 2020 3:00 PM
---
Papua New Guinea Electrification Partnership – Project Management Services

Ref 23029127
The Ministry of Foreign Affairs and Trade (MFAT) is seeking Registrations of Interest (ROI) from suitably qualified and experienced organisations or consultants (including consortia) to manage and provide technical support to the Papua New Guinea Programme team to deliver existing electrification activities (Enga and ROGEP) and New Zealand's pipeline of Papua New Guinea Electrification Programme (PEP) related activities. These activities fall under the PEP that will help support PNG's electrification ambition of achieving 70% electrification by 2030.
Close Date: Wednesday, 2 September 2020 1:00 PM
---
Advance Notice – Auckland DHB Starship Children's Hospital PICU and Atrium

Ref 22940101
Advance Notice of a Contract Opportunity – Auckland DHB Starship Children's Hospital Paediatric Intensive Care Unit (PICU) and Atrium – subscribe to notice for more information.
The preliminary design project has been completed and Auckland DHB is looking to approach the market for consultants to undertake the completion of the design, including;- Project Management- Architecture- Building Services (Mech / Elec / Hyd / Med Gas / Fire Protection / ICT / Security / Nurse Call).
Close Date: Friday, 9 October 2020 5:00 PM
---
Advance Notice – Improving Classrooms in Small or Remote Schools Programme
Ref 22500892
This notice is to inform suppliers that the Ministry will be embarking on a programme to improve the internal environments of almost 600 state schools that are small or remote. The programme is expected to take up to four years to complete. Inclusion definitions are:
• Schools that have four or less entitled* teaching spaces (about 100 students)
• Schools that have an isolation index* of 2.0 or higher on the Ministry's Isolation Index
The improvements will enhance aspects of the learning environment associated with fitness for purpose, operational efficiency and condition. The improvements are: LEDs, acoustic panels, thermal blankets and residual current devices (RCDs) for electrical safety.
Close Date :Thursday, 31 December 2020 5:00 PM