RFP Announcement from CEP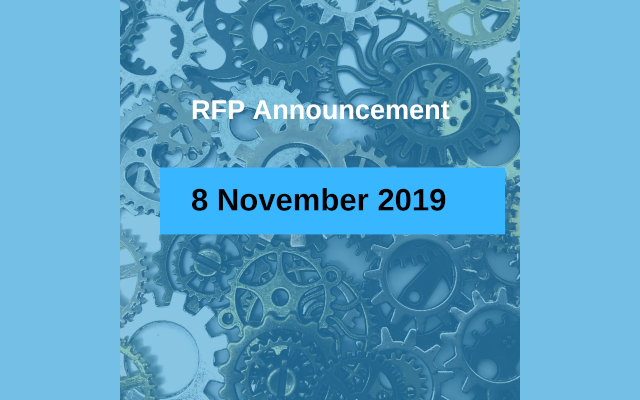 We have exciting news this week about some upcoming work which will take us up a level on our activities to help members thrive in the rapidly evolving carbon and energy management space. We're announcing an RFP today seeking proposals that will look at bringing new training on stream and undertaking a couple of feasibility studies to boost the standing of existing programmes. In a nutshell, there'll be new training and accreditations for carbon auditors, new training for energy auditors, some work around specifying our Continuous Professional Development procedures, a feasibility study on the viability of international certification for our accreditation procedures and a feasibility study into the viability of delivering ECMP to a much wider audience using digital media. The RFP will be available on our website at the start of next week and closes on 21 November. Please take a look and please forward to suitably qualified colleagues or acquaintances if the projects aren't of direct interest to you.
Political news this week has been dominated by the Zero Carbon Bill and some unveiled threats from the Energy Minister. On Thursday we had the third and final reading of the Zero Carbon Bill and by now, you're likely to have heard that it was passed despite some last minute protestations from National. We did our bit on the day by joining the signatories of the open letter prepared by the WWF calling for bipartisan support for the Bill. Also this week, the Minister for Energy and Resources published her own open letter "encouraging" electricity retailers to scrap their prompt payment discounts. Failure to comply with the request within a six month deadline will see more direct action from the Government.
In member news this week, we're pleased to report a couple of our partners changing names and rebranding. Energy and Technical Services has changed its name to Carbon and Energy Management Services, Carbon EMS for short. The timing couldn't have been better as it means we still have an EMS, the old version – Enviro-mark Solutions – announcing a name change to Toitu Envirocare.


The latest reports on progress towards 2030 targets continue to paint a worrying picture. CarbonTracker this week reported the world's oil and gas producers will need to cut aggregated production by 35% by 2040 if we are to reach the 2C target. It went on to say the world's carbon budget to limit raises to 1.5C will be exceeded in 13 years. Meanwhile, a report from CapGemini's World Energy Markets Observatory reveals global energy demand increased by 2.3% in 2018 (over 2017), Germany being the only major economy to show a reduction (2.2%). Its report concluded that meeting worldwide climate goals was looking unrealistic.
The IEA reported this week that global energy efficiency improvements are at their lowest level since 2010, with primary energy intensity improving by only 1.2% in 2018. The rate of improvement has declined for the last three years in a row and now falls very short of the 3%pa needed to hit climate change goals.
Researchers from Birmingham University published a report this week warning of the waste mountain that could materialise from expired EV batteries. They estimate a million EVs will generate around 250,000 tonnes of battery waste and if we don't see improvements in reusability or recyclability, vehicle electrification will leave us with a significant waste problem from around 2040.
Finally this week, a couple of firm date for the diary for Auckland and Wellington members and a "keep an ear open" for others. We're going to be holding another series of networking events at the end of the month (maybe into early Dec). These will be our first round of events as CEP and we'd all love to see a big turnout to kick us off. The Wellington event will be first up on the 25th with Auckland just a couple of days later on 27th. The venues will be your local Crombie Lockwood office as we have some exciting news about a new collaboration and member benefits. So, get those dates into your diaries. The Christchurch date will follow as soon as we tie down a date.
Inspire:
We heard of an interesting idea out of the UK this week, where its Energy Minister is looking to show leadership and is investigating the feasibility and efficacy of setting departmental carbon budgets for central government. With constituency selection activities well under way ahead of our next election, perhaps that's something our political parties could be putting into election manifestos.
It seems there's a win-win soon to hit markets around the lifecycle of chip fat and carbon reductions from concrete manufacturing. UK firm Complete Composite Systems has just won the Best Use of Technology for Carbon Reduction award at the New Civil Engineering Tech Festival. The process uses old (rapeseed) chip fat mixed with sustainably sourced virgin rapeseed oil and their special additive to set fence posts as an alternative to traditional concrete. With so many fences in NZ, we may just have to start eating more chips in the national interest.
Tender Opportunities
Uninterruptible Power Supply (UPS) Service & Maintenance Ref 21801699
Bay of Plenty District Health Board (BOPDHB) has a number of specialist uninterruptible power supply (UPS) units in both Tauranga and Whakatane hospitals. We require someone suitably qualified and with a can do attitude to service and maintain these UPS's in top working condition at all times.
Close Time & Date: 12.00 noon Tuesday, 14 Nov 2019
---
Carbon Offsetting Solution Ref 21835572
The purpose of this Request for Information (RFI) is to invite suitably experienced parties to provide information regarding the supply of a carbon offsetting solution for the University of Otago to offset in its carbon footprint that arises from its extensive use of air travel.
Close Time & Date: 3.00 pm Thursday, 21 Nov 2019
---
412-20-153-RM Procurement of LED Luminaires supply by January and July 2020 Ref 21894113
This Request for Tender (RFT) is for Auckland Transport (AT) to procure approximately 25,000 light- emitting diode (LED) luminaires more or less, with circa 12,500 delivered by 31st January 2020, and circa 12,500 delivered by 31st July 2020.
Close Time & Date: 10.00 am Wednesday, 27 Nov 2019
---
19/04 Streetlighting Renewal and Maintenance Contract Ref 21777128
The Wairoa District Council (WDC) is offering the opportunity for provision of installation and maintenance services for its street and amenity lighting network.
Close Time & Date: 4.00 pm Wednesday, 27 Nov 2019
---
Main Contractor for Conversion of Boiler to Geothermal at Taupo Intermediate Ref 1872736
Subscribe to notice for full details.
Close Time & Date: 5.00 pm Wednesday, 27 Nov 2019
---
Design & Build of a New HVAC System to 7 Buildings at Albany Junior High School Ref 21873691
Design and Build of a New HVAC System for 7 buildings at Albany Junior High School.
Close Time & Date: 4.30 pm Friday, 29 Nov 2019
---
Andersons Bay School – Performance Based Wood Chip Boiler Design & Build Ref 21871387
The contract works required are to design and build a performance based Wood Chip Boiler as described and explained in the attached specifications.
Close Time & Date: 5.00 pm Monday, 2 Dec 2019
---
Auckland Facilities Management Services Ref 21905073
The University of Otago wishes to partner with an experienced service provider to provide facilities management services to the University's two Auckland sites. The University welcomes the submission of proposals to provide our two sites with repairs and maintenance and also manage the service delivery of associated facilities management services on the University's behalf.
Close Time & Date: 5.00 pm Monday, 2 Dec 2019
---
The Supply and Installation of HVAC System at the Proctor Library, Kerikeri Ref 21907541
The works consist of: Supply installation and commissioning of heat exchange units and ancillary equipment in accordance with the MEPS specification and drawings and all making good to the building fabric.
Close Time & Date: 5.00 pm Monday, 9 Dec 2019
---
Residential Retrofit Audit Update (EECA) Ref 21874112
An update to our earlier notice regarding our intention to procure services to manage the independent audit of our residential retrofit programme, including Warmer Kiwi Homes insulation, Warmer Kiwi Homes heating, and Voluntary Targeted Rates (VTR). The timeframe for release of the Request for Tender (RFT) has been delayed as we investigate the potential inclusion of health & safety reviews as a part of the audit programme.
Close Time & Date: 5.00 pm Friday, 13 Dec 2019
---
Engineering and Related Services Panel Update Ref 21878403
The Ministry of Foreign Affairs and Trade (MFAT) have been intending to release a tender for 'Engineering and Related Services'. MFAT encourage all suppliers interested in working with MFAT, to respond to MBIE's tender establishing an All of Government Consultancy Services Panel. https://www.gets.govt.nz/MBIE/ExternalTenderDetails.htm?id=21180268
Close Time & Date: 5.00 pm Tuesday, 31 Dec 2019