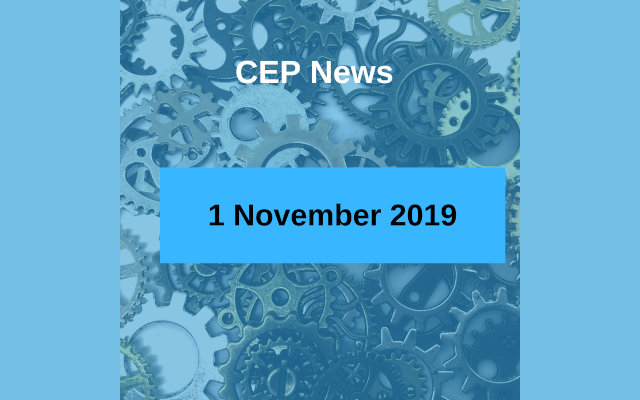 In NZ news this week, we heard that Refining NZ's Board has approved the $37m investment in a 26.7MW, 31hectare solar farm at Marsden Point. The site is expected to generate around 10% of the facility's electricity requirements and is scheduled to be completed before the end of next year. Good news for the solar sector in NZ.
Speaking of solar, the latest research from Bloomberg New Energy Finance confirms the cost of new solar and wind energy has now reached parity with average wholesale prices in many parts of the world, specifically, California and much of Europe. Their levelised cost is also below the average, regulated coal power price in China. While solar and onshore wind have seen costs fall by 11% and 6% respectively in the first half of 2019, the biggest cost fall was in offshore wind showing a reduction of 32% compared with a year ago.
Speaking of wind, we've known for some time that solar energy could provide sufficient energy to cover all global needs but this week the IEA published a report confirming offshore wind could do likewise. The report predicts offshore wind generation will increase 15-fold over the next 20 years on the back of a conclusion that globally, usable sites, all less than 60Km offshore and above depths of less than 60m, could generate 36,000 terawatt hours a year. Current global demand sits at 23,000 terawatt hours.
Inspire:
Thinking of incorporating EV technologies into a fleet? A recent UK webinar came up with the following five tips that can help integrate EVs into a fleet.
Range extenders to alleviate range anxiety. UPS has retrofitted diesel vehicles with EV technologies but kept a small diesel motor to recharge the batteries if needed. The vehicles operate as pure EVs in low emissions zones but can recharge on the move outside the zones if needed.
Driver training. Understanding how EVs must be charged and maintained is essential for an effective transition.
Plan for the supporting infrastructure. Understanding routes, charging windows and power usage was critical to successful integration.
Vehicle to Grid to Vehicle charging could help manage charging demand. This is being successfully trialled at a bus depot in Nottingham, where EVs are being used as a load management and storage option.
Net zero strategies. Highlighting the contribution of EVs towards achieving a net zero target can accelerate acceptance and adoption.
Tender Opportunities:
Main Contractor for Ceiling and LED Upgrade at Panama Road School Ref 21707057
The Panama Road School Board of Trustees are seeking a Main Contractor for the Ceiling and LED Upgrade works.

Close Time & Date: 5.00pm Friday, 1 Nov 2019
---
Pacific Property Management Ref 21811468
The Ministry of Foreign Affairs and Trade are seeking registration of interest from experienced suppliers with proposed delivery model solutions for the management of all maintenance, replacement, and capital investment programme and associated services.
Close Time & Date: 4.00pm Monday, 4 Nov 2019
---
Air-conditioning Chillers Invercargill Ref 21699898
Subscribe to notice for full details
Close Time & Date: 5.00pm Monday, 4 Nov 2019
---
Main Contractor for Plumbing, Drainage, Heating, Electrical, & Water Supply Remediation at TKKM o Tokomaru Ref 21694170
Remediation of Plumbing and Drainage systems
Heating and Electrical Upgrade
Water Supply Upgrade
Close Time & Date: 5.00pm Tuesday, 5 Nov 2019
---
Uninterruptible Power Supply (UPS) Service & Maintenance Ref 21801699
Bay of Plenty District Health Board (BOPDHB) has a number of specialist uninterruptible power supply (UPS) units in both Tauranga and Whakatane hospitals. We require someone suitably qualified and with a can do attitude to service and maintain these UPS's in top working condition at all times.
Close Time & Date: 12.00noon Tuesday, 14 Nov 2019
---
Carbon Offsetting Solution Ref 21835572
The purpose of this Request for Information (RFI) is to invite suitably experienced parties to provide information regarding the supply of a carbon offsetting solution for the University of Otago to offset in its carbon footprint that arises from its extensive use of air travel.
Close Time & Date: 3.00pm Thursday, 21 Nov 2019
---
19/04 Streetlighting Renewal and Maintenance Contract Ref 21777128
The Wairoa District Council (WDC) is offering the opportunity for provision of installation and maintenance services for its street and amenity lighting network.
Close Time & Date: 4.00pm Wednesday, 27 Nov 2019
---
Residential Retrofit Audit Update (EECA) Ref 21874112
An update to our earlier notice regarding our intention to procure services to manage the independent audit of our residential retrofit programme, including Warmer Kiwi Homes insulation, Warmer Kiwi Homes heating, and Voluntary Targeted Rates (VTR). The timeframe for release of the Request for Tender (RFT) has been delayed as we investigate the potential inclusion of health & safety reviews as a part of the audit programme.
Close Time & Date: 5.00pm Friday, 13 Dec 2019