Hydrogen, Lithium and Sunblock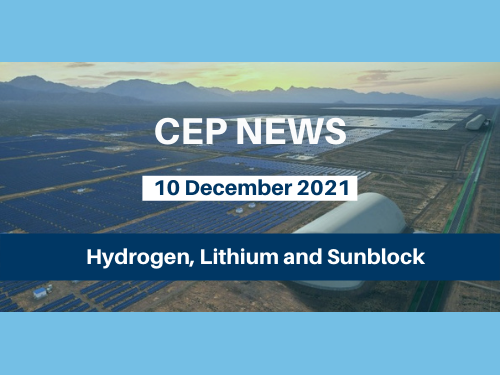 News from CEO – Mike Hopkins
Kia ora,
We are hiring. We have a part time vacancy at the moment for an Administrator to work alongside Maz and Anne. If you know anyone in the Wellington region who may be interested in joining the CEP team, please let them know and forward the link to our Seek advert.
This week saw the opening of New Zealand's first green hydrogen plant. The 1.5MW plant is powered by the Mokai geothermal station and can produce around 250 cubic metres per hour with a total production of 180 tonnes expected for its first year. Collections will be available from early January.
Geothermal has also been in the news in Germany where Vulcan energy has announced plans to build five geothermal plants in the Upper Rhine Valley with the intent of producing carbon free lithium. The area is believed to hold the largest lithium reserves in Europe at 15.85 million tonnes of lithium carbonate equivalent. The extracted minerals will be processed at a centralised plant to produce 40,000 tonnes of lithium hydroxide a year, equivalent to the needs of around 1 million cars. That is enough to supply the entire German battery industry, or 25% of Europe's. It would also drastically reduce emissions associated with transporting lithium from Africa, Asia, South America and Australia and reduce exposure to geopolitical instability. Lithium production is expected to absorb around 50% of the plants' energy output, the remainder going to the grid. It's also difficult to keep hydrogen out of the news.
This week saw the unveiling of FlyZero, a liquid hydrogen fuelled concept aircraft capable of carrying 279 passengers non-stop from London to the US West Coast, or one-stop London to Auckland. The project aims to make zero emissions flights a reality by the end of the decade.
It seems where New Zealand leads, the US follows with an announcement from President Biden that the US Federal Government is going carbon neutral. However, unlike NZ's target of 2025, the US will be targeting a 65% reduction in emissions by 2030 and neutrality by 2050. The scale is a little different though, with 300,000 buildings, 600,000 vehicles and an annual spend of US$650bn (NZ$960bn) now under the microscope.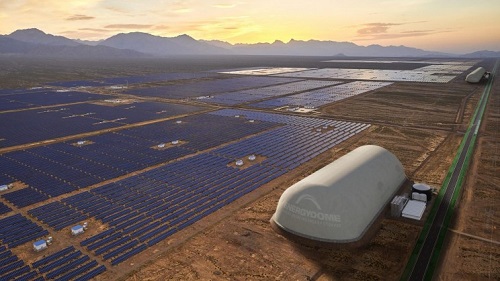 Italy's Energy Dome has just secured funding to develop a CO2 battery which it claims will halve the cost of renewables storage. The technology uses CO2 in a closed loop cycle being converted from gas to liquid and then back to gas. The process absorbs energy during the compression cycle with heat stored in a thermal storage device. The discharge process evaporates the liquid, recovering the heat and expanding the hot CO2 into a turbine that drives a generator. The key advantage of the process is its durability. With lithium batteries degrading after around 10 years, the 25 year expected life of Energy Dome's solution is what's behind the claimed halving of costs. There is also the potential benefit of using captured CO2 as its vector, providing a useful outlet for CCS captures. The concept prototype will have a 200MWh capacity.
Regular readers of this newsletter will recognise my weakness for a good (or preferably bad) pun. So, I was delighted this week to read that Amazon's Cloud is computing how to block the sun. Some of the world's largest supercomputers sit in climate research facilities but with these infrastructure investments being extremely costly, the National Center for Atmospheric Research is turning to Amazon to run some of its scenarios to model what the earth may look like between 2035 and 2070. The scenarios include solar radiation management, i.e. partial blocking of the sun. With little understood about the wider implications of solar radiation management, this scenario modelling could become environment and life saving.
Finally, many of you will now have seen our call for papers for the 2022 conference and the release of the sponsorship and exhibition prospectus. All those who managed to attend this year's conference will have seen just how impactful the event is and the exposure opportunities it creates, so please take a look at the prospectus, get marketing and attendance allocations into your 2022 budgets and book your spots early. We'll see you there.
Wishing you all a safe and great weekend.
Mike and the team
---

CEP is 'giving it some jandal' when it comes to decarbonising New Zealand
CEP has announced its conference venue, theme and first Keynote for New Zealand's leading decarbonisation conference being held on 1st & 2nd June 2022.
CEP continues its tradition of attracting international heavy hitters by announcing Mark Caine as a Keynote. Caine is the project lead for artificial intelligence and machine learning at the World Economic Forum and has authored many publications on how AI can drive efficiency and address climate change.
Registrations are now open. More here… Please view our sponsorship and exhibition prospectus.
---
Upcoming Events
Check out CEP Training courses, CEP Webinars and other Industry related events – coming up.
---
Tender Opportunities

Warmer Kiwi Homes: Insulation Service Providers / Heat Pump Service Providers / Wood and Pellet Burner Service Providers
Ref 25139242
EECA will shortly be releasing the following three Notices of Procurement:
WKH 22-26-ISP – An RFP to form its panel for the supply and installation of insulation to the Warmer Kiwi Homes programme for the 2022-2026 (1 July 2022 to 30 June 2026) years.
WKH 22-26-HSP – HP – An RFP to form its panel for the installation of heat pumps to the Warmer Kiwi Homes programme for the 2022-2026 (1 July 2022 to 30 June 2026) years.
WKH 22-26-HSP-WPB – An RFQ for the supply and installation of Wood and/or Pellet Burners to the Warmer Kiwi Homes programme for the 2022-2026 (1 July 2022 to 30 June 2026) years.
NB: Please hold any questions you may have until the Supplier briefing session, the details for which will be in the RFP and RFQ documents.
Close Date: Monday, 13 December 2021 12:00 PM
---
Warmer Kiwi Homes approved Heat Pump Appliances
Ref 25136771
For this procurement, we are looking to select suitable heat pump suppliers that can provide a range of approved heat pumps – that are suitable for low-income homeowners. The heat pumps must and can only be installed by companies who are approved by the heat pump supplier and are EECA approved Heating Service Providers to this WKH programme (expected to be selected by 15 April 2022).
Suppliers must be able to provide the following:
nation-wide supply and distribution of their nominated product ranges for each sub-category specified (based on kilowatt output) i.e. throughout the North and South Islands
products which meet technical specifications prescribed in this Contract Application and that are price-suitable to the programme's target market
a track record of sales of at least 4,000 high-wall single-split non-ducted heat pumps over the past two years into the NZ market; with at least 1,500 sales in each of the past two years.
evidence that they comply with the NZ Government Procurement's supplier Code of Conduct
products that meet minimum five-year warranty requirements of each heat pump
evidence of a credible, robust and realistic process for approving Heating Service providers to be able to install the nominated product range and meet manufacturer's warranty requirements.
Closing Date: Tuesday, 14 December 2021 12:00 PM
---
Twizel and Fairlie Pools Heating Upgrade
Ref 25117453
We are seeking the supply and installation of heat pump water heating systems for Fairlie and Twizel swimming pools, plus associated electrical infrastructure upgrades.
Fairlie has an existing heat pump which supplements the solar system, and it is proposed to continue using this in parallel, with the addition of a new heat pump.
Twizel has a small heat pump, heating the toddlers swimming pool, which will continue to operate as a separate system.
This contract includes:
supply and installation of heat pumps for both pools
upgrade of electrical infrastructure at Twizel pool, including a new switchboard
decommissioning and removal of the solar heating systems at both pools
The Council has nominated a Twizel based electrical sub-contractor to be used on this project.
Closing Date: Wednesday, 15 December 2021 4:00 PM
---
Specialised Electrical Main-Contractors: Electrical & Heating Upgrade : Somerville Intermediate School, Auckland
Ref 25108755
Specialist electrical contractors are sort to register their interest to price the supply and installation works of an electrical & heating upgrade at Somerville Intermediate School, Auckland.
The existing electrical and heating systems have reached the end of their lifecycle and become old, with inadequate operation.
Works will include upgrade of switch boards, sub-boards and heating systems.
The school is also experiencing lack of power supply and recent school demands which has pushed the supply to its limits with periodic power overloads/shut downs.
All documentation will be prepared by an electrical consulting to NZ Safety Codes and MoE standards. All procedures to comply with MoE property legislation.
Closing Date: Thursday, 16 December 2021 4:00 PM
---
Lighting Upgrades for the Kidz First & McIndoe Buildings Middlemore Hospital
Ref 25137270
Counties Manukau District Health Board wishes to upgrade the lighting in the Kidz First and McIndoe buildings at Middlemore Hospital. The main drivers for the upgrade are to improve illumination levels in certain areas, reduce maintenance costs, and achieve significant energy savings, using modern internationally approved LED lighting systems. The general scope of this RFP is for the supply and installation of luminaires and attachments.
Closing Date: Thursday, 16 December 2021 4:00 PM
---
ROI Main Contractor for Electrical Works at Whangarei Intermediate School
Ref 25132447
This background to this is the School Board of Trustees have identified this project based on Priority Two Essential Infrastructure. The funding source for this work has been identified under 5YA.
The Contract Works required are:
Closing Date: Friday, 17 December 2021 5:00 PM
---
Lincoln University HVAC Panel
Ref 25145015
This request for Proposal (RFP) seeks proposals from the market for the establishment of a HVAC Panel. The University will use this process to select a number (currently anticipated to be up to four, but may be more or less, at the discretion of the University) of local Contractors to enter into an agreement with Lincoln University for the delivery of HVAC works and services.
The scope of the panel is minor works across the following general works categories:
Design and build of mechanical ventilation, heating, air conditioning systems
Design and build of electric boiler systems
Sizing and installation of heat-pump air conditioning and heating systems
Ancillary and supporting services related to the above, such as electrical, minor building works, plumbing, etc.
Closing Date: Friday, 17 December 2021 5:00 PM
---
Main Contractor for Blocks A, B, C, D, K, RA, T, O, W, X Lighting Upgrade at Manurewa High School
Ref 25110997
The Manurewa High School Board of Trustees are seeking a Main Contractor for Blocks A, B, C, D, K, RA, T, O, W, X Lighting Upgrade.
Closing Date: Saturday, 18 December 2021 5:00 PM
---
Nelson City Council – Roading Electrical Services Contract – ROI – 08 December 2021
Ref 25219259
Nelson City Council (Council) are looking for expressions of interest from suitably qualified and experienced contactors with the capability and resources to deliver the district's Electrical component of the Roading Network Maintenance. This includes streetlights, electronic signs and traffic signals. The purpose of this Expression of Interest is to:
Signal Council's intent to procure services.
Seek to understand what suppliers are interested in tendering for the services.
Explore delivery options.
With regards to delivery options, Council is currently exploring whether this work should be delivered in either one or two contracts:
Streetlights, electronic signs, and traffic signals
Streetlights & electronic signs
Traffic signals
Response to this EOI is purely exploratory to signal current intentions and does not implicate or preclude contractors in responding to the tender when the Request For Tender (RFT) is issued.
Closing Date: Monday, 20 December 2021 4:00 PM
---
EV Infrastructure
Ref 25164231
Ministry for Primary Industries (MPI) is mandated to achieve carbon neutrality by 2025/26 under the Carbon Neutral Government Programme (CNGP). The programme requires all government agencies to purchase Battery Electric Vehicles (BEVs) or Plug-in Hybrid Electric Vehicles (PHEVs) when purchasing new vehicles or replacing old vehicles unless there are operational requirements or other circumstances that prevent it.
MPI seeks to identify a supplier that can provide the following services nationally:
Review MPI sites nationwide as required and provide advice, expertise, and recommendations on installation of electric vehicle (EV) charging infrastructure, a software management platform with the capabilities for data management, monitoring and reporting of electricity use, costings of the infrastructure and software, and supply and installation of the software and infrastructure
Provide advice, expertise, and recommendations on installation and the supply of EV charging infrastructure at MPI staff members' homes
For the 2021/22 FY – 55 charges, across seven (7) MPI sites.
For the 2021/22 FY – EV charges for the additional 11 PHEVs subject to available funding.
Supply and installation of EV chargers in subsequent financial years and for the term of the contract.
Ongoing support of the EV chargers and software solution following installation.
Closing Date: Wednesday, 22 December 2021 2:00 PM
---
Advance Notice:
Auckland Council Community Facilities Pre-Qualification of Physical Works Panel suppliers for Recreational Facilities' Works Category – Sand Carpets & Flood Lighting
Ref 25220969
Advance Notice only
This advance notice is to inform the supply market about an upcoming Auckland Council Registration of Interest (ROI) and Request for Expression of Interest (REOI)/Request for Proposal (RFP) process for Community Facilities Pre-Qualification of Physical Works Panel Suppliers for Recreational Facilities' Works Category – Sand Carpets & Flood Lighting.
Auckland Council Community Facilities ("CF") will be seeking to establish a panel of physical works suppliers to provide works under CF Recreational Facilities Works Category – relating to sports fields:
sand carpets
flood lighting
There will be an open market ROI issued through GETS in January 2022 with some preconditions to be met. The suitable suppliers will then be invited through SAP Ariba to submit REOI/RFP response which will be evaluated to identify the most suitable contractors.
For further information, please download the notification from attachments.
Closing Date: Friday, 7 January 2022 5:00 PM
---
Waitakere Hospital Electrical Infrastructure Upgrade – Contractors
Ref 25212856
Waitematā District Health Board is seeking tender submissions for the provision of contractor services related to the remediation of critical electrical plant and equipment that are either failing or at imminent risk of failure in the near future at Waitakere Hospital.
For further information and detailed requirements, please refer to the attached FRT documents.
Note: Proposals must be submitted through GETS. Posted, faxed or emailed proposals will not be accepted for consideration.
Closing Date: Tuesday, 18 January 2022 3:00 PM
---