Heat Stress, Appliance Efficiency and Changing Behaviour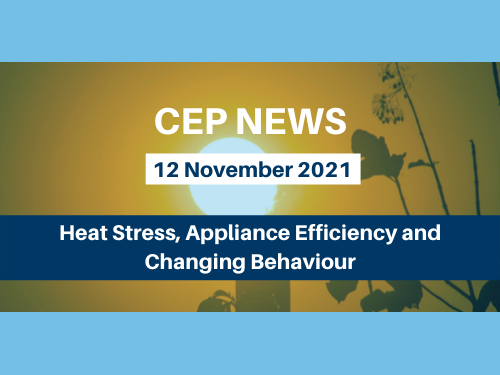 News from CEO – Mike Hopkins
Kia ora,
Slipping beneath the mainstream headlines at COP26 this week was a report from the Met Office (UK) suggesting constraining temperature rise to 2C would see a 15-fold increase in the number of people potentially facing heat stress risk, that translates to 1 billion people. If temperatures increase 4C, this would extend to half the world's population.
Heat stress wouldn't come alone. NASA is predicting a decline in crop yields of 24% from 2030 if global warming continues, although its modelling suggests wheat yields could actually increase by as much as 17%. Corn is commonly a staple in countries near the equator while wheat is grown in temperate climates which could expand with global warming. Soybean and rice also showed a likely decline in yields, although at a lower magnitude.
Also released this week were the results of a survey by KPMG and Eversheds Sutherland relaying that half of the responding large corporates, from across Europe, the US, Australia, Canada and China have yet to set detailed low-carbon transition plans. All claimed to have processes in place to assess and report climate risks and 74% felt adequately resourced to deliver on a transition. Nearly all acknowledged they would need to change their business model and two thirds predicted an adverse effect on their workforce.
On a more positive note, Australia, Indonesia, Japan and Nigeria have signed up to the Product Efficiency Call to Action, joining 10 existing members. The Super-efficient Equipment and Appliance Deployment (SEAD) aims to double the efficiency of products and appliances across refrigeration, air conditioning, motors and lighting. This could have knock on implications for NZ, of course, as we share many appliance efficiency standards with Australia.
Meanwhile, the World Economic Forum is advocating for international carbon price floors. Its scenario analysis of imposing a US$75 (NZ$107) floor for high income countries, a US$50 (NZ$71) floor for medium income countries and a US$25 (NZ$36) floor for low income countries suggests it would deliver a 12% reduction in global emissions.
Most people would agree global 2050 targets are only achievable if we see significant behaviour change, especially in developed countries. An interesting and not too long article from the IEA talks to the types of behavioural changes we'll need to make, their impact on emissions and policy options for implementing change. Well worth a read.
Air New Zealand is one of 20 airlines to commit to a pledge this week that 30% of their short range aircraft will be powered by new technologies such as hydrogen or electricity from 2030.
Our final COP26 observation this week is that the largest representation of delegates at Glasgow, over 500, are affiliated to the oil and gas industry. Not necessarily a bad thing if the will to change has travelled with them.


One way of easing the pollution impact of old, rubber tyres is simply not to have rubber on your tyres. Not yet for the road but operational in large, commercial applications, GACW (Global Air Cylinder Wheels) are an innovative, all steel design that does away with the problem of disposing of rubber tyres.
Engineers at Worcester Polytechnic Institute (US) and Woods Hole Oceanographic Institution (US) have conducted a feasibility study to demonstrate that ocean clean-up of plastics can be self-fuelled. Their modelling reveals a suitably equipped vessel could process into fuel the collected plastics from the Great Pacific Garbage Patch (GPGP) at a level that would sustain the conversion process and the fuelling of the ship. There would still be emissions, of course, but fewer than if the plastics were to be collected and transported back to land.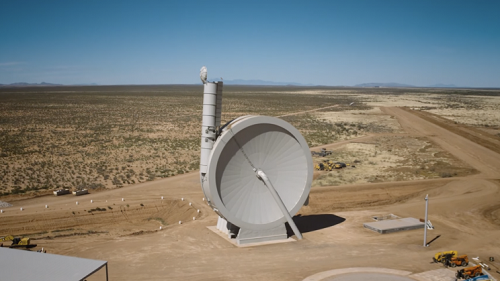 Space travel is not renowned for sustainability and conservative use of fuel. That may be about to change with the emergence of SpinLaunch. Last month it successfully completed its first trial in the New Mexico desert. Why is SpinLaunch different? It uses kinetic energy to propel objects into space. The vacuum sealed centrifuge accelerates a satellite to several times the speed of sound before releasing upwards.
Finally, a quick reminder about our Passive House webinar on Monday – register here. Hopefully, we'll see you there.
Wishing you all a safe and great weekend.
Mike and the team
---

Accelerating Decarbonisation will be giving it some jandal in Rotorua on 1st and 2nd June 2022 and there will be an associated exhibition for product and service providers.
Registration will be open soon and opportunities for sponsorship can be discussed with CEP now.
---
Upcoming Events
Check out CEP Training courses, CEP Webinars and other Industry related events – coming up.
---
Tender Opportunities
Off-road liquid fuel equipment end use study
Ref 25009818
EECA is seeking to develop the evidence base and further the understanding in this area in response to the existing gap in energy end use information for Government.
This opportunity is to engage with the downstream industry to collect and undertake analysis and research on the end use characteristics and annual energy use breakdown by technology and equipment type. It will also generate detailed case studies by selected off-road equipment type for energy efficiency opportunities, decarbonisation and switching to alternative low-emission energy sources.
Close Date: Friday, 19 November 2021 12:00 PM
---
Warmer Kiwi Homes – approved heat pump appliances
Ref 25064307
EECA will shortly be releasing a Contract Application to form its panel to supply heat pumps to the Warmer Kiwi Homes programme for the 2022-2026 (1 July 2022 to 30 June 2026) years.
The delivery model for Heating Product Suppliers will be a supplier panel. Suppliers will be required to meet simple pre-conditions for selection tot he panel. The supplier panel is expected to be in place for four-years.
The proposed dates for this procurement are:
Contract application opens: 22 November 2021
Contract application closes: 13 December 2021
The procurement process includes a Supplier briefing to be held on 1 December 2021.
Close Date: Friday, 22 November 2021 12:00 PM
---
Electrical Contractor for the upgrade of distribution boards and lighting at Albany Junior High School
Ref 25009621
Electrical Contractor at Albany Junior High School. The project includes the procurement for the replacement of the original mainly fluorescent light fittings to LED lightings in the following eight Blocks: Administration; Whanau Centre Tui; Whanau Centre Makomako; Gym; Whanau Kiwi; Music Centre; Whanau Ruru, and Performing Arts Centre. Work also includes the upgrading of electrical distribution boards to suit the new circuits.
The Contract Works required are:
Replacement of all light fittings in teaching spaces, common areas and service rooms
Fluorescent fittings replaced with LED light fittings
Approximate number of fittings is 1,165. Tenderers to fully verify the exact number required by site inspection and state this in their tender.
Work to proceed systematically with one block finished before the next is tackled unless resources are sufficient to allow parallel works.
Work to be undertaken without interference to the normal school activities of the students and staff
The Contractor will be engaged through a Medium Works Contract. The Principal prefers there to be no drawings and specification related Tags.
See Tender Documents for further information, especially the Schedule of Prices.
Close Date: Thursday, 25 November 2021 5:00 PM
---
RFT – Main Building Contractor, Hall Refurbishment, Tawa School, Wellington
Ref 25013135
Tawa School is comprised of single storey buildings of varied aged and styles.
The work in the hall will fit an acoustic ceiling with LED lighting and insulation, pinboard to walls, window operating gear, heat pumps and new clear finish to floor. Off the technology space provide a glazed opening onto a new covered deck area and install a dust extractor.
The work will provide new acoustic wall and ceiling linings, window gear and entry doors. New lighting, cable services and fixtures will be replaced or new as required by the final design solution.
The scheme will be traditionally executed with a full design team employed by the Tawa School Board of Trustees producing full construction documentation.
Closing Date: Thursday, 25 November 2021 5:00 PM
---
Ōpōtiki Infill Street lighting 2021/22 & 2022/23
Ref 25057974
Ōpōtiki District Council (ODC) is inviting tenders to complete infill street lighting to bring the Ōpōtiki Township and Hukutaia area up to the required standard for lighting in public spaces. Whitikau Reserve is under construction and requires suitable lighting to the required standards.
Closing Date: Thursday, 25 November 2021 4:00 PM
---
UC Beatrice Tinsley – HVAC upgrade supply and installation
Ref 25045873
We are seeking the services of a competent mechanical Contractor to retrofit mechanical ventilation (supply and installation) into a section of Beatrice Tinsley building. The Beatrice Tinsley building is located at University of Canterbury's Ilam (Christchurch) campus. The contractor will deliver the services of a main contractor.
Closing Date: Monday, 29 November 2021 5:00 PM
---
LED Lighting Upgrade for Christchurch Women's Hospital
Ref 25039156
Christchurch Women's Hospital (CWH) was built in 2005 and the existing fluorescent lighting system is nearly end of the life and inefficienct. We are seeking a contractor to upgrade the interior lights for the CWH. This project requires a completed solution which includes the removal and disposal of the existing old lights and the supply and installation of new LED lights. The purpose of this update is not only to reduce CDHB's carbon footprint, but also improve lighting performance and eliminate some potential health and safety hazards.
What we don't want: A provider who could only supply LEDs without the installation service.
What's important to us: We are looking for contractors who must be competent, experienced and confident to deliver the LED lighting project in a professional and timely manner. The contractors should have a good track record in the supplying and installation of LED lighting projects with a minimum five-year warranty. To minimise or eliminate any disturbance to normal operation of CDHB, all contractors must strictly follow planned working schedules and any relevant polices.
Supplier visits to view the site are highly recommended and by appointment only. Please use the Q&A function prior to 17/11/2021 on GETS to request a visit.
Closing Date: Wednesday, 1 December 2021 12:00 PM
---
Climate (im)mobility Research in the Pacific – Researchers
Ref 25042872
The Ministry of Foreign Affairs and Trade (MFAT) is seeking suppliers (individuals and/or organisations) to deliver research services to better understand past, current and future climate (im)mobility in the Pacific, and its impact on communities in the Pacific and in New Zealand. Research outputs will be used to inform work under the New Zealand aid programme and shared with relevant stakeholders, including Pacific governments and other New Zealand ministries.
Suppliers will need to be willing to enter into sub-contracting arrangements with the successful respondent to a parallel procurement process "Research investigating climate-related (im)mobility in the Pacific – Project Management", GETS # who will provide Project Management functions to oversight and deliver this project.
Closing Date: Monday, 6 December 2021 10:00 AM
---