COP26, Negative Prices and Wooden Batteries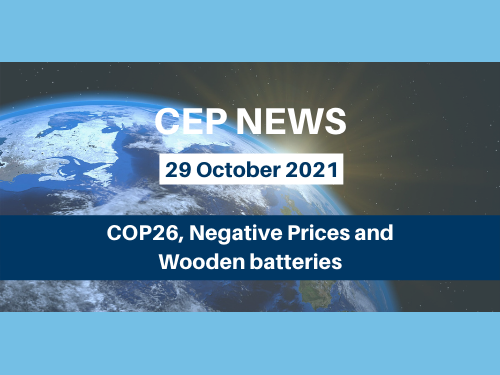 News from CEO – Mike Hopkins
Kia ora,
As Europe (the band) would say, it's the final countdown – to COP26 that is. With only a couple of days to go, the announcements on commitments are coming thick and fast, even from those with reputations for lacking climate change commitment. This week saw net zero commitments announced by Australia (2050) and Saudi Arabia (2060). The Australian plan allows fossil fuel extraction to continue and avoids carbon pricing, rather it relies heavily on technology innovations, including carbon capture and storage. The plan targets making Australia a world leader in renewable energy exports, especially green hydrogen. Worryingly, it categorises blue hydrogen as a "clean" technology and condones increased gas use in the short term. With apologies to David Lange, you can smell the CO2 on the breath. Notably, New Zealand has yet to declare revised NDCs, although an announcement is expected during the event.
While COP26 is featuring heavily in the media, what we aren't necessarily seeing heavily reported are the official objectives for the summit. For reference, these are reported in a box below.
You can't keep a good person down and you can't keep Tiwai out of the news. A revised global emissions reduction plan emerged from Rio Tinto this week which has lead to speculation the lifespan of the plant will be extended beyond 2024. Rio has published revised emissions reduction targets, accelerating its 2030 target of a 15% reduction (2018 baseline) to 50%, with a 15% target now applying to 2025. International prices have bolstered Tiwai's profitability recently and with Rio moving to more renewables, it looks as if the smelter may have a stronger future.
Also in Australia, the increasing level of renewables is beginning to impact market signals with a steadily climbing number of hours of negative pricing. August and September both experienced over 500 hours of negative pricing, with September exceeding 900 hours. Something for policymakers here to keep an eye on.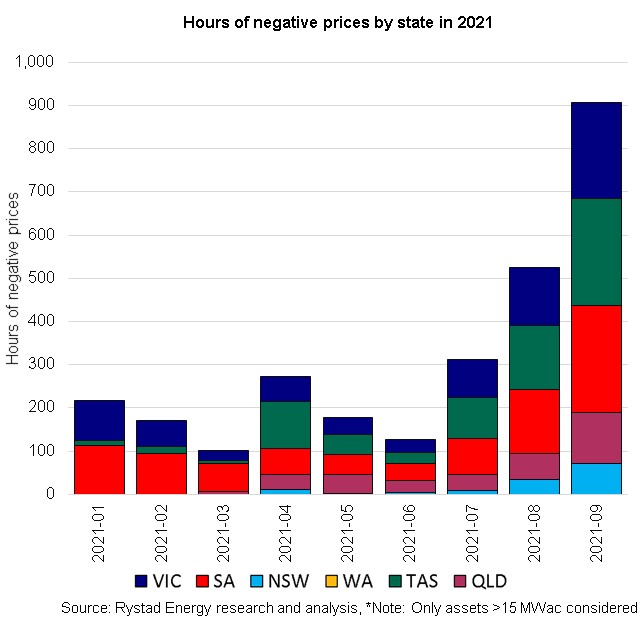 Sticking with Australia, a team of engineers from Newcastle University has developed a thermal energy storage block that has a claimed 30 year lifespan and can provide grid scale storage and effective industrial waste heat capture. Each recyclable MGA (Miscibility Gaps Alloy) block is made of aluminium and graphite, weighs about 6kgs and stores about 1kWH of thermal energy. The group has a vision to repurpose existing but soon to be stranded coal fired power stations into giant, renewables storage facilities by replacing the boilers with the bricks.
Wood features heavily in our innovation stories this week but first an update. Many readers will remember the story of the solar powered camper van we featured a few weeks ago. It has just completed a 2,000Km trip from Eindhoven to Tarifa (southern Spain) without any refuelling or external charging.
We all know the best knives in the kitchen are made from steel or ceramics, both of which involve high emission processes to manufacture. Not any more. University of Maryland scientists have developed a process for hardening wood that can produce a table knife three times sharper than its steel equivalent. The process hardens wood over twenty fold and can also be used to make non-rusting nails. The full environmental impacts of the manufacturing process are yet to be confirmed but it is expected to be less harmful than making cutlery from steel or ceramics.
We could also soon be seeing wooden batteries powering our EVs. Researchers from Maryland (again) and Brown University (US) have developed a wood-based electrolyte to replace the liquid electrolytes found in current lithium-ion batteries. The new material is claimed to have 10 to 100 times better conductivity and carry lower fire risk.
Finally this week, please join me in welcoming new members:
Angus Ma – Student, Auckland University
Thomas Zink – Project Manager, Verso Consulting
David Witkowski – Energy & Sustainability Consultant, Integrate B2B Energy
Rahul Chopra – Principal Consultant, New Zealand Sustainability & Policy Leaders Forum
Wishing you all a safe and great weekend.
Mike and the team
---

Accelerating Decarbonisation will be giving it some jandal in Rotorua on 1st and 2nd June 2022 and there will be an associated exhibition for product and service providers.
Registration will be open soon and opportunities for sponsorship can be discussed with CEP now.

---
COP26 Official Objectives
1. Secure global net zero by mid-century and keep 1.5 degrees within reach
Countries are being asked to come forward with ambitious 2030 emissions reductions targets that align with reaching net zero by the middle of the century. To deliver on these stretching targets, countries will need to:

accelerate the phase-out of coal
curtail deforestation
speed up the switch to electric vehicles
encourage investment in renewables.
2. Adapt to protect communities and natural habitats
The climate is already changing and it will continue to change even as we reduce emissions, with devastating effects. At COP26 we need to work together to enable and encourage countries affected by climate change to:
protect and restore ecosystems
build defences, warning systems and resilient infrastructure and agriculture to avoid loss of homes, livelihoods and even lives
3. Mobilise finance
To deliver on our first two goals, developed countries must make good on their promise to mobilise at least $100bn in climate finance per year by 2020.
International financial institutions must play their part and we need work towards unleashing the trillions in private and public sector finance required to secure global net zero.
4. Work together to deliver
We can only rise to the challenges of the climate crisis by working together. At COP26 we must:
finalise the Paris Rulebook (the detailed rules that make the Paris Agreement operational)
accelerate action to tackle the climate crisis through collaboration between governments, businesses and civil society.
---
Upcoming Events
Check out CEP Training courses, CEP Webinars and other Industry related events – coming up.
---
We Need Your Input


EECA Food and Beverage Sector Study
EECA is conducting research into energy use into the food and beverage sector in New Zealand. This research will help EECA understand how they can help the food and beverage product manufacturing industry transition towards a lower emissions future. EECA has contracted Lumen to conduct the data collection and analysis work.
If your business or client is a producer operating in the food and beverage sector – excluding dairy, meat (for human consumption), and seafood – they'd love for you to participate.
If you'd like more information on the research, please
Email EECA or Email Paul Farrelly (Lumen)
---
Tender Opportunities
Rec Centre Refurbishment Works
Ref 24900055
Improve block A building ergonomics, modernisation of wall coverings with new Acoustic and Insulated materials & new floor coverings, ceiling and lighting upgrade and Boiler Removal, refurbish interior and fit out for LSC Space, Reconfigure and refit Toilet Block A.
Close Date: Wednesday, 3 November 2021 4:00 PM
---
ROI Main Contractor for Electrical Works at Kamo High School
Ref 24969133
The Contractor Works required are:
Electrical works (lighting, heating upgrade, distribution board upgrade).
Close Date: Tuesday, 9 November 2021 5:00 PM
---
ROI Main Contractor for Electrical works at Whangarei Boys' High School
Ref 24972855
The Contractor Works required are:
Electrical works (lighting replacement, heating upgrade, distribution board upgrade).
Close Date: Tuesday, 9 November 2021 5:00 PM
---
Electricity Vehicle Supply Equipment
Ref 24971412
The Ministry of Education (the Ministry) fleet of vehicles should be emissions free by 2025/26 aligning with the government's priority to transition to a net zero emissions economy by 2050.
To meet this requirement, the Ministry wishes to purchase approximately 565 AC Mode 3 Electric Vehicle (EV) Smart Chargers over the next few years as the Ministry's fleet of internal combustion engine (ICE) vehicles are progressively replaced with battery electric vehicles (BEV's) and plug-in hybrid electric vehicles (PHEV's). The first 70 AC Mode 3 EV Smart Chargers are required by the end of the 2022/2023 financial year.
Alongside the required chargers, the Ministry also requires a software management platform with capabilities for data management, monitoring and reporting of the EV charging points. To allow staff to use the EV charging points, key fobs linked to the software management platform will also be required for each vehicle in the Ministry's EV fleet.
Close Date: Wednesday, 10 November 2021 5:00 PM
---
Off-road liquid fuel equipment end use study
Ref 25009818
EECA is seeking to develop the evidence base and further the understanding in this area in response to the existing gap in energy end use information for Government.
This opportunity is to engage with the downstream industry to collect and undertake analysis and research on the end use characteristics and annual energy use breakdown by technology and equipment type. It will also generate detailed case studies by selected off-road equipment type for energy efficiency opportunities, decarbonisation and switching to alternative low-emission energy sources.
Close Date: Friday, 19 November 2021 12:00 PM
---
Electricial Contractor for the upgrade of distribution boards and lighting at Albany Junior High School
Ref 25009621
Electrical Contractor at Albany Junior High School. The project includes the procurement for the replacement of the original mainly fluorescent light fittings to LED lightings in the following eight Blocks: Administration; Whanau Centre Tui; Whanau Centre Makomako; Gym; Whanau Kiwi; Music Centre; Whanau Ruru, and Performing Arts Centre. Work also includes the upgrading of electrical distribution boards to suit the new circuits.
The Contract Works required are:
Replacement of all light fittings in teaching spaces, common areas and service rooms
Fluorescent fittings replaced with LED light fittings
Approximate number of fittings is 1,165. Tenderers to fully verify the exact number required by site inspection and state this in their tender.
Work to proceed systematically with one block finished before the next is tackled unless resources are sufficient to allow parallel works.
Work to be undertaken without interference to the normal school activities of the students and staff
The Contractor will be engaged through a Medium Works Contract. The Principal prefers there to be no drawings and specification related Tags.
See Tender Documents for further information, especially the Schedule of Prices.
Close Date: Thurday, 25 November 2021 5:00 PM
---