ETS, Climate Response and a Biodegradable Skyscraper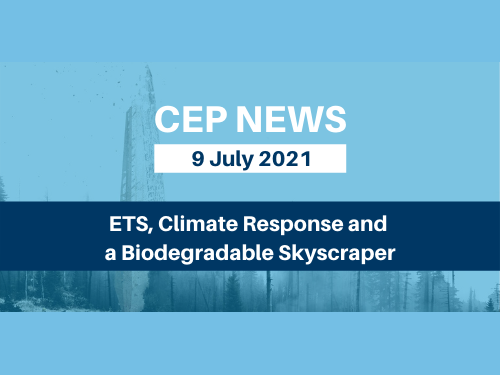 News from CEO – Mike Hopkins
Normally, we try to avoid duplicating stories that find their way into the mainstream media but this week there is good reason to reference a couple. There was an interesting story in Stuff this week about the ETS pricing cap. If you haven't seen it, here's a link. We raise it here to remind people of the MBIE consultation on the ETS which came out this week and closes on 17 September. The consultation specifically covers industrial allocations and market governance and you can find more information and submit here. Please also forward comments to me.
I had the pleasure of attending the announcement of the principles that government will use to respond to the Climate Change Commission's advice on Wednesday this week. This also made the media but the content was somewhat lost beneath headline soundbites of civil unrest. The real thrust of the speech was to announce the principles as:
A just transition, i.e. "a fair, equitable transition that leaves no community, no family, and no person behind".
Science-lead, i.e. making decisions that will ensure outcomes are consistent with what the science on climate change says we need.
Nature, i.e. "protecting and restoring Aotearoa New Zealand's precious ecosystems".
Te Tiriti o Waitangi, i.e. measures "to undo the damage done by nearly two centuries of failure in upholding the rights and property of Iwi/Māori".
A clear, ambitious and affordable path, i.e. "to provide business with a policy environment that is predictable and stable over the long term".
You can read the full speech here.
I also had the pleasure this week of addressing a gathering of public sector property managers in Wellington. The event was put on by the Lighting Council and EECA and talked to the need to improve the emissions performance of the public sector and the opportunities for lighting improvements that still exist. It was a great opportunity to extol the virtues of using CEP member expertise for audits and reviews.
In international news – and back on carbon pricing – the Net Zero Asset Owner Alliance (a UN convened association) published a discussion document this week indicating global carbon prices need to triple by 2030 if we are to hit Paris targets. The paper calls for global pricing with a floor of around US$147 (NZ$212) by the early 2030s. The paper states around 80% of global emissions still fall outset trading mechanisms. The full report can be downloaded here.
Capturing more activities into trading schemes is crucial. Despite a multitude of reports recently demonstrating that renewables are now cheaper than fossil fuelled generation, there are still a staggering 600+ new coal-fired plants under construction around the world, that's according to a new report by Carbon Tracker. The report claims 80% of these can be found in just five countries, namely China, India, Indonesia, Japan and Vietnam. The report claims that 92% of these investments are "uneconomic" with as much as US$150bn (NZ$216bn) being wasted.
Finishing on a lighter note, we hear encouraging news of avoiding a lithium supply crisis that some are predicting for later this decade. Researchers at the King Abdullah University of Science and Technology (Saudi Arabia) have created a technology they claim extracts lithium phosphate at 99.4% purity (sufficient for batteries) from seawater. They also claim a scaled-up version of the technology could deliver lithium at US$5 (NZ$7.20) per kilo. Estimates suggest there is around 5,000 times as much lithium in the oceans as on land.
Another, bizarre story we uncovered this week was of a design for an 80 metre, biodegradable skyscraper. The design, by Italian Alberto Roncelli, uses biodegradable products embedded with capsules of soil, seed and nutrients that disperse as the structure disintegrates. The concept would be designed as an operational base for scientists until it reached the point it was not fit for that purpose and would then continue dispersing itself back to nature. It adds a new dimension to the use of natural products in construction. Those wanting more on this can find it here.
Wishing you a safe and great weekend.
Mike and the team
---

---
Upcoming Events
Check out CEP Training courses, CEP Webinars and other Industry related events – coming up.
---
Tender Opportunities
Replacement Heat Pumps Dunedin Hospital
Ref 24408212
The Dunedin Public Hospital has a series of heat pumps that require replacement as they have reached the end of their useable life. Therefore the Southern District Health Board (SDHB) now require replacement heat pumps. The new heat pumps need to be replaced with their modern equivalents (size/capacity) including the replacement of the outdoor units.
Close Date : Monday, 12 July 2021 10:00 AM
---
Main Building Contractor for the Combined 5YA Works Project at Manukorihi Intermediate

Ref 24384028
The Board of Trustees is seeking to undertake a number of projects identified in their 10YPP as a single project including:
Blocks A & K: Tempered Hot Water & Cylinder Replacement

Block B: DQLS and ILE Refurbishment

Block G: LED Lighting Upgrade

Block A, B, F, & H fire alarm upgrade
An indicative construction period is given as October 2021 – Jan 2022. However respondents are invited to nominate alternative timeframes.
Close Date : Monday, 12 July 2021 5:00 PM
---
Hillmorton Hospital Switchgear
Ref 24437900
This RFP relates to the procurement of services to remove the incoming OCB2 11kW and outgoing GF3 Long and Crawford Switch gear from CDHB Hillmorton Hospital Linen Services Substation and replace with suitable effective equipment. The work is expected to be completed safely and tested to conform with all suitable electrical standards. The work must be undertaken in a way that minimises disruption to the power supplied from the Hillmorton Linen Services Substation to areas of the CDHB Hillmorton facility.
Close Date : Wednesday, 14 July 2021 12:00 PM
---
Lighting Upgrades for the Kidz First & McIndoe Buildings Middlemore Hospital
Ref 24447268
Counties Manukau District Health Board wishes to upgrade the lighting in the Kidz First and McIndoe buildings at Middlemore Hospital. The main drivers for the upgrade are to improve illumination levels in certain areas, reduce maintenance costs, and achieve significant energy savings, using modern internationally approved LED lighting systems. The general scope of this RFP is for the supply and installation of luminaires and attachments.
Close Date : Thursday, 15 July 2021 4:00 PM
---
Internal alterations and refurbishment to form new Learning Hub at Hillsborough Primary School

Ref 24451956
To undertake internal alterations and refurbishment works to Block 1 (in part) to provide a new Learning Hub facility.
Works to include:
Removal of salvaged items i.e., heat pumps, radiators, toilets,
Coordination and management of all subtrades (painting, drainage, plumbing, electrical, data, etc),
Removal of existing external lighting as per drawings, supply and install new LED fixtures and lights as required,
Supply and installation of new hot water cylinder,
View tender for more
Close Date : Thursday, 15 July 2021 5:00 PM
---
GIQ Site Wide Infrastructure at Callaghan

Ref 24518876
Callaghan Innovation is undertaking a significant redevelopment programme at it's Lower Hutt, Gracefield Innovation Quarter (GIQ). The programme received Crown funding to stabilising GIQ, address duty of care requirements and build critical foundations to support a future work programme. This tranche is for the upgrade of the existing site-wide infrastructure at the Gracefield Innovation Quarter (GIQ).
Works include review of site 3-waters, electrical, gas, and telecommunications networks.
Further information on this project is contained within the ROI document.
Close Date : Tuesday, 27 July 2021 12:00 PM
---
Main Contractor for electrical upgrade at Howick College

Ref 24489715
The Howick College School Board is seeking a Main Contractor for the lifecycle replacement of 19 x Distribution Boards and installation of RCD protection.
Close Date : Tuesday, 27 July 2021 5:00 PM
---
Solar Energy System for Parliament House

Ref 24484735
Following feasibility studies carried out by Parliamentary Service (PS), the implementation of a Solar energy system was considered a viable solution for the supplementation of our future energy consumption needs. This RFP relates to the purchase of a detailed design and installation of a solar energy system to capture the energy and to reduce our carbon footprint.
The key objective of this procurement is to find a turnkey solution for the solar panel design and installation services. This project will be a flagship development, with high visibility to both Parliamentary Service and the successful tenderer.
Close Date : Wednesday, 28 July 2021 4:30 PM
---
Heating Contractor for Heat Pump Replacement at Trident High School

Ref 24391110
Trident High School has some 80 heat pump spread across their campus. All heat pumps are controlled by a Daikin central system located within the existing admin. Over the past 4 years there has been a staged replacement programme and to date some 50% have been replaced. This procurement is for the replacement of a further 46 heat pumps. For continuity of equipment, plant, maintenance etc all replacement heat pumps shall be manufactured by Diakin and installed by authorised Daikin installers.
Close Date : Friday, 30 July 2021 5:00 PM
---
LPC Maintenance Services Panel

Ref 24469982
Lyttleton Port Company (LPC) is seeking proposals from suitably qualified and experienced maintenance engineering services providers to join a Services Panel. The panel will be established to support the ongoing planning and delivery of the LPC Long Term Plan (2018-2028).
This prequalification panel will be established for a period of 3 years with 1 + 1 renewal options and will ensure value for money and improved initiation of contracts. We intend to:
Establish a panel of specialist engineering services suppliers who can provide reactive and planned engineering services.

Streamline the procurement process to appoint suppliers allowing greater throughput of work and to ensure delivery of the required outcomes.

Develop an environment where LPC benefits from engineering service innovation and excellence that delivers the best whole of life solution.

Ensure the application of good assurance and management practices to the works delivered under this panel arrangement.
Close Date : Wednesday, 4 August 2021 4:00 PM
---
Lincoln University LED lighting upgrade
Ref 24508513
This RFP relates to the delivery of Lincoln University campus LED lighting upgrade. The university has completed lighting audit around the campus and identified a number of lights requiring upgrade to LEDs for decarbonisation.
Lincoln University is seeking competent contractors to remove and dispose of the existing non-LED lights and the supply and installation of new LED lights.
Successful contractor(s) in this opportunity shall run the upgrade program so that the university comes one step further to decarbonisation of its business
Close Date : Friday, 6 August 2021 5:00 PM