Carbon Prices, Air Quality and NZ Tech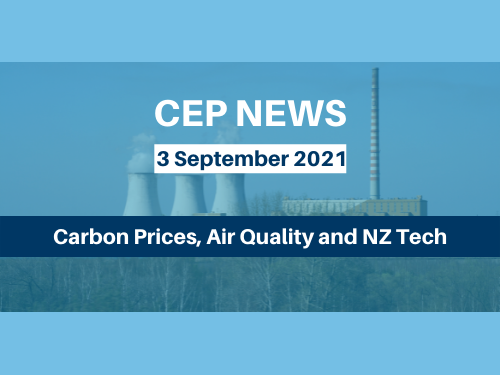 News from CEO – Mike Hopkins
The big news this week was the release of an additional seven million units into the ETS to help curb escalating prices. The extra allocation was a published reserve and is "borrowed" from future allocations. Despite the release, prices remained high and aren't expected to drop materially in the foreseeable future.
The latest update from the Air Quality Life Index, released this week, reveals countries with air quality below WHO standards experience an average 2.2 years lower life expectancy. The poorest air quality is seen in India where life expectancy is down 6 years, then Bangladesh (5.4), Nepal (5), Pakistan (3.9) and Singapore (3.8). The good news is that NZ's life expectancy reduction is zero. Interestingly, Australia has an average expected reduction of 0.2 years, mainly because of pollution levels in some of the more densely populated urban centres on the East Coast.
If you haven't come across Emrod yet, maybe it's time to take a look at this video. Emrod is an Auckland and Boston based company developing technologies in wireless power transmission. Emrod already has a partnership arrangement in place with Powerco and is currently fund raising to take on Tesla in the area of long range, wireless power transmission. Great to see NZ tech at the forefront of potentially game-changing innovation.
We were notified this week of a couple of interesting positions being advertised by Fonterra. It is looking for a Senior Energy Engineer and a Graduate Energy Engineer. More details on the Fonterra careers website.
It seems Volkswagen's push to improve sustainability may come at the cost of employee satisfaction. The German automaking behemoth has just cancelled production of Part 199 398 500 A. Part 199 398 500 A is an official VW part number carried by what is believed to be the most manufactured part across the company. The part number is carried by the currywurst immensely popular in VW's canteens. 6.81 million were made in 2018 and the "part" is available in supermarkets and sports venues across Germany as well as 10 other countries. There is an associated ketchup (199 398 500 B) and a vegetarian version. Production has been terminated because of the emissions associated with its meat content (pork). The move, however, has not been unanimously welcomed among the workforce who consume around 40% of production in works' canteens and are already missing their staple currywurst and chips at lunchtime.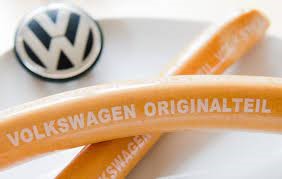 We have a couple of interesting lifecycle innovations to report this week. Twig is a new financial services provider claiming it is built on promoting the lifecycle economy and combatting the alleged NZ$9.75 trillion worth of possessions thrown away over the last 15 years. It provides an instant selling option for used goods. Once details of the goods are entered, an algorithm calculates a price and a simple "swipe right" completes the sale and deposits the purchase price (less freight costs) onto a debit card. The app auto prints a packaging label for freight forwarding. Currently live in the UK, don't be surprised to see copies springing up worldwide soon.
Meanwhile, Reath (Edinburgh) has developed a digital passport which can track plastic products and packaging through the distribution and disposal process. Widespread adoption will allow those with good practices to track their impact better and those with poor practices to be policed under polluter pays regulations.
Wishing you a safe and great weekend.
Mike and the team
---
Upcoming Events
Check out CEP Training courses, CEP Webinars and other Industry related events – coming up.
---
Employment Opportunities
Senior Energy Engineer – Waikato
Great opportunity to develop your career in our Energy and Climate team.
Career-enhancing opportunity with a cooperative that's making a difference
Showcase your outstanding engineering skills in one of NZ's largest organisations
About the opportunity:
This is an exciting time to join our team in a role that will really make an impact, reporting into the Head of Energy and Climate, you will be an expert in your area of engineering, providing advice to stakeholders across our organisation and sharing your knowledgement in relation to projects around process heat improvements, decarbonisation, utility performance, and energy efficiency projects.
As a Senior Energy Engineer you will assist with Fonterra's strategic direction in relation to energy and climate for manufacturing operations which is framed around the energy trilemma of economics, security, and sustainability. Find out more …
Graduate Energy Engineer – Waikato or Canterbury
Kick start your engineering career in one of NZ's largest organisations
Great opportunity to join our Energy and Climate team
2 year fixed term Graduate opportunity, Waikato or Canterbury
About the opportunity:
This is an exciting 2 year fixed term opportunity to join our team as a Graduate Energy Engineer, this role will see you developing strategic capability in both technical and commercial aspects of engineering. Focusing on energy efficiency projects to optimise NZ manufacturing plants and energy use within Fonterra, equipping you with the skills and knowledge needed for accelerated career development.
This role will be supported with on the job learning mentoring by peers and will be responsible for leading change to improve and reduce energy use across plants. As a Graduate Energy Engineer, you will also be included in various elements of the Fonterra Graduate Technical Program (FGTP) as part of your on-boarding and upskilling, while creating a network within the Co-op.
The Graduate Energy Engineer role is offered in partnership with the Energy Efficiency and Conservation Authority (EECA), and has specific deliverables identified which are to be achieved during the two years in the role. This includes developing a work plan to deliver reductions, confirming the baseline to measure your success, quarterly and annual reporting of progress. Find out more …
---
Tender Opportunities
Lead Engineering Design Consultancy – Boiler House Conversion
Ref 24596851
We require an engineering design consultant with proven capability, depth of experience and a proven track record of performance in engineering design and design team leadership to lead, deliver and co-ordinate the design development for the Project to the detailed design stage and provide construction monitoring services.
Background: One of the key strategic objectives contained in the University of Canterbury's (UC Strategic Vision 2020-2030 is to ensure that UC will be carbon net neutral by 2030.
Close Date: Sunday, 5 September 2021 5:00 PM
---
Alfriston College – Electrical and Lighting Upgrade Works
Ref 24684789
All of the Blocks require the following electrical works due to existing fittings reaching the end of their life cycle. The general scope includes:
Replacement of existing distribution boards
Installation of RCD protection
Upgrade to energy efficient LED lighting
Installation of cable protection
Installation of exterior security lights to carpark and courtyard areas
Close Date: Friday, 10 September 2021 5:00 PM
---
R22 Cooling Unit Replacement – Supply and Installation
Ref 24702217
We are seeking the services of a competent Contractor with demonstrable track record of strong health and safety performance and successful delivery of similar projects to replace the R22 cooling units at the University of Canterbury (UC) Macmillan Brown, Logie and West Buildings. Some of the units provide specific functionality and the contractor may be required to design new units (should there not be a readily acceptable solution available) that provides similar performance to the existing units
Close Date: Friday, 10 September 2021 5:00 PM
---
RFP C21-008 TOU Electricity Supply & Purchase – University of Auckland
Ref 24713446
The UoA is seeking proposals for supply durations of 12, 24 & 36 mth terms, and (preferably) from 100% renewable generation sources. Additional (extended terms) are not specifically requested, however will be considered if proven beneficial, as will the provision of Renewable Energy Certificates (if not 100% carbonNZero Certified) to meet the UoA's sustainability goals. The UoA will also consider a long-term Power Purchase Agreement (PPA) tied to a renewable energy source (e.g. PV farm) that is certified as carbon zero with any surplus/ deficit electricity managed through the retailer complete with associated carbon certification. A PPA could be for 10, 15 or 20 years.
Close Date: Monday, 13 September 2021 1:00 PM
---
Transmission Grid Service Contracts and Membership of Contestable Work Panels
Ref 24706031
Transpower is a state-owned enterprise at the centre of New Zealand's electricity industry. It is responsible for ensuring the secure and reliable transmission of electrical energy from generating sites, such as hydro-dams and wind farms, to distribution companies and large direct supply companies. Our grid includes over 12,000 km of transmission lines and more than 170 substations.
Transpower has a largely outsourced model for the provision of the field services required to maintain and build grid assets. A number of our existing contracts for field services expire in August 2022. We are seeking Registration of Interest (ROI) from suppliers for the new contracts for the ongoing provision of grid field services. Please see attached the ROI document for more information about this opportunity and timeline for procurement. .
Close Date: Monday, 13 September 2021 2:00 PM
---
Cowles Stadium Mechanical and Bathroom Upgrade
Ref 24485334
The purpose of this RFT is to invite Tenderers for the removal of the diesel burner and installation of a new electrical heating and cooling system and reconfiguring and refurbishment of bathrooms. We are seeking a single head contractor who can manage the delivery of building, mechanical, electrical and plumbing services.
Close Date: Monday, 27 September 2021 12:00 PM
---
CCDHB LED Lighting Installation
REF 24748236
Description of Works – LED Lights Installation. To replace all Non-LED Lights with LED Lights, including occupancy sensors and timers (as per the requirement of the specific area). The installation includes seismic restraints and commissioning of the LED lights. The equipment supplier will be required to provide technical support for the installation of lights. CCDHB expect to commence the installation of LED Lights in Q1 2022 and complete, commissioning and handover by Q4 2022. The contractor will be required to be engaged no later than December 2021.
Close Date: Thursday, 30 September 2021
---
PSA for High Voltage (72.5kV and above) CBs and DCBs
Ref 24745611
See tender for contact details.
Close Date: Tuesday, 12 October 2021 3:00 PM