Emission Plan (or is it?), Attacking Methane Emissions and Glowing Plants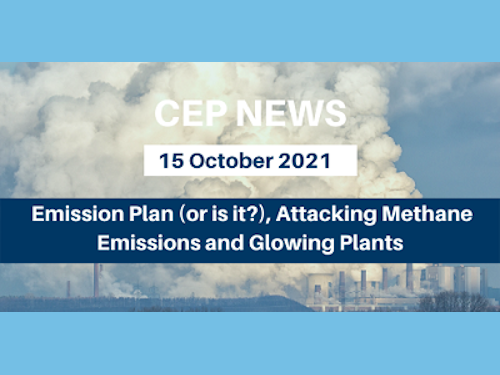 News from CEO – Mike Hopkins
Kia ora,
The big news this week was the announcement of a consultation on some ideas for the Government's Emissions Reduction Plan. At a press conference on Wednesday, Climate Change Minister, James Shaw, deliberately and carefully avoided reference to a plan or even a draft plan, emphasising the consultation is a means to illicit feedback rather than a set plan of attack. We haven't had a chance to scrutinise all 130 pages yet but we all get a chance to input. The consultation closes on 24th November. Please feed comments to me as well (by 17th November please) to help form our response. You can find the full document here.
Your input is needed. Not just for the consultation above but also to help collect data and intelligence on energy use in the food and beverage sector. Data is being collected now by Lumen on behalf of EECA. Please take a few minutes to help out. More information is in the box below.
Methane has been in the news recently. On top of plenty of domestic comment on the disparity between the attention lavished on transport compared with agricultural emissions in the Emissions Reduction Plan discussion document, the IEA has published a report indicating methane emissions account for 30% of the global rise in temperatures to date and that methane emissions from fossil fuel operations were 120 million tonnes last year. The report – Curtailing Methane Emissions from Fossil Fuel Operations – claims a cut of 75% is achievable by 2030, if we take prompt action.
The IEA has also recently published a report on a more sustainable future for ammonia production, which accounts for 2% of global energy consumption and 1.3% of CO2 emissions from the energy system. 70% of ammonia production is used to make fertilisers. Wouldn't it be great if we could cut methane emissions and produce fertilisers more sustainably? Read on ….
In New Zealand, methane emissions are mostly associated with the agricultural sector. But what if new technology can reduce this by 99% and produce more sustainable fertilisers at the same time? There are some caveats, the new technology developed by N2 Applied is claimed to reduce methane emissions from slurry by 99%, the burps aren't captured. Ammonia emissions are reduced by 95% in the process as well. The technology works by firing bolts of plasma at slurry which breaks apart nitrogen and oxygen molecules. In effect, the methane and ammonia are captured in the resulting product, which is an effective and much more sustainable fertiliser. It also decentralises fertiliser production reducing manufacturing and transport emissions. The process is currently being trialled on three farms in the UK but is potentially one of those game changing technologies we need for the agricultural sector to decarbonise.
Just as most of us have now switched to LEDs, scientists at MIT have developed a light-emitting plant that makes them even more effective. The plant's leaves are embedded with nanoparticles that become charged by exposure to sunlight or an LED in just a few seconds. The plant then emits light for several minutes. The glowing particles are rechargeable and large plants should be powerful enough to become an indoor lighting source. So, the future office will be filled with plant life reducing CO2, providing lighting and improving aesthetics.
Finally this week, if you haven't registered for Monday's webinar yet now's the time, here's the link.
Wishing you all a safe and great weekend.
Mike and the team
---
Upcoming Events
Check out CEP Training courses, CEP Webinars and other Industry related events – coming up.
---
We Need Your Input


EECA Food and Beverage Sector Study
EECA is conducting research into energy use into the food and beverage sector in New Zealand. This research will help EECA understand how they can help the food and beverage product manufacturing industry transition towards a lower emissions future. EECA has contracted Lumen to conduct the data collection and analysis work.
If your business or client is a producer operating in the food and beverage sector – excluding dairy, meat (for human consumption), and seafood – they'd love for you to participate.
If you'd like more information on the research, please
Email EECA or Email Paul Farrelly (Lumen)
---
Tender Opportunities
Notice of Information (Advance Notice)
Government Investment in Decarbonising Industry (Round 3)
Ref 24806725
Decarbonising industrial process heat:
The Government Investment in Decarbonising Industry (GIDI) Fund is a partnership between Government and business to accelerate the decarbonisation of industrial process heat and contribute to the COVID-19 recovery by stimulating the domestic economy and supporting employment.
Process heat makes up around a third of New Zealand's overall energy use, and 60% of process heat is fossil-fuelled, mainly by gas and coal.
EECA administers the GIDI Fund on behalf of the Government through a contestable process that will see $69 million of capital grants co-investment made available to support good projects.
The Fund is available to New Zealand-based private sector businesses who have committed to decarbonising their business and industrial processes, where Government co-investment will help remove barriers to accelerating their decarbonisation goals. Round 3 is open
EECA is now accepting applications for round 3 of the GIDI Fund.
Applicants have until October 18 to submit their proposals, and successful projects will be announced by Minister of Energy and Resources Dr Megan Woods early in 2022.
Full details regarding the fund, including how to apply, can be found on the EECA website. Please direct all question to the GIDI Fund administration team.
Closing Date: Monday, 18 October 2021 5:00 PM
---
Floodlight systems at Donnelly Park Netball courts and Shannon Domain
Ref 24850514
This procurement relates to the provision of two new LED Sports flood light systems.
Horowhenua District Council requires the construction of two new LED Sport Flood light systems to illuminate three netball courts at Donnelly Park in Levin and the rugby field at Shannon Domain.
Close Date: Tuesday, 19 October 2021 5:00 PM
---
CAPE Room 204 HVAC Upgrade
Ref 24878189
No overview.
Close Date: Wednesday, 20 October 2021 5:00 PM
---
Lead Design Services for Heating and Electrical Upgrade at Tararua College
Ref 24868515
Tararua College are looking for a designer to upgrade their heating in Blocks A, Science and Music/Drama.
Close Date: Friday, 22 October 2021 5:00 PM
---
Nelson Region Electricity Buying Group
Ref 24956371
The Nelson Region Electricity Buying Group (NREBG) which is made up of Nelson City Council, Tasman District Council and Nelson Airport Limited has a combined electrical load of around 21.3 GWh and is seeking expressions of interest from electricity retailers for the supply of electricity commencing 1 February 2022.
The three members of the NREBG are also seeking a supplier that could assist them with their decarbonisation journey. This could be in the form or conversion of vehicle fleets to EV, decarbonisation of boilers away from fossil fuels, renewable generation and reductions of methane from Waste Water Treatment Plant.
Close Date: Wednesday, 27 October 2021 5:00 PM
---
RFP Rangipo Power Station Emergency Escape Path Lighting Installation
Ref 24877782
Genesis Energy completed a comprehensive review of the Fire Engineering Strategy (copy attached as "2.5 GE-CT21-169 Fire Engineering Strategy" ) for the Rangipo Power Station to understand the upgrades required to all the safety systems to ensure safety of our staff and Contractors into the future and to protect the generation assets. This RFP is a request for the Supply and Installation of a new Emergency Escape Path lighting and Electrical Services System/s in accordance with the attached 2 GE-CT21-169 Specifications.
The successful Respondent for this RFP will be considered as the preferred Provider for the next phase of the Genesis Fire Engineering Strategy being the Tokaanu Power Station Escape Path and Electrical Services Installation that is planned for 2023, Attachments "3, 3.1 and 3.2 Lighting layouts, Specification and Lighting schedule" provides the Specifications and Drawings that apply. It is expected that Respondents shall provide an estimated price for this future opportunity based on the information provided and any options for optimisation, cost reduction by being the preferred for both packages.
Note: A site visit is available to Respondents on the 14th October 2021 please review document 1.3-CT21-169 Site Visit Agenda and respond accordingly to confirm your attendance.
Close Date: Friday, 29 October 2021 12:00 PM
---
Rec Centre Refurbishment Works
Ref 24900055
Improve block A building ergonomics, modernisation of wall coverings with new Acoustic and Insulated materials & new floor coverings, ceiling and lighting upgrade and Boiler Removal, refurbish interior and fit out for LSC Space, Reconfigure and refit Toilet Block A.
Close Date: Wednesday, 3 November 2021 4:00 PM
---