Putting Australian beer to good use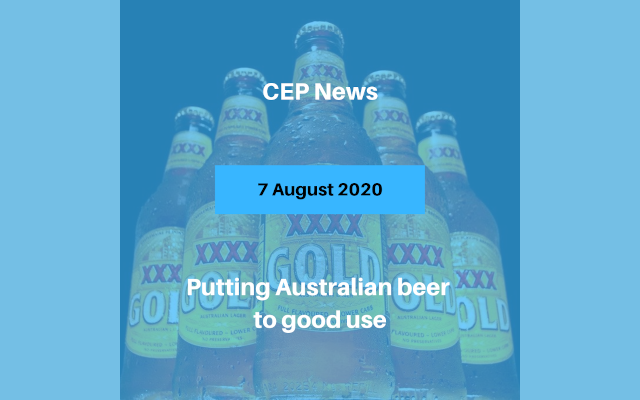 News from CEO – Mike Hopkins
We were at Downstream this week doing our best to get back into the swing of activities and will be at Facilities Integrate next week on Wednesday and Thursday. Facilities Integrate is a free exhibition if you register in advance and this year is combined with Build NZ and The National Safety Show, so there'll be plenty to see. Please pop along and say hi if you get the chance.
Much of the talk at Downstream was about the implications of the closure of Tiwai (along with significant talk that it was not yet a done deal), the possible closure of other major energy users in similar positions and the merits of the speculated Lake Onslow project.
In national news, we heard of a $17m initiative to help improve the energy efficiency of the housing stock and the publication of the first National Climate Change Risk Assessment. This identified 43 national level risks, 10 of which are considered urgent. For those keen to read the full 133 pages, you can find the report on this
link

.
We came across an interesting innovation story this week which could revolutionise plastics degradation. Rigid bottles and flexible shopping bags take around 450 and 20 years respectively to degrade and even then will degrade to microplastics, which provides its own problems. The new process, developed by Polymateria from the UK, degrades rigid plastics in less than a year by breaking the polymer structure into a wax which degrades much more quickly and delivers full biodegradability, they claim.
Australia saw the launch this week of the Australian Climate Transition Index. The Index has been put together by a collaboration of the Clean Energy Finance Corporation, Monash University, ClimateWorks Australia and BNP Paribas. What's different about the index (relative to other climate performance indices) is that it is based on a group of companies selected around their future opportunities and risks from climate change rather than historic performance on tackling it.
Speaking of Australia and reminding me of the old joke on why Australians call their beer XXXX, it seems South Australia Water have put the excess supply of beer created by lockdown to good use. 150,000 litres per week of date expired beer is being added to the normal feedstock (sewage) at the Glenelg wastewater treatment plant to boost production of the biogas that fuels the plant. It's estimated the beer boost provides additional power equivalent to the demand of 1,200 homes.
Have a great and safe weekend and we hope to see some of you at Facilities Integrate next week.
Mike and the team
---
Upcoming Events
Check out CEP Training courses, CEP Webinars and other Industry related events – coming up.
---
Tender Opportunities
RFI for Aeronautical Electrical Work at Auckland and Christchurch Aerodromes

Ref 22990400
Airways New Zealand ("Airways") is New Zealand's provider of air navigation services and as such, Airways provides the air traffic control and infrastructure to keep New Zealand skies safe. Among the company assets are aerodrome lighting assets at Auckland and Christchurch airports. These include extensive lighting systems, the associated underground cabling, electronic power systems, UPS and backup generators.Airways is interested in finding a substantial electrical asset management company that can add value to this part of the business and this RFI is to establish the capability and capacity of the market.
Close Date: Friday, 7 August 2020 4:00 PM
---
Additional Suppliers for Engineering Services Panel

Ref 22920075
This RFP relates to the purchase of services to support the Councils engineering activity for the next three years.The scope of professional services required for the panel includes the categories listed as follows: Flood Management, Geotechnical Engineering, Engineering Design, Project Management, Consent Planning, Technical Review of Resource Consents. Suppliers may provide some or all of these services.
Close Date: Friday, 7 August 2020 4:00 PM

---
Registration as a Vetted Eligible Materials Supplier

Ref 22969036
NG Power Limited (PPL) as the state-owned enterprise and monopoly on-grid electricity supplier is partnering with the donor signatories of the PNG Electrification Partnership (PEP) to execute and deliver the intent of that programme. This programme involves significant on-grid extension projects into rural areas. New Zealand's current contribution to this programme is the ROGE Project and, in partnership with the Australian government, will also contribute to the Enga Electrification Project, where the materials supply component of the projects are estimated at NZD 10m + over the next 3 years.
Close Date: Friday, 7 August 2020 5:00 PM
---
Streetlighting Maintenance and Renewal Services

Ref 23017402
This procurement relates to the delivery of Streetlighting Maintenance and Renewals Services for Porirua City Council. This includes the streetlights through the roading assets and road corridor including accessways etc. of Porirua City Council. The Council is looking to engage a contractor with the experience, skills, capacity and capability in these services.
Close Date: Friday, 21 August 2020 3:00 PM
---
Heating and Cooling contractor for the installation of a heating and cooling system at Whakatane High School

Ref 23063243
To provide heating and cooling across the school with the installation of 57 Heat Pump systems across classrooms and work spaces where none have been installed.
Close Date: Friday, 28 August 2020 5:00 PM
---
Papua New Guinea Electrification Partnership – Project Management Services

Ref 23029127
The Ministry of Foreign Affairs and Trade (MFAT) is seeking Registrations of Interest (ROI) from suitably qualified and experienced organisations or consultants (including consortia) to manage and provide technical support to the Papua New Guinea Programme team to deliver existing electrification activities (Enga and ROGEP) and New Zealand's pipeline of Papua New Guinea Electrification Programme (PEP) related activities. These activities fall under the PEP that will help support PNG's electrification ambition of achieving 70% electrification by 2030.
Close Date: Wednesday, 2 September 2020 1:00 PM
---
Advance Notice – Auckland DHB Starship Children's Hospital PICU and Atrium

Ref 22940101
Advance Notice of a Contract Opportunity – Auckland DHB Starship Children's Hospital Paediatric Intensive Care Unit (PICU) and Atrium – subscribe to notice for more information.
The preliminary design project has been completed and Auckland DHB is looking to approach the market for consultants to undertake the completion of the design, including;- Project Management- Architecture- Building Services (Mech / Elec / Hyd / Med Gas / Fire Protection / ICT / Security / Nurse Call).
Close Date: Friday, 9 October 2020 5:00 PM
---
Advance Notice – Improving Classrooms in Small or Remote Schools Programme
Ref 22500892
This notice is to inform suppliers that the Ministry will be embarking on a programme to improve the internal environments of almost 600 state schools that are small or remote. The programme is expected to take up to four years to complete. Inclusion definitions are:
• Schools that have four or less entitled* teaching spaces (about 100 students)
• Schools that have an isolation index* of 2.0 or higher on the Ministry's Isolation Index
The improvements will enhance aspects of the learning environment associated with fitness for purpose, operational efficiency and condition. The improvements are: LEDs, acoustic panels, thermal blankets and residual current devices (RCDs) for electrical safety.
Close Date :Thursday, 31 December 2020 5:00 PM