Policy Announcements, Government Agencies and Congratulations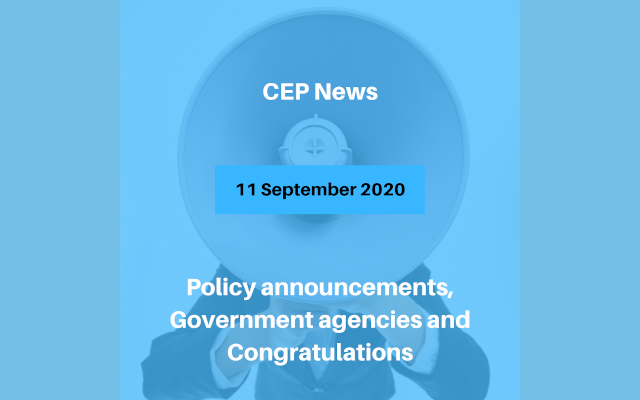 News from CEO – Mike Hopkins
Well, the electioneering has well and truly started with some interesting energy policy announcements from the Labour Party this week and NZ First making lots of noise around Tiwai. We're apolitical here, of course, and so will not be specifically commenting on energy policy announcements. What we are doing, however, is preparing a briefing for our new Ministers, whoever they may be, outlining where we see the key priorities for action and how members can help achieve decarbonisation, productivity and hitting those all-important 2030 and 2050 targets.
Still partly in the political environment, we saw an interesting report published by AECOM this week indicating a circular economy approach in the design and commissioning of infrastructure and built environment projects can halve carbon emissions. Perhaps we should be asking our parliamentary candidates what carbon or circular economy considerations they will be applying to shovel-ready projects post October 17? The report has been sent to MBIE.
Speaking of MBIE, anyone with comments on the Building for Climate Change consultation needs to get their comments to me today (11th) please.
While on government agencies, I've had one or two members and partners contact me regarding concerns about the EECA ETA programme. Specifically, that the panel is risking cutting some of the smaller consulting firms out of the market. I'd like to set up an online meeting for anyone effected by this, to gain some information to take to EECA. If you feel you are being disadvantaged by the structure of the ETA programme, please contact me and we'll set something up.
It's not rare to see research outputs putting forward the case that EVs aren't as environmentally clean as they seem. Things like emissions in battery production, having to generate more electricity for them which comes with emissions and points of that nature. Well, researchers at Eindhoven University of Technology have taken a closer look at some of these reports and the key findings are listed in a panel below for you to use next time you find yourself faced with those arguments.
We had a great webinar earlier this week on energy certificates. If you missed it, you can catch it (or view it again) here. Next week our Pacific Islands opportunities series starts, bringing together projects, solution providers and finance providers. Don't miss them. More information and registration via the links below.
Finally this week, a shout-out to Gold Partner, Signify, that has just announced it has reached global carbon neutrality, ahead of its original target date. Attention is now being directed to the removal of all plastics from consumer products by the end of 2021 and growth in its sales of "circular" products.
Have a great and safe weekend.
---
Debunking the EV Debunkers
Reports suggesting EVs are less environmentally friendly than ICE vehicles usually fall foul of the one or a combination of the following:
They exaggerate the GHG emissions of battery production;
They underestimate battery life;
They fail to factor in electricity will likely become more renewable over the lifetime of the vehicle;
ICE emissions data provided by manufacturers is commonly misleading;
They exclude or downplay fossil fuel extraction and production emissions.
---
Upcoming Events
Check out CEP Training courses, CEP Webinars and other Industry related events – coming up.
---
Tender Opportunities
Interim Post Entry Quarantine Greenhouses RFI

Ref 23158825
Biosecurity New Zealand operate a Plant Health and Environment Laboratory (PHEL) in Auckland which identifies pests and diseases that affect plants and environment. The PHEL provides post-entry quarantine (PEQ) for imported plant material to be isolated and held for inspection and/or testing prior to biosecurity clearance. Level 3B PEQ testing is required for high value and high risk horticulture crops.Through this RFI we are looking to gain an understanding of the suppliers available in the market, either locally or internationally, that can supply and install Level 3B PEQ greenhouses, and if they can be delivered by a single vendor or consortium of suppliers with a primary vendor.
Close Date: Monday, 21 September 2020 3:00 PM

---
Surgical Air Plant Replacement SDHB Dunedin
Ref 23169151
The existing Plant providing Surgical Air to the Dunedin Hospital Ward block have reached the end of their service life. Because of this, we now require a replacement for the existing Surgical Air Plant. The current plant is located on the sixth floor of the Clinical Services Building at the Dunedin Public Hospital.This is an opportunity for a specialist provider to provide a fixed price response for a turnkey design and installation solution for the replacement of the existing Surgical Air plant. A detailed design will be required based on the report/recommendations from documentation in Appendix A for the purpose of construction and any council consenting that may be required.Supply and installation of the proposed new plant is to be in line with the detailed requirements set out in the Appendix A.
Close Date: Thursday, 24 September 2020 11:00 AM
---
Manukau Station Electric Bus Fast Chargers
Ref 23246790
Auckland Transport requires the supply of two electric bus fast chargers at Manukau bus station. The types of chargers required are AC/DC combined chargers, with AC power equal to or greater than 40kW and DC power between 150-200kW. This RFP is for the supply of chargers only with installation services to be secured through a separate process.
Close Date: Tuesday, 29 September 2020 10:00 AM
---
Te Puke Coolstores

Ref 23190625
Categories covered:
– Industrial Manufacturing and Processing Machinery and Accessories
– Structures and Building and Construction and Manufacturing Components and Supplies
– Electrical Systems and Lighting and Components and Accessories and Supplies
– Distribution and Conditioning Systems and Equipment and Components
Close Date: Wednesday, 30 September 2020 5:00 PM
---
HBDHB Ess Power Generator Upgrade Project – Generator & Controls Contract
Ref 23227393
Hawke's Bay District Health Board (HBDHB) are proposing to upgrade the essential power generator arrangement currently in place at Hawke's Bay Fallen Soldiers' Memorial Hospital, Hastings. This HBDHB essential power generator upgrade project will be staged over several years with the first stage of the project to commence this year. Subscribe for full notice.
Close Date: Monday, 5 October 2020 4:00 PM
---
Advance Notice – Auckland DHB Starship Children's Hospital PICU and Atrium
Ref 22940101
Advance Notice of a Contract Opportunity – Auckland DHB Starship Children's Hospital Paediatric Intensive Care Unit (PICU) and Atrium – subscribe to notice for more information.The preliminary design project has been completed and Auckland DHB is looking to approach the market for consultants to undertake the completion of the design, including;- Project Management- Architecture- Building Services (Mech / Elec / Hyd / Med Gas / Fire Protection / ICT / Security / Nurse Call).
Close Date: Friday, 9 October 2020 5:00 PM
---
Advance Notice – Improving Classrooms in Small or Remote Schools Programme
Ref 22500892
This notice is to inform suppliers that the Ministry will be embarking on a programme to improve the internal environments of almost 600 state schools that are small or remote. The programme is expected to take up to four years to complete. Inclusion definitions are:
• Schools that have four or less entitled* teaching spaces (about 100 students)
• Schools that have an isolation index* of 2.0 or higher on the Ministry's Isolation Index
The improvements will enhance aspects of the learning environment associated with fitness for purpose, operational efficiency and condition. The improvements are: LEDs, acoustic panels, thermal blankets and residual current devices (RCDs) for electrical safety.
Close Date :Thursday, 31 December 2020 5:00 PM