Offsets Governance, Webinar Announcement and Harvard Success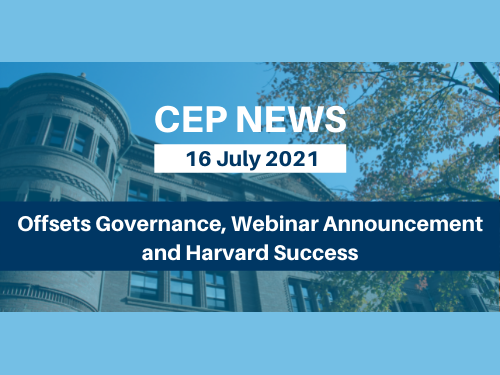 News from CEO – Mike Hopkins
The biggest news this week was the announcement of details of the European Green Deal on Wednesday. This has received ample coverage elsewhere and so we'll simply provide a link for anyone wanting the details and, for balance, a counterpoint from the European Environmental Bureau (a lobby group of 170 environmental organisations) criticising the EU for not going far enough.
Carbon offsetting also came under the spotlight this week among continuing concerns over greenwashing. The Taskforce on Scaling Voluntary Carbon Markets (TSVCM), set up by former Bank of England Governor, Mark Carney, has published a proposal for an independent, international governance body for offset markets. TSVCM calculates markets for offsets will need to grow at least 15 fold by 2030 if the 1.5C target is to be reached and may need to be 160 times bigger than 2020 by 2050. The proposal does not expect to exclude markets or credits, rather to assess markets against a set of credibility principles and label them for quality. On governance, please don't forget MBIE's current consultation which includes ETS governance.
Appreciation of the need to defend nature and embrace natural solutions for addressing climate change continues to grow. The UN Convention on Biological Diversity published a draft plan to combat biodiversity loss this week. Drawing comparisons with the Paris agreement, the plan sets out goals and milestones for 2030 and 2050, suggesting stabilisation over the next ten years followed by 20 years of recovery. Extinction rates are currently running at 100 times the natural baseline. The plan targets a tenfold reduction in rates and a halving of species' extinction risk by 2030, with key target areas including eliminating plastic pollution and removal of an estimated US$500bn a year in government subsidies that harm nature. The framework can be found here.
We've had a small hiatus in webinar activity in recent months as the conference dominated our events programme. I'm pleased to say that is shortly coming to an end as we can now announce our upcoming webinar on biogas and biomethane. The webinar is a sister event to the Bioenergy Association's webinar on 22 July. However, whereas the BANZ session focusses on the biogas potential of NZ, ours focusses on how biogas can help companies decarbonise. The CEP webinar is on at 4pm on 2 August. Links to both events can be found below.
We'd like to put out a call for potential trainers and accreditation assessors. We're always on the look-out to bolster trainer and assessor numbers to provide back-up for the band of experts delivering courses at the moment. If interested, please submit a copy of your CV, with specific reference to training experience, to me. We are looking for trainers across the spectrum of our training programmes and assessors qualified and experienced in their respective areas. You can see a list of our programmes and accreditations here. We also welcome suggestions for new courses, so please drop us a line with any thoughts.
Fancy charging your devices while you sleep? University of California engineers have developed a device that converts human sweat into electricity. The small plaster-sized device can operate continuously, even when sleeping. It is worn on a finger tip, converting the sweat into electricity which is stored in a capacitor. 10 hours of wear during sleep can charge an electronic watch for 24 hours, collection is higher when the person is active.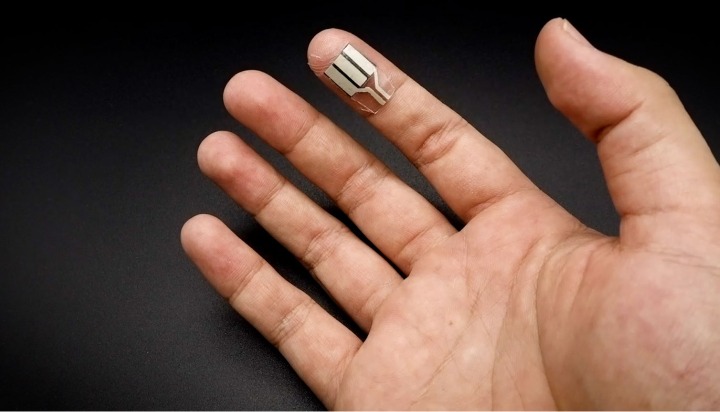 Some members may remember Piyush Verma. Piyush worked with us as an intern a few years ago researching comparable organisations overseas and their training and accreditation frameworks while awaiting his PhD results from Auckland University. He also did work in Vanuata and eventually secured a position with the International Energy Research Centre in Cork. While there, he has represented the IERC on the UN's Economic Commission to Europe as Vice Chair of the Energy Efficiency Expert Group and Chair of the Joint Task Force on Digitalisation in Energy. It was terrific to hear this week that Piyush has just been awarded a scholarship (the Edward S Mason Fellow) to attend the Master of Public Administration programme at the Harvard Kennedy School of Government. I'm sure you'll join me in congratulating Piyush.
Finally this week, please join me in welcoming new members:
Ange van der Laan (Regional Field Advisor) at Walking Access NZ
Daniel Molloy (Consultant) at Hingaia Consulting
Martin Garrood (Principal Development Manager, Energy) at Ministry of Foreign Affairs & Trade
Stijn Van den Eeden (General Manager) at Apes Consulting
Wishing you a safe and great weekend.
Mike and the team

---
Upcoming Events
Check out CEP Training courses, CEP Webinars and other Industry related events – coming up.
---
Tender Opportunities
GIQ Site Wide Infrastructure at Callaghan

Ref 24518876
Callaghan Innovation is undertaking a significant redevelopment programme at it's Lower Hutt, Gracefield Innovation Quarter (GIQ). The programme received Crown funding to stabilising GIQ, address duty of care requirements and build critical foundations to support a future work programme. This tranche is for the upgrade of the existing site-wide infrastructure at the Gracefield Innovation Quarter (GIQ).
Works include review of site 3-waters, electrical, gas, and telecommunications networks.
Further information on this project is contained within the ROI document.

Close Date : Tuesday, 27 July 2021 12:00 PM
---
Main Contractor for electrical upgrade at Howick College

Ref 24489715
The Howick College School Board is seeking a Main Contractor for the lifecycle replacement of 19 x Distribution Boards and installation of RCD protection.
Close Date : Tuesday, 27 July 2021 5:00 PM
---
Solar Energy System for Parliament House

Ref 24484735
Following feasibility studies carried out by Parliamentary Service (PS), the implementation of a Solar energy system was considered a viable solution for the supplementation of our future energy consumption needs. This RFP relates to the purchase of a detailed design and installation of a solar energy system to capture the energy and to reduce our carbon footprint.
The key objective of this procurement is to find a turnkey solution for the solar panel design and installation services. This project will be a flagship development, with high visibility to both Parliamentary Service and the successful tenderer.
Close Date : Wednesday, 28 July 2021 4:30 PM
---
Heating Contractor for Heat Pump Replacement at Trident High School

Ref 24391110
Trident High School has some 80 heat pump spread across their campus. All heat pumps are controlled by a Daikin central system located within the existing admin. Over the past 4 years there has been a staged replacement programme and to date some 50% have been replaced. This procurement is for the replacement of a further 46 heat pumps. For continuity of equipment, plant, maintenance etc all replacement heat pumps shall be manufactured by Daikin and installed by authorised Daikin installers.

Close Date : Friday, 30 July 2021 5:00 PM
---
LPC Maintenance Services Panel

Ref 24469982
Lyttleton Port Company (LPC) is seeking proposals from suitably qualified and experienced maintenance engineering services providers to join a Services Panel. The panel will be established to support the ongoing planning and delivery of the LPC Long Term Plan (2018-2028).
This prequalification panel will be established for a period of 3 years with 1 + 1 renewal options and will ensure value for money and improved initiation of contracts. We intend to:
Establish a panel of specialist engineering services suppliers who can provide reactive and planned engineering services.

Streamline the procurement process to appoint suppliers allowing greater throughput of work and to ensure delivery of the required outcomes.

Develop an environment where LPC benefits from engineering service innovation and excellence that delivers the best whole of life solution.

Ensure the application of good assurance and management practices to the works delivered under this panel arrangement.
Close Date : Wednesday, 4 August 2021 4:00 PM
---
Auckland DHB Substation C,D,H and R 11kV Secondary Switchgear

Ref 24532696
The Auckland DHB is looking for a credible supplier who has the capability, experience and capacity to deliver the HV 11kV Secondary switchgear. The supplier needs to have proven track record in the supply and implementation of HV assets in a private HV network which services critical infrastructure. There are 6 x files attached to the tender.
Close Date : Friday, 6 August 2021 2:00 PM
---
Auckland DHB Substations C,D,H and R – HV Transformers

Ref 24532721
Auckland DHB are in the process of upgrading infrastructure at the ACH Grafton Campus including embedded standby generation. Four new 11kV substations will be constructed to replace existing aging infrastructure. This procurement relates to the supply and delivery of the 11kV to 400V step down dry type transformers for Substation C, D, H and R (Separable portions 2,3,4 and 5) to be located within buildings A01 (support services), building A02 (Starship) and building A35 (Mental health unit) at Auckland City Hospital Grafton Campus. There are six (6) files attached.

Close Date : Friday, 6 August 2021 2:00 PM
---
Lincoln University LED lighting upgrade
Ref 24508513
This RFP relates to the delivery of Lincoln University campus LED lighting upgrade. The university has completed lighting audit around the campus and identified a number of lights requiring upgrade to LEDs for decarbonisation.
Lincoln University is seeking competent contractors to remove and dispose of the existing non-LED lights and the supply and installation of new LED lights.
Successful contractor(s) in this opportunity shall run the upgrade program so that the university comes one step further to decarbonisation of its business.

Close Date : Friday, 6 August 2021 5:00 PM
---
Main Building Contractor for AMS & 5YA Combined – 1, 3, 4, 5 Internal & Toilet Refurbishment, lighting upgrade and new decking; Staffroom extension SIP at Mangatawhiri School

Ref 24521596
Mangatawhiri School want to upgrade Blocks 1, 3, 4, 5 to develop the classrooms and increase the size of the administration area including a separate LSC office (15m2) and add decks to increase outdoor learning spaces. Also the school are wanting to refurbish classrooms through upgrading the interiors for enhanced acoustics and lighting levels (new LED) and refurbishment of the toilet block.

Close Date : Friday, 6 August 2021 5:00 PM