Networking, Webinar and US Climate Policy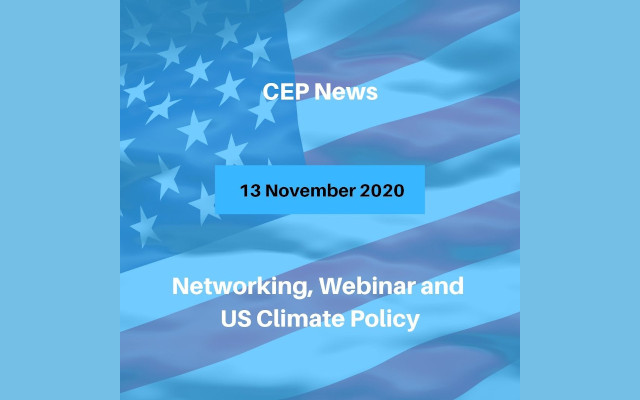 News from CEO – Mike Hopkins
Our networking venues are now confirmed. First up is Wellington on the 23rd at The Thistle Inn, then Auckland on the 25th at Brew on Quay and finally Christchurch on 30th at Dux Central. We've invited members of The Sustainability Society and Young Energy Professionals Network along and are looking at a bumper attendance. At the moment, it looks as if CEP members may be in the minority, which is great as it ensures there'll be new ideas and thoughts all around the room – and plenty of opportunities to make new connections.
It doesn't end there. The Sustainability Society has reciprocated and is inviting CEP members to its next round of "Green Drinks". It is also holding events in Auckland, Wellington and Christchurch, in its case all on the same day, the 26th. Details and information on registering below.
Our next webinar is now in the diary. On 1 December, we'll be joined by Geoff Bennett of CarbonEMS talking to the subject of Quantifying the Co-Benefits of Sustainability and Efficiency. This is a fascinating area and one that needs greater exposure, so please join Geoff on the first of next month. You can register through the banner below.
Well, it's now decided. The US election is over and while the outcome is still being contested by some parties, President-elect Biden is booking the van to move into the Whitehouse. The changeover has enormous implications for climate change policy in the US. Biden's US$2trn (NZ$2.9trn) Green New Deal will see a carbon zero US electricity sector by 2035. He is talking about committing to carbon neutrality by 2050. If that comes about, more than 60% of global emissions will be covered by neutrality commitments. He has already signalled his intent to sign the US back up to the Paris agreement.
There now seems real momentum to decarbonise the energy sector. On top of Biden's commitment, this week, the IEA reported 90% of the new generation capacity deployed in 2020 will be renewable and it expects renewable generation to exceed gas and coal by 2024. Wind and solar will lead the way with capacity doubling by 2025. Meanwhile, according to Frost & Sullivan, global hydrogen production is likely to double by 2030, increasing to 168 million tonnes and becoming a US$420bn (NZ$614bn) a year industry.
In a follow-on to last week's story about AI building systems, new research from Berg Insights suggests the installed base of connected building automation systems will exceed 34 million by 2024, becoming a near €50bn (NZ$86bn) market.
The latest glazing innovation from Nanyang Technology University in Singapore is for a liquid window. Similar to a double glazing system but using a hydro-gel liquid, the panes block sunlight during the hottest period of the day and store and release heat at other times. The creators claim the system is 30% more energy efficient than commercially available glass, is cheaper to make and delivers a 45% reduction in HVAC energy consumption.
French innovators have been responsible for many creative, simple ideas that have had global impact over the years from the pencil sharpener, stapler and hot air balloon to the stethoscope. The latest simple idea is to recycle unwanted hair from hairdressers to combat oil leaks and spills. Hair can absorb around eight times its own weight in oil and French start-up Capillum is now collecting hair from 200 salons across France to re-use for pollution control, including the recent spill in Mauritius. Keratin, the protein in the hair that absorbs the oil can also be used as a bioplastic. Apparently, French hair salons produce around 4,000 tonnes of waste hair each year.
Many of you will know Alireza Mokhtar, a PhD qualified energy engineer currently based in Auckland but willing to relocate. Alireza is currently open to engagement offers and would love to hear of any opportunities you may have for his expertise. You can contact Alireza through his Linkedin page or via the CEP office.
Finally this week, a reminder about our carbon inventory and abatement opportunities training coming soon. Never-to-be-repeated, discounted rates are on offer for these courses and they're online, so get your registrations in below.
Have a great and safe weekend.
Mike and the team
---
CEP is holding its pre-Christmas networking, drinks and nibbles and invite you to come along and:
Catch up with friends and peers you may not have seen for a while;
Meet new people – we're inviting Sustainability Society and Young Energy Professionals to join us;
Bring a friend;
The food's good and a wide range of drinks is on offer; and
It's free.
This is an invitation only event, all members are invited to bring a non member with them. All attendees must register, please use the link below. Please include:
Full name;
Company name;
Job title;
Mobile number; and
Dietary requirements, eg gluten free, vegetarian, etc.
---
Wellington Networking Event
Date: Monday, 23 November 2020
Venue: The Thistle Inn, 3 Mulgrave Street, Wellington
RVSP By: 5pm, Thursday, 19 November
---
Auckland Networking Event
Date: Wednesday, 25 November 2020
Venue: Brew on Quay, 102 Quay Street, Auckland Central
RSVP By: 3pm, Friday, 13 November
---
Christchurch Networking Event
Date: Monday, 30 November 2020
Venue: Dux Central, 6 Poplar Street, Christchurch
RSVP By: 5pm, Tuesday, 24 November

---
Industry Events
The Sustainability Society (TSS) Invitation
TSS are hosting concurrent Green Drinks from 5.30pm in Auckland, Wellington and Christchurch on the 26th November to align with the Carbon Transition Conference being held that day and have extended an invitation to CEP members to come along if you are interested in hearing the outcomes from that forum.
Details and registration for all three can be found here:
https://www.eventbrite.co.nz/o/the-sustainability-society-10927824027
---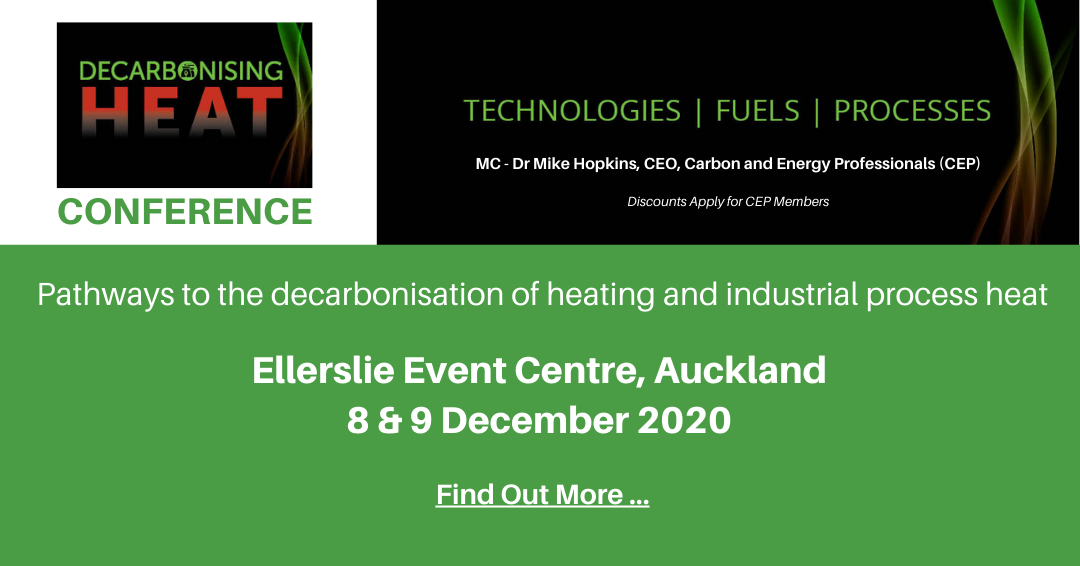 Decarbonising Heat Conference
Pathways to the decarbonisation of heating and industrial process heat.
MC: Mike Hopkins (CEO, CEP)
Dates: 8 & 9 December 2020
Location: Ellerslie Events Centre, Auckland
Discounts for CEP Members Apply –
Find out more …
---
Upcoming Events
Check out CEP Training courses, CEP Webinars and other Industry related events – coming up.
---
Yarrow Stadium – EOI Lighting Upgrade
Ref 23543661
The Principal, Taranaki Stadium Trust, to provide a 'Expression of Interest' (EOI) for the Specialist Stadium Lighting Design Services of the Yarrow Stadium Re-Development at New Plymouth. In summary, this involves: Upon the appointment of the supplier and contractor for the lighting installation by the design specialist, it is envisaged the design specialist will observe construction through to final completion and commissioning of the lighting to the stadium.
Close Date: Monday 16 November 2020 4:00PM
---
CON2020093 Havelock North Library Lighting and Switchboards Renewal
Ref 23555171
Tenders are requested for the supply and installation of new LED light fittings and 3No. switchboards to the Havelock North Public Library in accordance with the plans and specifications provided for the Hastings District Council. Questions must be submitted through GETS only – questions close Thursday 12 November at 3:00 PM.
Close Date: Wednesday, 18 November 2020 3:00 PM
---
Advance Notice: Biomass and Electric Heating Solutions for Coal Boiler Replacements
Ref 23575969
This is a notice of Intention that a tender will be issued over the next few weeks to seek proposals for the supply and installation of low carbon alternatives for coal boilers in a number of schools. Low carbon alternatives in this instance include biomass boilers and electric heating solutions. The primary purpose of this procurement activity is to have suppliers who can supply and install biomass or electric heating solutions in schools across a range of geographical areas. We require biomass and electric heating solutions, which provide heat in the range of 50kW to 1,000kW.
Please note this is a notice of intent to advertise a tender opportunity.
Close Date: Friday, 20 November 2020 2:00 PM
---
Onehunga High School – refurbishment of 5 Relocatables
Ref 23538589
Building and Facility Construction and Maintenance Services

Complete reclad and interior refurbishment of 5 relocatables, including the following:
New flooring: carpet and vinyl

New weatherboard and exterior cladding

New decking to exterior

New aluminium window joinery

New roof, gutters, downpipes and flashings

New heat pumps

New insulation and wall linings

New autex and interior fittings and fixtures

Reinforcement of existing building structure
Close Date: Monday, 2 December 2020 5:00PM
---
Government Investment in Decarbonising Industry (Round 1)
Ref 23600012
The Government investment in Decarbonising Industry (GIDI) Fund is a partnership between Government and business to accelerate emission reductions from process heat used in industry by supporting energy efficiency, and fuel switching projects (e.g. from fossil fuels like coal to biomass or electricity). As part of the Government's COVID-19 response and recovery, investments in decarbonisation projects also aim to stimulate the domestic economy, and support employment.
$69m of capital grants co-funding will be available via a contestable RFP process administered by EECA. There will be a minimum of three rounds, with subsequent rounds running until the whole fund is committed. All projects approved for Government co-funding will have to be completed before 30 June 2023.
RFP Round 1 is now open, and EECA are seeking proposals that meet the investment focus of "Decarbonising industrial processes and process heat through energy efficiency, technology innovation, and fuel switching.
Close Date: Monday, 14 December 2020 12:00PM
---
Advance Notice – Improving Classrooms in Small or Remote Schools Programme
Ref 22500892
This notice is to inform suppliers that the Ministry will be embarking on a programme to improve the internal environments of almost 600 state schools that are small or remote. The programme is expected to take up to four years to complete. Inclusion definitions are:
Schools that have four or less entitled* teaching spaces (about 100 students)
Schools that have an isolation index* of 2.0 or higher on the Ministry's Isolation Index
The improvements will enhance aspects of the learning environment associated with fitness for purpose, operational efficiency and condition. The improvements are: LEDs, acoustic panels, thermal blankets and residual current devices (RCDs) for electrical safety.
Close Date :Thursday, 31 December 2020 5:00 PM
---
Advance Notice – Replace light fittings in Mcindoe
Ref 22500892
Please note that this is a 'Future Procurement Opportunity' and its sole purpose is to inform the market about opportunities that may be coming up over the next 12 months. We would ask that suppliers refrain from contacting individuals within CMDHB for additional information on this project as it is likely to be published on GETS as an open process. As no detailed planning has yet been undertaken for this, we do not have any additional information.
All dates are indicative and subject to change.
Close Date: Q4 2020 (tbc)