COP26, Earthquakes and Olympic Sustainability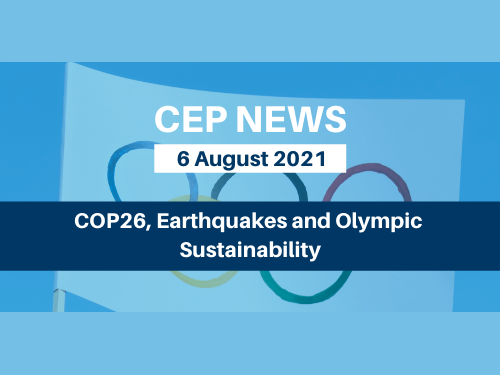 News from CEO – Mike Hopkins
COP26 is just around the corner and the build up is already falling short. Countries were supposed to have submitted new or revised NDCs (Nationally Determined Contributions) consistent with 1.5C or 2C warming by the end of July but only 56% managed to hit the deadline. The NDCs are an important measure of national plans to address climate change. On the basis of current published plans, we are heading for 3C warming according to the UN. The most significant laggards for submission are India and China, both of whom have critical roles to play over the next few decades.
We've had a couple of noticeable tremors this week, a 5.1 near Tokoroa and a 4.6 just off Paraparaumu. It seems, however, that these tremors have a silver lining. Scientists from Cambridge University have discovered that carbon drawn into subduction zones (where tectonic plates slide over/under each other) tends to stay locked away rather than resurfacing as CO2 through volcanic eruptions as has been thought previously.
In case anyone's missed it, the Olympic Games are currently running. The Tokyo 2020(?) Olympics are set to be the most sustainable yet. Some of the interesting sustainability facts/claims are:
Only 8 new venues have been built of the 43 total. 25 were existing venues and 10 are temporary.
The torch is made from recycled aluminium and torchbearer t-shirts from plastic bottles.
The 5,000 medals are made from electronic waste.
Podia are made from recycled plastic.
It's claimed 99% of all goods procured for the games will be recycled.
The venues are using renewables extensively, including solar and biomass and the cauldrons use green hydrogen.
The transport fleet includes 500 hydrogen powered vehicles.
To see more, click here.
They say a picture paints a thousand words. Sometimes a carefully selected data comparison can do the same thing. Oxfam came out swinging this week against a reliance by governments and large corporates on the extensive use of land based schemes to achieve net zero commitments. I'd like to think this readership understands the importance of reducing gross emissions rather than relying on planting trees as a solution to climate change but Oxfam did remind us of the scale of that solution by claiming we'd need to plant 1.6 billion hectares of new forests to achieve net zero by 2050. That's just shy of the land area of Russia, more than two Australias or 42% of the area of the lunar surface. Easier, cheaper and more effective to tackle gross emissions, then.
Innovation continues apace in the area of battery storage. Stora Enso (Finland) has just opened a pilot plant to manufacture Lignode, a wood based graphite substitute. Manufacture will initially focus on small batteries for consumer electronics and vehicles but the company is hopeful the material will also be usable for larger applications and help address concerns over the scalability of the global battery market.
If you missed our webinar on renewable gas on Monday, you can access the recording here.
Also, there are a couple of interesting GETS items below from Wellington City Council. This is a sign of the times and such carbon advisory programmes are great opportunities for appropriately skilled and qualified members, so maybe check out the training items too.
Finally, please join me in welcoming new members:
David Aston (Sustainability Engineer) Fulton Hogan Ltd
Jeana Tate-Bell (Contract Administrator) Pioneer Energy Ltd
Jonathan Davies (Director and Principle Engineer) Assured Carbon
Lindsey du Preez (Director)Grasshopper Solutions Ltd
Marlies Wilson (Energy Manager – Sustainability Solutions) Total Utilities Management Group Ltd
Nigel Ellett (Commercial Manager) Pioneer Energy Ltd
Rebbecca Page (Student) Open Polytechnic
Rosa Lopez (Student) Villanova University, Philadelphia, USA
Ye Mon Oo (Student) Victoria University of Wellington
Wishing you a safe and great weekend.
Mike and the team
---
Upcoming Events
Check out CEP Training courses, CEP Webinars and other Industry related events – coming up.
---
Tender Opportunities
MidCentral District Health Board: Horowhenua Main Switchboard
Ref 24584725
MidCentral District Health Board (MDHB) needs to upgrade the Horowhenua Health Centre (HHC) Main Switchboard, as defined in the Specification and Design Drawings attached. The project comprises supply, installation and commissioning of a new Main Switchboard at HHC, including all associated measures to allow for the installation and minimise outages. MDHB is seeking suitably qualified providers that have capability and capacity to upgrade the Main Switchboard. MDHB anticipates the new Horowhenua Main Switchboard will be in use for at least 12 years. Please see addenda for specifications and drawings.
Close Date: Wednesday, 11 August 2021 12:00 PM
---
Power system operation – Laos
Ref 24609001
MFAT of Foreign Trade and Affairs (MFAT) is inviting Registrations of Interest from suitably qualified and experienced Suppliers to provide technical assistance to strengthen power system planning and operational capabilities in Lao PDR.
MFAT will not evaluate Registrations of Interests at this stage, however we ask that Suppliers carefully consider the evaluation criteria on page 9 as this will be the criteria used to evaluate responses at a later stage in the procurement process. We also ask that interested Suppliers complete Section 2 of the ROI document. Following receipt of Registrations of Interest, MFAT will invite interested Suppliers to a Project briefing session where more detail on the Project will be provided and Suppliers will have the opportunity to ask questions. Following this briefing session, Suppliers who are still interested will be invited to respond to a closed Request for Proposal (RFP) process.
Please see attached ROI document and Terms of Reference for more information.
Please send all responses through the tender box in GETS and note the question close date is the 9th of August at 9am.
Close Date: Wednesday, 11 August 2021 5:00 PM
---
C959 – Services and Sustainability for Southland Museum Re-imagining phase
Ref 24597844
Invercargill City Council (ICC) intends to seek proposals from the market to appoint Services Engineers (Mechanical and Electrical) and Sustainability Consultant with whom ICC will enter into a contract for delivery of the reimagining phase of the Southland Museum and Art Gallery project.
ICC is looking to work with a consultancy that can provide design input for engineering and sustainability services and who has the capacity, capability, and experience to deliver the project and provide the following benefits: • An open and transparent, collaborative working environment between the Council, museum staff, and the various stakeholders. • Has strong communication skills and able to assist with informing the Council and its stakeholders such as the Museum Governance Group (MGG).
Close Date: Friday, 13 August 2021 12:00 PM
---
NZ Emission Trading Scheme FMA Plots & Processing
Ref 24586939
Environment Canterbury currently owns and manages 604.6 hectares of post-89 New Zealand Emissions Trading Scheme (ETS) plantation forest around the region which requires monitoring to ETS Field Measurement Approach (FMA) standards for the next Mandatory Emissions Return Period (MERP).
We require a suitably qualified contractor to be responsible for collecting, processing and reporting data using the FMA standards to MPI in the required format before the end of the commitment period (31st December 2022). Last MERP we had 54 plots allocated, this RFP requires a price for the same number, however, requires a contractor who is flexible to changes in plot locations or number if required by MPI during this period as our forest estate will see some afforestation over this period.
Close Date: Monday, 16 August 2021 5:00 PM
---
Hukanui School L & M Breakout-ILE Upgrade
Ref 24592782
Breakout spaces – existing space altered to create breakout spaces and access between adjacent teaching spaces. • New lighting (energy efficient LED alternatives) • New wall coverings with acoustic alternative • New floor coverings to be installed to spaces.
Close Date: Friday, 20 August 2021 5:00 PM
---
ROI Main contractor for Block Upgrades at Kaikohe East School
Ref 24604102
This Registration of Interest (ROI) is an invitation to suitably qualified contractors to submit a Tender for Main Contractor Sitewide Switchboard Upgrades and life-cycle replacement of outside light fittings, light switches and power outlets; 10: Full block upgrade at Kaikohe East School
Close Date: Friday, 20 August 2021 5:00 PM
---
Carbon Accounting Related Services
Ref 24609156
Wellington City Council's Te Atakura—First to Zero plan, adopted in 2019, aims to achieve net zero carbon for corporate emissions by 2050. This goal is reliant on the ability to measure our current greenhouse gas emissions, identify hotspots and opportunities for reductions, and to report on both items in an accurate and timely manner. Wellington City Council has been engaging a single supplier for all carbon inventory related services, from software through to certification, since 2014.We have released an RFP (Reference 2021-031) on GETS to source a software solution that aligns with our current and anticipated future needs and we are also conducting the following market research activity to help us discover who in the market has the capability and expertise to deliver relevant, carbon inventory-specific services to help support us delivering on our net zero carbon commitment. We are seeking information from suppliers in the market who currently provide:
a) Carbon Emissions Advisory Support Services
b) Carbon Emissions Factor Library
c) Carbon Emissions Auditing Services
d) Carbon Emissions Certification Services
The details that we're seeking are contained in the attached letter and information gained during this research activity will help us to inform our requirements and future sourcing activities* and may be shared with other local government bodies seeking to improve their carbon accounting activities.
*Note that the indicative RFx Release Date has been added in order to release this FPO. At this stage, Wellington City Council has not determined a sourcing strategy for these services.
---
Corporate Carbon Accounting Software
Ref 24608914
This Request for Proposal (RFP) invites suitably qualified suppliers to submit a Proposal for a carbon accounting software solution to help us continue to understand and track our carbon emissions, and deliver on Wellington City Council's net zero carbon by 2050 commitment.
The intent of this RFP is to deliver the following key outcomes:
An expanded and more detailed understanding of Wellington City Council's corporate value chain emissions through a robust and accurate corporate inventory of emissions sources.
An increase in timeliness of collected data by leveraging an automated, information gathering software solution that can be used both internally and externally.
To achieve these outcomes, we are seeking to engage an experienced software solution provider to provide, configure and support a relevant, modern, fit-for-purpose, Software as a Service (SaaS) carbon accounting software solution that will store, analyse and report on Council emission data for both internal and external stakeholders.
This solution will be able to automate data requests from within both WCC and with external suppliers and allow for detailed analysis of emission sources. Click the link above for more details
Close Date: Wednesday, 25 August 2021 12:00 PM
---
Freeze Dryers x 3
Ref 24618853
AgResearch is seeking 3 Freeze Dryer units to be installed at three of our facilities. One at our Te Ohu Rangahau Kai building, Palmerston North, one at our Grasslands Research Centre, Palmerston North, and one at our Ruakura Research Centre Hamilton.
Close Date: Thursday, 26 August 2021 4:00 PM
---
Ministry of Education – RFP Property Condition Assessment Collection Tool
Ref 24635418
The Government has set a target for all schools to provide quality learning environments by 2030.
This is also reflected as a strategic objective in the Ministry of Education's Te Rautaki Rawa Kura | School Property Strategy 2030.The Ministry has developed a model to measure the quality of physical learning environments across three main dimensions: asset condition, fitness for purpose and operational efficiency. Aspects of the model are being integrated into planning and investment processes progressively.
As part of this work, a new property condition framework has been developed to address shortcomings in our current asset management process and to also support wider asset management objectives. This will support planning and maintenance for property assets. In addition to asset condition, our model includes data on:
The school's perspective, through the School Evaluation of the Physical Environment (SEPE) questionnaire
Acoustics, lighting, thermal comfort, and indoor air quality, measured by Internal Environment Monitoring (IEM) devices
Electricity consumption
The Ministry is seeking a Property Condition Assessment Collection Tool that will support the implementation of its new condition framework.
The Collection Tool will allow internal and external users to accurately and consistently capture building and site data, photos, and files relating to the physical condition of property assets. The benefits we are seeking from the Collection Tool include:
Increasing the efficiency and consistency of the on-site assessment process
Improving the quality and accuracy of the resulting condition data
Automating the delivery of data to the Ministry
Close Date: Friday, 27 August 2021 5:00 PM