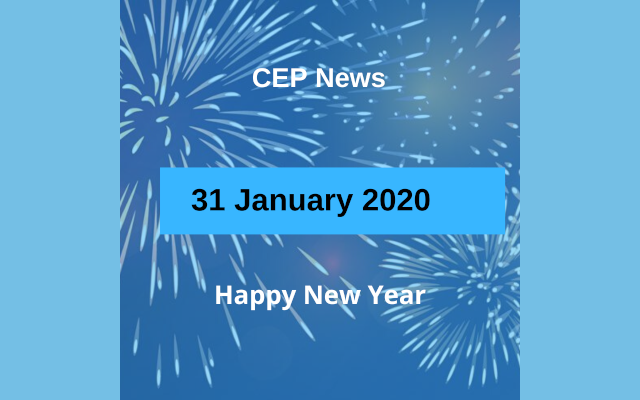 We hope you all had a wonderful break and are settling well into the 2020s. This decade will be critical for all our futures, so we encourage you to keep skilled up and knowledge hungry on opportunities for efficiency improvements and emissions reductions and how to exploit them.
Here at CEP, we're expecting an exciting and full 2020. Our conference dates were announced before Christmas and you should all have 10 and 11 June locked in.
Registrations
are open and we'll be delighted to talk with anyone about boosting your presence there through sponsorship or an exhibition stand. Sponsorship prices are held or down for 2020 and start at just $500 (+GST), so it's worth a look at the
prospectus
. Also, watch out for those Air New Zealand sales. $39 each way is a pretty good deal and it's worth booking those well ahead too.
The year is starting with a bang for us, with conference activity to the fore, training kicking off, new initiatives in the pipeline on training, accreditation and CPD and submissions due in February on ETS Settings and Accelerating Renewables and Energy Efficiency. We've set up
discussion Boards
for both of these submissions on the member's area of the website, so please share your thoughts.
The UK and its Committee on Climate Change is sometimes held up as a model for what we should be doing in NZ. We followed their Net Zero 2050 commitment and our Climate Change Commission is very much based on the UK's. Its CCC and target have had many successes and much publicity. Nevertheless, a survey published this week indicates around half (47%) of UK businesses have yet to start developing a carbon reduction plan. Let's not let that happen here …… and it needn't. The most commonly cited reasons for the failure being lack of resources and lack of know-how. We are equipped to avoid one of those critical barriers, we just need to do the right things. For the start of 2020, I call on members to do three things. Firstly, spread the word that we have a training programme that will deliver a trained carbon planner and a peer reviewed plan for their employer (or a client). Secondly, if you are making your own submission on the MBIE Accelerating Renewables and Energy Efficiency Consultation, please mention the importance of an aware and well educated workforce. Finally, register for the conference and spread the word about it. We have great feedback about the knowledge and connections people pick up – and it's great value. Where else can you get an excellent, two-day conference for $700 (+GST, early bird member rate)?
A notification came our way recently that I'd like to share. MBIE is advertising again for Board members for EECA. Interestingly, the requirements are quite specific, requesting experience in the industrial and process heat sector. For those interested, there's more information available
here
.
We've also been asked to put the word out on a vacancy for a data analytics and analysis specialist with Eddie's team at BTL in Auckland. So, if you know someone who may be suitable, please pass on the lead.
Contact Eddie
directly for more information or send through your details to me and I'll forward.
Last but not least, we welcome our first new member for the year, Nihar Bara, a student at AUT. Welcome Nihar.
Tender Opportunities
Environment Canterbury – Hinds MAR Technical
Ref 22142053
Following three initial trial years, the Hekeao Hinds Water Enhancement Trust (HHWET) has been established by to develop a Groundwater Replenishment Scheme (GRS) for the Hekeao-Hinds Plains. The scheme will also incorporate additional MAR concepts such as Near River Recharge (NRR), dry wells and Targeted Stream Augmentation (TSA) where applicable.
Close Time & Date: 3.00 pm Monday, 3 Feb 2020
Panel Contract for Facilities Consultancy Services Details
Ref 22007792
Bay of Plenty DHB (BOPDHB) is seeking to identify and select a number of suitably qualified and experienced consultants to form a Panel of pre-qualified suppliers available for facilities / property project related opportunities over the next five to seven years. BOPDHB operates from multiple facilities across the wider Bay of Plenty region that periodically require consultancy advice relating to building maintenance and or construction services.
Close Time & Date: 3.00 pm Friday, 14 Feb 2020
ROI Project Rima – Sustainable and efficient project delivery for 5 years and beyond
Ref 21884366
The purpose of Project Rima is to strengthen our teams and partnerships (both internally and externally) and boost the engagement with our service provider community. We want to create committed, but flexible, service provider engagements and relationships that include appropriate risk sharing and deliver our CAPEX optimisation over the 5-year period and beyond.
Close Time & Date: 5.00 pm Friday, 21 Feb 2020
BIM Management Services – Taranaki Base Hospital Redevelopment
Ref 22219571
TDHB is seeking proposals from organisations with expertise and experience in Building Information Modelling (BIM) Management Services to provide consulting and design services for the Implementation Business Case (ImpBC) for Project Maunga Stage 2.
Close Time & Date: 5.00 pm Thursday, 27 Feb 2020
RFP for Energy Transition Accelerator Programme
Ref 22164987
The Energy Transition Accelerator (ETA) Programme is an EECA direct client engagement which assists large energy users in the business sector to develop a stationary energy-related carbon abatement opportunity assessment as a first step in developing a strategic low-carbon pathway. The ETA helps the largest stationary energy-related greenhouse gas emitters to make technically and economically viable decisions and investments that support their energy transition pathway to a low carbon future. This RFP seeks proposals from suitably qualified suppliers to form a panel of Programme Partners for the ETA Programme.
Close Time & Date: 12.00 noon Thursday, 5 Mar 2020