Lithium Farming and Energy Efficiency as a Service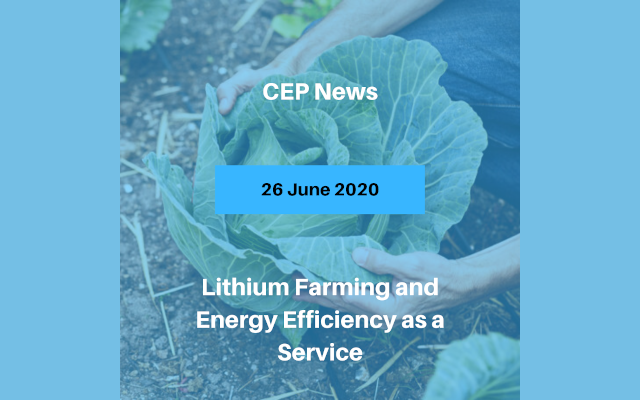 News from CEO – Mike Hopkins
Thanks to all who answered the call last week for your conference feedback. It is all grist to the mill in planning our conference for next year.
In a week when the Arctic is reputed to have seen its highest ever temperature and the UN Secretary General called for a "new contract for nature" to address climate change, we hear that, across the ditch, Australian farmers have been offered grants of AU$20,000 to support energy efficiency across the agricultural sector. The grants are available for equipment and, interestingly, energy audits.
Picking up on the UN Secretary General's comments and the growing global interest in soil sequestration for carbon, those who missed Frans's conference session on this can access it through your original conference log-ins or the links below.
This week, we were reminded that there may be an opportunity to join the dots on sustainable land use by cropping and mining simultaneously. The growing demand for lithium has seen a lot of land exposed to mining and brine extraction. Of course, there are other ways of extracting lithium such as phytomining. Phytomining involves extracting small amounts of lithium through plants that suck the mineral up into their structures as they grow. It seems cabbage, rapeseed and sunflowers are among the best crops for this. The idea isn't new or exclusive to lithium. Work was done in this area at Massey University at the end of the last century with gold as the target mineral. Nickel has also been extracted by this technique. The process, unfortunately, is not cost effective compared with destructive mining but adding carbon sequestration and non-destructive land use benefits will go some way to addressing that imbalance. Of course, with some plants extracting the minerals would prohibit consumption of the crop but there's no reason the minerals couldn't be extracted as part of a biofuel process or combinations of cropping, phytomining and biofuels in the case of seed products. So sometime soon, we could be seeing our first commercial lithium farm!
Meanwhile in the US, Seattle utility, Seattle City Lights, went live this week with the US's first Energy Efficiency as a Service (EEaaS) proposition.The programme is based on its Metered Energy Efficiency Transaction Structure(MEETS), in essence, a financial arrangement that facilitates third party investment in energy efficiency through long term lock-ins between this third party, the landlord and the utility. The software house supporting the Seattle project estimates the process could help unlock US$45bn of annual savings across the US. There are several interesting explanatory videos about MEETS here.
A reminder that tomorrow (Sat) is the start of Garden Bird Survey week. As well as an opportunity to relax, smell the roses and enjoy our native wildlife, the data collected is helpful in understanding how our bird population is changing. It will only take an hour and isn't restricted to your garden. More details here.
---
Tender Opportunities
Northland DHB Facilities Maintenance Supplier Panel
Ref 22845831
he Northland District Health Board (NDHB) is seeking suppliers for delivery of its response and planned maintenance services. A Panel arrangement is being formed that will identify pre-qualified suppliers for delivering maintenance services across all Northland DHB sites. A Request for Proposal (RFP) will be released via the GETS website on Monday, 29th June 2020.
Close Date: Friday, 26 June 2020 5:00 PM
---
Massey University Gas Supply or Alternative Heating Options
Ref 22749216
Proposals are invited from relevant parties for the supply of Natural gas to the three Massey University campuses. Offers for the supply of a low GHG emission heating solution for the Wellington campus will also be considered.
Close Date: Friday, 26 June 2020 5:00 PM
---
School Energy Efficiency Trials 2020/2021
Ref 22780886
The Ministry of Education (the Ministry) wishes to contract with one or more suppliers in the energy service sector to undertake detailed energy audits (in line with New Zealand and Australia Energy Auditing Standard AS/NZS 3598/2000 Type 2 audits) at approximately 40 – 60 state and state-integrated schools nominated by the Ministry, and provide additional advice to the Ministry about energy efficiency measures appropriate across the school portfolio.
Close Date: Wednesday, 1 July 2020 5:00 PM

---
RFP Supply of Electrical and Data Goods

Ref 22664968
Subscribe to Notice for full access.
Close Date: Thursday, 2 July 2020 5:00 PM
---
Smart Water Metering Solution
Ref 2606818
The Dunedin City Council (DCC) are about to initiate a project to implement a smart water metering solution for non-domestic (i.e. non-residential) water users to improve the efficiency of the water network, promote efficient water usage, save meter reading costs and reduce billing complaints/queries as well as inaccuracies in the billing data.
Close Date: Friday, 10 July 2020 5:00 PM
---
Main Contractor for Design, Supply, and Installation of HVAC system at Seatoun School (the School)

Ref 22870967
The BoT of Seatoun School are seeking a contractor to design, supply, and install and heating, ventilation, and air conditioning system to classrooms and a meeting room in R Block. Work is to be carried out during December 2020 – January 2021 and is to be completed prior to school recommencing.
Close Date: Monday, 20 July 2020 5:00 PM
---
Advance Notice- Improving Classrooms in Small or Remote Schools Programme
Ref 22500892
This notice is to inform suppliers that the Ministry will be embarking on a programme to improve the internal environments of almost 600 state schools that are small or remote. The programme is expected to take up to four years to complete. Inclusion definitions are:
• Schools that have four or less entitled* teaching spaces (about 100 students)
• Schools that have an isolation index* of 2.0 or higher on the Ministry's Isolation Index
The improvements will enhance aspects of the learning environment associated with fitness for purpose, operational efficiency and condition. The improvements are: LEDs, acoustic panels, thermal blankets and residual current devices (RCDs) for electrical safety.
Close Date :Thursday, 31 December 2020 5:00 PM