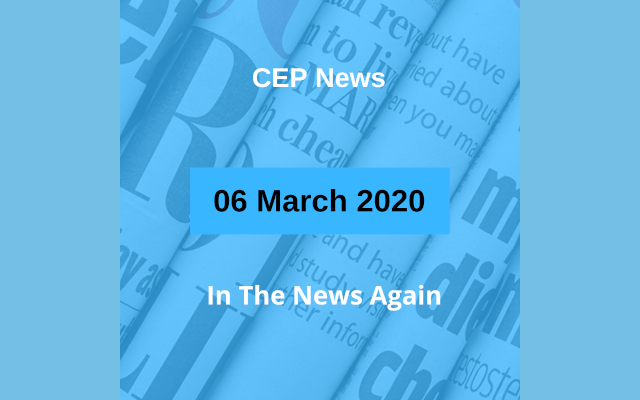 News from CEO – Mike Hopkins
CEP was in the news again this week, with an article in Tuesday's energy News about our upcoming Carbon Auditor training and accreditation. We're getting good interest and the industry is picking up on this too, so we could be seeing strong growth in auditing coming shortly.
Also in the news this week was that default Kiwisaver accounts are to be banned from investing in fossil fuel industries. Given the consistent reports about drop offs in value for these sectors, it's probably a move that would have occurred anyway but the ban sends a message of intent in our election year. The NZ ban is consistent as well with announcements this week that encouraging private finance along a net zero path will be a critical component of COP26 at the end of the year and the unveiling of Bank of England plans for mandatory climate risk tests for banks and insurers.
None of that should be a surprise to anyone who managed to wade through the MBIE consultation on encouraging renewables and energy efficiency that closed last week. Mandating TCFD and Corporate Energy Transition Plans for larger organisations were floated there as policy options. In the UK, its Streamlined Energy and Carbon Reporting scheme is expected to save companies £6bn and 22m tonnes of carbon by 2030. Might we see something similar here?
Also floated as part of that consultation was consideration of an energy efficiency obligation to be applied on retailers, i.e. a requirement to help fund efficiency improvements at the household level. Interestingly, this week saw an announcement from Eurelectric of a programme to accelerate the energy transition in Europe by breaking down four key barriers. More detail on that in the box below.
There were a couple of interesting research reports published this week about transport emissions that revealed, arguably, counter-intuitive results. It seems newer cars emit more CO
2
than older cars. Or more accurately, very new cars emit more CO
2
than quite new cars. That was the conclusion of research from Which magazine in the UK which assessed emissions from Euro6 compliant vehicles against equivalent Euro5 compliant vehicles. While the Euro6 vehicles were much less polluting overall with major reductions in carbon monoxide and nitrogen oxides emissions, their CO
2
emissions were actually higher, this being attributed to higher vehicle weights. Of course, not many of the NZ fleet meet even Euro5 Standards and we have more pressing concerns around modernising an old, polluting vehicle fleet. There's an election manifesto item that could make a real difference if any of our leading political parties are prepared to go there.
The emissions benefits of ride-hailing services like Uber and Ola were also called into question this week. The perceived wisdom is that services like this mean fewer people will opt to buy their own vehicles in the future. However, US research from the Union of Concerned Scientists indicates journeys under such schemes, on average, pump out 69% more pollution than the trips they displace. The reason; longer journeys to pick up fares and no passengers on return journeys translates into a lot more Ks on the road per passenger K travelled. Also, travellers are turning away from public transport for the convenience of the hailed ride, exacerbating the problem. Uber logged 10 billion trips in 2018. Maybe we should be insisting our Uber is an EV.
Finally, we came across several interesting technology innovations during our news trawl this week. These, as well, warranted their own section so I'd recommend innovation hungry readers watch out for that below too.
Barriers to Energy Transition
A study recently published by Eurelectric (the Europe-level industry association for the electricity industry) and Accenture reveal four key barriers to public engagement in the energy transition. They are:
Lack of awareness;

Insufficient information on the real costs of low carbon solutions;

Difficulties in accessing finance for energy efficiency investments; and

Concerns about data use and privacy
A group of 92 European suppliers announced a pledge this week to motivate 200 million customers to adopt greener energy services and electricity solutions. Among the solutions being put forward are:
Personalised advice on consumption management,

Transparent information on costs,

Increased information on energy saving technologies;

User friendly products; and

Enhanced data protection.
Are these the fundamentals of an NZ efficiency obligation?
---
Tender Opportunities
Energy Transition Accelerator Programme
Ref 22164987
The Energy Transition Accelerator (ETA) Programme is an EECA direct client engagement which assists large energy users in the business sector to develop a stationary energy-related carbon abatement opportunity assessment as a first step in developing a strategic low-carbon pathway. The ETA helps the largest stationary energy-related greenhouse gas emitters to make technically and economically viable decisions and investments that support their energy transition pathway to a low carbon future.This RFP seeks proposals from suitably qualified suppliers to form a panel of Programme Partners for the ETA Programme.

Close Time & Date: 12.00 noon
Thursday, 5 Mar 2020
Main Contractor for Mechanical and Electrical Upgrades for Laundry Equipment and Ancillary Heating at Halswell Residential College
Ref 22286742
Halswell Residential College have indicated that their school laundry and ancillary heating (diesel fuelled) boilers have reached their expiry (boilers are 50 and 45 years old respectively). The last Aquaheat audit of the boilers on 11th June 2018 revealed that modifications are required for health and safety reasons. Furthermore, the school have been paying for higher maintenance costs each year to keep the boilers operational.

Close Time & Date: 4:00 pm
Monday, 9 Mar 2020

Grant's Braes School – Heating Upgrades (Heat Pumps)

Ref 22297758
The Grant's Braes School Board of Trustees are seeking the services of a suitably qualified main contractor for the supply and installation of the heating system replacement within the site. This is a design and build heat pump based system and also includes the decommissioning and removal of the existing coal boiler.

Close Time & Date: 5:00 pm
Wednesday, 11 Mar 2020

3 Waters – Switchboard Upgrades – Replacement
Ref 22283579
The Dunedin City Council (DCC) are seeking an experienced electrical contractor to carry out replacement or upgrade of pump stations and switchboards at around 16 distinct sites in the DCC 3 Waters reticulation network.

Close Time & Date: 4:00 pm
Friday, 13 Mar 2020

Bundle 2 – MoE LED Lighting Replacement Whakatane

Ref 22322492
The Ministry of Education is seeking capable contractors to supply and install LED Lighting to 5 schools located in the Whakatane region. This installation is to be completed by June 30, 2020
Close Time & Date: 3:00 pm
Tuesday, 17 Mar 2020

Bundle 3 – MoE LED Lighting Replacement Whakatane

Ref 2322611
The Ministry of Education is seeking suitably qualified contractors to supply and install LED lights into 6 schools located in Whakatane
Close Time & Date: 5:00 pm
Tuesday, 17 Mar 2020

Bundle 4 – MoE LED Lighting Replacement Whakatane

Ref 22322622
The Ministry of Education is seeking suitably qualified contractors to supply and install LED lights into 5 schools located in Whakatane
Close Time & Date: 5:00 pm
Thursday, 19 Mar 2020

Approved Heat Pump Appliances – Warmer Kiwi Homes Heating Programme

Ref 22366672
EECA, which runs the programme (Warmer Kiwi Homes), expects to provide funding for a further 12,000 heating appliances over the next two years. Consumer demand will determine final numbers.In 2019, a Request for Quotation (RFQ) procurement process resulted in seven approved suppliers for single split non-ducted heat pumps which have been supplied to approved Heating Service Providers (installers) throughout the North and South Islands of New Zealand.
The aim of this procurement is to provide opportunities for additional suppliers to be approved, to confirm the eligibility of existing suppliers under this programme, and to allow existing approved heat pump suppliers to adjust their pricing.
Close Time & Date: 12:00 noon
Thursday, 19 Mar 2020