Emissions Equity and Power Hungry AI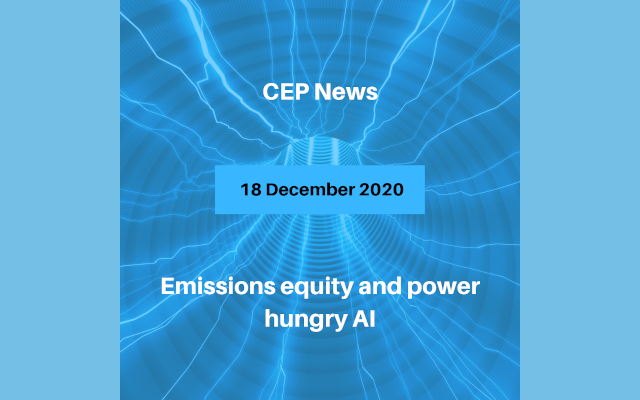 News from CEO – Mike Hopkins
It will come as no surprise that the more affluent, at least on average, have higher carbon emissions. Staggering, though, that the world's richest 1% create more than double the combined emissions of the poorest 50%. That's according to the UN Environment Programme's Emissions Gap Report. It goes on to say that the top 1% should be looking to reduce emissions by at least a factor of 30 to help achieve Paris targets.
That's the headline grabbing information, however, the report is a summary of where we stand on emissions and where improvements can be made. Here are a few other key findings:
G20 members account for 78% of global emissions. Counting the EU countries and the UK as one, there are 16 parties. Nine (Argentina, China, EU27+UK, India, Japan, Mexico, the Russian Federation, South Africa and Turkey) are on track to achieve their NDCs. Australia, Brazil, Canada, the Republic of Korea and the United States of America are not. Data from Saudi Arabia and Indonesia is inconclusive.
However, current NDCs are inadequate to achieve Paris targets and will lead to a temperature increase of 3C by the end of the century.
So far, the opportunity to address climate change through post-COVID stimuli has largely been missed.
You can read the full report here.
One of the burning questions we come across all the time is just what will the carbon price be in 2030? Canada has a carbon tax and this week it announced its climate change plan which included a carbon price for 2030 of CAD$170 (NZ$187). At this level, it predicts it will achieve 2030 emissions targets.
We hear a lot about AI these days. While there is no doubt the application of machine learning will bring vast improvements to efficiency, it doesn't come without a price. Apart from the development costs of personnel, it seems AI tools are particularly power hungry. It's been suggested training an AI model emits as much carbon as the production and lifetime emissions of five cars. The appetite comes from the iterative processes of developing effective algorithms, which may require thousands of training runs, each of which involves analysing millions (or billions) of data points. If you want to read more on this, here's a link.
To those that have already completed our annual member survey, many thanks. For those that haven't yet, be reassured the average completion time is just over 8 minutes. You need to complete before the end December to qualify for the $100 prize draw and can access the survey here.
This will be our last newsletter for 2020. We'll resume publication on 29 January 2021.
We wish you all a relaxing break, prosperous 2021 and health and happiness to you and your whānau.
Mike and the team
---
Check out CEP Training courses, CEP Webinars and other Industry related events – coming up.
---
Improving Classrooms in Small or Remote Schools Programme. Product Supply: LEDs, RCDs, Thermal Insulation & Acoustic Panels
Ref 23442233
The Ministry have embarked on a Programme to improve the internal environments of 547 state schools and 79 state integrated schools that are small or remote. The Programme is expected to take up to three years to complete.
The Programme is part of a wider Government target that all schools have quality learning environments by 2030.The improvements will enhance aspects of the learning environment associated with fitness for purpose, operational efficiency and condition. The improvements are: LEDs, acoustic panels, thermal blankets and residual current devices (RCDs) for electrical safety.
Close Date: Monday, 21 December 2020 8:00AM
---
Advance Notice – Improving Classrooms in Small or Remote Schools Programme

Ref 22500892
This notice is to inform suppliers that the Ministry will be embarking on a programme to improve the internal environments of almost 600 state schools that are small or remote. The programme is expected to take up to four years to complete. Inclusion definitions are:
Schools that have four or less entitled* teaching spaces (about 100 students)

Schools that have an isolation index* of 2.0 or higher on the Ministry's Isolation Index
Close Date :Thursday, 31 December 2020 5:00 PM
---
Wellington Tourism Sustainability Capability Tourism Project
Ref 23705951
W e are seeking a service provider to help Wellington tourism businesses on a journey to becoming carbon neutral. We are developing a Destination Management Plan for the region which will contain a sustainability vision for tourism in Wellington and need a sustainability provider to deliver a capability building element for local businesses.
Close Date: Friday, 15 January 2021 5:00PM
---
Biomass and Electric Heating Solutions for Coal Boiler Replacements
Ref 23679109
The Ministry of Education (MOE) (the Buyer) is seeking proposals for the supply and installation of low carbon alternatives for coal boilers in a number of schools. Low carbon alternatives in this instance include biomass boilers and electric heating solutions.
The primary purpose of this procurement is to engage suppliers who can supply and install biomass or electric heating solutions in schools across a range of geographical areas. The aim of the programme over the next four years is to replace up to 90 coal boilers. We require biomass and electric heating solutions, which provide heat in the range of 50kW to 1,000kW.
Close Date: Monday, 18 January 2021 12:00PM
---
Myanmar Strengthening Power System Operation
Ref 23786269
Ministry of Foreign Affairs and Trade (MFAT) is seeking registrations of interest (ROI) from suitably qualified and experienced Suppliers to provide technical assistance (TA) and capacity building for strengthening power system operations in Myanmar. The purpose of this ROI is to:
invite a range of suppliers to confirm their interest in delivering the Services described in this ROI invitation
identify and capture information regarding expertise, experience, capacity, capability and innovation of potential supplier(s)
enable MFAT to formulate possible delivery options through suppliers collectively and/or individually to deliver the Services
select a shortlist of potential supplier(s) to provide fully costed proposals to plan and deliver the Project (through a future RFP) ..
Close Date: Monday, 18 January 2021 1:00PM
---
Enabling Works Contractor for NIWA Wellington Redevelopment – RFP
Ref 23719097
We are looking for a contractor with experience in delivering site civils, demolition, infrastructure works and laboratory or clinical-type facilities works to enable science staff to stay at Greta Point while other parts of the site are being redeveloped under a separate main contract. The contractor must be prepared to clearly outline and agree construction methodologies with the NIWA representatives as the site will be in continuing operation through the enabling works process.
Close Date: Wednesday, 20 January 2021 5:00PM
---
Nationwide Electrical Services
Ref 23687867
Oranga Tamariki requires a national registered electrician(s) to provide preventative and reactive electrical services in our offices (58), homes (106) and residences (10). We are seeking a supplier who has offices all round NZ and who is willing to work with us to develop a suitable proactive and reactive service to manage all our electrics.
Close Date: Friday, 29 January 2021 12:00PM
---
Gore Street Features (Lighting)
Ref 23739226
The Gore District Council (GDC) is looking for suitable suppliers to submit their solutions and proposals for street features, in particular for improvement in the lighting of an area known locally as the 'Triangle Reserve' as the primary scope. It is home to Gore's famous brown trout statue. The scope of work for the primary works is as follows:
All items to be supplied on a turn-key basis and according to the relevant New Zealand standards and the

Gore District Plan

All lighting items must be anti-vandalism up to a high extent
The primary works at "Triangle Reserve" are:
a) Illuminating the trout statue;
b) Illuminating the Gore sign;
c) Illuminating the trees (11 in number) with various colours;
d) Improving pedestrian lighting within the Triangle Reserve;
e) A provision for a power panel for social events.
Close Date: Wednesday, 10 February 2021 4:00PM
---
Advance Notice – Management of School Coal Builder Programme
Ref 23757601
The Ministry of Education is seeking a supplier to program and manage the boiler replacement process, and the project management, design, delivery and commissioning of each school solution.
Each school, that currently have a coal boiler or end of life boiler will have a tailored heating solution with the new fuels being either biomass or electricity. Solutions may include replacement with new boilers or other heating and/or cooling solutions. We seek suppliers that can demonstrate they have a robust, method, approach, systems and processes to effectively manage cost, time and quality risks of this programme.
Not within scope of this tender is the supply of the heating solution components, and heating solution reports and other engineering reports. The tender is due for release in February 2021.
Release Date: Q1 2021