Efficiency, Boilers and Beating Range Anxiety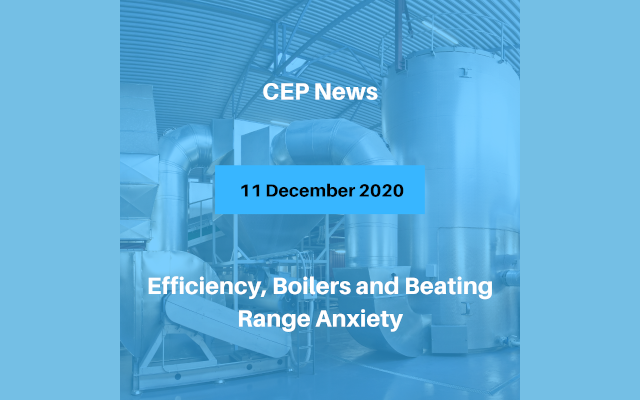 News from CEO – Mike Hopkins
This week, I attended a two-day conference on Decarbonising Process Heat where I'd been invited to Chair the event. As well as gaining some valuable exposure for CEP, the event brought together solution providers in electrification and biomass with their industrial customers. Interesting stuff and one or two ideas to develop for our conference in May. You may have seen Air New Zealand is offering cheap flights just now if you book sufficiently in advance. If you're happy just with carry-on, I found Auckland to Christchurch at $49 each way this morning, even cheaper for Wellington to Christchurch.
We all know efficiency is the first fuel. Disappointing, then, to hear that 2020 has seen the weakest advancement in energy efficiency in the last 10 years. In its latest report on efficiency, the IEA indicates improvements in energy intensity in 2020 are likely below 1%, the poorest year on year performance since 2010. The report goes on to predict investment in efficiency improvements is expected to be down 9% for the year. The IEA has consistently claimed efficiency improvements can achieve around half the energy-related emissions savings we need to meet Paris targets.
Standards NZ has now gone to public consultation on Biomass Boiler Systems for Small and Medium Heat Loads. A big thank you goes out to Lloyd McGinty for representing us on the working group for this one and if you'd like to see the documentation and submit, you'll find more information here. The closing date for submissions is 11 January.
Fancy an EV with a 1,600Km range that doesn't need to be plugged in? Orders are now open for the new Aptera. Prices range between US$26,000-46,000 (NZ$45,000-$80,000). At the top end you get the 1,000 mile claimed range and solar panels that keep the battery charged without plugging in. Their online calculator indicates customers in NZ averaging 50Kms per day would need to plug in 2 or 3 times a year to top up. When the highest capacity battery is selected, the vehicle weighs around 1 tonne, otherwise lower. I think I'd be a bit nervous of sidewinds in Wellington in a vehicle of that weight but a fascinating piece of engineering none the less. No indications if or when it will become available in NZ.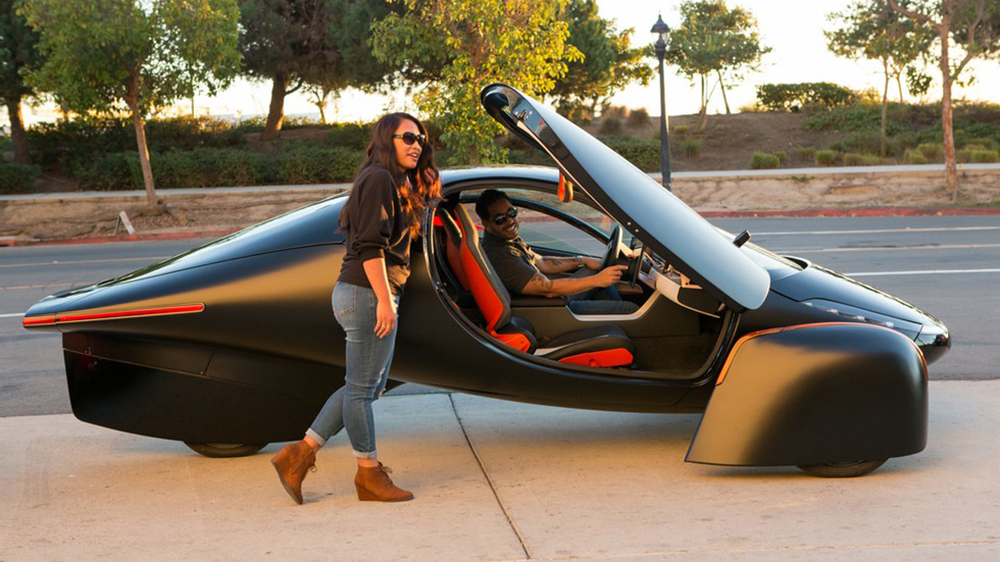 Thanks to all those that have filled in our 2020 member survey already and a friendly reminder to those that haven't that the survey is open and available here.
Finally, please join me in welcoming several new members this week, Jonathan Gardiner (Managing Director) and Quinton Fisher (Auckland Regional Sales Manager) of Total Utilities Management Group and Tim Howarth (Environmentally Sustainable Design Engineer) and Ben Neilson (Senior Mechanical Engineer) both with BECA.
Have a great and safe weekend.
Mike and the team
---
Upcoming Events
Check out CEP Training courses, CEP Webinars and other Industry related events – coming up.
---
Government Investment in Decarbonising Industry (Round 1)
Ref 23600012
The Government investment in Decarbonising Industry (GIDI) Fund is a partnership between Government and business to accelerate emission reductions from process heat used in industry by supporting energy efficiency, and fuel switching projects (e.g. from fossil fuels like coal to biomass or electricity). As part of the Government's COVID-19 response and recovery, investments in decarbonisation projects also aim to stimulate the domestic economy, and support employment.
Close Date: Monday, 14 December 2020 12:00PM
---
Lincoln University Electrical Supplier Panel
Ref 23680451
We need a Panel of qualified and competent suppliers to deliver the Electrical Infrastructure Upgrade Programme across the Lincoln University campus. The programme relates to the upgrade of privately owned electrical infrastructure that will support the replacement of the existing coal-fired steam boilers with low carbon heating solutions to meet the heating requirements of several buildings within the University Campus. The project realises Lincoln University's goal toward becoming net carbon zero by 2030.
Close Date: Tuesday, 15 December 2020 4:00PM
---
Waipawa School – Internal Upgrade of Four Classrooms
Ref 23679205
Renovate the interior of four classrooms in BLK B incl new ceiling,vertiface to walls, new carpet,new wet areas.doors to ext decks,new heat pumps and fire proofing to small two story annexe /office area.

Close Date: Wednesday, 16 December 2020 5:00PM
---
Administration Programme Services for NABERS New Zealand
Ref 23679161
EECA will be seeking proposals from the energy management industry and others to administer the NABERS rating system in New Zealand (NABERSNZ). A single successful Respondent will be offered a contract for services.
NABERS (based on the 'National Australian Built Environment Rating System') is an independent tool for rating the energy efficiency / performance of office buildings. It measures and compares the environmental energy and carbon performance of commercial buildings and tenancies, and has been expanded over the years to include tools for commercial office buildings to measure greenhouse gas emissions, energy, water, waste efficiency / performance and indoor environment. The programme helps ensure buildings are performing at a high standard.
Close Date: Friday, 18 December 2020 12:00PM
---
Improving Classrooms in Small or Remote Schools Programme. Product Supply: LEDs, RCDs, Thermal Insulation & Acoustic Panels
Ref 23442233
The Ministry have embarked on a Programme to improve the internal environments of 547 state schools and 79 state integrated schools that are small or remote. The Programme is expected to take up to three years to complete.
The Programme is part of a wider Government target that all schools have quality learning environments by 2030.The improvements will enhance aspects of the learning environment associated with fitness for purpose, operational efficiency and condition. The improvements are: LEDs, acoustic panels, thermal blankets and residual current devices (RCDs) for electrical safety.
Close Date: Monday, 21 December 2020 8:00AM
---
Advance Notice – Improving Classrooms in Small or Remote Schools Programme

Ref 22500892
This notice is to inform suppliers that the Ministry will be embarking on a programme to improve the internal environments of almost 600 state schools that are small or remote. The programme is expected to take up to four years to complete. Inclusion definitions are:
Schools that have four or less entitled* teaching spaces (about 100 students)

Schools that have an isolation index* of 2.0 or higher on the Ministry's Isolation Index
Close Date :Thursday, 31 December 2020 5:00 PM
---
Advance Notice – Replace light fittings in Mcindoe
Ref 22500892
Please note that this is a 'Future Procurement Opportunity' and its sole purpose is to inform the market about opportunities that may be coming up over the next 12 months. We would ask that suppliers refrain from contacting individuals within CMDHB for additional information on this project as it is likely to be published on GETS as an open process. As no detailed planning has yet been undertaken for this, we do not have any additional information. All dates are indicative and subject to change.
Close Date: Q4 2020 (tbc)
---
Wellington Tourism Sustainability Capability Tourism Project
Ref 23705951
W e are seeking a service provider to help Wellington tourism businesses on a journey to becoming carbon neutral. We are developing a Destination Management Plan for the region which will contain a sustainability vision for tourism in Wellington and need a sustainability provider to deliver a capability building element for local businesses.
Close Date: Friday, 15 January 2021 5:00PM
---
Biomass and Electric Heating Solutions for Coal Boiler Replacements
Ref 23679109
The Ministry of Education (MOE) (the Buyer) is seeking proposals for the supply and installation of low carbon alternatives for coal boilers in a number of schools. Low carbon alternatives in this instance include biomass boilers and electric heating solutions.
The primary purpose of this procurement is to engage suppliers who can supply and install biomass or electric heating solutions in schools across a range of geographical areas. The aim of the programme over the next four years is to replace up to 90 coal boilers. We require biomass and electric heating solutions, which provide heat in the range of 50kW to 1,000kW.
Close Date: Monday, 18 January 2021 12:00PM
---
Enabling Works Contractor for NIWA Wellington Redevelopment – RFP
Ref 23719097
We are looking for a contractor with experience in delivering site civils, demolition, infrastructure works and laboratory or clinical-type facilities works to enable science staff to stay at Greta Point while other parts of the site are being redeveloped under a separate main contract. The contractor must be prepared to clearly outline and agree construction methodologies with the NIWA representatives as the site will be in continuing operation through the enabling works process.
Close Date: Wednesday, 20 January 2021 5:00PM
---
Nationwide Electrical Services
Ref 23687867
Oranga Tamariki requires a national registered electrician(s) to provide preventative and reactive electrical services in our offices (58), homes (106) and residences (10). We are seeking a supplier who has offices all round NZ and who is willing to work with us to develop a suitable proactive and reactive service to manage all our electrics.
Close Date: Friday, 29 January 2021 12:00PM
---
Gore Street Features (Lighting)
Ref 23739226
The Gore District Council (GDC) is looking for suitable suppliers to submit their solutions and proposals for street features, in particular for improvement in the lighting of an area known locally as the 'Triangle Reserve' as the primary scope. It is home to Gore's famous brown trout statue. The scope of work for the primary works is as follows:
All items to be supplied on a turn-key basis and according to the relevant New Zealand standards and the

Gore District Plan

All lighting items must be anti-vandalism up to a high extent
The primary works at "Triangle Reserve" are:
a) Illuminating the trout statue;
b) Illuminating the Gore sign;
c) Illuminating the trees (11 in number) with various colours;
d) Improving pedestrian lighting within the Triangle Reserve;
e) A provision for a power panel for social events.
Close Date: Wednesday, 10 February 2021 4:00PM