Consultations, Conference and Cameras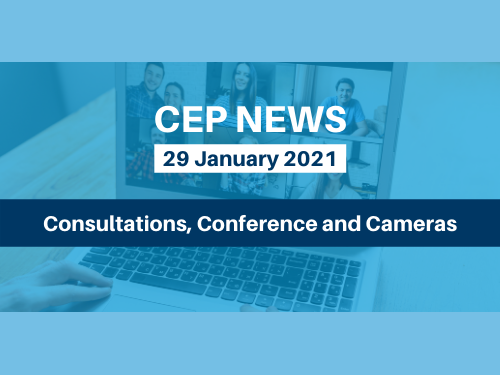 News from CEO – Mike Hopkins
First things first, we wish you all a happy new year and hope 2021 is good to you in your business and family lives.
While many of us have enjoyed a little downtime over the last few weeks, things have moved on around NZ and the globe, not least a new President in the US bringing improved prospects for addressing climate change. In our updates, we'll continue to focus on items closer to home or that may not have hit national or international headlines.
Just before Christmas, MBIE called for applications to join its Battery Storage Technical Reference Group. Several CEP members put forward applications and this week I submitted a letter of support for those applications to MBIE. It would be good to see the expertise sitting in CEP recognised and, with a fair wind, at least one of those applications will be successful.
Next Monday (1 Feb), the first package of advice from the Climate Change Commission is due to be published. The consultation closes on 14 March. More here.
We've been busy over the break as well and have been building the programme for our May conference in Christchurch. Registrations are now open and Air New Zealand is currently running a sale. $59 each way seats, Auckland – Christchurch, were showing when I looked this morning and accommodation costs are pretty keen too, so book up and register. We're gathering another stellar line-up and will be announcing a couple of superb Keynotes soon, so keep an eye out and lock in those cheap rates now.
We also have several confirmed dates for 2021 training. Commercial Building Energy Specialist, Carbon & Energy Professional and Energy Management for Facilities Managers are locked. The full list for 2021 can be found here. Please register your interest so that we can make sure you don't miss out. Don't forget, if you or one of your clients is interested in a bespoke delivery of any of our training programmes, please get in touch.
There has been lots of activity as well around standards and performance. The High Temperature Heat Pump Standard (Jack Young of Energy NZ was our representative for this) has now advanced to completion and publication. The Standard is due for publication late Feb or early March. Meanwhile, consultation is now open on performance evaluation of hot water systems. This is part of the E3 Hot Water Project and is coordinated in NZ by EECA. You can find more information here. The deadline for submissions is 1st March.
Other, non-headline news you may have missed:
Circular Economy
The Circularity Gap report from Circle Economy suggests 39% of global emissions could be mitigated by changing our use of raw materials. It states the production of new products accounts for 22.8bn tonnes of greenhouse gases each year, mostly from extraction and manufacturing.
Melting Ice
Between 1994 and 2017, the world lost 28 trillion tonnes of ice. The Arctic lost 7.6 trillion tonnes and the Antarctic 6.5 trillion. Over the period the rate of ice loss has increased by 65% and the 2017 loss was 1.3 trillion tonnes.
Fund Managers Falling Short
An analysis of the world's 30 largest fund managers (by InfluenceMap) has found these leading players, in general, are not living up to their high-level climate commitments. While several European firms are meeting their commitments, it seems US and Asian fund managers are not so assiduous. Three organisations received an A+ grade for their efforts (BNP Paribas, UBS and Legal & General), all European.
Online Platforms
Zoom, GoTo, Teams or your own choice of videoconferencing platform has come to all our rescues over the last 12 months but did you know that using the camera emits 25 times more CO2 than using audio only? It seems a 1 hour video conference with cameras emits 157.3 grammes of carbon dioxide (usual caveats about server locations and renewables proportions apply, the research emanates from Purdue University, US). The same conference with audio emits only 6.2 grammes.
A warm welcome is extended to our new members for the start of 2021, Haris Murtaza (Student, Engineering Management – University of Auckland), Harishankar Thekkepat (Student, Engineering – Massey University) and Cowan Finch, Simon Revelly, and returnees Jess Low and Rahul Jindal (all Genesis).
Finally, have a great and safe – and for some long – weekend.
Mike and the team
---
Check out CEP Training courses, CEP Webinars and other Industry related events – coming up.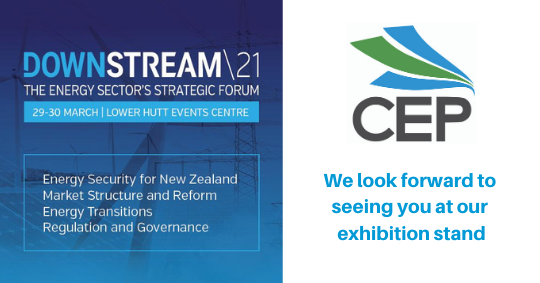 ---
ADVANCE NOTICE – Management of School Coal Builder Programme
Ref 23757601
The Ministry of Education is seeking a supplier to program and manage the boiler replacement process, and the project management, design, delivery and commissioning of each school solution.
Each school, that currently have a coal boiler or end of life boiler will have a tailored heating solution with the new fuels being either biomass or electricity. Solutions may include replacement with new boilers or other heating and/or cooling solutions. We seek suppliers that can demonstrate they have a robust, method, approach, systems and processes to effectively manage cost, time and quality risks of this programme.
Not within scope of this tender is the supply of the heating solution components, and heating solution reports and other engineering reports.
The tender is due for release in February 2021.

---
South Canterbury DHB Electrification of Thermal Energy
Ref 23792761
This RFP is to select a Contractor that will subsequently provide the detailed design, supply, delivery, assembly, installation, and commissioning of complete working systems that will replace the Existing Coal-fired Steam Boiler at their Timaru Hospital site.
The final project deliverables shall be:
New decentralised central heating and domestic hot water systems (design and build) for the following buildings:

Clinical Services Building
Gardens Block
Kensington Block

New Air handling equipment and HVAC systems to serve the four operating theatres (located within the Clinical Services Building)
All required BMS systems upgrades and interfaces
A site transformer and electrical infrastructure upgrade
Development of a comprehensive Works Programme, that is compatible with the SCDHB requirements for planned maintenance and upcoming projects, is a key requirement
Close Date: Tuesday, 2 February 2021 4:00PM
---
Ministry of Education – RFI Property Project Management System
Ref 23803351
EIS is currently implementing their School Property Strategy, which includes Project Property Management Practice and Property Portfolio Management Office initiatives. A Property Project Management System (PPMS) will be required to support the processes, and practices established during those initiatives.
Currently, the Ministry utilises various systems and processes to manage all Ministry-led and school-led property projects, including manual ad-hoc spreadsheets. The Ministry would like to achieve greater visibility and support for the construction project management performance in delivering the Ministry's strategic objectives, which are; quality learning environments, a sustainable portfolio, and well-managed property and construction projects with equitable outcomes.
The Ministry's vision is now managing the delivery of school-led property portfolios, programmes and projects and Ministry-led construction projects into a single Business Unit, the- Project Delivery Group. We are seeking to achieve greater visibility, consistency, accountability, and knowledge sharing across these projects and programmes.
The Ministry is managing 8,000+ school-led property projects and 1000+ Ministry-led projects at any one time.
The Ministry has estimated that we will have hundreds of active users of a system with the potential for this to reach into the thousands.
The Ministry is seeking information to better understand the options and capability of a PPMS solution that includes information regarding:
how your solution could meet the objectives,
how your solution could meet the functional and technical requirements,
to inform a future business planning (business case) on benefits, estimated costs, and timelines and implementation schedule.
demonstrates the functionality of a PPMS solution and expertise implementing and supporting it,
the level of customer service and technical support provided, both pre-installation and post-installation
new developments in this area that we could consider
Close Date: Friday, 5 February 2021 5:00PM
---
CDHB Selwyn Health Hub Generator
Ref 23800318
The Canterbury District Health Board (CDHB) is seeking a standalone 150kVA diesel generator set as outlined in the attached specification document.
The generator will be required to be delivered on or before the 1st of July 2021 (or other time as negotiated) to the Selwyn Health Hub project, Norman Kirk Drive, Rolleston, ensuring enough time for the generator system to be installed and commissioned before the facility is occupied by the CDHB. Occupation is currently set down for mid-August 2021.
Please note that due to the Christmas period there is split timing for questions.
Close Date: Tuesday, 9 February 2021 2:00PM
---
Gore Street Features (Lighting)
Ref 23739226
The Gore District Council (GDC) is looking for suitable suppliers to submit their solutions and proposals for street features, in particular for improvement in the lighting of an area known locally as the 'Triangle Reserve' as the primary scope. It is home to Gore's famous brown trout statue. The scope of work for the primary works is as follows:
All items to be supplied on a turn-key basis and according to the relevant New Zealand standards and the Gore District Plan
All lighting items must be anti-vandalism up to a high extent
The primary works at "Triangle Reserve" are:
a) Illuminating the trout statue;
b) Illuminating the Gore sign;
c) Illuminating the trees (11 in number) with various colours;
d) Improving pedestrian lighting within the Triangle Reserve;
e) A provision for a power panel for social events.
Close Date: Wednesday, 10 February 2021 4:00PM
---
Notice of Intent for design and build of Christchurch Organic Plant Upgrade
Ref 23903990
The purpose of this Notice of Intent is to communicate to the market the Council's needs to deliver the Organics Plant Upgrade project, determine the market appetite to participate in a tender process given the contract works, timeframes and procurement delivery model, understand potential risks associated to the delivery of contract works and identify Prospective Suppliers with expertise, capability and capacity in delivery of similar projects.
The following are the anticipated objectives that will allow the Council to meet the NOI purposes:
Market engagement to allow for Prospective Supplier's advanced planning and Council's preparation of the tender documents (technical, commercial and legal);
Open a communication channel between the Council and Prospective Suppliers for discussion of efficient ways to deliver the project whilst business requirements are being developed;
Receive confirmation of interest from Prospective Suppliers interested in participating on the tender process by returning the Proposal Acknowledgment Form attached;
Understand from Prospective Suppliers any issues around contractual allocation of risks (i.e. Bond, Retention, LDs, advance payments, etc) and the procurement delivery model.
Close Date: Wednesday, 17 February 2021 12:00PM
---
(1912) Te Puru School Main Contractor B,C,D,G: Upgrade + Breakout; B,D: Exterior Learning; Lighting & Heating upgrade
Ref 23772969
Subscribe to this notice for full access.
Close Date: Friday, 19 February 2021 5:00 PM
---
ADVANCE NOTICE – Maintenance and Renewal of Streetlighting 2021-2024
Ref 23908331
This contract advance notice is for routine and emergency maintenance and renewal of streetlighting on the Matamata-Piako District Council's roading network and urban sections of State Highways located within the 50 to 70 km/hr speed zones.
We intend to go to market in April 2021. The opportunity will be advertised on the Government Electronic Tender System.
Close Date: Friday, 12 March 2021 4:00 PM