CNGP Update and Really Thinking Big on Hydrogen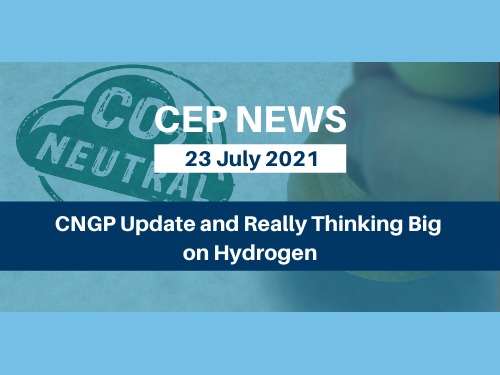 News from CEO – Mike Hopkins
We saw some movement on the pending Carbon Neutral Government Programme (CNGP) supplier list this week with information issued via GETS requesting submissions for providing carbon measurement and verification related services to the public sector. The information is quite vague at this point but we'd recommend everyone takes a look as there will be huge opportunities emerging from the CNGP. Here's the link.
On Thursday, I attended the Victoria University careers expo. It was terrific to meet up with future members. While most students were simply job hunting, there were quite a few that were looking to move into careers in carbon reduction and sustainability. We look forward to working with them in the years to come.
The Australians put a new dimension on the term "think big" this week with the announcement of a 50GW wind, solar, hydrogen power plant in Western Australia. The Western Green Energy Hub will cover 15,000 square kilometres. For context, the Bay of Plenty region covers just over 12,000. When completed, the project will deliver 3.5 million tonnes of green hydrogen per annum or 20 million tonnes of green ammonia. The scale of the project somewhat eclipses Meridian and Contact's announcement this week of the pursuit of partners for a 600MW green hydrogen facility in Southland. Suggestions that the Southland project would be the largest in the world may be a little off the mark.
The latest data from the IEA's Sustainable Recovery Tracker indicates global emissions will hit a new high in 2023 and continue to rise after that. It claims the US$380bn (NZ$545bn) provided to clean energy between March 2020 and June 2021 is 2% of the total COVID response support. This level of support equates to 35% of the amount needed to adhere to the IEA's recent roadmap to net zero by 2050.
Conflicting information emerged this week on trends in fossil fuel use for power generation. Carbon Tracker has published a study indicating fossil fuel demand for generation has peaked as more and more developing economies are satisfying increasing demand with renewables. Meanwhile, the IEA claims growing demand will outstrip new renewables supply meaning fossil fuel generation will continue to grow. It predicts coal fired generation will increase 5% this year and another 3% next. Gas-based generation is also predicted to increase, by 1% and 2% respectively. Electricity demand is predicted to increase 5% and 4% respectively. The net effect would be a 3.5% increase in carbon emissions in 2021 and 2.5% in 2022.
Don't forget we have a webinar coming up on 2 August, which is a deep-dive into the carbon reduction potential of renewable gas. This is a sister webinar to the Bioenergy Association session earlier this week. If you missed that one, you can find a link to the recording below. You can register for ours here.
Wishing you a safe and great weekend.
Mike and the team

---
Upcoming Events
Check out CEP Training courses, CEP Webinars and other Industry related events – coming up.
---
Tender Opportunities
GIQ Site Wide Infrastructure at Callaghan

Ref 24518876
Callaghan Innovation is undertaking a significant redevelopment programme at it's Lower Hutt, Gracefield Innovation Quarter (GIQ). The programme received Crown funding to stabilising GIQ, address duty of care requirements and build critical foundations to support a future work programme. This tranche is for the upgrade of the existing site-wide infrastructure at the Gracefield Innovation Quarter (GIQ).
Works include review of site 3-waters, electrical, gas, and telecommunications networks.
Further information on this project is contained within the ROI document.

Close Date : Tuesday, 27 July 2021 12:00 PM
---
Main Contractor for electrical upgrade at Howick College

Ref 24489715
The Howick College School Board is seeking a Main Contractor for the lifecycle replacement of 19 x Distribution Boards and installation of RCD protection.
Close Date : Tuesday, 27 July 2021 5:00 PM
---
Solar Energy System for Parliament House

Ref 24484735
Following feasibility studies carried out by Parliamentary Service (PS), the implementation of a Solar energy system was considered a viable solution for the supplementation of our future energy consumption needs. This RFP relates to the purchase of a detailed design and installation of a solar energy system to capture the energy and to reduce our carbon footprint.
The key objective of this procurement is to find a turnkey solution for the solar panel design and installation services. This project will be a flagship development, with high visibility to both Parliamentary Service and the successful tenderer.
Close Date : Wednesday, 28 July 2021 4:30 PM
---
Heating Contractor for Heat Pump Replacement at Trident High School

Ref 24391110
Trident High School has some 80 heat pump spread across their campus. All heat pumps are controlled by a Daikin central system located within the existing admin. Over the past 4 years there has been a staged replacement programme and to date some 50% have been replaced. This procurement is for the replacement of a further 46 heat pumps. For continuity of equipment, plant, maintenance etc all replacement heat pumps shall be manufactured by Daikin and installed by authorised Daikin installers.

Close Date : Friday, 30 July 2021 5:00 PM
---
LPC Maintenance Services Panel

Ref 24469982
Lyttleton Port Company (LPC) is seeking proposals from suitably qualified and experienced maintenance engineering services providers to join a Services Panel. The panel will be established to support the ongoing planning and delivery of the LPC Long Term Plan (2018-2028).
This prequalification panel will be established for a period of 3 years with 1 + 1 renewal options and will ensure value for money and improved initiation of contracts. We intend to:
Establish a panel of specialist engineering services suppliers who can provide reactive and planned engineering services.

Streamline the procurement process to appoint suppliers allowing greater throughput of work and to ensure delivery of the required outcomes.

Develop an environment where LPC benefits from engineering service innovation and excellence that delivers the best whole of life solution.

Ensure the application of good assurance and management practices to the works delivered under this panel arrangement.
Close Date : Wednesday, 4 August 2021 4:00 PM
---
Supplier list for Carbon Neutral Government Programme (CNGP) Participants

Ref 24584741
This oportunity relates to the delivery of the Carbon Neutral Government Programme (CNGP). The CNGP is a long-term programme designed to accelerate the emissions reduction journeys of 120+ agencies across Government and demonstrate climate leadership. Participating CNGP agencies are required to measure, verify and report emissions annually; set gross emissions reduction targets and longer-term reduction plans; and offset remaining emissions from 2025 onwards after gross emissions reductions are made.
We are seeking to publish a list of suppliers that can evidence the relevant experience and capability to assist agencies with the first steps of their CNGP obligations to:
• Measure, verify and report emissions annually
• Develop longer-term reduction plans to meet gross emissions reduction targets
This list would provide CNGP agencies (and other interested parties where applicable) with an initial understanding of the current suppliers in this developing market. This list is for information purposes only. It is at the agencies discretion how/if they choose procure support, and any such activity will be subject their own procurement policy thresholds and processes.
Close Date : Thursday, 5 August 2021 12:00 PM
---
Auckland DHB Substation C,D,H and R 11kV Secondary Switchgear

Ref 24532696
The Auckland DHB is looking for a credible supplier who has the capability, experience and capacity to deliver the HV 11kV Secondary switchgear. The supplier needs to have proven track record in the supply and implementation of HV assets in a private HV network which services critical infrastructure. There are 6 x files attached to the tender.
Close Date : Friday, 6 August 2021 2:00 PM
---
Auckland DHB Substations C,D,H and R – HV Transformers

Ref 24532721
Auckland DHB are in the process of upgrading infrastructure at the ACH Grafton Campus including embedded standby generation. Four new 11kV substations will be constructed to replace existing aging infrastructure. This procurement relates to the supply and delivery of the 11kV to 400V step down dry type transformers for Substation C, D, H and R (Separable portions 2,3,4 and 5) to be located within buildings A01 (support services), building A02 (Starship) and building A35 (Mental health unit) at Auckland City Hospital Grafton Campus. There are six (6) files attached.

Close Date : Friday, 6 August 2021 2:00 PM
---
Lincoln University LED lighting upgrade
Ref 24508513
This RFP relates to the delivery of Lincoln University campus LED lighting upgrade. The university has completed lighting audit around the campus and identified a number of lights requiring upgrade to LEDs for decarbonisation.
Lincoln University is seeking competent contractors to remove and dispose of the existing non-LED lights and the supply and installation of new LED lights.
Successful contractor(s) in this opportunity shall run the upgrade program so that the university comes one step further to decarbonisation of its business.

Close Date : Friday, 6 August 2021 5:00 PM
---
Hamilton Girls High School Site Wide Electrical Upgrades

Ref 24559161
Electrical Upgrades at Hamilton Girls High School including but not limited to lighting replacement, Distribution boards and power outlets.
Close Date : Friday, 6 August 2021 5:00 PM
---
MidCentral District Health Board: Horowhenua Main Switchboard

Ref 24584725
MidCentral District Health Board (MDHB) needs to upgrade the Horowhenua Health Centre (HHC) Main Switchboard, as defined in the Specification and Design Drawings attached. The project comprises supply, installation and commissioning of a new Main Switchboard at HHC, including all associated measures to allow for the installation and minimise outages. MDHB is seeking suitably qualified providers that have capability and capacity to upgrade the Main Switchboard. MDHB anticipates the new Horowhenua Main Switchboard will be in use for at least 12 years.
Please see addenda for specifications and drawings.
Close Date : Wednesday, 11 August 2021 12:00 PM
---
NZ Emission Trading Scheme FMA Plots & Processing

Ref 24586939
Environment Canterbury currently owns and manages 604.6 hectares of post-89 New Zealand Emissions Trading Scheme (ETS) plantation forest around the region which requires monitoring to ETS Field Measurement Approach (FMA) standards for the next Mandatory Emissions Return Period (MERP).
We require a suitably qualified contractor to be responsible for collecting, processing and reporting data using the FMA standards to MPI in the required format before the end of the commitment period (31st December 2022). Last MERP we had 54 plots allocated, this RFP requires a price for the same number, however, requires a contractor who is flexible to changes in plot locations or number if required by MPI during this period as our forest estate will see some afforestation over this period.
Close Date: Monday, 16 August 2021 5:00 PM