Climate actions set to mitigate recession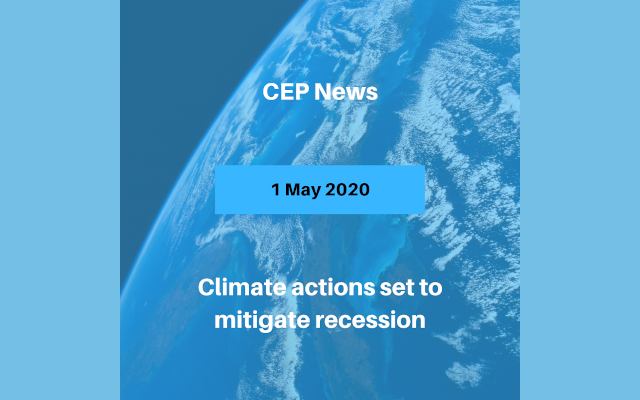 News from CEO – Mike Hopkins
Another great webinar this week in the Gen Less series from Shaun Hayward of Smart Power. You can catch the webinar on our Gen Less webinar channel and there are two more great webinars coming up next week. Jeremy Allen of ESP is looking at bringing commercial buildings out of lockdown on Monday and Jack Young is revealing the ins and outs of industrial heat pumps on Tuesday.
Click here for full list – Upcoming Webinars.
This week also saw the formal announcement of our conference dates. Again partnering with The Sustainability Society and, this year, also with EECA's Gen Less programme, our digital conference will be held on the mornings of 9, 10 and 11 June. Registrations will be open soon, more details next week.
The latest information on the climate impact of COVID-19 (from the IEA) indicates global electricity demand will fall 5% in 2020 and energy emissions will fall by 8%, six times larger than the largest decrease so far on record. The coal sector will be hit the hardest with an expected fall in demand of 8%. The immediate post COVID generation mix is expected to be 40% low carbon (wind, solar, hydro and nuclear) and 34% coal.
The Petersburg Climate Dialogue went ahead this week, virtually of course. Political leaders representing the UK, Germany, the EU and the UN united to call for climate change mitigation projects to lead economic stimulus initiatives to move economies out of potential recession. Let's hope the money follows the rhetoric.
We saw an interesting story emerge yesterday that the Australian grid operator, AEMO, is to request the power to switch off or constrain new rooftop solar installations remotely. Predictions are that rooftop solar could provide – at times – 85% of South Australia's demand and 66%, 57% and 48% of demand in Victoria, Queensland and NSW respectively by 2025. The key point, of course, is at times and AEMO cites a material threat to grid security with such a high proportion of generation behind the meter. An interesting conundrum for the market regulator.
Finally this week, we heard of an interesting innovation that may bring wind power to a roof near you. While the economics of commercial scale wind power have been competitive for some time (BNEF this week saying that onshore wind and solar are the cheapest form of new build for two thirds of the world's population), the size, noise and visual intrusion of turbines has restricted wide scale adoption of small scale generation. This could be about to change with Sandia National Laboratories's development of an aerofoil based generator. The device works like an aircraft wing and creates a pressure differential either side of the wing. The pressure differential draws air through a turbine in the aerofoil to generate electricity. Neat and quiet.
---
Tender Opportunities
Waitemata DHB – Programme Planner and BIM Consultant
Ref 22516689
This Request for Proposal (RFP) is an invitation to suitably qualified suppliers to submit a Proposal for the Non-Design Consultant Services – Programme Planner and BIM Consultant for the E Tu Wairua Hinengaro (Quality of Mind) Building – Concept Design to Project Completion contract opportunity.
IMPORTANT NOTE. This procurement has been rolled up into one combined RFP for two services (Programme Planner and BIM Consultant) and suppliers are able to respond to either one or both services.
Close Time & Date: 12:00pm
Thursday, 7 May 2020
---
Auckland DHB Mechanical Services (including HVAC)

Ref 22559480
Auckland District Health Board (ADHB) is seeking to appoint a Panel of suitably qualified and experienced Suppliers of Mechanical Services (including HVAC) for its capital works developments and business as usual (BAU) requirements.
Close Time & Date : 12:00 PM
Monday, 18 May 2020
---
Facility Management Solution
Ref 22578644
Government House is looking to source a "off the shelf" cloud based Facility Management solution that replaces it current system and processes. We are looking for a tool that will better manage assets and contractors that will help Government House to deliver its annual capital expenditure and maintenance expenditure programmes. This system should integrate with existing systems and processes to free up time in the Operations team and reduce errors, rework and achieve more effective facility management horizon.
Close Date : Tuesday, 19 May 2020 4:00 PM