Carbon Planning and Pacific Opportunities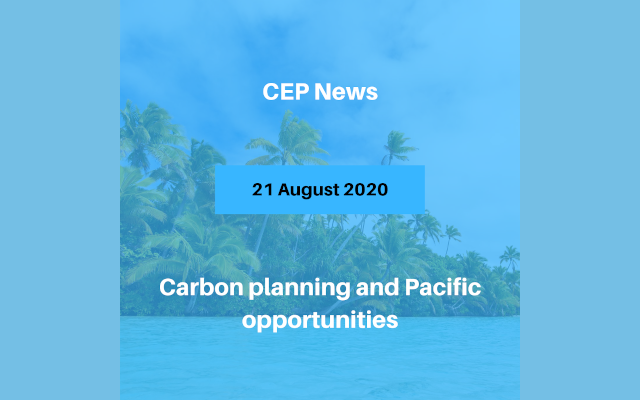 News from CEO – Mike Hopkins
Breaking News this week is that we're offering a massive discount on the next delivery of Carbon and Energy Professional. We've taken the difficult decision to take the next delivery of the intensive element on-line because of uncertainty over travel. We acknowledge some participants might perceive a modest reduction in value because of this so have taken a whopping $1,000 off the originally published costs. You will now be able to access the course from your office or home at a price that we will not be able to repeat when we have to hire venues and provide catering. The taught element is running on 1-4 September. There is a bit of pre-reading and self assessment, so get your registration in now, here.
We're also pleased to announce some exciting new webinars coming up. On 7 September, we'll be hearing about Energy Certificates from NZECS CEO Tim Middlehurst. Energy Certificates are enjoying huge uptake overseas and Tim will be talking about why, how the NZ scheme works and how certificates can help reduce reported emissions.
You should also block out 15, 22 and 29 September for some exciting evening webinars. Why evenings? Well, the logistics of bringing together speakers from Europe and the Pacific Islands meant we had to compromise a little on timing. They will all start at 5pm NZ time. The webinars will bring together opportunities in the Islands, service providers from NZ and Australia and access to finance solutions from overseas. More details next week.
If, like me, you've been seeing a few surveys on congestion charging in your inbox recently, you may be interested in the latest findings on the outcomes of emissions charging, e.g. the impact of London's Low Emissions zoning. They are clearly having an effect. It seems levels of nitrogen oxide are 23% higher in London boroughs outside the ULEZ. Almost inevitably, the zone will be extended next year to cover a wider area. My response to these congestion charging surveys is that emissions control zones are more effective at addressing pollutants and emissions – and also reduce congestion.
Speaking of cleaner transport, the latest estimates indicate annual EV sales will have reached 45 million units and the total fleet reached 323 million by 2040. For context, around 90 million units are built per annum at the moment and the fleet is around 1.4 (US) billion. Sales of commercial EVs are expected to reach 5.5 million units and the commercial EV fleet to be 40 million by the same date. Buses are expected to lead the charge in the commercial sector.
It seems the grid-connected battery storage market has bounced back from a poor 2019 and has, so far, fought off the worst effects of the pandemic recession. Predictions are we'll see 5GW of installations in 2020 and that by 2025, installed capacity will be over 15GW. Perhaps not much in the greater scheme of things but at least now moving in the right direction.
In an interesting follow-on from last week's story on BP showing signs of action on sustainability, this week we see that the world's largest mining group, BHP, announce it will be selling off all its thermal coal mining sites within two years (it is keeping coking coal sites for steelmakers for now). It went on to warn all trade associations it is a member of that they need to advocate for Paris-aligned long-term climate targets, stop supporting energy policies that favour fossil fuels over renewables and support higher carbon pricing or lose BHP as a member.
Whether BHP's sell-off is driven by good intent or a collapsing market is truly unknown but there can be no question the writing is on the wall for coal fired power generation. The falling price of renewables has seen solar output in Europe hit a new record recently. The second quarter of 2020 saw output reach 47.6TWh. Seasonality remains an issue, though, with the first quarter seeing less than half the generation of the second. Maybe that estimate of growth in the storage market is conservative.
Have a great and safe weekend.
Mike and the team
---
Upcoming Events
Check out CEP Training courses, CEP Webinars and other Industry related events – coming up.
---
Tender Opportunities
Timaru South School Heat Pump Installation – Contractor ROI
Ref 23068421
This RFI is to select contractors for subsequent tender.The work involves installation of approximately 30 heat pumps at the school, electrical mains & switchboard upgrades and various electrical connections.
Close Date: Wednesday, 26 August 2020 5:00 PM
---
Heating and Cooling contractor for the installation of a heating and cooling system at Whakatane High School

Ref 23063243
To provide heating and cooling across the school with the installation of 57 Heat Pump systems across classrooms and work spaces where none have been installed.
Close Date: Friday, 28 August 2020 5:00 PM
---
Papua New Guinea Electrification Partnership – Project Management Services

Ref 23029127
The Ministry of Foreign Affairs and Trade (MFAT) is seeking Registrations of Interest (ROI) from suitably qualified and experienced organisations or consultants (including consortia) to manage and provide technical support to the Papua New Guinea Programme team to deliver existing electrification activities (Enga and ROGEP) and New Zealand's pipeline of Papua New Guinea Electrification Programme (PEP) related activities. These activities fall under the PEP that will help support PNG's electrification ambition of achieving 70% electrification by 2030.
Close Date: Wednesday, 2 September 2020 1:00 PM
---
Porirua City Council Electricity Supply

Ref 23122305
Porirua City Council (PCC), wish to renew the supply of electricity to their campuses and operations from 1st February 2021. PCC uses a combination of NHH and TOU supplies at approximately 8.6 GWh per annum. Offers from qualified retailers are welcomed to submit proposals. The RFP tender and associated annual consumption data is attached as part of this notice. Offers should be emailed to George Gray at [email protected] on or before the closing date of 4th September 2020.
Close Date: Friday, 4 September 2020 5:00 PM

---
Advance Notice – Auckland DHB Starship Children's Hospital PICU and Atrium

Ref 22940101
Advance Notice of a Contract Opportunity – Auckland DHB Starship Children's Hospital Paediatric Intensive Care Unit (PICU) and Atrium – subscribe to notice for more information.
The preliminary design project has been completed and Auckland DHB is looking to approach the market for consultants to undertake the completion of the design, including;- Project Management- Architecture- Building Services (Mech / Elec / Hyd / Med Gas / Fire Protection / ICT / Security / Nurse Call).
Close Date: Friday, 9 October 2020 5:00 PM
---
Supply of Electricity

Ref 23118397
This Request for Proposal (RFP) is issued as a joint approach to market on behalf of University of Otago (OU) and Otago Polytechnic (OP). The University is taking the lead in this procurement and invites parties to submit proposals for the supply of electricity.Please refer to the tender documents for further information.
Close Date: Thursday, 10 September 2020 3:00 PM

---
Advance Notice – Improving Classrooms in Small or Remote Schools Programme
Ref 22500892
This notice is to inform suppliers that the Ministry will be embarking on a programme to improve the internal environments of almost 600 state schools that are small or remote. The programme is expected to take up to four years to complete. Inclusion definitions are:
• Schools that have four or less entitled* teaching spaces (about 100 students)
• Schools that have an isolation index* of 2.0 or higher on the Ministry's Isolation Index
The improvements will enhance aspects of the learning environment associated with fitness for purpose, operational efficiency and condition. The improvements are: LEDs, acoustic panels, thermal blankets and residual current devices (RCDs) for electrical safety.
Close Date :Thursday, 31 December 2020 5:00 PM