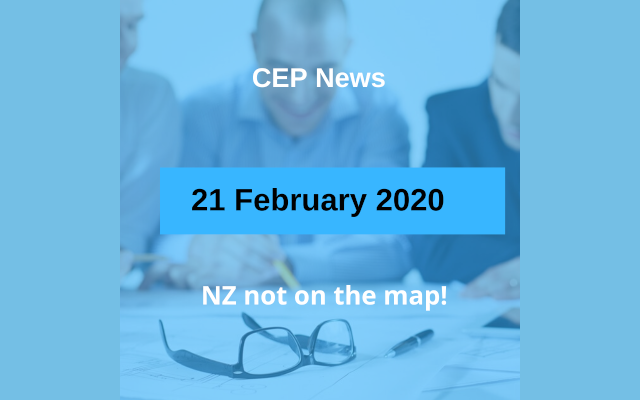 News from CEO – Mike Hopkins
It was good to see some results of the behind the scenes work we do coming to the fore this week. The media was showing interest in our views again with a few comments and quotes appearing in Energy News and, perhaps more importantly, it was good to see that we're being heard in the corridors of power.
I've been working through the MBIE consultation on Accelerating Renewables and Energy Efficiency in preparing our submission and noted discussion items about mandating energy management systems, such as ISO50001, for larger organisations – something that we raised to the Productivity Commission in its work – and direct mention of the capability building we're already pursuing to reduce skills barriers. There's a huge amount of work to do on that, of course, and many (mostly resource) obstacles to overcome but we'll be waving the flag for efficiency whenever we get the chance.
Good news this week from the Energy and Climate Intelligence Unit with it publishing a report indicating 49% of the world's GDP (by nation, region or city) is now covered by actual or intended net zero targets. The really positive news to this is that only nine months ago, the figure was only 16%, telling us that policymakers are finally starting to take action on emissions on a global scale.
We're also interested in Amazon's announcement this week of a US$10bn fund to explore new ways and amplify known ways to address climate change. The precise criteria for support aren't published yet but we'll be keeping a close eye on developments.
Finally, this week good news and bad news. The good news is that two NZ cities made the just published CDP "A" List of for climate change action. Congratulations to Auckland and Wellington. The bad news is that it comes alongside another example of NZ disappearing off the world map. So, an A to Auckland and Wellington councils and a "must try harder" to CDP.
---
Tender Opportunities
ROI Project Rima – Sustainable and efficient project delivery for 5 years and beyond (Ref 21884366)
The purpose of Project Rima is to strengthen our teams and partnerships (both internally and externally) and boost the engagement with our service provider community. Genesis Energy want to create committed, but flexible, service provider engagements and relationships that include appropriate risk sharing and deliver our CAPEX optimisation over the 5-year period and beyond.
Close Time & Date: 5.00 pm | Friday, 21 Feb 2020

BIM Management Services – Taranaki Base Hospital Redevelopment (Ref 22219571)
TDHB is seeking proposals from organisations with expertise and experience in Building Information Modelling (BIM) Management Services to provide consulting and design services for the Implementation Business Case (ImpBC) for Project Maunga Stage 2.
Close Time & Date: 4.00 pm | Friday, 28 Feb 2020

Glasshouses Heating Upgrade (Ref 22242176)
The University of Waikato wishes to procure upgraded heating for the Glasshouses BL 2 – 4 at the Hillcrest, Hamilton campus. External companies are invited to submit tenders to the University of Waikato with information on their skills, services and experience in providing glasshouse heating services/ products.
Close Time & Date: 5.00 pm | Thursday, 27 Feb 2020

Elder Village Electrical Upgrade (Ref 22275284)
Tauranga City Council is currently putting together tender documentation for upgrades to the 9 Elder Villages owned and operated by council. There are 246 units across the 9 Elder Villages with 59 external metering panels that require a varying amount of work to be carried out as required for each village.
Close Time & Date: 5.00 pm | Friday, 28 Feb 2020

Energy Transition Accelerator Programme (Ref 22164987)
The Energy Transition Accelerator (ETA) Programme is an EECA direct client engagement which assists large energy users in the business sector to develop a stationary energy-related carbon abatement opportunity assessment as a first step in developing a strategic low-carbon pathway. The ETA helps the largest stationary energy-related greenhouse gas emitters to make technically and economically viable decisions and investments that support their energy transition pathway to a low carbon future.This RFP seeks proposals from suitably qualified suppliers to form a panel of Programme Partners for the ETA Programme.
Close Time & Date: 12.00 noon | Thursday, 5 Mar 2020

Main Contractor for Mechanical and Electrical Upgrades for Laundry Equipment and Ancillary Heating at Halswell Residential College (Ref 22286742)
Halswell Residential College have indicated that their school laundry and ancillary heating (diesel fuelled) boilers have reached their expiry (boilers are 50 and 45 years old respectively). The last Aquaheat audit of the boilers on 11th June 2018 revealed that modifications are required for health and safety reasons. Furthermore, the school have been paying for higher maintenance costs each year to keep the boilers operational.
Close Time & Date: 4:00 pm | Monday, 9 Mar 2020


Grant's Braes School – Heating Upgrades (Heat Pumps) (Ref 22297758)
The Grant's Braes School Board of Trustees are seeking the services of a suitably qualified main contractor for the supply and installation of the heating system replacement within the site. This is a design and build heat pump based system and also includes the decommissioning and removal of the existing coal boiler.
Close Time & Date: 5:00 pm | Wednesday, 11 Mar 2020

3 Waters – Switchboard Upgrades – Replacement (Ref 22283579)
The Dunedin City Council (DCC) are seeking an experienced electrical contractor to carry out replacement or upgrade of pump stations and switchboards at around 16 distinct sites in the DCC 3 Waters reticulation network.
Close Time & Date: 4:00 pm | Friday, 13 Mar 2020


Bundle 2 – MoE LED Lighting Replacement Whakatane (Ref 22322492)
The Ministry of Education is seeking capable contractors to supply and install LED Lighting to 5 schools located in the Whakatane region. This installation is to be completed by June 30, 2020
Close Time & Date: 3:00 pm | Tuesday, 17 Mar 2020