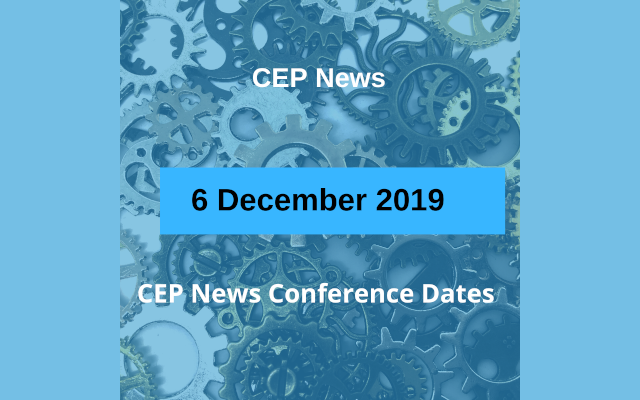 It's a big news week this week with plenty going on globally and at CEP. The big CEP news this week is that we have now locked in dates for our 2020 Conference and for the first time since 2012 we're heading to the South Island. The 2020 Conference under the theme Next Steps to Net Zero will take place at the recently refurbished Christchurch Town Hall on 10 and 11 June. So, make sure an allowance for attendance, sponsorship and exhibiting is included in your 2020 budgets. The conference is growing from strength to strength and with more and more interest in what we do and how we can help organisations decarbonise, we expect to see lots of new faces at the 2020 gathering. We'll let you know when registrations are open.
Also this week, we held networking events in Wellington and Auckland. The events were supported by Crombie Lockwood and were used to introduce a new business insurance package especially designed and negotiated for CEP members, which could potentially save hundreds of dollars, and to introduce our latest Foundation Partner, Toitu Envirocare. The Christchurch event is on Monday, so make sure you register for that to hear about cost savings, business opportunities and to catch up with peers old and new.


One of the opportunities emerged at the Auckland event is that a large Auckland based organisation is looking for an accredited lighting expert for a major piece of work to be undertaken before the end of the year. We know that accredited lighting specialists are in short supply around Auckland so we've been asked to cast the net wider. Anyone interested in putting their name forward please contact me and I'll forward details. This raises a particularly interesting point though. The NZ market is crying out for accredited experts and I'd encourage all members to consider undertaking the accreditation process to give themselves a competitive edge and open opportunities where specifiers are looking for accreditations. You can find more information about the requirements and process for accreditation on the website.
Further afield, several reports have hit the headlines this week on progress against international commitments or ambitions. The UN reported GHG concentrations have hit a new high and that EU countries are missing the SDGs. While the emissions news was well reported, the lack of progress against SDGs fell under most radars. It seems no EU country is on track to achieve all the SDGs by 2030 with the biggest shortfalls being around SDG13, Climate Action. Towards the end of the week the EU Parliament officially declared a Climate Emergency, so we hope things will improve.
One of the quirky statistics emerging this week is that politeness could be contributing to increasing emissions. A UK study is reporting that the 64 million "thank you", "great" and receipt acknowledgement emails issued across the country every day results in around 23,500 tonnes of carbon emissions a year. That suggests each email accounts for 1.006g of emissions. Of course, that statistic relates to the UK generation profile but maybe we should all think about switching off the default receipt request from our emails.
Inspire
We have a quick thank you to Geoff Bennett of Carbon EMS for our lead inspiration story this week. Geoff forwarded an article on the need to grow capacity and professionalise the sustainability sector and increase the influence of practitioners and sustainability focused employees. It's worth a read over the weekend.
Tender Opportunities
Andersons Bay School – Performance Based Wood Chip Boiler Design & Build Ref 21871387
The contract works required are to design and build a performance based Wood Chip Boiler as described and explained in the attached specifications.
Close Time & Date: 5.00 pm Monday, 2 Dec 2019
Auckland Facilities Management Services
Ref 21905073
The University of Otago wishes to partner with an experienced service provider to provide facilities management services to the University's two Auckland sites. The University welcomes the submission of proposals to provide our two sites with repairs and maintenance and also manage the service delivery of associated facilities management services on the University's behalf.
Close Time & Date: 5.00 pm Monday, 2 Dec 2019
Supply and Installation of Heat Pumps for Social Housing
Ref 21626992
The purpose of this RFT is to invite Tenderers to submit their Tenders for the supply and installation of Heat Pumps and Mechanical Ventilation initially into approximately 416 Social Housing units in the Christchurch area. Further installation may be required of additional Social Housing Units once these initial 416 are completed.
Close Time & Date: 12.00 noon Thursday, 5 Dec 2019
The Supply and Installation of HVAC System at the Proctor Library, Kerikeri
Ref 21907541
The works consist of: Supply installation and commissioning of heat exchange units and ancillary equipment in accordance with the MEPS specification and drawings and all making good to the building fabric.
Close Time & Date: 5.00 pm Monday, 9 Dec 2019
Opotiki Township Street Lighting Infill 2019-21
Ref 21964523
Ōpōtiki District Council [ODC] is inviting tenders for the supply and installation of all necessary materials and to complete all work in order to bring Opotiki Township up to the required pedestrian area (Category P) lighting category standard as defined by AS/NZS 1158.3.1:2005 lighting for roads and public spaces.
Scope of works is for the installation of infill lighting utilising existing pole infrastructure, where possible, and replacement of high Wattage luminaires with LED and CMS units supplied by the Principal within the Ōpōtiki Township.
Close Time & Date: 4.00 pm Thursday, 12 Dec 2019
Residential Retrofit Audit Update (EECA)
Ref 21874112
An update to our earlier notice regarding our intention to procure services to manage the independent audit of our residential retrofit programme, including Warmer Kiwi Homes insulation, Warmer Kiwi Homes heating, and Voluntary Targeted Rates (VTR). The timeframe for release of the Request for Tender (RFT) has been delayed as we investigate the potential inclusion of health & safety reviews as a part of the audit programme.
Close Time & Date: 5.00 pm Friday, 13 Dec 2019
Smart Homes Project -Electronic Sensors and Data Transmission
Ref 21951931
Kainga Ora Homes and Communities (Kainga Ora) is a new Crown agency that brings together the people, capabilities and resources of KiwiBuild, Housing New Zealand, and its development subsidiary HLC. This RFP relates to the purchase of a solution that can enable Kainga Ora to monitor the environmental conditions of the homes and contributors to those conditions (e.g. power consumption, external conditions).
Close Time & Date: 12.00 noon Monday, 16 Dec 2019
Te Aroha Primary School – Heating Upgrade
Ref 21998827
Te Aroha Primary School Board of Trustees are seeking registrations of interest from mechanical contractors only to supply & install heat pumps throughout the school.
Close Time & Date: 5.00 pm Monday, 16 Dec 2019
Engineering and Related Services Panel Update
Ref 21878403
The Ministry of Foreign Affairs and Trade (MFAT) have been intending to release a tender for 'Engineering and Related Services'. MFAT encourage all suppliers interested in working with MFAT, to respond to MBIE's tender establishing an All of Government Consultancy Services Panel.
Close Time & Date: 5.00 pm Tuesday, 31 Dec 2019
Dolomite Point Redevelopment Environmental Investigations and Approvals
Ref 21986965
The Department of Conservation is seeking to engage a supplier to lead and develop an integrated environmental investigations and approvals (EI&A) package for the project.
Close Time & Date: 12 noon Wednesday, 22 Jan 2020
NZ Emissions Trading Scheme Managed Auction Service
Ref 21965623
The Ministry for the Environment (the Ministry) is seeking proposals for a secure Managed Auction Service that is intended to be fully operational and available to undertake regular auctions of New Zealand Emission Units (NZUs) in early 2021.
Close Time & Date: 5.00 pm Friday, 24 Jan 2020
Panel Contract for Facilities Consultancy Services Details
Ref 22007792
Bay of Plenty DHB (BOPDHB) is seeking to identify and select a number of suitably qualified and experienced consultants to form a Panel of pre-qualified suppliers available for facilities / property project related opportunities over the next five to seven years. BOPDHB operates from multiple facilities across the wider Bay of Plenty region that periodically require consultancy advice relating to building maintenance and or construction services.
Close Time & Date: 3.00 pm Friday, 14 Feb 2020