Carbon Auditor Training Launched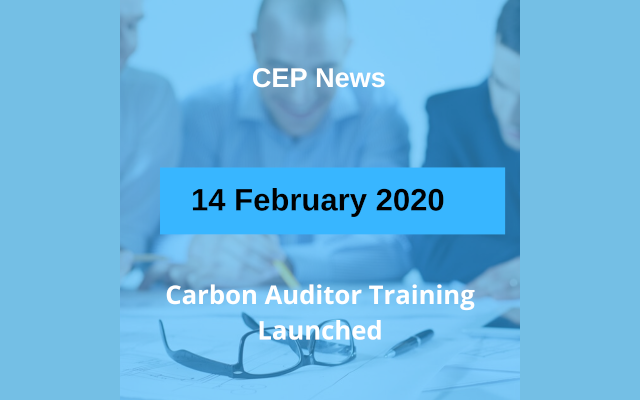 Thoughts of restful summer days on the beach have long departed the CEP office as we're now well and truly back into top gear for 2020.
It's been a week full of activity and news. I've attended discussion sessions on the ETS and separate events featuring the Ministers of Energy and Climate Change and a presentation by a leading UK academic who sits on their Committee on Climate Change, their equivalent of our Climate Change Commission.
We've also been busy with conference. We now have an international Keynote confirmed, who'll be talking about an area we can all do with learning more about, and several local speakers signed up. We'll be making some formal announcements shortly which will include exciting news about a new initiative to help members develop their businesses. We have already signed up our first Gold sponsor, so a big thank you to
Spirax Sarco
. They were delighted with their 2019 engagement and are back with us for 2020. Another firmed up partnership for this year is with Freeman Media, publishers of Energy News, They will be our official Media Partner and will be promoting the event through EN. As part of that arrangement, we've negotiated a stand at
Downstream
next month, so please come along and say hello. Downstream is being held in Wellington this year and brings together energy leaders from across NZ, so the networking opportunities are superb.
This week, we can also announce our new carbon auditor training and accreditation. The pilot course for this will run in Christchurch on 19 & 20 March. The member rate will be $1,500 (+GST) for the course. We're still working on tying down the operational details for the accreditation assessment and so haven't finalised a cost for that just yet but be reassured we'll keep that as tight as we can to encourage uptake. You can see more details and register for the course now,
here
.
Back to our conference and there are still a few speaking slots available. We are particularly interested in hearing from people who can share knowledge and expertise in the areas of decarbonising (or preferably recarbonising – see the 10 evolutions of sustainability leadership below) transport and in delivering efficiencies in waste, water and wastewater processing. Please send your abstracts to me as soon as possible as slots are running out fast. Or, if there's anyone you'd like to recommend to speak on these topics or like to hear from, let me know and I'll see if I can get them to come along.
Those of you lucky enough to live in Wellington or Christchurch and still reading your local newspaper will have seen an article featuring CEP in the Dominion Post or Press, respectively, this week. It was a light piece about the need to monitor BMSs regularly but good exposure for CEP nevertheless. For those not lucky enough to live in Wellington or Christchurch, you can see the article
here
.
---
10 ways business leadership on sustainability will evolve this decade (from edie's Sustainability Leaders Forum)
Deliver accountability and advocacy
Prepare to be lead by consumers
Strive to deliver the SDGs
Teach your experts to become activators
Working with the supply chain
Deliver change across your sector – even to the benefit of competitors – to be seen as a sector leader
Use science as a minimum position
Tighten the circle – embrace the circular economy
Decarbonise through a "just" transition
Become recarbonisers – extract GreenhouseGases from the atmospherex
---
Tender Opportunities
ROI Project Rima – Sustainable and efficient project delivery for 5 years and beyond
Ref 21884366
The purpose of Project Rima is to strengthen our teams and partnerships (both internally and externally) and boost the engagement with our service provider community. Genesis Energy want to create committed, but flexible, service provider engagements and relationships that include appropriate risk sharing and deliver our CAPEX optimisation over the 5-year period and beyond.
Close Time & Date: 5.00 pm
Friday, 21 Feb 2020
BIM Management Services – Taranaki Base Hospital Redevelopment
Ref 22219571
TDHB is seeking proposals from organisations with expertise and experience in Building Information Modelling (BIM) Management Services to provide consulting and design services for the Implementation Business Case (ImpBC) for Project Maunga Stage 2.
Close Time & Date: 4.00 pm
Friday, 28 Feb 2020
Glasshouses Heating Upgrade
Ref 22242176
The University of Waikato wishes to procure upgraded heating for the Glasshouses BL 2 – 4 at the Hillcrest, Hamilton campus. External companies are invited to submit tenders to the University of Waikato with information on their skills, services and experience in providing glasshouse heating services/ products.
Close Time & Date: 5.00 pm
Thursday, 27 Feb 2020
Elder Village Electrical Upgrade
Ref 22275284
Tauranga City Council is currently putting together tender documentation for upgrades to the 9 Elder Villages owned and operated by council. There are 246 units across the 9 Elder Villages with 59 external metering panels that require a varying amount of work to be carried out as required for each village.
Close Time & Date: 5.00 pm
Friday, 28 Feb 2020
Energy Transition Accelerator Programme
Ref 22164987
The Energy Transition Accelerator (ETA) Programme is an EECA direct client engagement which assists large energy users in the business sector to develop a stationary energy-related carbon abatement opportunity assessment as a first step in developing a strategic low-carbon pathway. The ETA helps the largest stationary energy-related greenhouse gas emitters to make technically and economically viable decisions and investments that support their energy transition pathway to a low carbon future.This RFP seeks proposals from suitably qualified suppliers to form a panel of Programme Partners for the ETA Programme.
Close Time & Date: 12.00 noon
Thursday, 5 Mar 2020
Main Contractor for Mechanical and Electrical Upgrades for Laundry Equipment and Ancillary Heating at Halswell Residential College
Ref 22286742
Halswell Residential College have indicated that their school laundry and ancillary heating (diesel fuelled) boilers have reached their expiry (boilers are 50 and 45 years old respectively). The last Aquaheat audit of the boilers on 11th June 2018 revealed that modifications are required for health and safety reasons. Furthermore, the school have been paying for higher maintenance costs each year to keep the boilers operational.
Close Time & Date: 4:00 pm
Monday, 9 Mar 2020

3 Waters – Switchboard Upgrades – Replacement
Ref 22283579
The Dunedin City Council (DCC) are seeking an experienced electrical contractor to carry out replacement or upgrade of pump stations and switchboards at around 16 distinct sites in the DCC 3 Waters reticulation network.
Close Time & Date: 4:00 pm
Friday, 13 Mar 2020