Business Opportunities and Career Paths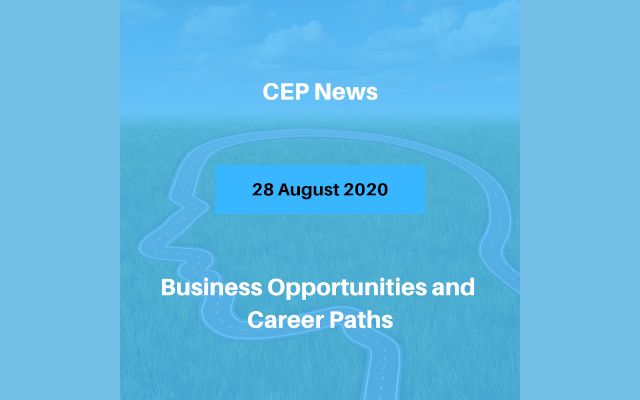 News from CEO – Mike Hopkins
Mentioned last week and now with only a few i's to dot and t's to cross, I can now give you some more detail about our September webinar series on accelerating renewables, energy efficiency and smart mobility in the Pacific Islands. Why is that important for CEP members? Well, opportunities in these areas are rife and by bringing together people who need the projects with our members who can help fulfil them with finance solutions to allow them to happen, we're bringing opportunities to members and helping the Islands decarbonise. The cost? Well, just a few hours of your time to understand what's needed and how to open the doors to get projects underway.
We've partnered with a host of entities to do this, including the Pacific Centre for Renewable Energy and Energy Efficiency (PCREEE), GET.invest, MFAT, ElectriFI, Regional Pacific NDC Hub, GGGI, Pacific Community and Deutsche Gesellschaft für Internationale Zusammenarbeit. The ElectriFI team has an €8m window to support projects and an appetite to develop creative financing solutions to get as many viable projects actioned as possible. We're hosting the webinars, each of which is scheduled for 95 minutes. Each webinar has its own focus; week 1 is renewables, week 2 efficiency and week 3 mobility. They will run on 15, 22 and 29 September, all starting around 5pm NZ time – that's one of the t's because our clocks will have sprung forward by then and that may be a little awkward for the Brussels delegates. Watch out for the registration links that will be going out next week.
In national news this week, we heard of the completion of Watercare's 1MW, 2,700 panel floating array and of a proposed 100MW battery storage facility JV between Meridian and Contact for the North island.
In other news, we held our August Board meeting this week and were joined by Robert Tromop of EEIL who talked through findings and recommendations on its work related to three work programmes we've commissioned on developing a certifcation framework for CEP. The work underpins our transition to professional credentials that are recognised and valued in the market. Robert has been working with the Board's Training and Accreditation Sub-Committee on the project and a way forward is emerging from the work. There's still a way to go but we're on the journey.
Structured and valued career paths in carbon management and sustainability will be welcome news to many youngsters across NZ. A UK survey published this week indicates 50% of people aged 18-34 would like a job in the green economy and 45% thought sustainable sectors offered a more secure career. The picture will likely be similar in NZ.
Have a great and safe weekend.
Mike and the team
---
Upcoming Events
Check out CEP Training courses, CEP Webinars and other Industry related events – coming up.
---
Tender Opportunities
Heating and Cooling contractor for the installation of a heating and cooling system at Whakatane High School

Ref 23063243
To provide heating and cooling across the school with the installation of 57 Heat Pump systems across classrooms and work spaces where none have been installed.
Close Date: Friday, 28 August 2020 5:00 PM
---
Papua New Guinea Electrification Partnership – Project Management Services

Ref 23029127
The Ministry of Foreign Affairs and Trade (MFAT) is seeking Registrations of Interest (ROI) from suitably qualified and experienced organisations or consultants (including consortia) to manage and provide technical support to the Papua New Guinea Programme team to deliver existing electrification activities (Enga and ROGEP) and New Zealand's pipeline of Papua New Guinea Electrification Programme (PEP) related activities. These activities fall under the PEP that will help support PNG's electrification ambition of achieving 70% electrification by 2030.
Close Date: Wednesday, 2 September 2020 1:00 PM
---
Porirua City Council Electricity Supply

Ref 23122305
Porirua City Council (PCC), wish to renew the supply of electricity to their campuses and operations from 1st February 2021. PCC uses a combination of NHH and TOU supplies at approximately 8.6 GWh per annum. Offers from qualified retailers are welcomed to submit proposals. The RFP tender and associated annual consumption data is attached as part of this notice. Offers should be emailed to George Gray at [email protected] on or before the closing date of 4th September 2020.
Close Date: Friday, 4 September 2020 5:00 PM
---
Supply of Electricity

Ref 23118397
This Request for Proposal (RFP) is issued as a joint approach to market on behalf of University of Otago (OU) and Otago Polytechnic (OP). The University is taking the lead in this procurement and invites parties to submit proposals for the supply of electricity.Please refer to the tender documents for further information.
Close Date: Thursday, 10 September 2020 3:00 PM

---
Interim Post Entry Quarantine Greenhouses RFI

Ref 23158825
Biosecurity New Zealand operate a Plant Health and Environment Laboratory (PHEL) in Auckland which identifies pests and diseases that affect plants and environment. The PHEL provides post-entry quarantine (PEQ) for imported plant material to be isolated and held for inspection and/or testing prior to biosecurity clearance. Level 3B PEQ testing is required for high value and high risk horticulture crops.Through this RFI we are looking to gain an understanding of the suppliers available in the market, either locally or internationally, that can supply and install Level 3B PEQ greenhouses, and if they can be delivered by a single vendor or consortium of suppliers with a primary vendor.
Close Date: Monday, 21 September 2020 3:00 PM

---
Advance Notice – Auckland DHB Starship Children's Hospital PICU and Atrium
Ref 22940101
Advance Notice of a Contract Opportunity – Auckland DHB Starship Children's Hospital Paediatric Intensive Care Unit (PICU) and Atrium – subscribe to notice for more information.The preliminary design project has been completed and Auckland DHB is looking to approach the market for consultants to undertake the completion of the design, including;- Project Management- Architecture- Building Services (Mech / Elec / Hyd / Med Gas / Fire Protection / ICT / Security / Nurse Call).
Close Date: Friday, 9 October 2020 5:00 PM

---
Surgical Air Plant Replacement SDHB Dunedin

Ref 23169151
The existing Plant providing Surgical Air to the Dunedin Hospital Ward block have reached the end of their service life. Because of this, we now require a replacement for the existing Surgical Air Plant. The current plant is located on the sixth floor of the Clinical Services Building at the Dunedin Public Hospital.This is an opportunity for a specialist provider to provide a fixed price response for a turnkey design and installation solution for the replacement of the existing Surgical Air plant. A detailed design will be required based on the report/recommendations from documentation in Appendix A for the purpose of construction and any council consenting that may be required.Supply and installation of the proposed new plant is to be in line with the detailed requirements set out in the Appendix A.
Close Date: Thursday, 24 September 2020 11:00 AM
---
Advance Notice – Improving Classrooms in Small or Remote Schools Programme
Ref 22500892
This notice is to inform suppliers that the Ministry will be embarking on a programme to improve the internal environments of almost 600 state schools that are small or remote. The programme is expected to take up to four years to complete. Inclusion definitions are:
• Schools that have four or less entitled* teaching spaces (about 100 students)
• Schools that have an isolation index* of 2.0 or higher on the Ministry's Isolation Index
The improvements will enhance aspects of the learning environment associated with fitness for purpose, operational efficiency and condition. The improvements are: LEDs, acoustic panels, thermal blankets and residual current devices (RCDs) for electrical safety.
Close Date :Thursday, 31 December 2020 5:00 PM