Board Nominations, Earth Hour and 3D Printed, Veggie Batteries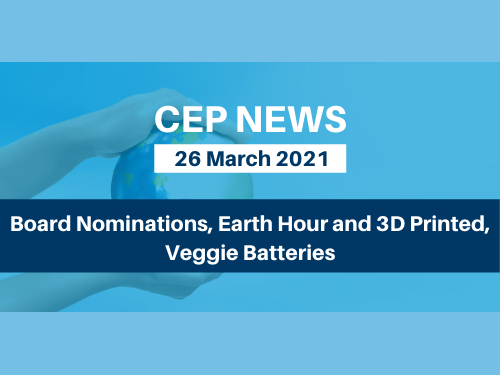 News from CEO – Mike Hopkins
First this week, a reminder that nominations for Board elections, along with Motions for the AGM are due by 5.00pm on 31 March, so please get them in to me in good time. The nomination form and official letter calling for nominations and motions was issued on Monday afternoon so if you've missed that, please check your Junk boxes and make sure future comms from CEP are directed to your main Inbox.
Earth hour is back with us again on Saturday, 27 March. To participate, you'll need to switch off your lights at 8.30 pm and leave them off for an hour. There is a major social media campaign running alongside the switch-off. You can find out more about how to get involved with that here.
We'll be at Downstream on Monday and Tuesday and hope to catch up with a few members there, so please watch out for our stand and come along and say hi.
In global news this week, we hear that just over a fifth (21%) of the world's 2,000 largest public companies now have net zero targets in place. That's according to a survey by the Energy and Climate Intelligence Unit (ECIU). These companies account for around US$14tr (NZ$20tr) of sales a year.
Updating a story we ran a few months ago. Linking executive pay to ESG targets is really starting to take off. The original story related to Shell pushing a scheme down to its top 16,000 executives. Internationally, BMW and Apple have announced schemes and a recent survey of UK businesses indicates 45% of FTSE100 companies now have similar schemes in place. In a similar survey two years ago, the number was 6%.
Finally this week, how does a vegetable-based, 3D printed battery sound? We can't buy them in the shops just yet but the development comes from scientists at Glasgow University. The batteries are still lithium-based but the electrodes are 3D printed using vegetable powder. Battery performance is claimed to be two to three times better than a standard lithium battery and the units are more easily recycled.
Have a great and safe weekend.
Mike and the team
---
CEP Conference – Introducing Speaker Marc England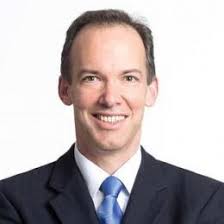 Marc joined Genesis in May 2016. He is responsible for the leadership, strategic direction and management of all its business interests.
Marc will be discussing the future shape of the electricity sector.
Click here for a full list of the Speakers.

---
Check out CEP Training courses, CEP Webinars and other Industry related events – coming up.
---
Tender Opportunities
Kaikoura District Council: Request for Tender(s) for Standby Generators & Load Bank
Ref 24076808
Kaikoura District Council request for tender for standby generators and load bank.
Tenders are invited by Kaikoura District Council (KDC) for the supply of one skid mounted three phase 400V 200kVA standby diesel generator, two trailer mounted standby three phase 400V 100 kVA diesel generators and one trailer mounted test and exercise load bank of at least 50 KW capacity.
KDC will consider used equipment less than 5 years old and with less than 1000 hours use, subject to provision of satisfactory maintenance histories and satisfactory warranties of at least two years from purchase date.
Please contact: Bruce Apperley, 3 Waters Engineer on mobile – 027 462 5757 or at email –
[email protected]
for any queries.
Tenders must be received no later than 8 AM Monday 29 March 2021 to be considered. Tenders may be provided by email.
Close Date: Monday, 29 March 2021 5:00 PM

---
Warmer Kiwi Homes Heating Programme – Approved Heat Pump Appliances

Ref 24101579
Warmer Kiwi Homes is a government-funded programme run by EECA, which is designed to support New Zealand families to live in warmer, drier homes.
This is the final year of the three year heating programme, under which similar RFQs to this were run in 2019 and 2020. The aim of this procurement is to provide opportunities for additional Heat Pump Suppliers to be approved, to confirm the eligibility of existing Suppliers under this programme, and to allow those Suppliers to adjust their pricing. Existing (contracted) approved Suppliers need to respond to this RFQ in order to continue to supply heat pumps under this programme.
This procurement will determine a list of Approved Heating Appliances (and their prices) which cover a range of heat pump sizes. These must meet minimum technical specifications and minimum warranty requirements, and the appliance must be suitably priced for the low-income market the programme is targeting.
PLEASE NOTE:
There is a mandatory Supplier Briefing session by video conference for this RFQ on Tuesday 23 March and registrations are required by 5pm on Friday 19 March 2020.

Existing approved suppliers need to attend the Supplier Briefing and respond to this RFQ in order to continue to supply heat pumps under this programme.

There are two Response Forms required for this RFQ.
Close Date: Wednesday, 31 March 2021 12:00 PM

---
FNDC Lighting Maintenance and Renewals
Ref 24015123
This contract is for the management and maintenance of the road corridor and amenity lighting network assets within the Far North districts. The contract includes but is not limited to the following activities:
Proactive activities

Maintenance, replacement and or retrofitting (luminaires, lighting columns, supports/fixings, control gear & wiring) for all street lighting and specified amenity areas

Streetlight LED Infills

Asset condition monitoring

Asset management

Traffic management necessary to safely carry out work without unnecessarily delaying traffic movements.

Minor and/or unscheduled related lighting works not otherwise covered above.
Reactive activities

Attendance and rectification of lighting outages within prescribed response time for specific areas.

Working with NTA and emergency services as required in emergency response events.
Management activities

Reporting

Accurate and complete provision of RAMM and related asset information.

Hold adequate stock levels of parts and equipment in storage for reactive maintenance.

Managing and undertaking maintenance activities within budget allocations directed by the Engineer.

Working collaboratively with stakeholders; Far North District Council (FNDC), Police, Energy supplier(s), to obtain best for community solutions to specific matters.
Close Date: Thursday, 1 April 2021 3:30 PM
---
HVAC System PFR Lincoln
Ref 24084218
This procurement relates to the HVAC services for Building 160 – Growth Rooms and Laboratories at Plant and Food Research, Gerald Street, Lincoln. The building comprises four growth rooms and two laboratories.
Close Date : Thursday, 1 April 2021 4:30 PM

---
University of Waikato Electricity Supply
Ref 24074791
The primary purpose of this contract is to supply electricity to the 2 TOU meters at the University of Waikato Hillcrest Campus and a further 32 non-TOU sites over various locations.
The University is also interested in value-added services that will allow for better energy management and carbon reduction. Examples include, but are not limited to:-
Energy management and carbon calculating software

Sub and/or smart metering- Carbon reduction initiatives

Onsite energy generation (e.g. PV arrays)

EV charger installations (AC and/or DC)
Close Date: Friday, 9 April 2021 4:00 PM
---
Wanaka Centre HVAC Remedial Works RFP

Ref 24084510
This RFP encompasses the procurement of the HVAC system solution and the installation, through to commissioning and hand over of a fully compliant, operational HVAC system at the Lake Wanaka Centre (87 Ardmore Street, Wanaka) is a local council owned building which was constructed in the year 2000.
The auditorium outdoor condenser which has until recently provided cooling to a cooling coil mounted within the air handling units has failed and requires replacement of an alternate cooling solution.
Close Date: Wednesday, 21 April 2021 12:00 PM

---
Wellington Solar Energy Trial
Ref 24126672
Kāinga Ora – Homes and Communities is seeking one to three Contractors to deliver grid connected solar energy systems for existing Kāinga Ora homes. The Contractor(s) should be suitably qualified, have the experience, capability, capacity, appropriate health and safety procedures, and financial capacity necessary to deliver the works. Importantly, we require a Contractor(s) who can work with Kāinga Ora and its customers.
Close Date: Thursday, 29 April 2021 12:00 PM