Being Heard, Reducing Emissions and Realising Opportunities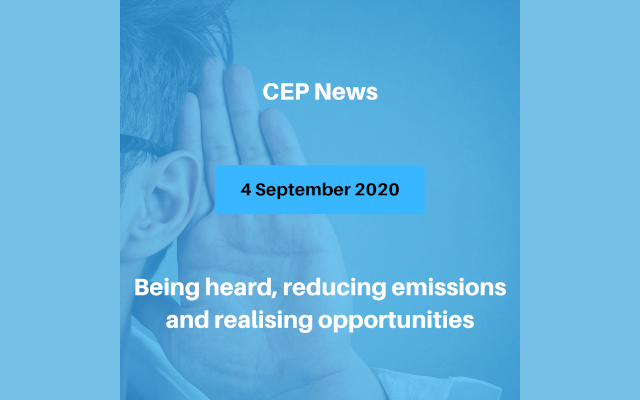 News from CEO – Mike Hopkins
The public consultation on MBIE's Building for Climate Change programme went live on Monday. For those of you that missed our webinar on the consultation a few weeks ago, or anyone needing a reminder on its objectives, aims and timelines, a recording of the session is available on our webinar channel.
The consultation focuses on two key areas, operational efficiency and whole of life, embodied carbon emissions. The documents can be downloaded here. We encourage you to engage in the consultation and forward a submission. CEP will be submitting, of course, and I'd appreciate hearing your comments as well so that we can put forward a consolidated set of comments. Please get these in to me by next Friday, 11 September, to give me a bit of time to pull them together.
The day after the consultation was launched we heard the Global Cement and Concrete Association has announced 40 of its top members have signed up to deliver a carbon neutral cement by 2050. The cement industry accounts for around 6-7% of global emissions, so carbon neutrality for it is a huge step in the right direction.
Our webinar series on decarbonisation projects and opportunities in the Pacific Islands is now open for registration. The series runs for 3 weeks and covers project and financing opportunities with dedicated sessions for renewables, energy efficiency and smart mobility. More information and registration here.
Congratulations go out this week to Corporate Partner Kapiti Coast District Council for hitting top spot in Foundation Partner Toitu Envirocare's list of top emissions reducers. The council's emissions are down 77% over the last decade. Well done to all those involved.
The US elections aren't that far away. Still too far for many but at least they will be with us reasonably soon. It's a shame the same can't be said for Brazil, which is seeing record levels of deforestation and destruction of habitat from wildfires. For the year ending July 2020, the area destroyed by fire was up 33% compared with the same period the year before and are 52% up on the ten-year average. Humans are believed to be responsible for three quarters of these fires. Unfortunately, the next Presidential election in Brazil isn't until October 2022. While the largest problem area, the problem isn't limited to Brazil. The global increase of fire alerts is up 13% compared with the previous year.
The latest data from ice watchers at the University of Leeds tells us that the current rate of sea level rise is consistent with "worst case" climate change scenarios of the IPCC. If the current rate continues, we'll be looking at 17 centimetres of sea level rise by the end of the century, doubling the frequency of storm surge flooding in coastal areas.
Finally this week, welcome to our latest Corporate Partner, Certified Energy and new member Andreas Botha, Energy and Utilities Manager at Synlait Milk. You can learn more about Certified Energy and how the New Zealand Energy Certificates Scheme can help reduce reported emissions at a webinar on Monday, register here.
Have a great and safe weekend.
Mike and the team
---
Upcoming Events
Check out CEP Training courses, CEP Webinars and other Industry related events – coming up.
---
Tender Opportunities
Porirua City Council Electricity Supply
Ref 23122305
Porirua City Council (PCC), wish to renew the supply of electricity to their campuses and operations from 1st February 2021. PCC uses a combination of NHH and TOU supplies at approximately 8.6 GWh per annum. Offers from qualified retailers are welcomed to submit proposals. The RFP tender and associated annual consumption data is attached as part of this notice. Offers should be emailed to George Gray at [email protected] on or before the closing date of 4th September 2020.
Close Date: Friday, 4 September 2020 5:00 PM
---
Supply of Electricity

Ref 23118397
This Request for Proposal (RFP) is issued as a joint approach to market on behalf of University of Otago (OU) and Otago Polytechnic (OP). The University is taking the lead in this procurement and invites parties to submit proposals for the supply of electricity.Please refer to the tender documents for further information.
Close Date: Thursday, 10 September 2020 3:00 PM

---
Interim Post Entry Quarantine Greenhouses RFI

Ref 23158825
Biosecurity New Zealand operate a Plant Health and Environment Laboratory (PHEL) in Auckland which identifies pests and diseases that affect plants and environment. The PHEL provides post-entry quarantine (PEQ) for imported plant material to be isolated and held for inspection and/or testing prior to biosecurity clearance. Level 3B PEQ testing is required for high value and high risk horticulture crops.Through this RFI we are looking to gain an understanding of the suppliers available in the market, either locally or internationally, that can supply and install Level 3B PEQ greenhouses, and if they can be delivered by a single vendor or consortium of suppliers with a primary vendor.
Close Date: Monday, 21 September 2020 3:00 PM

---
Surgical Air Plant Replacement SDHB Dunedin
Ref 23169151
The existing Plant providing Surgical Air to the Dunedin Hospital Ward block have reached the end of their service life. Because of this, we now require a replacement for the existing Surgical Air Plant. The current plant is located on the sixth floor of the Clinical Services Building at the Dunedin Public Hospital.This is an opportunity for a specialist provider to provide a fixed price response for a turnkey design and installation solution for the replacement of the existing Surgical Air plant. A detailed design will be required based on the report/recommendations from documentation in Appendix A for the purpose of construction and any council consenting that may be required.Supply and installation of the proposed new plant is to be in line with the detailed requirements set out in the Appendix A.
Close Date: Thursday, 24 September 2020 11:00 AM
---
Te Puke Coolstores

Ref 23190625
Categories covered:
– Industrial Manufacturing and Processing Machinery and Accessories
– Structures and Building and Construction and Manufacturing Components and Supplies
– Electrical Systems and Lighting and Components and Accessories and Supplies
– Distribution and Conditioning Systems and Equipment and Components
Close Date: Wednesday, 30 September 2020 5:00 PM
---
Advance Notice – Auckland DHB Starship Children's Hospital PICU and Atrium
Ref 22940101
Advance Notice of a Contract Opportunity – Auckland DHB Starship Children's Hospital Paediatric Intensive Care Unit (PICU) and Atrium – subscribe to notice for more information.The preliminary design project has been completed and Auckland DHB is looking to approach the market for consultants to undertake the completion of the design, including;- Project Management- Architecture- Building Services (Mech / Elec / Hyd / Med Gas / Fire Protection / ICT / Security / Nurse Call).
Close Date: Friday, 9 October 2020 5:00 PM
---
Advance Notice – Improving Classrooms in Small or Remote Schools Programme
Ref 22500892
This notice is to inform suppliers that the Ministry will be embarking on a programme to improve the internal environments of almost 600 state schools that are small or remote. The programme is expected to take up to four years to complete. Inclusion definitions are:
• Schools that have four or less entitled* teaching spaces (about 100 students)
• Schools that have an isolation index* of 2.0 or higher on the Ministry's Isolation Index
The improvements will enhance aspects of the learning environment associated with fitness for purpose, operational efficiency and condition. The improvements are: LEDs, acoustic panels, thermal blankets and residual current devices (RCDs) for electrical safety.
Close Date :Thursday, 31 December 2020 5:00 PM