Are hydrogen and soil the answers?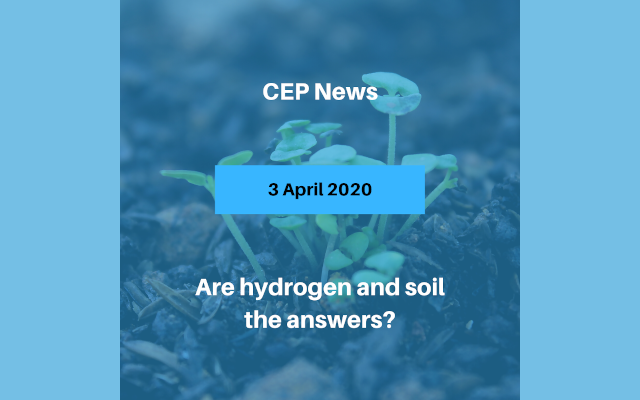 News from CEO – Mike Hopkins
Well, here endeth our first full week of life at the end of a telephone or video link. The people I've talked to mostly seem to be retaining their sanity – for now anyway.
One of the crucial things we all need to do is retain our engagement with clients, colleagues and collaborators and we'd like to help out with that. We're introducing two webinar series that will be kicking off after Easter. You should have seen an email from us with more details on those so I won't repeat it here. If not, please check your mails (including your Junk folder) for Tuesday at 1pm.
You'll also have noticed that our training calendar is continuing. The delivery will be done online but most courses are still in the calendar, so please check the dates of courses below and use your lockdown time productively by upskilling. Even if we're out of lockdown by the dates of some, travel will be difficult, so online delivery keeps these opportunities available for members and your costs under control.
In local

news

, we saw this week that the Environment Committee has recommended the RMA be revised to allow councils to consider the effects of climate change in their decisions. A long overdue amendment if passed, which now seems likely, but better late than never.
Internationally, coronavirus claimed COP26 in Glasgow as its latest high profile event this week with the announcement of a deferral to 2021.
The latest Bloomberg forecast on the potential for renewable hydrogen suggests it could reduce the emissions of the transport, heavy industry and energy sectors by 34% by 2050 at a cost of $0.80-$1.60 per Kg. This pricing assumes electrolyser technology continues to fall at the rate seen since 2015 (40%). A big assumption but one that BNEF thinks realistic.
Our weekly

news

hunt uncovered an interesting article this week about soil carbon. According to researchers from The Nature Conservancy and Conservation International, protecting or restoring carbon in soil can provide 3 billion tonnes of CO2 mitigation per annum cost effectively and that this represents 25% of the potential of natural climate solutions, the remainder being clean energy for the most part. The full article lies behind a subscription wall, I'm afraid, but if you are interested it can be found

here

(US$9).
Finally, don't forget to put your clocks back at the weekend and that next week is a short week, so we all get to stay at home on Friday!
---
Tender Opportunities
Genesis Energy – Billing and Core Capability Replacement Project
Ref 22461558
'Project Rubiks' is tasked with the market research of solutions that will assist us in delivering core business capabilities that will enable us to drive business growth and customer centricity.Specifically, Genesis Energy Limited (Genesis) is seeking to understand what off-the-shelf solutions are available in market in the following areas:
• Billing & Collections (mandatory)
• Product Management
• Sales Management
• Customer Management
• Meter Data Management
• Retail Market Interaction
We are looking for responses that demonstrate:
• Ability to meet some or all of our desired business capabilities
• Alignment with our technology strategy and principles
• Industry leadership and additional features that we could take advantage of in the future
• Proven capability to deliver the proposed solution
• Flexible integration and interoperability options that support integration with the rest of the Genesis technology landscape
• A genuine partnership approach to supporting us in the ongoing development of our business
The intention is to shortlist Respondents from this Registration of Interest (ROI) and to invite these shortlisted Respondents to participate in a Request for Proposal (RFP) process later this year.
Close Time & Date: 5:00pm
Wednesday, 15 Apr 2020