The Cost of Decarbonising the Supply Chain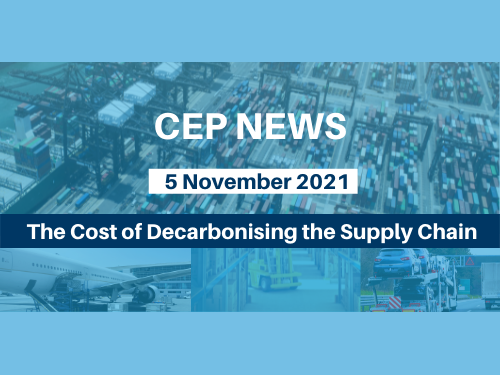 News from CEO – Mike Hopkins
Kia ora,
The now widespread commitment of carbon neutrality by 2050 won't come cheap. A new report by HSBC and Boston Consulting Group informs us that US$100trn (NZ$140trn) of investment will be required to get global supply chains to net zero. Half of that will need to be invested into the SME sector.
The just published update from the World Meteorological Organisation (WMO) on the state of the climate concludes this year's devastating floods and extreme weather patterns in Europe would have been "virtually impossible" without climate change. It reports the past seven years have been the warmest on record and we are currently sitting at 1.09C above pre-industrial times, fast closing in on the 1.5C tipping point.
Sadly, this week we report the passing of Stuart Bridgman. Well known in the energy efficiency community, Stuart was born in Walsall in 1926. He passed away in Wellington on 15th October. We offer our condolences to his family and friends.
We have a couple of job opportunities to alert readers to this week. Both are graduate positions and both with Massey University. They are looking for a Graduate Energy Efficiency Officer and a Graduate Carbon Management Officer. You can find more details on the Massey Uni careers website.
In the week we saw the first electric aircraft visit Wellington, US start up H3X is claiming to have developed an electric motor that will support commercial scale electric flight. Its HPDM-250 motor carries three times the power density of a conventional unit. International standards suggest a propulsion system for a Boeing 737-sized plane must deliver a continuous power density of 12 kW/kg, a conventional electric motor delivers around 4 kW/kg. Meticulous redesign has produced an electric motor with a continuous power density of 13kW/kg. Of course, electric motors with triple the power of conventional units will have widespread applications but longer haul electric planes may be nearer than we think.
Meanwhile, Berkeley scientists have recently revealed a revolutionary new freezing technology they claim to be capable of saving 6.5 billion kWh a year globally. Unlike conventional freezing which involves exposing food to freezing air, the technique relies on storing food in a sealed container that is filled with a liquid and placed in a freezer. Only about 10% of the volume of water in the container is frozen as the pressure inside the container prevents the ice expanding. The process is claimed to improve food quality substantially and preserve it longer as well as being significantly more energy efficient.
We've steered clear of COP26 headlines this week as you'll have seen them elsewhere but we have picked up a few less publicised snippets from the convention that don't all run consistently with UN Sustainable Development Goals, such as:
The proportion of women heading national environment ministries or agencies is about one in eight;
Israeli Minister Karine Elharrar was unable to attend the first day of the convention because there was no wheelchair access available. It was fixed for Day 2;
Yes, Boris again flew back to London from the event in a private jet.
But at least the police motorcyclists on duty are using Harley Davidson's new electric bikes.
Wishing you all a safe and great weekend.
Mike and the team
---

Accelerating Decarbonisation will be giving it some jandal in Rotorua on 1st and 2nd June 2022 and there will be an associated exhibition for product and service providers.
Registration will be open soon and opportunities for sponsorship can be discussed with CEP now.
---
Upcoming Events
Check out CEP Training courses, CEP Webinars and other Industry related events – coming up.
---
We Need Your Input


EECA Food and Beverage Sector Study
EECA is conducting research into energy use into the food and beverage sector in New Zealand. This research will help EECA understand how they can help the food and beverage product manufacturing industry transition towards a lower emissions future. EECA has contracted Lumen to conduct the data collection and analysis work.
If your business or client is a producer operating in the food and beverage sector – excluding dairy, meat (for human consumption), and seafood – they'd love for you to participate.
If you'd like more information on the research, please
Email EECA or Email Paul Farrelly (Lumen)
---
Tender Opportunities
ROI Main Contractor for Electrical Works at Kamo High School
Ref 24969133
The Contractor Works required are:
Electrical works (lighting, heating upgrade, distribution board upgrade).
Close Date: Tuesday, 9 November 2021 5:00 PM
---
ROI Main Contractor for Electrical works at Whangarei Boys' High School
Ref 24972855
The Contractor Works required are:
Electrical works (lighting replacement, heating upgrade, distribution board upgrade).
Close Date: Tuesday, 9 November 2021 5:00 PM
---
Electricity Vehicle Supply Equipment
Ref 24971412
The Ministry of Education (the Ministry) fleet of vehicles should be emissions free by 2025/26 aligning with the government's priority to transition to a net zero emissions economy by 2050.
To meet this requirement, the Ministry wishes to purchase approximately 565 AC Mode 3 Electric Vehicle (EV) Smart Chargers over the next few years as the Ministry's fleet of internal combustion engine (ICE) vehicles are progressively replaced with battery electric vehicles (BEV's) and plug-in hybrid electric vehicles (PHEV's). The first 70 AC Mode 3 EV Smart Chargers are required by the end of the 2022/2023 financial year.
Alongside the required chargers, the Ministry also requires a software management platform with capabilities for data management, monitoring and reporting of the EV charging points. To allow staff to use the EV charging points, key fobs linked to the software management platform will also be required for each vehicle in the Ministry's EV fleet.
Close Date: Wednesday, 10 November 2021 5:00 PM
---
Off-road liquid fuel equipment end use study
Ref 25009818
EECA is seeking to develop the evidence base and further the understanding in this area in response to the existing gap in energy end use information for Government.
This opportunity is to engage with the downstream industry to collect and undertake analysis and research on the end use characteristics and annual energy use breakdown by technology and equipment type. It will also generate detailed case studies by selected off-road equipment type for energy efficiency opportunities, decarbonisation and switching to alternative low-emission energy sources.
Close Date: Friday, 19 November 2021 12:00 PM
---
Electrical Contractor for the upgrade of distribution boards and lighting at Albany Junior High School
Ref 25009621
Electrical Contractor at Albany Junior High School. The project includes the procurement for the replacement of the original mainly fluorescent light fittings to LED lightings in the following eight Blocks: Administration; Whanau Centre Tui; Whanau Centre Makomako; Gym; Whanau Kiwi; Music Centre; Whanau Ruru, and Performing Arts Centre. Work also includes the upgrading of electrical distribution boards to suit the new circuits.
The Contract Works required are:
Replacement of all light fittings in teaching spaces, common areas and service rooms
Fluorescent fittings replaced with LED light fittings
Approximate number of fittings is 1,165. Tenderers to fully verify the exact number required by site inspection and state this in their tender.
Work to proceed systematically with one block finished before the next is tackled unless resources are sufficient to allow parallel works.
Work to be undertaken without interference to the normal school activities of the students and staff
The Contractor will be engaged through a Medium Works Contract. The Principal prefers there to be no drawings and specification related Tags.
See Tender Documents for further information, especially the Schedule of Prices.
Close Date: Thursday, 25 November 2021 5:00 PM
---
RFT – Main Building Contractor, Hall Refurbishment, Tawa School, Wellington
Ref 25013135
Tawa School is comprised of single storey buildings of varied aged and styles.
The work in the hall will fit an acoustic ceiling with LED lighting and insulation, pinboard to walls, window operating gear, heat pumps and new clear finish to floor. Off the technology space provide a glazed opening onto a new covered deck area and install a dust extractor.
The work will provide new acoustic wall and ceiling linings, window gear and entry doors. New lighting, cable services and fixtures will be replaced or new as required by the final design solution.
The scheme will be traditionally executed with a full design team employed by the Tawa School Board of Trustees producing full construction documentation.
Closing Date: Thursday, 25 November 2021 5:00 PM
---
LED Lighting Upgrade for Christchurch Women's Hospital
Ref 25039156
Christchurch Women's Hospital (CWH) was built in 2005 and the existing fluorescent lighting system is nearly end of the life and inefficienct. We are seeking a contractor to upgrade the interior lights for the CWH. This project requires a completed solution which includes the removal and disposal of the existing old lights and the supply and installation of new LED lights. The purpose of this update is not only to reduce CDHB's carbon footprint, but also improve lighting performance and eliminate some potential health and safety hazards.
What we don't want: A provider who could only supply LEDs without the installation service.
What's important to us: We are looking for contractors who must be competent, experienced and confident to deliver the LED lighting project in a professional and timely manner. The contractors should have a good track record in the supplying and installation of LED lighting projects with a minimum five-year warranty. To minimise or eliminate any disturbance to normal operation of CDHB, all contractors must strictly follow planned working schedules and any relevant polices.
Supplier visits to view the site are highly recommended and by appointment only. Please use the Q&A function prior to 17/11/2021 on GETS to request a visit.
Closing Date: Wednesday, 1 December 2021 12:00 PM
---
Climate (im)mobility Research in the Pacific – Researchers
Ref 25042872
The Ministry of Foreign Affairs and Trade (MFAT) is seeking suppliers (individuals and/or organisations) to deliver research services to better understand past, current and future climate (im)mobility in the Pacific, and its impact on communities in the Pacific and in New Zealand. Research outputs will be used to inform work under the New Zealand aid programme and shared with relevant stakeholders, including Pacific governments and other New Zealand ministries.
Suppliers will need to be willing to enter into sub-contracting arrangements with the successful respondent to a parallel procurement process "Research investigating climate-related (im)mobility in the Pacific – Project Management", GETS # who will provide Project Management functions to oversight and deliver this project.
Closing Date: Monday, 6 December 2021 10:00 AM
---