New Environmental Standards and Consultations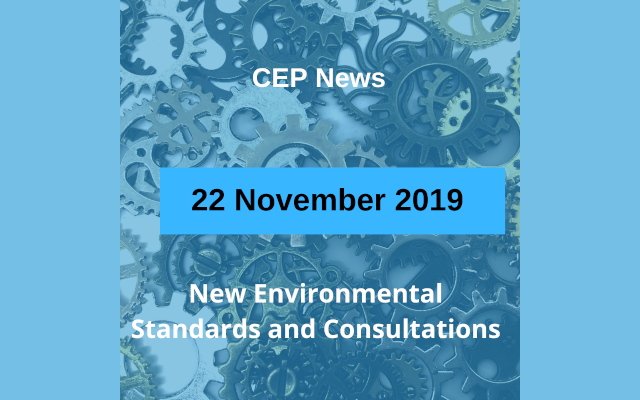 In international energy news this week, we heard that the European Investment Bank will cease all funding for fossil fuel investments from the end of 2021. It has also more than halved its emissions threshold criterion for supporting projects, down from 550g CO2/kWh to 250g CO2/kWh. Since 2013, the bank has provided €13.4bn of funding to fossil fuel projects and its average investment sits at around €2bn per year. The comparative spend on energy efficiency and renewables over the period has been around €65bn. The dropping of fossil fuel support is not before time in the eyes of many but at least it is now happening.
According to researchers from Cardiff University, wind speed averages around the world are trending up and have increased significantly over the last ten years. Great news for the wind energy sector, perhaps not such great news for those of us living in Wellington.
A few reminders this week. First up, the networking events for Wellington and Auckland are next week. You'll get to hear some great information on member and partner benefits, how carbon emissions can be turned into business opportunities and a few things about how our name change is coming along plus the opportunity to network over free drinks and nibbles. Please
register
so that we can get the catering numbers right. We recently put up some discussion board topics on the new website so here's a reminder to have your say, but also to make sure you are properly registered on the new site. You should have received information on how to create your account. If you have any questions or problems around that, please contact
Ranjan
. Also, a reminder that our RFP covering five work projects closes next week (29th) so please get those in on time.
Finally this week, a couple of interesting signs of the times emerged over the week. The music group Coldplay have deferred their planned tour to launch a new album over environmental concerns. Lead singer, Chris Martin, said they want to ensure the tour would not just be sustainable but be "actively beneficial" and deliver a "positive impact". It's good to see sustainability concerns are making influencers think about the impacts of their decisions. Notable though, that nothing was said about noise pollution.
The week also saw five decades of gas guzzling sports car history sidelined with the launch of the all electric Ford Mustang. The Mustang Mach-E is a battery powered SUV with a range of up to 600km. A car for the 21st Century perhaps, but Steve McQueen would spin.
Inspire
We heard this week that California based Heliogen has breached the 1,000C mark in a commercial application of its concentrated solar technologies. The company's software focuses the light from a large array of reflectors onto a single target. The breakthrough is significant because the temperature generated is sufficient to support production in the cement, steel and chemical industries reducing their reliance on fossil fuels. The previous best temperature (565C) was not sufficient to support these energy intensive processes.


In China, the scaffolding has just come off the 1,000 trees project in Shanghai. Built on a 300,000 sqm site, the ten storey development will comprise office, residential, retail and leisure accommodation and boasts an additional 24,000 smaller plants. The complex will open in 2020.

Tender Opportunities
412-20-153-RM Procurement of LED Luminaires supply by January and July 2020 Ref 21894113
This Request for Tender (RFT) is for Auckland Transport (AT) to procure approximately 25,000 light- emitting diode (LED) luminaires more or less, with circa 12,500 delivered by 31st January 2020, and circa 12,500 delivered by 31st July 2020.
Close Time & Date: 10.00 am Wednesday, 27 Nov 2019
19/04 Streetlighting Renewal and Maintenance Contract
Ref 21777128
The Wairoa District Council (WDC) is offering the opportunity for provision of installation and maintenance services for its street and amenity lighting network.
Close Time & Date: 4.00 pm Wednesday, 27 Nov 2019
Main Contractor for Conversion of Boiler to Geothermal at Taupo Intermediate Ref 1872736
Subscribe to notice for full details.
Close Time & Date: 5.00 pm Wednesday, 27 Nov 2019
Design & Build of a New HVAC System to 7 Buildings at Albany Junior High School Ref 21873691
Design and Build of a New HVAC System for 7 buildings at Albany Junior High School.
Close Time & Date: 4.30 pm Friday, 29 Nov 2019
Andersons Bay School – Performance Based Wood Chip Boiler Design & Build Ref 21871387
The contract works required are to design and build a performance based Wood Chip Boiler as described and explained in the attached specifications.
Close Time & Date: 5.00 pm Monday, 2 Dec 2019
Auckland Facilities Management Services
Ref 21905073
The University of Otago wishes to partner with an experienced service provider to provide facilities management services to the University's two Auckland sites. The University welcomes the submission of proposals to provide our two sites with repairs and maintenance and also manage the service delivery of associated facilities management services on the University's behalf.
Close Time & Date: 5.00 pm Monday, 2 Dec 2019
Supply and Installation of Heat Pumps for Social Housing
Ref 21626992
The purpose of this RFT is to invite Tenderers to submit their Tenders for the supply and installation of Heat Pumps and Mechanical Ventilation initially into approximately 416 Social Housing units in the Christchurch area. Further installation may be required of additional Social Housing Units once these initial 416 are completed.
Close Time & Date: 12.00 noon Thursday, 5 Dec 2019
The Supply and Installation of HVAC System at the Proctor Library, Kerikeri Ref 21907541
The works consist of: Supply installation and commissioning of heat exchange units and ancillary equipment in accordance with the MEPS specification and drawings and all making good to the building fabric.
Close Time & Date: 5.00 pm Monday, 9 Dec 2019
Opotiki Township Street Lighting Infill 2019-21
Ref 21964523
Ōpōtiki District Council [ODC] is inviting tenders for the supply and installation of all necessary materials and to complete all work in order to bring Opotiki Township up to the required pedestrian area (Category P) lighting category standard as defined by AS/NZS 1158.3.1:2005 lighting for roads and public spaces.
Scope of works is for the installation of infill lighting utilising existing pole infrastructure, where possible, and replacement of high Wattage luminaires with LED and CMS units supplied by the Principal within the Ōpōtiki Township.
Close Time & Date: 4.00 pm Thursday, 12 Dec 2019
Residential Retrofit Audit Update (EECA)
Ref 21874112
An update to our earlier notice regarding our intention to procure services to manage the independent audit of our residential retrofit programme, including Warmer Kiwi Homes insulation, Warmer Kiwi Homes heating, and Voluntary Targeted Rates (VTR). The timeframe for release of the Request for Tender (RFT) has been delayed as we investigate the potential inclusion of health & safety reviews as a part of the audit programme.
Close Time & Date: 5.00 pm Friday, 13 Dec 2019
Smart Homes Project -Electronic Sensors and Data Transmission
Ref 21951931
Kainga Ora Homes and Communities (Kainga Ora) is a new Crown agency that brings together the people, capabilities and resources of KiwiBuild, Housing New Zealand, and its development subsidiary HLC. This RFP relates to the purchase of a solution that can enable Kainga Ora to monitor the environmental conditions of the homes and contributors to those conditions (e.g. power consumption, external conditions).
Close Time & Date: 12.00 noon Monday, 16 Dec 2019
Engineering and Related Services Panel Update
Ref 21878403
The Ministry of Foreign Affairs and Trade (MFAT) have been intending to release a tender for 'Engineering and Related Services'. MFAT encourage all suppliers interested in working with MFAT, to respond to MBIE's tender establishing an All of Government Consultancy Services Panel.
Close Time & Date: 5.00 pm Tuesday, 31 Dec 2019