New Chair for CEP, NZ's First ISO50001 Certification and Hydrogen at the Dairy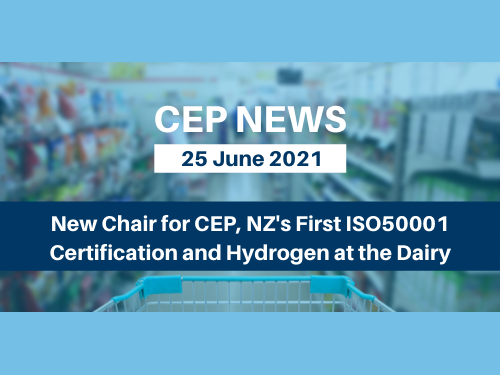 News from CEO – Mike Hopkins
The move to alert level 2 for Wellington did cause us minor disruption this week, although nothing we didn't cope with admirably. On Wednesday, our Board meeting was interrupted by about 7 or 8 mobiles simultaneously blurting out the now too familiar sound of level change alerts. There was also a last minute change of plans for our appearance in front of the Economic Development, Science and Innovation Select Committee on Thursday, which had to be delivered via Zoom instead of in person. Nevertheless, the session went well and we ensured the committee is aware of how the latest developments in TCFD expectations from the G7 and the Climate Change Commission's advice on ETS governance tie-in with our prior, written submission.
The Board meeting was the first since our 2021 AGM and began with the appointment of a new Chair. Our new Chair is Ben Thomson of Lumen. Ben replaces Yvonne Gilmore, who announced at the AGM she would be standing down. The new Vice Chair is Scott Noyes and Yvonne has taken over duties as Treasurer. Congratulations to all three.
In other news this week, the ceremony to award New Zealand's first ISO50001 certification took place on Thursday. Congratulations to Epsom Girls Grammar School, not just for adopting ISO50001 but also taking the extra step to pursue the certification.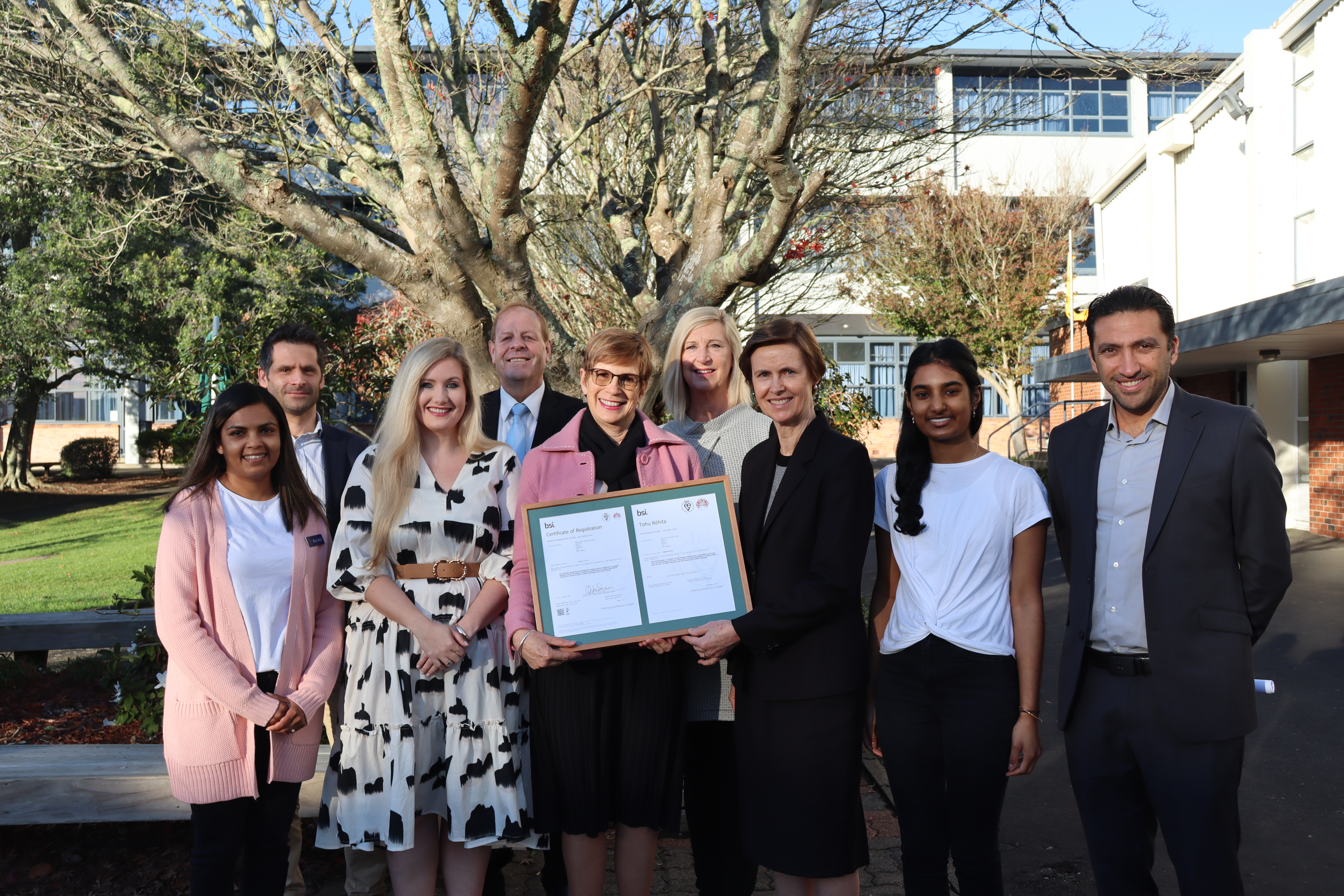 A report from Forest and Bird this week indicates that native forests could suck in as much as 15% of the country's greenhouse gas emissions if a cull of deer, possums and feral pigs allowed them to regenerate. The report suggests these pests' direct consumption of natives, combined with their methane emissions is equivalent to 3.1 million tonnes of CO2 per year. The full report can be found here.
The Lighting Council is holding a couple of workshops in Wellington soon on how good lighting can help achieve a carbon neutral state sector by 2025. The workshops are running on 6 and 7 July, are aimed at state sector property and building managers and are free, including a free (light) lunch. If you're in, or work with, the state sector, please pass on the details and register with the LCNZ.
If you haven't had a chance yet – and were there, of course – please take a few minutes out to complete our conference feedback survey. It all helps build an even better event for next year and helps with building information to encourage sponsors, without whom we wouldn't be able to run the event. Typical completion time (according to SurveyMonkey) is 5 minutes, so maybe a simple task for the lunchbreak or afternoon tea.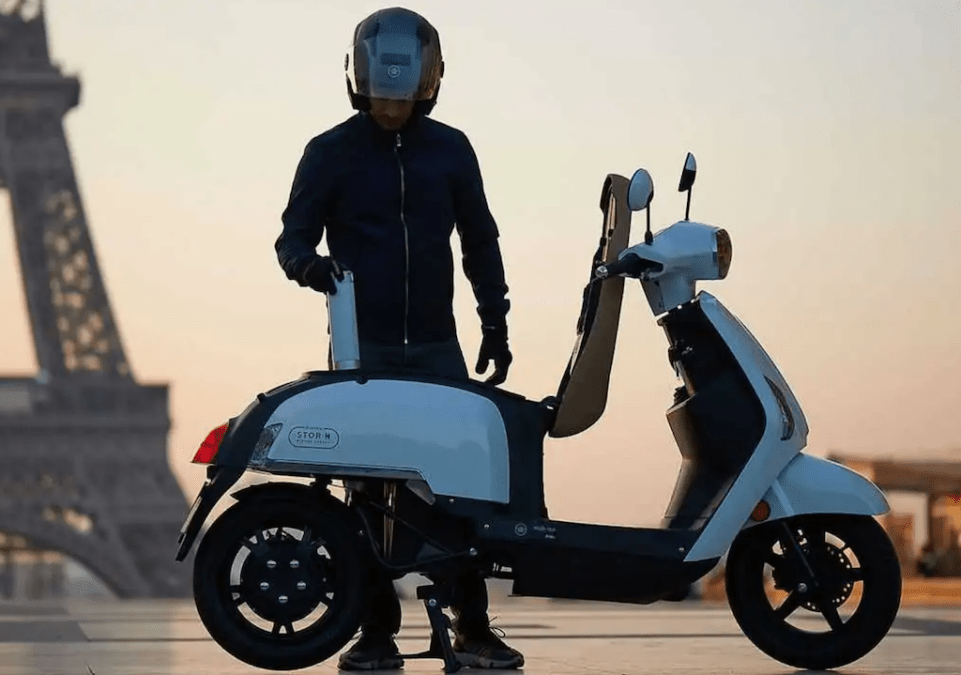 One of the arguments cited as a limitation on the use of hydrogen to clean the light vehicle fleet is around a refuelling network. Well, what if we could pick up our hydrogen at the local dairy? A French/Swiss partnership has just launched their prototype hydrogen powered scooter, refuelled by cartridges that could easily be sold through convenience stores (notwithstanding licencing regulations around the transport, storage and sale of hydrogen cannisters). The scooter has a range of around 60Km from three cannisters that can be stored under its seat.
Finally, welcome to this week's new members:
Andy Liu (Energy Graduate) at Canterbury District Health Board
Clare Feeney (Director) at Environmental Communications Ltd
Daniel Satur (Energy Advisor) at New Zealand Police
Janina Briggs (Student) at University of Canterbury
Mikel Clark (Director) at CREST 2019 Limited
Wishing you a safe and great weekend.
Mike and the team
---

---
Upcoming Events
Check out CEP Training courses, CEP Webinars and other Industry related events – coming up.
---
Tender Opportunities
Generator and Associated Controls Maintenance
Ref 24357857
Subscribe to this notice for full access
Close Date : Monday, 28 June 2021 12:00PM
---
Sourcing, installation and operation of EV charging stations for HCC and WCC

Ref 24347924
The successful Respondent will be experienced and have a track-record in successfully sourcing, installing and operating medium-speed DC EV charging stations. They must have adequate capability and capacity assigned to this project to meet the expected timeframes and deliverables.
Close Date : Monday, 28 June 2021 12:00 PM
---
Woburn P3 Electrical Upgrade and Site Wide Electrical Resilience Upgrade
Ref 24379004
KiwiRail is intending to procure a main contractor to provide electrical services for the KiwiRail Plant 3 Electrical Upgrade and Sitewide Resilience Upgrade Project.
Close Date : Wednesday, 30 June 2021 12:00 PM
---
City Housing Heating Upgrades Project
Ref 24407786
This Request for Tenders relates to the supply and installation of heaters (at 1.5kW in heating capacity) and heat pumps (at various range in heating capacity) for Wellington City Council (WCC) City Housing Upgrade Programme Phase 2 (HUP2) units and City Housing Te Māra Apartments. This project is part of the Healthy Homes Guarantees Act 2017 works which aims to upgrade the heating standards and ultimately improve the quality of City Housing (CH) rental properties.
WCC are seeking to contract a suitably qualified supplier to source, supply, install and complete any make good requirements and liaise with Tenants for a total of 214 heat pumps and 6 electric panel heaters, including:• 116 Heat Pump units across 26 complexes in HUP2 and, • 98 Heat Pump units in Te Māra Apartments (consists of 1 complex, 10 blocks) and, • 6 Electric Panel Heaters (at 1.5Kw) in Te Māra Apartments.
Close Date : Wednesday, 30 June 2021 2:00 PM
---
RFT – Main Building Contractor, Block F – Classroom & Student Toilet Refurbishment, Belmont School, Lower Hutt

Ref 24356946
Belmont School has approved 5YA funding to carry out improvements to Block F which will include the introduction of new acoustic ceilings and LED lighting, replacement windows on the southern elevation of the building and roof coverings renewal.
Student toilet refurbishment and the installation of water heating units will also be incorporated. View tender for more details.
Close Date : Thursday, 1 July 2021 5:00 PM
---
Hillmorton Hospital Cook Chill Equipment Replacement (Electrical)
Ref 24393343
The existing equipment has now reached the end of its operational life and frequent repairs are required, with spare parts becoming increasingly costly. The current cooking equipment operates using steam that is provided by an onsite LPG boiler. With the recent Government announcement on reducing emissions and moving away from the use of LPG as an energy source, the kitchen is looking to procure cooking equipment that uses electricity as opposed to steam.
Close Date : Tuesday, 6 July 2021 12:00 PM
---
MDHB MRI Chiller Replacement

Ref 24421756
MidCentral District Health Board (MDHB) needs to replace a single TRAX Chiller in the MRI Department with two new Chiller's in order to provide n+1 redundancy to the MRI Scanner. The existing MRI Chiller has been assessed as oversized for the cooling load of the MRI unit and the MRI associated plant. The existing pipework has some non-compatible components that could affect the lifespan of the MRI plant. There is also no redundancy to the MRI chiller in the case of a chiller failure.
MDHB is seeking suitably qualified providers that have capability and capacity to install and commission two new air-cooled Chiller's, and reconnect the existing TRAX chiller to the Building HVAC system in a different location. MDHB anticipates the new Chiller's will be in use for at least 12 years.
Close Date : Tuesday, 6 July 2021 12:00 PM
---
Replacement Heat Pumps Dunedin Hospital
Ref 24408212
The Dunedin Public Hospital has a series of heat pumps that require replacement as they have reached the end of their useable life. Therefore the Southern District Health Board (SDHB) now require replacement heat pumps. The new heat pumps need to be replaced with their modern equivalents (size/capacity) including the replacement of the outdoor units.
Close Date : Monday, 12 July 2021 10:00 AM
---
Main Building Contractor for the Combined 5YA Works Project at Manukorihi Intermediate

Ref 24384028
The Board of Trustees is seeking to undertake a number of projects identified in their 10YPP as a single project including:
Blocks A & K: Tempered Hot Water & Cylinder Replacement

A Block: Convert classrooms to library

Block B: DQLS and ILE Refurbishment

Block F: DQLS Refurbishment of Technology Rooms

Blocks B & F: Cladding Repairs

Block G: LED Lighting Upgrade

Block A, B, F, & H fire alarm upgrade
An indicative construction period is given as October 2021 – Jan 2022. However respondents are invited to nominate alternative timeframes.
Close Date : Monday, 12 July 2021 5:00 PM
---
Hillmorton Hospital Switchgear
Ref 24437900
This RFP relates to the procurement of services to remove the incoming OCB2 11kW and outgoing GF3 Long and Crawford Switch gear from CDHB Hillmorton Hospital Linen Services Substation and replace with suitable effective equipment. The work is expected to be completed safely and tested to conform with all suitable electrical standards. The work must be undertaken in a way that minimises disruption to the power supplied from the Hillmorton Linen Services Substation to areas of the CDHB Hillmorton facility.
Note; Site Visit 24/6/2021
Inspection of equipment by arrangement through GETS email
Close Date : Wednesday, 14 July 2021 12:00 PM
---
Lighting Upgrades for the Kidz First & McIndoe Buildings Middlemore Hospital
Ref 24447268
Counties Manukau District Health Board wishes to upgrade the lighting in the Kidz First and McIndoe buildings at Middlemore Hospital. The main drivers for the upgrade are to improve illumination levels in certain areas, reduce maintenance costs, and achieve significant energy savings, using modern internationally approved LED lighting systems. The general scope of this RFP is for the supply and installation of luminaires and attachments.
PLEASE NOTE: As part of this RFP process Respondents are required to attend a site visit to better understand the lighting installations. Prospective Respondents should refer to Section 3.2.4 of this RFP.
Close Date : Thursday, 15 July 2021 4:00 PM
---
MPI Replacement Plant Health & Environmental Capability Facility
Ref 24446342
Biosecurity New Zealand (BNZ) Tiakitanga Pūtaiao Aotearoa, a business unit within the Ministry of Primary Industries (MPI), leads the country's biosecurity system and spearheads MPI's work to protect New Zealand from new and emerging exotic pests and diseases that pose a risk to our economy, environment, human health, and social and cultural well-being, including taonga species, such as our irreplaceable native plants.
The scope of this proposal includes investment in land (purchase or lease), modern laboratories, specialist equipment and infrastructure, high security quarantine greenhouses and specialist science personnel for BNZ's plant health and environment operations.
Please see the attachment for further information on the programme.
Close date : Q3 2021