Green Building, Downstream Tickets and Coconut Oil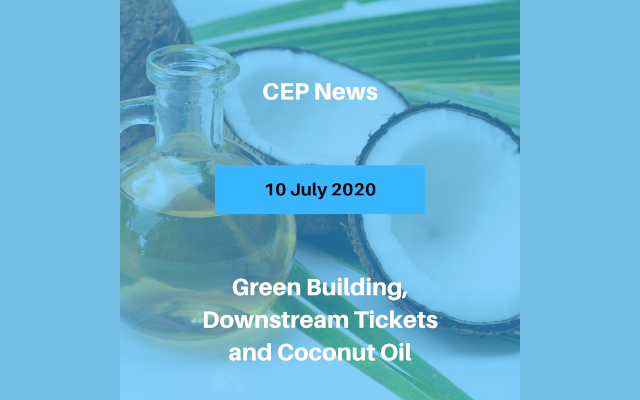 News from CEO – Mike Hopkins
In case anyone missed it, Rio Tinto announced this week it will be starting a phased close down of the aluminium smelter at Tiwai, with a final shut down scheduled for August 2021. The release of the electricity Tiwai currently uses onto the market will have profound implications for prices, transmission systems and new builds. People are already talking about a green hydrogen facility but there's still plenty of water to flow under the bridge before a clear picture of the full implications emerges.
In other local news, we've recently seen the launch of MBIE's Building for Climate Change programme. The programme is intended to address emissions in the building and construction sectors and will cover energy use, operational emissions, embodied carbon in construction, waste disposal and water use. On the cards are revisions to the Building Code, new standards for energy and water use and prescribed limits on embodied carbon. MBIE is doing the rounds of interested groups with a series of webinars and we are hosting them on 28 July at 4pm. You can register here.
The move coincides with research indicating the green building materials market is expected to grow by US$187bn (NZ$), or 8.6% p.a. over the next eight years. Insulation products will be a major foundation of this growth accounting for US$71bn of it, an annual growth rate of 4.6%.
We're going to be at Downstream this year on 3 & 4 August. The 2020 event is running as a hybrid physical and virtual event and we have 3 digital passes to give away to lucky members. Please note these are for the digital elements only and do not include access to the physical event in Wellington. We'll be giving these away via a draw, so if you're interested please let me know by 5.00pm on Tuesday 21 July. One entry per member please and the registrations are not transferable.
This week saw the launch of a new corporate investment rating system by the CDP. So now, alongside the standard Moody's and S&P ratings on financial security, 4,000 of the world's largest corporates are covered by a rating system that considers their likely future impact on the climate. The scheme is cited to inform investors conscious of climate risks and wanting to select lower impact portfolios.
It's widely accepted that the production and proliferation of palm oil has serious environmental consequences. However, research published this week indicates the production of coconut oil is potentially even more damaging. The report, published by Borneo Futures and the University of Exeter, suggests coconut oil production impacts 20 threatened plant and animal species per million tonnes of oil produced, compared with 3.8 species per million tonnes for palm oil, 4.1 species for olive oil and 1.3 species for soybean.
We know have the dates confirmed for our next Carbon and Energy Professional Training delivery, so book out the first week in September and register through the link below.
Finally this week, we hear that fans of the Bloody Mary now have the option to choose carbon negative vodka for their favourite tipple. Brooklyn based start-up, Air Co, has developed a process in which captured CO2 is converted to ethanol which is then used to create a carbon negative vodka. Na Zdrowie!

---
Tender Opportunities
Main Contractor for Design, Supply, and Installation of HVAC system at Seatoun School (the School)
Ref 22870967
The BoT of Seatoun School are seeking a contractor to design, supply, and install and heating, ventilation, and air conditioning system to classrooms and a meeting room in R Block. Work is to be carried out during December 2020 – January 2021 and is to be completed prior to school recommencing.
Close Date: Monday, 20 July 2020 5:00 PM
---
Auckland Transport Supplier Code of Conduct Acknowledgment

Ref 22932024
Auckland Transport Supplier Code of Conduct Acknowledgment. In October 2019 we launched our very first Supplier Code of Conduct (the Code).The purpose of the Code is to establish minimum standards and expectations applicable to all suppliers providing goods and services to Auckland Transport.As a strategic supplier to AT we would like you to consider the 7 principles set out in the Code and take a leadership role to align to those principles. AT Procurement (Infrastructure).
Close Date: Friday, 24 July 2020 5:00 PM
---
Northland DHB Facilities Maintenance Services Panel

Ref 22889886
The Northland District Health Board is seeking suppliers for delivery of its facilities maintenance services. A Panel arrangement is being formed that will identify pre-qualified suppliers for delivering primarily response maintenance services across all Northland DHB sites. Successful responding suppliers pre-qualified to the service categories will be issued a Maintenance Panel Agreement. Future work for the respective categories will be delivered through a secondary procurement process with the Panel suppliers only.
Close Date: Wednesday, 29 July 2020 4:00 PM
---
Additional Suppliers for Engineering Services Panel

Ref 22920075
This RFP relates to the purchase of services to support the Councils engineering activity for the next three years.The scope of professional services required for the panel includes the categories listed as follows: Flood Management, Geotechnical Engineering, Engineering Design, Project Management, Consent Planning, Technical Review of Resource Consents. Suppliers may provide some or all of these services.
Close Date: Friday, 7 August 2020 4:00 PM

---
Advance Notice – Auckland DHB Starship Children's Hospital PICU and Atrium

Ref 22940101
Advance Notice of a Contract OpportunityAuckland DHB Starship Children's Hospital Paediatric Intensive Care Unit (PICU) and Atrium – subscribe to notice for more information.
The preliminary design project has been completed and Auckland DHB is looking to approach the market for consultants to undertake the completion of the design, including;- Project Management- Architecture- Building Services (Mech / Elec / Hyd / Med Gas / Fire Protection / ICT / Security / Nurse Call).
Close Date: Friday, 9 October 2020 5:00 PM
---
Advance Notice – Improving Classrooms in Small or Remote Schools Programme
Ref 22500892
This notice is to inform suppliers that the Ministry will be embarking on a programme to improve the internal environments of almost 600 state schools that are small or remote. The programme is expected to take up to four years to complete. Inclusion definitions are:
• Schools that have four or less entitled* teaching spaces (about 100 students)
• Schools that have an isolation index* of 2.0 or higher on the Ministry's Isolation Index
The improvements will enhance aspects of the learning environment associated with fitness for purpose, operational efficiency and condition. The improvements are: LEDs, acoustic panels, thermal blankets and residual current devices (RCDs) for electrical safety.
Close Date :Thursday, 31 December 2020 5:00 PM