Deferrals, Disappointments and Sparkling Clouds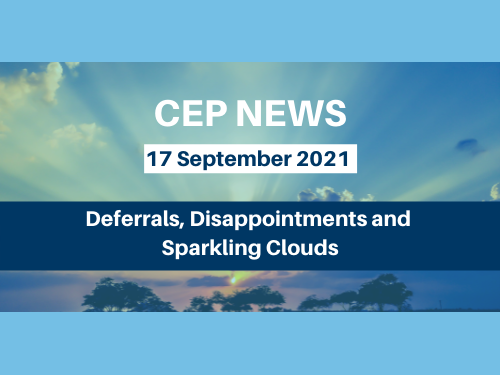 News from CEO – Mike Hopkins
Kia ora,
Domestically, our main news story this week is the Government's deferral of publication of its Emissions Reduction Plan. Originally scheduled for the end of the calendar year, finalisation has been pushed back to May 2022. The latest COVID outbreak is being cited as behind the deferral, although a consultation document will be published next month to garner feedback on likely actions.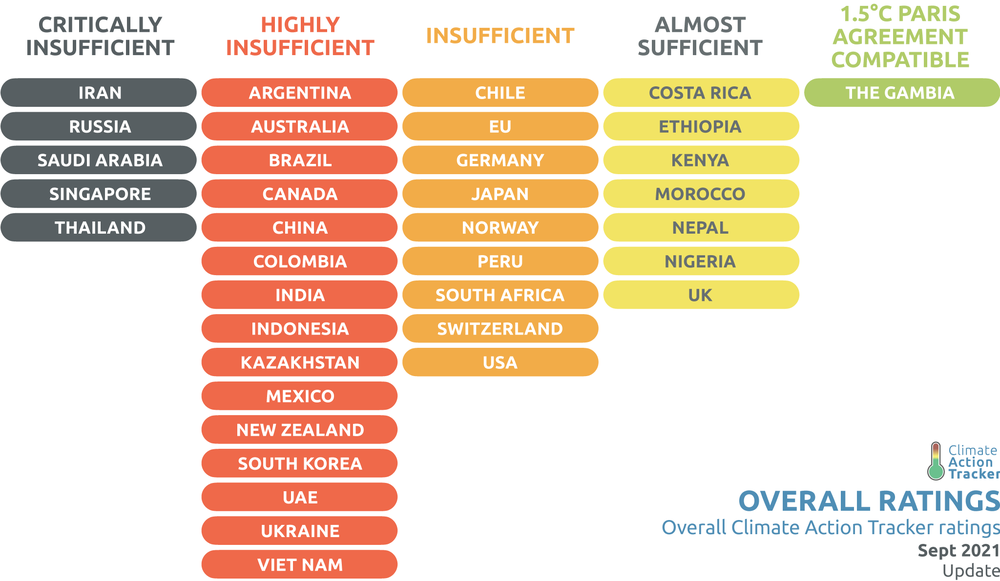 Already announced and now live, this week saw the opening of EECA's latest (third) funding round for its GIDI programme. Proposals are to be submitted by 18 October.
The latest from
Climate Action Tracker
indicates only one country is on course to hit a 1.5C target – Gambia. The UK was the only developed country close to having policies and actions consistent with the target. I'm afraid to say New Zealand is woefully behind where it needs to be, falling into the "Highly Insufficient" category.
A closer look at the NZ summary paints a sorry picture.


We're all aware the marine industry is often cited as difficult to clean up. However, it seems at least its polluting activities have inspired others to find solutions to cool the earth. US scientists (University of Washington) have tracked vessel emissions and established the particles from ship emissions have a brightening effect on clouds (see below) which, in turn, increases the clouds' cooling effect. The Marine Cloud Brightening Project is now studying marine cloud responses to aerosol particles to see if cloud reflectivity can be increased without collateral harm. In the meantime, let's hope we see the source of the inspiration disappear to be replaced by wind and electrically powered vessels.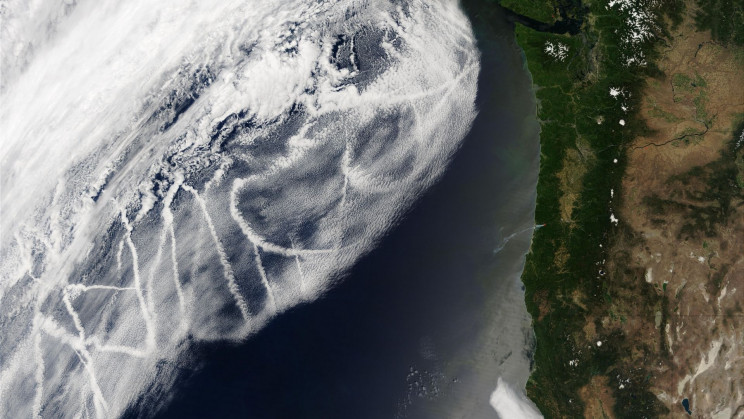 Meanwhile University of Texas scientists have developed a technology for extracting lithium from fossil fuel extraction waste water which, apparently, is rich in the mineral. Let's hope this additional by-product of extraction doesn't result in prolonging the economic viability of the oil and gas industry because, according to Carbon Tracker this week, oil and gas companies need to halve production by 2030 if we are to reach Paris (1.5C) targets.
According to Mary Poppins – and now scientists at Monash University – all it takes is a spoonful of sugar. In their case they've found the magic ingredient can prolong the life of lithium-sulphur batteries two to three-fold. Lithium-sulphur batteries store two to five times as much power as lithium-ion batteries of the same weight and are cheaper to produce. Their weakness is much quicker degradation which, it seems, is addressed with the added sweetener. The new batteries boast a charge-discharge cycle of over 1,000, comparable with lithium-ion.
Wishing you a safe and great weekend.
Mike and the team
---
Upcoming Events
Check out CEP Training courses, CEP Webinars and other Industry related events – coming up.
---
Tender Opportunities
Cowles Stadium Mechanical and Bathroom Upgrade
Ref 24485334
The purpose of this RFT is to invite Tenderers for the removal of the diesel burner and installation of a new electrical heating and cooling system and reconfiguring and refurbishment of bathrooms. We are seeking a single head contractor who can manage the delivery of building, mechanical, electrical and plumbing services.
Close Date: Monday, 27 September 2021 12:00 PM
---
CCDHB LED Lighting Installation
Ref 24748236
Description of Works – LED Lights Installation. To replace all Non-LED Lights with LED Lights, including occupancy sensors and timers (as per the requirements of the specific area). The installation includes seismic restraints and commissioning of the LED lights. The equipment supplier will be required to provide technical support for the installation of lights. CCDHB expect to commence the installation of LED Lights in Q1 2022 and complete, commissioning and handover by Q4 2022. The contractor will be required to be engaged no later than December 2021.
---
Alfriston College – Upgrade Heating and Cooling Systems
Ref 24745304
5 Blocks require upgrades to the current heating and cooling systems that are no longer fit for purpose or have reached the end of their life cycle. Works include: Replacement of air handling units and chillers, boilers heating panels and flues within specified blocks.
Closing Date: Friday, 1 October 2021 5:00 PM
---
Main Contractor for A, E, F, S, W: Heating replacements at Wairoa College
Ref 24773145
Heating/Ventillation (Aircon) Replacement.
Close Date : Wednesday, 6 October 2021 5:00 PM
---
3 Waters Electrical and SCADA Maintenance Support
Ref 24761191
The Dunedin City Council (DCC) 3 Waters department has an Electrical and SCADA support contract that is expiring and this is an opportunity for an appropriate supplier to partner with the DCC on a new maintenance and minor capital works contract, providing services to the 3 Waters treatment plants, assets and facilities. The DCC is seeking responses from suitably experienced suppliers who can provide the range of services specified. We want to setup a single contract to cover the range of electrical, telemetry and SCADA support services required.
The supplier must be able to demonstrate proficiency in both reactive and proactive maintenance tasks and capital upgrade works across the range of equipment in our 3 Waters facilities.
Closing Date: Friday, 8 October 2021 4:00 PM
---
Sustainable Energy Provider
Ref 24780657
Wellington City has a goal of net zero carbon by 2050 – as laid out in Te Atakura – First to Zero which was adopted by Council in 2019. During this time, Wellington City Council (Council) declared a climate and ecological emergency and responded with Te Atakura, a blueprint to becoming a zero-carbon capital.
The New Zealand energy market has changed significantly in recent years as a result of new technologies, a shift towards low carbon energy sources and changing consumption patterns. The Council's Executive Leadership Team reviewed the future impacts of energy on achieving the zero-carbon goal and endorsed the development of an Energy procurement Strategy to investigate the way it procures and consumes energy to maximise benefits to rate payers. The key objectives of the Energy Procurement Strategy are to:
Support the implementation of 'Te Atakura – First to Zero' by developing commercial arrangements that deliver enhancements to energy usage via the council's energy portfolio including:
– improving the energy efficiency of Council buildings,
– moving toward sustainable fuel alternatives,
– moving toward vehicle electrification,
– exploring local energy generation opportunities, ensuring security of energy supply,
– establishing a sustainable energy budget.
Develop a commercially viable relationship with a Sustainable Energy Supplier that can provide a range of energy efficiency services along with the basic supply of energy that will support decarbonisation of the Council's energy supply and stationary energy assets, and is consistent with our core values and vision for a smart Council and capital.
Closing Date: Friday, 8 October 2021 4:00 PM
---
National Heat Pump Supplier
Ref 24817453
The Ministry of Education (MOE) (the Buyer) seeks to engage a National heat pump specialist, who can design, supply, and install heat pump solutions in schools across New Zealand.
We seek suppliers who can demonstrate they have robust methodologies and systems in place to effectively manage cost, schedules, and quality. A Precondition of this tender will include:
Supplier can supply design services of the heat pumps to meet the individual Schools heating requirement i.e., size / number per school
Supplier can supply and install heat pump solutions in schools across New Zealand.
The Ministry prefers not to use split or high-wall heat pump systems. Suppliers will need to demonstrate their ability to design and supply air-to-air heat pump systems that meet school heating needs without the use of split or high wall units as afar as possible. Reverse cycle is a requirement, and the provision of fresh air should be considered best practice wherever possible.
Closing Date: Monday, 11 October 2021 12:00 PM
---
Refrigeration equipment for New Zealand Blood Service
Ref 24768925
This RFP (Request For Proposal) is for the Supply and management of Refrigeration equipment for New Zealand Blood Service (NZBS) at all of its nationwide sites. This equipment is used for the storage and freezing of blood components, blood products, tissue and reagents.
NZBS is seeking proposals for the (Part 1) supply of stand-alone refrigeration equipment, and (Part 2) management of the entire NZBS fleet of stand-alone refrigeration equipment (existing and those supplied as part of Part 1). Although NZBS has a preference to deal with a single supplier, respondents may submit a proposal for only to Part 1: Supply OR both Parts 1 and 2. NZBS will NOT accept submissions to only Part 2.
Closing Date: Monday, 11 October 2021 5:00 PM
---
Notice of Information (Advance Notice)
Government Investment in Decarbonising Industry (Round 3)
Ref 24806725
Decarbonising industrial process heat:
The Government Investment in Decarbonising Industry (GIDI) Fund is a partnership between Government and business to accelerate the decarbonisation of industrial process heat and contribute to the COVID-19 recovery by stimulating the domestic economy and supporting employment.
Process heat makes up around a third of New Zealand's overall energy use, and 60% of process heat is fossil-fuelled, mainly by gas and coal.
EECA administers the GIDI Fund on behalf of the Government through a contestable process that will see $69 million of capital grants co-investment made available to support good projects.
The Fund is available to New Zealand-based private sector businesses who have committed to decarbonising their business and industrial processes, where Government co-investment will help remove barriers to accelerating their decarbonisation goals. Round 3 is open
EECA is now accepting applications for round 3 of the GIDI Fund.
Applicants have until October 18 to submit their proposals, and successful projects will be announced by Minister of Energy and Resources Dr Megan Woods early in 2022.
Full details regarding the fund, including how to apply, can be found on the EECA website. Please direct all question to the GIDI Fund administration team.
Closing Date: Monday, 18 October 2021 5:00 PM
---
[/vc_column_text][/vc_column][/vc_row]